How to Break Up Without Going Broke: Carrie Fisher's Galactic Revenge
In the U.S., divorce has turned into an arena for high-stakes legal battles fueled by anger after a personal relationship breaks apart.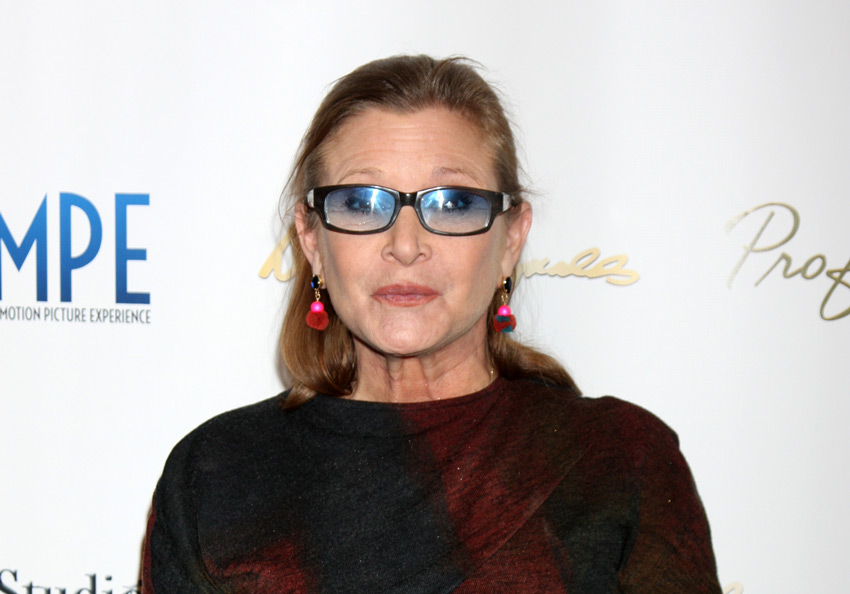 Carrie Fisher, aka Princess Leia of the "Star Wars" saga, spun two painful divorces into a highly profitable bestselling book, stage play, and movie "Wishful Drinking," fitting revenge in her battles against high-fee lawyers and a legal system bent on conquest not compromise.  Her stepmother, Elizabeth Taylor, leveraged seven divorces into a seductive brand.
Divorce as a simple end to a relationship
Yet, for too many, divorce is nothing but hell, emotionally and financially.  Will Meyerhofer, a psychotherapist, author, and former corporate attorney, finds that unnecessary. Meyerhofer tells MyBankTracker, "Divorce ought to be a fairly simple business, and in many other countries, particularly in Europe, it really is just a matter of filing some papers, shaking hands and parting ways. But in the U.S., for a number of reasons, it's turned into an arena for lengthy, bitter, high-stakes legal battles fueled by anger and hurt and other lingering emotions after a personal relationship fractures."
For those who never enter or can exit the blame loop, divorce can be just a fairly mundane, not overly expensive legal process. And there's plenty of good news about the state of marriage. For example, the rate of divorce has been going down for the past 30 years. If this continues, two-thirds of marriages will endure until death. In America, it's still in a couple's best financial interest to marry. So the possibility of divorce needn't scare you off from entering into a legal contract versus simply living together.
If you do decide to go splitsville and can bypass the anger, probably you will go the no-fault divorce route. You will claim irreconcilable differences. Versions of that are allowed in all states. Online, in Arizona, you can get that divorce for $139. It will likely be an uncontested one. And, that will be that.
Divorce as theatrical platform
On the other hand, divorce can be the staging for the play-out of resentments. Wall Street banker, Paul Perkins, and his former beauty queen spouse, Vibeker Steinegar, were in court for three years, racking up huge legal bills. For lots longer than that the late screenwriter, Nora Ephron, lambasted former spouse, Carl Bernstein, who broke the Watergate story and her heart.
The American legal system supports this. Meyerhofer tells MyBankTracker, "From the lawyers' point of view, it's simply irresistible to 'give the clients what they want' and play along, earning lucrative fees while the two 'litigants' go at it, pointlessly suing one another for years." In his therapy practice, this former lawyer struggles to have both parties see that it will save trauma and money if they cooperate.
Now that gay marriage has been around a while, gays are also being caught up in this expensive emotional vortex when a relationship becomes broken. Celebrity Rosie O'Donnell had a full-blown meltdown in court. That involved her divorce from Michelle Rounds. The two had been married for three years. The experience took a great toll on O'Donnell's fortune and career. (The divorce played a role in her leaving "The View," the popular talk show.)
If you are a known personality or in the upper ranks of your profession, you could be tempted to use the media to voice your grievances and shame your partner. Sure, you can do that. But your partner is bound to push back aggressively through letters and legal motions by a lawyer. Each one could add to your divorce expenses.
Those opting to not cooperate often choose the fault divorce route. Among the grounds are:
Cruelty
Adultery
Desertion
Imprisonment for a certain number of years
That divorce could be contested. That will add to the legal expenses and keep the trauma looping in play.
Types of divorce
The law is complex. So, over the centuries a variety of legal ways had evolved to terminate a marriage contract.
Essentially, there are four major approaches. Your situation may require you to use more than one.
DIY or summary divorce
Many states allow this option. You put together your own divorce without the assistance of an attorney. You can obtain the filing form with instructions from your local family court or an online legal service.
If you hit a wall, one next step could be paying for a one-to-one consultation with the appropriate licensed attorney at an online service. That's bound to cost less than doing business with a brick and mortar law practice.
A DIY divorce could be the right fit for you if:
Marriage endured five years or less
No custody issues
Little property, with joint ownership
Collaborative divorce
Essentially, a collaborative divorce is one option for two parties who can work together without bitterness. As in an adversarial process, both of you retain your own lawyers. Each lawyer will represent one partner's interest. But the mindset is cooperative, not adversarial. For example, requests for information such as the accounts held overseas are responded to without the need to file special motions. No court trial is planned. The lid is kept on costs.
That's a sensible first try. However, that might not pan out. The next step would be for both attorneys to withdraw. You and your spouse will shift to attorneys who will configure the process as adversarial. There could be a trial.
Contested divorce
This approach is standard when partners are victims of their emotions, the assets are huge, and/or custody issues are the third rail. In this route, you hear expressions like "Find me the best lawyer in the state, and I don't care about the price." Every aspect of the process, such as obtaining documents and even scheduling a court date, probably will involve the services of a lawyer. The divorce will go to trial.
However, even with all that, some matters might not be resolved. Eventually, the court could assign you to binding arbitration.
Alternate dispute settlement
In divorces there are two methods of alternate dispute resolution: mediation and arbitration
Mediation is the antithesis of standard legal practices which pit opponents against each other. The approach is cooperative. Alla Roytberg is a family and divorce lawyer in New York with over 24 years of court and mediation experience and principal owner of Goodlawfirm. Roytberg tells MyBankTracker:
"Mediation is the best option for property division, because the right mediator, who is experienced in financial matters is in a much better position to help the parties understand their finances, evaluate them in a fair way and also address tax consequences of division of assets. Courts are overburdened.
"Judges don't have the ability to give one case a lot of attention. Some judges are not financially savvy and rely on the parties lawyers to educate them. The result is often not well crafted, not thought out and sometimes even very unfair long term, if certain issues, such as tax benefits, capital gains and other matters are missed."
But, not all mediations will reach a resolution both parties accept. The proposal isn't binding. The situation might have to move on to a collaborative or contested divorce or binding arbitration.
Arbitration is binding, with a disinterested third party overseeing the process. In court, some issues such as the timeframe and amount of alimony don't get hammered out. The court might then mandate movement of that matter to arbitration. Or, from the get-go, an angry couple may fear the over-the-top legal expenses of a trial. They opt for arbitration. That puts both of them on a short leash.
Best states for getting a divorce? That depends
Divorce is governed by state law. Therefore, what state to file in could be a major decision. What you want to take into consideration are factors such as residency requirement, that state's divorce laws such as those regarding property and child support, amount of filing fee, processing time, and any plans to remain in that state. It is possible for one party to file from a different state than where the other party is based. That's usually accomplished by having the legal system serve the other party with divorce papers.
In any event, even if you are both still in the same residence, it's wise not to be within reach when divorce papers are served. Not all that unusual is the tragedy of James Michael Farren, an attorney in both Bush administrations. When he found out his wife was terminating the marriage he attempted to murder her. He is in prison for that and other crimes associated with the outbreak of rage.
Nevada's tourism industry has been successful at maintaining Las Vegas as the divorce capital of America. That's positioned and packaged as a short, as in six weeks, residency, essentially a no-fault legal mindset, and lots of entertainment while you're hanging out. However, that's not the complete story.
For example, Nevada is what is called a "community property" state. That means that all income earned by both partners and property acquired are considered to be jointly owned. Their value will be equally distributed. Maybe that's not what you want.
Therefore, if you decide not to file in your own state, you have to research the laws, processes, and fees in other states. That's available on the Internet.
What are the "features" which are most important to you? One might be speed. Nevada is among the seven leading states for that but not at the top of the list. The quickest divorce can be done in 30 days. That's in Alaska which has no residency requirement. The other quickie states include South Dakota, Idaho, Wyoming, New Hampshire, and Guam.
If you want relative simplicity, which also lowers the costs, the best choices include Alaska again, South Dakota, Wyoming, Arkansas, and New Jersey.
The divorced tend to remarry
If you are getting a divorce, the odds are that you will be among those who will enter into a new marriage. About four out of 10 new marriages include a partner who had been married before. That is despite the decline in marriage in both the U.S. and other wealthy nations. In the U.S., the rate is down to about 6.74 per 1,000 versus 7.09 in 2008.
In the U.S., the law still tilts in favor of couples who have made a legal commitment. Those advantages occur in everything from custody issues to distribution of property. The bottom line might be that marriage can be a solid investment if, in the worst-case scenario, you are prepared to play the divorce game right. That is, bypassing negative emotional zones.