Mint vs. Quicken: Which One Should You Use?
Learn the differences between Mint and Quicken to find the better financial tool for managing money.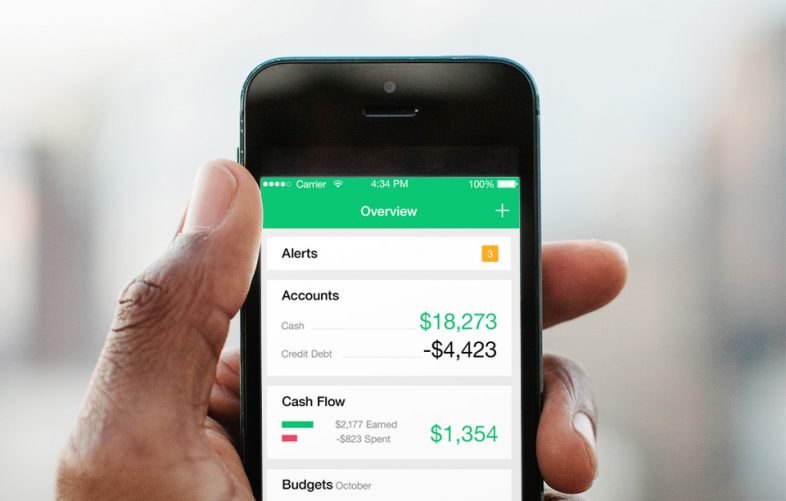 Quicken and Mint are two of the most popular personal finance management tools out there. How can you tell which one is right for you?
Quick answer: Mint is ideal for simple day-to-day money management while Quicken is ideal for more detail financial management, analysis, and bookkeeping.
We wanted to know which is better (Quicken or Mint) in better detail, so we ran a comparison test. Check out the results below so you can find the app that will help you keep your money in line.
The Most Accessibility: Mint
The most obvious difference between Mint and Quicken is how users access the two programs. While you can view your Mint account from your desktop, many prefer to keep tabs on their money through Mint's Apple or Android apps. Whether you're logging in from your phone, iPad, or Kindle, you can easily check your spending, review your credit card balances, and evaluate how you're doing on your budget from anywhere.
Things are a little different with Quicken. While there is a Quicken companion app that lets you check your accounts from your phone, the software itself is designed to be installed on your Windows PC or Mac. You can use the app to link to your checking, savings, and credit card accounts, but if you're using the desktop version of the software, then you'll have to manually sync to load up the latest transaction history. So it basically works almost as well, but with some more manual work on your end.
Why Mint Wins for Accessibility 
Mint gets the thumbs-up for accessibility based on how straightforward it is to use. You can see all of your linked accounts anywhere there's an Internet connection - meaning you don't have to take the extra step of syncing them up at the end of the day.
Compare Savings Options
Be sure to check out more savings accounts worth considering:
Best Security Measures: Tied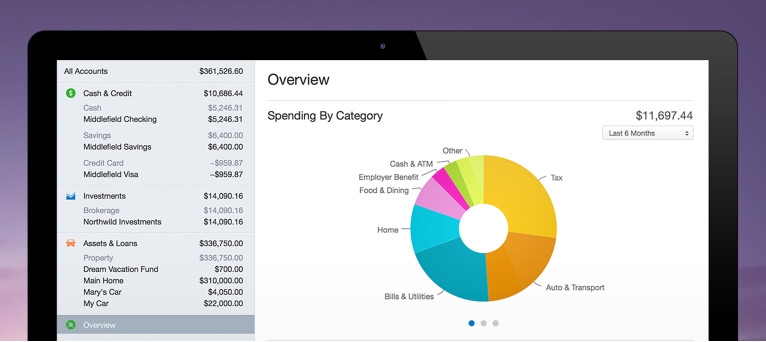 Reports of security breaches dominate the news these days and consumers need to be more careful than ever when it comes to protecting their information. The fact that Mint stores data in the cloud may raise eyebrows with some, but the program uses the same 128-bit encryption and security measures employed by banks. Plus, your bank login information is stored separately on Mint's servers - so even if someone was able to hack your account, they wouldn't be able to steal your user IDs or passwords.
With Quicken, all of your account information is saved directly to your computer's hard drive. While that does mean that it's not floating around in cyberspace, there's still the possibility that hackers could get their hands on it. Installing security software and setting up a firewall can help keep your information safe, but it's not a perfect solution. Like Mint, information processed through Quicken's app is stored in the cloud, so there's the added risk to consider.
Why Mint and Quicken Are Tied for Security Measures 
This one really comes down to what your individual preference is when it comes to security. There haven't been any reports of Mint users having their information compromised to date - but that doesn't mean it can't happen. But if you think you're safer keeping your information on your own computer with Quicken, remember that Home Depot, Michael's, and Target all thought the same thing.
How the Features Compare: Quicken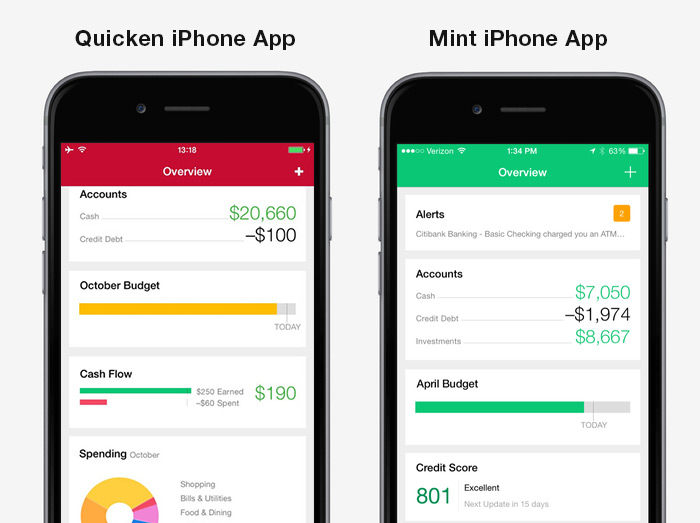 Mint's most popular feature is its budgeting tool, which allows you to set up specific budgets. This enables you to see exactly where you're spending your money and to work towards separate savings goals. You can use the app to create goals for things like saving or paying off debt and then link them to your budget. As for staying on top of your budget, the alerts feature lets you set up reminders for when your bills are due. (And now you can even pay your bills through the app, making your life that much easier). Mint users can also keep tabs on their investments, monitor their credit score, and get personalized recommendations on how to reduce spending and increase savings.
Quicken does pretty much everything Mint does but takes things one step further. Aside from the basics like setting up your budget, you can use Quicken to forecast your cash flow, record your tax-deductible expenses, create reports of your spending, track your investment performance, and pay your monthly bills (either online or by printing checks). You can even transfer money back and forth between accounts through the software, something you can't do with Mint.
Why Quicken Wins for Features 
If you're looking for a full-service finance software, Quicken is the real deal. It's the better choice for people whose money situation is a little more complex and don't mind spending a more time analyzing the activity in their accounts. But, if simplicity is key for you, you might prefer Mint for offering you the basics of what you need without overwhelming you with everything else.
Weighing the Cost: Tied
One of the things that makes Mint appealing to such a large number of people is the fact that it's free. All you need to do to sign up is register a username and password and enter the login information for all the accounts you want to link up. No muss, no fuss and, best of all, no cost.
Quicken, on the other hand, comes with a pretty hefty price tag - but it's worth it if you're looking to go a little more in-depth with your finances. For 2020, the software starts at $35.99 for the starter edition and goes up to $46.79 for the premier edition.
Why Mint and Quicken are Tied for Cost 
The winner in this category depends on your needs. If you want something basic to manage your money, Mint's the best way to go in terms of cost. And while some people might balk at the idea of shelling out money for Quicken, others may see it as a small price to pay for a more complete picture of their financial situation.
Mint vs. Quicken: What's Better for You?

On the surface, Mint and Quicken look pretty similar - but if you dig a little deeper, it's easy to see how drastically different they are.
Mint is ideal for keeping track of day-to-day spending and goal-setting - and it's free. It's also ideal for people who want to manage their money on the go, with its state-of-the-art mobile app.
Quicken, by comparison, is more useful for analyzing long-term spending trends, monitoring your investments, and recording expenses for tax purposes. All those extra features come at a premium, so it's important to be clear on what you need and what Quicken will do for you before you make a purchase.
Is An App the Best Way For You to Manage Your Finances?
Technology can be a wonderful thing, especially when it comes to your finances. But just because technology makes the idea of managing your finances easier doesn't mean that it's necessarily the best tool for you.
When you evaluate which financial app is better for you, such as Mint or Quicken, back up for a few minutes first and evaluate which method of financial management is best for you overall. For example, if you feel joy every time you cross a to-do item off a list, you might prefer pen and paper. Or, if you like to build spreadsheets and plug numbers and variations in yourself, then you might be better suited for Excel or Google Sheets. But if you're always on your phone and consider your apps to be your trusty sidekick, then, yes, an app is the best way to go for you.
The point of thinking about this is that you might find yourself downloading apps and loving the idea of them - but never using them. So you download another app, and another, and another...sending you down a stream of frustration when all along you may have just not been the right personality type for finance apps in the first place. Before you go down that path, take a few minutes to evaluate your productivity style and preferences and match your method to that.
If you're not sure of what helps you be productive, evaluate your work habits. Do you use a daily planner to stay on task? Do you have a document or task list you created online? Or do you use apps that send you updates and reminders? As soon as you understand what keeps you motivated at work, you'll know how to do the same in your finances. And then you can get to work on what you really wanted all along - positive, motivated progress with your money.
In Summary
Mint is ideal for keeping track of day-to-day spending and goal-setting - and it's free
Quicken is more useful when it comes to analyzing long-term spending trends, monitoring your investments, and recording expenses for tax purposes
Before you choose the best app for you, take some time to decide if an app is the best way to manage your finances - or if Excel or pen and paper might end up working better for you