Boost Your Savings By Never Paying Full Price for These 10 Everyday Services and Items
Many Americans struggle to save. Here are tips to help you save money on everyday items and services you should never pay full price for ever again.
Do you consider yourself to be part of the middle class? Five years after experiencing the worst recession since the Great Depression, millions of Americans remain unemployed, real wages have become stagnant, and fewer families can afford to buy median-priced homes.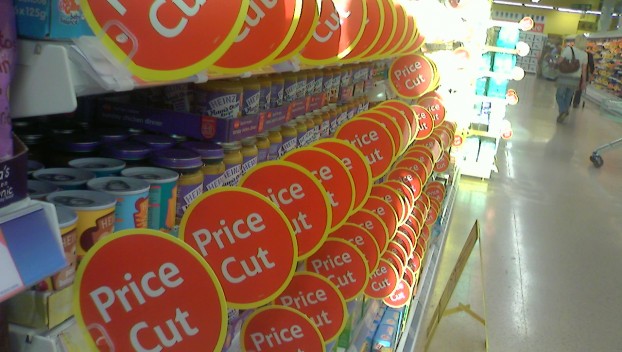 A recent poll of 1,504 adults from the Pew Research Center found that the proportion of Americans who identify as being part of the middle class has never been lower, dropping to 44 percent from 53 percent in 2008 during the first months of the Great Recession. With income inequality growing over the past decade, it's no surprise that more Americans choose to not identify themselves as middle class. As health and education costs rise, an increasing number of Americans -- middle class or not -- might struggle with another battle: saving.
"Only about one-third of Americans are living within their means and think they are prepared for the long term financial future," said Stephen Brobeck, executive director of the Consumer Federation of America. "One-third are living within their means but are often not prepared for this long-term future. And one-third are struggling to live within their means."
The CFA recently conducted a survey assessing household savings and found that despite the economic recovery, most Americans continue to face significant personal savings challenges. Only about one-third of Americans said they were making "good" or "excellent" progress meeting their savings needs while nearly two-thirds said they were making only "fair" or "no" progress.
With so many Americans struggling to save, finding ways to cut down on expenses is imperative. While big lifestyle changes -- like getting rid of your car or taking on a second job -- can help Americans save money, it's not a realistic expectation for most people. Instead, everyday Americans might have to find ways to cut costs on the little things, which could end up making a big difference in the long run. Here are 10 everyday items and services that you can save money on by never paying full price:
1. Books
We've all heard that chain bookstores are dying and one reason for their collapse is brand new books simply cost too much. According to the Bureau of Labor Statistics, in 2012 consumers spent about $110 on reading materials. That's money you can deposit into your checking account.
Why buy new books when you can just shop for used ones? Online retailers like Amazon or ThriftBooks now make it easier than ever before to buy used. Not to mention the many used bookstores that you probably never enter. Oh, and it might be worth your time -- and pocketbook -- to visit that building with all the books inside. It's called the library.
2. Cable
One way you can seriously save money is cutting your cable bill. According to a Federal Trade Commission report, the average basic cable package cost was $61.63 in 2012. That adds up to more than $700 each year.
Sure, the boob tube provides endless hours of mindless entertainment, but it's not a necessity. And these days you can watch tons of free episodes online and even stream your favorite TV shows on network websites (albeit, a day or more after they have aired). Not to mention Hulu Plus and Netflix are both affordable alternatives that cost just $7.99 per month. That adds up to less than $100 per year.
3. Cell phones
If you're struggling with money, there's really no reason to purchase a new, top-of-the-line cell phone. The average cell phone bill in 2010 was more than $63 per month or $760 per year. That's a ton of money you should be saving. Repeat after me: a new cell phone is something you want, but not necessarily need. Cutting the costs on an expensive cell phone can save you some serious money. New models of popular smartphones are marked up by retailers who know that consumers will rush to snap up one of the phones.
You can purchase an older model of a smartphone, get a used one, or trade in your old one via Craigslist, eBay, or Exchange My Phone to get money back that you can use towards a new phone purchase. Also, consider switching to a more affordable cell phone plan if you're serious about cutting costs.
4. Clothes
If you're struggling to save, you definitely don't need to purchase pricey clothes at the mall. Dig through the clearance racks, shop at off-price department stores or thrift shops, browse through discount websites like JackThreads, or wait for merchandise to go on sale.
5. Groceries
If you're purchasing food for full price, you're doing something wrong. Whether you're clipping coupons every Sunday or using your club card for a discount, there's no reason to ever pay the full amount to stock your refrigerator or pantry. In addition to the common ways to save on groceries, you can also get big discounts for items that are close to expiring or damaged. Be sure to check out your store's clearance section, too. Also, the local $0.99 store might have some great deals.
6. Gym membership
If the average price of your gym membership is, say, $35 per month, that's $420 you're spending annually. That's a lot of money you can use to beef up your savings account instead.
Working out can be done at home -- run outside, buy some cheap exercise equipment (dumbbells, jump rope, etc.), and some fitness DVDs to stay physically fit. If you're still hellbent on signing up for a gym, at least be sure to do so when you can get a promotional discount.
7. House services
There's no reason to call an expensive handyman to fix your sink or hang your curtains when you can find inexpensive people offering to complete those services on websites like Craigslist or TaskRabbit for a fraction of the cost. That said, you need to check for references for people offering their services. You don't want to go cheap on these services and then end up having to spend more money to get a professional to complete the task.
8. Movies at the theater
Catching a film at your local theater is a fun way to pass the time, but unfortunately it can end up hurting your pocketbook. According to the National Association of Theatre Owners, the average price of a movie ticket in 2013 was $8.13, the highest amount ever, and increase of nearly $0.20 from the previous year.
To help reduce ticket costs, watch movies during off-peak times, such as early in the day or during matinees. Also, sign up for a theater club card and be sure to take advantage of discounts if you're a student, senior, or member of the military. Save money on snacks by eating beforehand (we don't advocate sneaking food in, but many people do it).
9. Music
Unless you're a diehard fan of an artist, there's really no reason to pay full price for a CD. According to the Recording Industry Association of America, the average price of a CD in 2010 was $13.02. Just cherry pick and pay for the songs you like on your digital music outlet of choice. Songs generally cost just a little over a buck. You can also pay for a music streaming service like Spotify or Pandora. Or, you know, just listen to the radio.
10. Water
Cutting those $1.25 water bottles you purchase every day could save you nearly $40 a month. Tap water comes out of your faucet and it's free.