KeyBank Personal Loans 2023 Review - Should You Apply?
Learn about the interest rates, fees, and features of unsecured personal loans from KeyBank to see if they're right for your financial needs.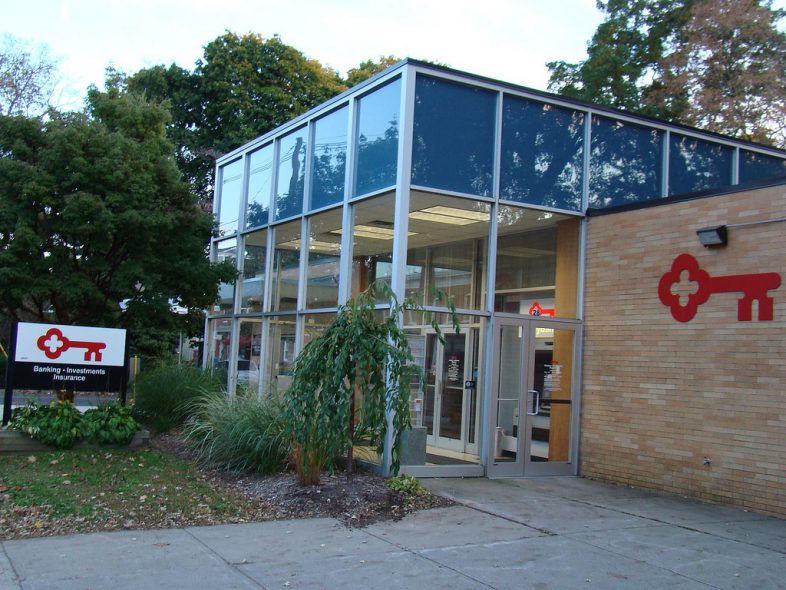 Keybank
If you need to borrow money, there are several great reasons to choose a personal loan over a credit card.
Personal loans may come with lower interest rates and higher borrowing limits. And you can use them to meet a wide range of financial needs, such as:
Buying a car
Paying for home renovations or repairs
Planning a wedding or vacation
Covering medical bills
Those are just a few of the things you can do with a personal loan. Another plus of personal loans is that they're available from lots of different places.
You can find them at traditional banks, online banks, and online lenders.
KeyBank is a brick-and-mortar bank that offers unsecured personal loans to qualified borrowers.
If you're looking for a loan, here's what you need to know to decide if KeyBank is your best option.
In this KeyBank Personal Loans review, we'll compare rates, fees, and services to other national and online banks.
Loan Highlights
KeyBank offers unsecured personal loans, which means you don't need collateral to borrow.
The minimum loan amount is $5,000 and there's no maximum limit stated.
However, if you want to borrow more than $50,000, you have to apply at a KeyBank branch.
KeyBank Personal Loans Pros & Cons
Pros
Cons

Interest rates can be competitively low
Flexible repayment periods
Earn KeyBank rewards

Origination fee applies
Possible prepayment penalty
Funding can take a week
KeyBank personal loans can be used for:
Debt consolidation
Unexpected bills
Major life events, like a wedding or planning for a baby
Major purchases
Planning a dream vacation
Who Can Apply?
You can apply for a KeyBank personal loan if you're 18 or older and a U.S. citizen.
But, you have to live in a state that KeyBank operates.
Currently, KeyBank has branches in Alaska, Colorado, Connecticut, Idaho, Indiana, Massachusetts, Maine, Michigan, New York, Ohio, Oregon, Pennsylvania, Utah, Vermont, and Washington.
Loan Benefits
There's a lot to like about KeyBank personal loans, including:
Competitive fixed rates
With any personal loan, the interest rate matters. The higher the rate, the more the loan costs you over the long term.
Some lenders off variable rate loans, which means your rate can go up or down.
KeyBank's personal loans feature a fixed rate so you always know exactly what you'll pay in interest.
Compared to other personal loan lenders, KeyBank's rates are competitive. The lowest rate available is much better than what you'd get with the average credit card.
Your credit score influences the rate you'll pay for a loan, as does how much you borrow.
The maximum APR is actually lower for larger loans than it is for smaller loans. So, in a way you get rewarded for borrowing more with a potentially lower rate.
Overall, KeyBank's rates are great compared to what you might find with other lenders. Some online lenders, for example, charge rates as high as 36% for personal loans.
Flexible repayment terms
A nice feature of borrowing with KeyBank is being able to choose your own loan terms. Repayment terms start at one year, but you can take up to five years to pay your loan off.
Payments are due monthly and you can snag a 0.25% rate discount when you sign up for AutoPay. There is one thing you need to know, though: KeyBank does charge a prepayment penalty if you pay your loan off early.
The penalty is $150 if you pay your loan off in the first 18 months. There's no fee if you have a loan term shorter than 18 months.
Prepayment penalties are something a lot of personal loan lenders have done away with, so if you think you might clear your loan early it's something to be aware of.
KeyBank Relationship Rewards
You can get a Relationship Rewards bonus with a personal loan if you're already a KeyBank customer.
Relationship Rewards is a program that lets you earn points that you can redeem for cash back, gift cards, merchandise, and travel.
If you already have a KeyBank account, you can get 15,000 Relationship Rewards points when you're approved for a personal loan.
Are There Any Fees to Watch Out For?
Aside from the prepayment penalty, KeyBank does charge an origination fee for personal loans.
The fee is $125.
Like the prepayment penalty, this is another fee that you won't find with certain other personal loan lenders.
The fee is charged up front so you'll have to factor that in, along with the interest rate, in calculating loan costs.
Other fees include late payment fees and returned payment fees.
KeyBank Personal Loan Fees
| Fee | Cost |
| --- | --- |
| Application fee | None |
| Origination fee | $125 |
| Prepayment penalty | $150 if you pay your loan off in the first 18 months |
| Check processing fee | $0 |
| Late payment fee (15 days late or more) | 10% of the monthly past due ($35 max) |
| Returned check fee | $27.50 |
How Quickly Can You Get Loan Funds?
Your loan funding speed depends on whether you're already a KeyBank customer.
If you've got a KeyBank checking or savings account, it's possible to access loan funds as soon as you're approved, which can take a few days.
If you don't bank with KeyBank, you might have to wait up to a week for loan money to hit your account.
That might make KeyBank a less than ideal choice if you need money in a hurry.
How to Get Approved
There are two ways to apply for a KeyBank personal loan: online or at a branch. If you're applying online, you'll need to give KeyBank your:
Name
Social Security number
Driver's license or government-issued ID number
Email address
Mailing address & phone number
Employment information
If you're applying for a personal loan with a co-borrower, they'll need to include the same information.
A credit check is also part of the application process.
Is There a Minimum Credit Score to Get Approved?
KeyBank doesn't specify minimum credit score or income requirements for personal loans.
But when you consider the interest rates, it's clear these loans are designed for people with good to excellent credit scores.
Increase Your Chances of Approval
There's no guaranteed way to get approved for a loan with KeyBank. But, there are a few things you can do to improve your odds of getting a loan.
1. Check your credit report.
Checking your report can tell you if there are any negative marks that could hurt your credit score, like a late payment or a collection account.
If you see anything on your credit report that looks inaccurate, dispute it with the credit bureau that's reporting it.
2. Pay down some debt if you have any.
One of the things that affect your credit score is your credit utilization.
That's the amount of your available credit you're using. Paying down some of your balances could give your score a boost.
3. Consider a KeyBank account.
This doesn't make you a lock for a loan but KeyBank does look at your banking history as part of the application process.
Having a checking or savings account with KeyBank could work in your favor.
4. Take stock of your assets.
You won't need collateral for an unsecured personal loan but it doesn't hurt to have some savings in the bank.
That shows that you have the means to repay your loan if something changes with your income.
Compared to Other Lenders
KeyBank is just one lender to consider for a personal loan.
Big banks, smaller community banks, credit unions, and online lenders are other options to consider. But, one lender might be better than another for your situation.
As you're comparing personal loan lenders, think about:
How much you're able to borrow
Can you get the size loan that you need? Is there a minimum amount you need to borrow for a loan?
Interest rates
Does the lender offer fixed or variable rates? What's the range of rates like? How do their rates stack up against other lenders?
Fees
Many lenders offer personal loans without excessive fees, but that's not always the case.
Take a look at whether you'll pay an origination fee or prepayment penalty for a loan.
The application and funding process
How easy is it to apply for a loan? After you're approved, how quickly can you get the loan funds?
Minimum requirements
If you've already checked your credit, compare that to what the lender expects from borrowers.
Remember, if a lender charges higher rates for loans, that's a sign that they may cater towards borrowers with lower credit scores.
Loan benefits & perks 
Check out whether the lender offers any benefits or extras with your loan, like AutoPay discounts or relationship bonuses.
These may be less important than the interest rate or fees but they're still something to consider.
Should You Consider a Personal Loan from KeyBank?
A KeyBank personal loan could be a great choice if you're already a KeyBank customer.
You can take advantage of the rate discount when you set up automatic payments. And the Relationship Rewards points bonus is a nice perk if you participate in that program.
If you don't bank with KeyBank already, and you've got a great credit score, you may want to check out other lending options.
You may be able to find a lower rate elsewhere from an online lender.
Regardless of which loan you choose, remember to read the fine print first so you know exactly what you're committing to when you borrow.