LendingPoint Personal Loans 2023 Review - Should You Apply?
Learn all about all the detail of personal loans by LendingPoint, a lender that focuses on borrowers who have fair credit.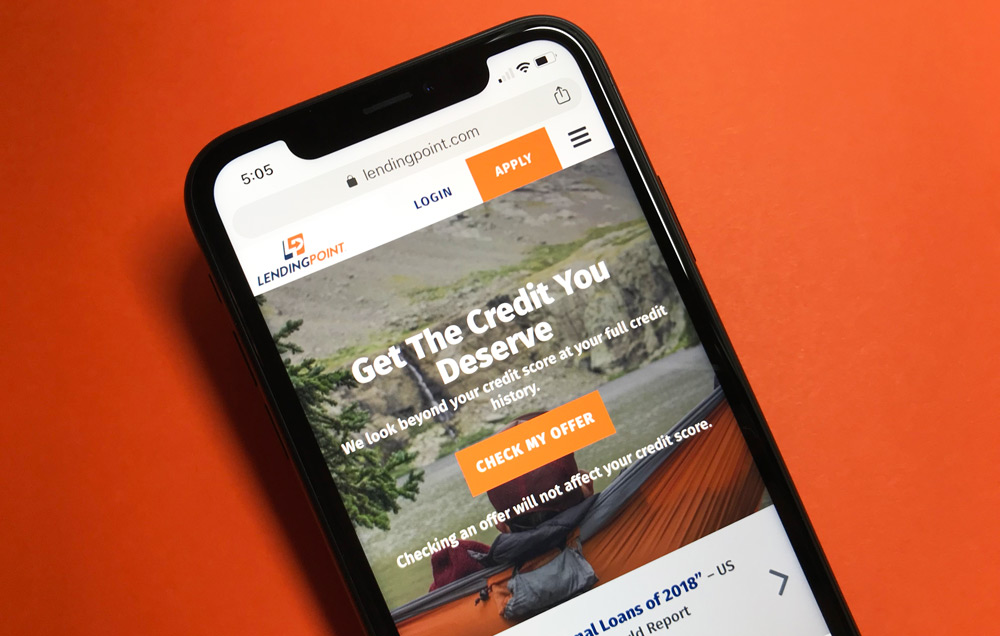 LendingPoint Personal Loans
Personal loans are a useful and highly flexible tool that can help you meet unexpected financial needs.
You can use a personal loan for almost anything: paying bills, financing a vacation, improving your home, or consolidating your existing debts.
LendingPoint is an online lender that offers personal loans specially tailored for people with credit scores as low as 600.
Even if you have less than stellar credit, LendingPoint can find a way to offer you a loan.
If you're looking for a personal loan, in this review learn what you need to know about Lending Point's offerings.
Loans Designed to Be Easy to Qualify for and Easy to Pay Off
LendingPoint's biggest selling point is that it is designed for people who don't have great credit -- specifically those in the 600s.
For borrowers in this credit score range, it can be difficult to get approved for personal loans.
LendingPoint Personal Loans Pros & Cons
The lender doesn't just look at your credit score when you apply for a loan. It looks at what it calls your credit story.
This includes your job history, financial history, overall income, and recent credit behavior.
If your credit score isn't great, but you've recently been working to get back on track, LendingPoint takes that into account.
LendingPoint also offers easy to enroll in options that help you pay off the loan.
You can easily set up automatic payments so you don't have to worry about manually paying the loan.
You can also enroll in bi-monthly payments. You'll make smaller payments, but twice as often, saving you some interest over the life of the loan.
Decent Loan Size and Terms
The first thing you should look for when choosing a loan provider is the maximum amount they're willing to lend.
There's no reason to apply for a loan that won't be sufficient to meet your need.
LendingPoint offers loans as small as $2,000 and as large as $25,000, making it a good choice for people with moderate needs.
You can't finance a huge project with a loan from Lending Point, but the loan can help you meet a smaller need.
Once you know how much you want to borrow, you should decide how long you'll need to pay it back. LendingPoint offers loans with durations ranging from 24 to 48 months.
Choosing a shorter loan duration means you'll have to make higher monthly payments. It also means you'll pay less interest over the life of the loan.
Longer loan durations lead to lower payments, but you'll pay more interest in the end.
Choose a duration that strikes a balance between manageable payments and low total loan cost.
Application Requirements
In order to qualify for a loan from Lending Point, you must meet the following requirements.
You must be at least 18 years of age.
You must be able to provide a U.S. federal, state or local government-issued photo ID.
You must have a social security number.
You must have a minimum annual income of $20,000 (from employment, retirement or some other source).
You must have a verifiable personal bank account in your name.
You must live in one of the states where LendingPoint does business.
Fees and How Long It Takes to Get the Money
LendingPoint may charge an origination fee of 0-6% on its loans.
Origination fees are added on top of the amount that you borrow, increasing the balance listed on your first bill.
For example, if you borrow $20,000 and pay a 4% origination fee, your first bill will show a balance of $20,800, plus any accrued interest.
Origination fees can significantly increase the total cost of a loan.
In exchange for paying the fee, Lending Point will deposit the money to your account as soon as the next business day after the loan is approved.
There are no prepayment penalties for repaying your loan before the agreed upon term.
How to Get Approved for a Personal Loan
When you apply for a personal loan from any lender, you'll have to give that lender a variety of information about yourself.
The lender will then use that information to decide whether it should offer you a loan.
Some of the information you'll be asked to provide may include:
Name
Address
Date of birth
Proof of identity, such as a driver's license
Social Security number
Annual income
Proof of income, such as bank statements or pay stubs
Verification of employment
Providing all of the information and supporting paperwork can seem like a daunting task.
Though it may be difficult, it's important to do properly. When you apply for a loan, you should leave the lender with as few questions as possible.
In the best case, the lender will contact you to clear up anything it isn't sure about. That will slow down the lending process. In the worst case, your application will be denied.
How Does It Compare?
There are a lot of lenders that offer personal loans. LendingPoint isn't the only one. You should take the time to find a lender that offers the best loan for your specific needs.
When you are comparing personal loans, there are a few factors to look at.
Interest rate
The higher the interest rate is, the higher the cost of the loan will be. Higher rates also lead to higher monthly payments. You should look for the lowest rate available.
Fees
Equally important are the fees charged by the lender. Try to avoid paying excessive fees because they also increase the total cost of the loan.
Loan period
Look for a loan duration that works for you.
If you can't pay the loan off in 24 months, find a lender who offers loans with durations of 36 months or more.
Borrowing amounts
Compare the lending limits of each lender. Make sure that the lender you choose offers loans large enough to meet your need.
It's generally better to take out one large loan to meet a large need than to get multiple smaller loans.
Handling one loan requires much less effort and you are less prone to accidentally miss a payment.
Conclusion
LendingPoint is a good choice of lender for people who have a fair credit score.
Its unique loan approval process gives you the best chance of qualifying for the loan you need.
If you have better credit, however, you may consider online lenders that have lower APR ranges because they're likely to get better terms.
Again, this lender caters to applicants without the best of credit.
Improving Your Chances of Getting Approved for a Personal Loan
Before you apply for any loan, you should take some steps to maximize your chances of getting approved for the loan. Here are some tips to give yourself the best chance of approval.
Though LendingPoint doesn't just look at your credit score, it still plays a big role in getting your loan approved.
Your credit score is a numerical rating of your financial trustworthiness.
The higher your score is, the more likely you are to pay your debts. The lower the score, the more likely it is that you'll default on your loans.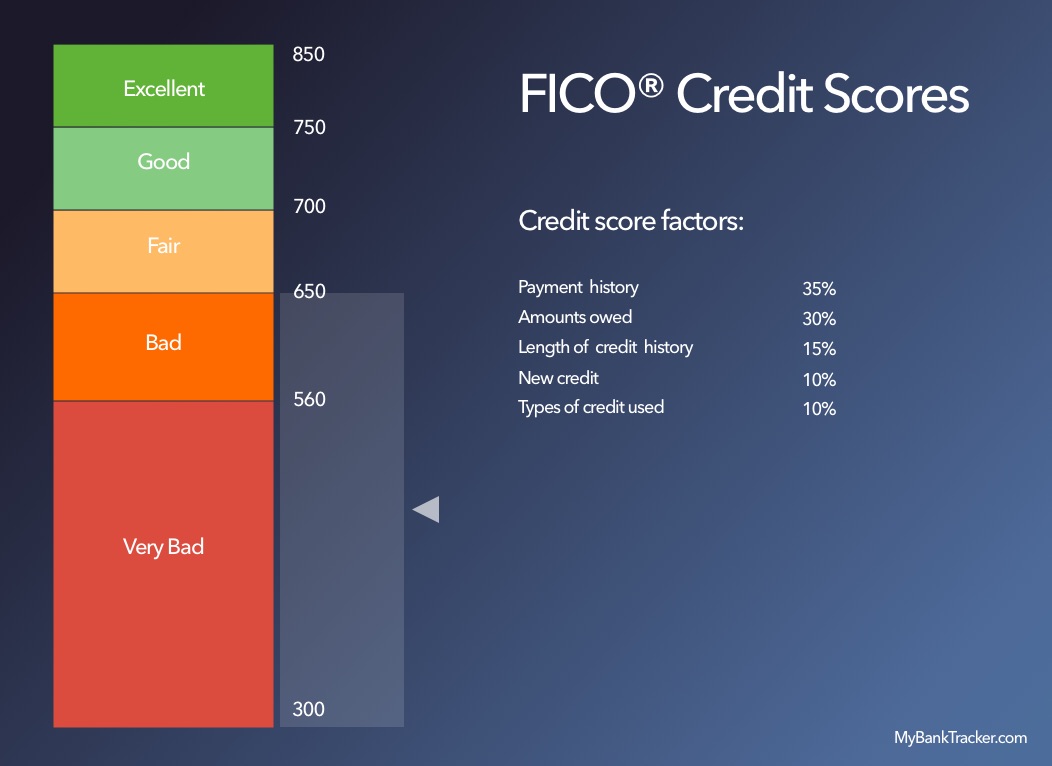 Credit scores are widely used and affect many aspects of your financial life.
They determine what loans you qualify for and how much interest you'll pay.
Your credit score is composed of five factors:
Payment history
Credit utilization
Length of credit history
Credit mix
New applications
The bad news is that the best way to increase your credit score takes the longest.
Your payment history is responsible for more than a third of your credit score.
Every on-time payment will increase your score and every late or missed payment will reduce it. One late payment can offset months or years of timely payments.
Thankfully, there are a few short-term methods for improving your score.
One is to reduce the amount that you owe or increase the credit limit on your credit cards.
Your credit utilization looks at both the absolute amount that you owe, and how much you owe relative to the overall credit that's been extended to you.
Paying down balances and increasing your credit limits will improve your score.
Another tip is to avoid applying for a lot of loans or credit cards in the lead up to an important loan application.
Each application will reduce your score by a few points, so applying for lots of loans can hurt your score.
Reduce the debt-to-income ratio
Another way to improve your chances of qualifying for a loan is to reduce your debt-to-income ratio.
You can calculate this ratio by dividing your total debt by your annual income. The lower this ratio, the better.
Lenders want to see that you have enough space in your monthly budget to pay off a new loan.
If most of your income is already going towards other loan payments, a new lender won't feel comfortable offering you a loan.
You can reduce this ratio in two ways.
Paying down your debts is the first way and it has the benefit of boosting your credit score too.
The other option is to increase your income. This is more difficult to do, but if you can find a side job or earn a promotion, it will also help.
If you do choose to get a side job, make sure you can prove the source of income. If you don't have proof of the income, the lender won't take it into account.