M&T Bank Personal Loans 2023 Review
Learn more about the fees, terms, and interest rates on personal loans from M and T Bank so you can compare them to the best personal loans from online lenders.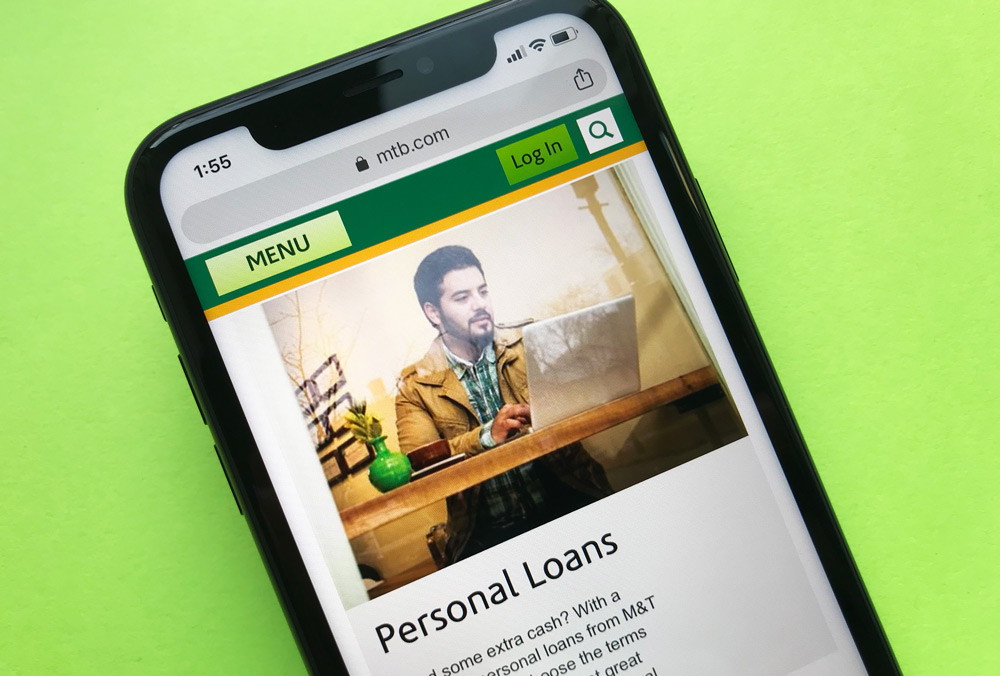 M&T Bank Personal Loans
There are many reasons why you may need a personal loan.
Your car could break down and need repairs.
Or you may want to fix up your kitchen, consolidate debt or simply use a loan to build credit.
Compared to credit cards, personal loans often have some advantages.
Funding is often fast; you may be able to get the money in just a day or two. Interest rates may be lower than what a credit charges. And, you may be able to borrow more with a personal loan.
M&T Bank is a traditional bank founded in Buffalo, New York.
The bank has 775 branches and serves customers in New York, Maryland, New Jersey, Pennsylvania, Delaware, Connecticut, Virginia, West Virginia and Washington, D.C.
In addition to credit cards, M&T Bank offers unsecured personal loans to qualified borrowers.
These loans require no collateral, and you can use them finance small home repairs, upgrade your furniture, consolidate high-interest debt or cover unexpected expenses.
If you've got a financial need that fits into one of those categories, a personal loan from M&T Bank could be a good fit. In this review, learn how the loans work and how to increase your chances of getting approved.
Key Details of M&T Bank Personal Loans
Any time you're looking for a personal loan, there are some key pieces of information to consider.
Below are the most important things you need to know about M&T Bank's unsecured personal loans.
Loan amount
M&T Bank offers personal loans ranging from $2,000 to $25,000. That's similar to what other traditional banks offer.
Online lenders, however, may let you borrow as much as $50,000 or $100,000 with a personal loan.
Loan repayment terms
After how much you can borrow, your next question may be how long you'll have to pay your loan back. M&T Bank offers repayment terms of up to 60 months.
That's comparable to other brick-and-mortar banks, as well as online banks. One thing to know, however. A longer repayment term could mean paying more interest total over the life of the loan.
Minimum income requirement
One thing lenders use to decide whether to approve you for a loan is your income.
M&T Bank doesn't disclose on their website the minimum amount of income you need for a loan.
As a general rule, the higher your income, the bigger the loan you might qualify for.
Minimum credit score requirement
Your credit score is another piece of the personal loan approval puzzle. Again, M&T Bank doesn't disclose the minimum credit score they're looking for from borrowers.
But generally, a score in the good to excellent range (which means a score of 700 or better) is preferred by lenders.
Loan funding speed
You can apply for a personal loan with M&T Bank in-person, by phone or online.
Loan approvals typically take 24 hours and once you're approved, it's possible to have the money deposited in your bank account in just a few days.
Loan fees
There's no fee to apply for a loan no loan origination fee. You may, however, pay a late payment fee if you miss your due date.
APR
M&T Bank offers unsecured personal loans with a fixed APR. That means your APR won't change over time.
Some banks base your APR on your loan term. M&T Bank uses your credit history, income, employment, loan amount, loan purpose and state of residence to determine your APR.
The biggest caveat to watch out for with a loan from M&T Bank is that you'll need to live in one of the states where it does business.
If you don't qualify based on residency, you won't be eligible for a loan.
Option to get a secured loan
Unsecured loans are designed for people who don't want to (or can't afford to) put up cash or property as collateral.
If you have collateral and you need to borrow more, however, M&T Bank also offers secured personal loans.
The maximum limit for these loans is $100,000. You can use money in an M&T Bank savings account or certificate of deposit as collateral.
M&T Bank Personal Loan Calculator
Get an Interest Rate Discount for Being an M&T Bank Customer
Your interest rate is important because it determines how much your loan costs at the end of the day.
A higher APR means more money you're handing over in interest. M&T Bank gives you a way to bring your rate down slightly if you're an existing customer.
If you've got a qualifying checking account -- like the Power or MyChoice Premium accounts -- you can get up 0.50% knocked off your APR. To qualify for the discount, you have to opt into automatic payments for your loan.
A half a percentage point may not seem like much but it could actually save you in a big way over the run.
For example, let's say you get a $25,000 loan with a 9.99% APR for 60 months. With that rate, you'd pay over $6,800 in interest on the loan.
If your APR is reduced to 9.49% because of the rate discount, that knocks off over $300 in interest.
If you're focused on getting the best deal possible on a loan, every penny counts.
Getting Approved for a Personal Loan With M&T Bank
Every bank has different standards for qualifying borrowers for personal loans.
The best way to increase your odds of getting approved is to have an idea of what the bank is looking for.
In the case of M&T Bank, the most important things are going to be your:
Credit history and score
Income
Employment history
Your monthly expenses, including how much you're paying towards debt, also fits in the picture.
In general, lenders want to see that you've got both the means to repay a debt and the inclination to, based on your past payment history.
With that in mind, here are some tips for applying for a personal loan with M&T Bank:
Get organized
Filling out your loan application online can save time but not if you don't have your information together.
Before you begin, make sure you have your Social Security number, proof of income, employer information, monthly expenses and a list of assets and liabilities ready to go.
Check your credit
Your credit report and score tell a lender a lot about how your financial habits.
For instance, it can tell them how good you are at paying your bills on time, whether you're maxing out your credit cards and how often you apply for new credit.
Checking your report beforehand gives you an idea of how the bank's going to view you.
Dispute any errors on your report
A credit report error could drag your score down in a big way
If a creditor isn't reporting your payments on time, for example, or a card that you've paid off is showing a balance, that could work against you.
Disputing errors with the credit bureau could get them corrected or removed, which could help your credit score significantly.
Pay off some of your debt
In addition to payment history, lenders want to see how much of your available credit you're using. This is called your credit utilization ratio.
Maxed out credit cards could send the signal that you're desperate for cash.
Paying off one or two debts, or just paying them down, can lower your utilization ratio and possibly boost your score.
Hold off on applying for new credit
Each time a lender pulls your credit, that inquiry shows up on your credit report.
Each inquiry can trim up to five points off your credit score. Instead of applying for multiple personal loans from different lenders, focus on applying for just the loan that's the best fit.
Comparing M&T Bank to Other Lenders
The great thing about getting a personal loan these days is that you have so many options. With so many loans to choose from, it can be tough to narrow it down.
But, it's worth it to take the time to comparison shop. As you consider different loans and lenders, here are some key questions to ask:
What's the APR range? Is the rate fixed or variable?
How much can I borrow? Does this loan require collateral?
Is there an application or origination fee? What other fees will I pay?
What credit score do approved borrowers typically have?
How long will I have to repay the loan? Is there a penalty for repaying it early?
Will I get any perks, like a rate discount?
As you carry out your search, here are a few other personal loan options to think about.
M&T Bank Personal Loans: A Good Choice for You?
There are a few things that stand out with M&T Bank personal loans.
Loan approval and funding are fast, and the APR range is lower than what some online lenders may charge.
On the downside, $25,000 may not be a large enough loan for what you need.
Assuming you live in a state that M&T Bank serves, these loans are great if you are adamant about getting the lowest interest rate and your borrowing needs do not exceed $25,000. Otherwise, online lenders are the way to go.