Regions Bank Personal Loans 2023 Review
Find out the details of the unsecured personal loans offered by Regions Bank and compare the interest rates and fees to other personal loan options.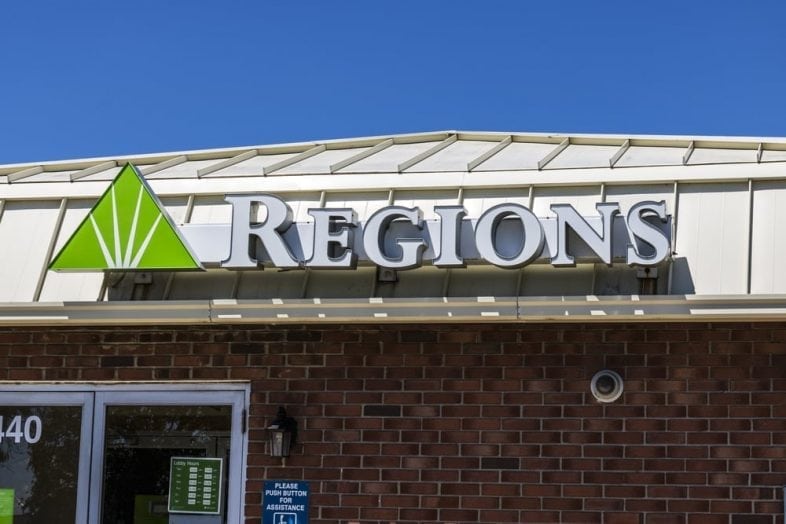 Regions Bank
Personal loans can help you fund a big project, like buying a car or help with covering smaller cash flow blips.
But where do you go to get one?
Regions Bank is one borrowing option.
This traditional bank, which operates over 1,500 branches in 15 states throughout the south and midwest, now partners with online lender Avant to offer personal loans.
If you already have a checking or savings account with Regions Bank, it might be the first place you consider for a personal loan.
And if you don't bank with Regions, you can still apply for a personal loan online.
Before you try to get a personal loan, however, there are some important details to know.
In this review, learn how an unsecured loan from Regions Bank works to decide if it's right for you.
Unsecured Personal Loan Details
Regions Bank offers unsecured personal loans of up to $35,000. The minimum amount you can borrow is $2,000.
These are general purpose loans, which means you can use them for virtually any financial need. That includes home improvements, planning a vacation, buying a car or consolidating debt.
The repayment term for loans varies based on how much you borrow. The maximum repayment term is five years.
Loans have a fixed interest rate, which means a predictable payment each month.
Regions Bank Personal Loans Pros & Cons
No collateral
Coming up with collateral for a personal loan can be challenging.
Regions Bank does offer secured personal loans but the ones featured here are unsecured.
Fortunately...
You can borrow a lump sum of cash without having to put up any property or other assets as security.
Minimum income and credit requirements
Lenders typically have a minimum income level and credit score you need to have to qualify for a personal loan.
Regions Bank is no different.
But, the bank isn't transparent about its requirements. There's no minimum income or credit score spelled out for you.
That makes it harder to gauge how your credit or income could affect your loan eligibility. The bank's partner Avant offers personal loans for borrowers with bad credit, but you may need a higher score for a Regions Bank loan.
How soon can you get loan funding?
If you need a personal loan to cover an emergency expense, you don't have time to wait around for the money. 
Here's the best part:
Regions Bank is able to fund loans very quickly.
Depending on what time you're approved, you could have loan funds deposited into your account electronically the same day.
Fees and Rates
Any time you're getting a personal loan you want to know what you'll pay for fees and interest.
The higher those are, the more the loan costs in the long run.
The fees for an unsecured personal loan aren't readily available on the Regions Bank website, but there's no check processing fee or non-sufficient funds fee if a payment is returned.
There's also no prepayment penalty if you pay your loan off early, which is huge.
That said:
You will, however, pay a fee for paying late. More importantly, you'll pay an origination fee for your loan.
This is a fee that covers the cost of processing the loan.
Similar to the income and credit requirements, Regions Bank doesn't say exactly what the fee is on its website.
What to watch out for when you apply
When you apply for a Regions Bank unsecured loan, you're directed to Avant's site to complete the application.
If you're not approved by Regions, you could still be offered a loan by Avant.
But, the loan terms, including the amount you can borrow, repayment period, rates and fees would be Avant's.
Your loan APR could end up being much higher if you have a lower credit score.
Special Features
There are a few different benefits worth noting about Regions Bank personal loans.
Rate quotes
First, you can check your rates without a credit score impact before you apply.
Being able to browse your rates without a credit score hit can give you an idea of how likely you are to be approved.
Rewards
Finally, your Regions loan account could help you earn Relationship Rewards points. Each loan account you have is worth 500 points annually.
Signing up for online banking and making loan payments can also help you earn points.
You can get those rewards on top of cashback rewards you can earn with your Regions Bank debit card.
Points can be redeemed for travel, merchandise, cash and more.
Applying for an Unsecured Loan from Regions Bank
Applying for an unsecured loan with Regions Bank isn't difficult. You can start the application process online, by phone or at a Regions Bank branch.
To apply online, you'll need to create an account first. You'll need to plug in your:
Name
Address and phone number
Email
Social Security number
Monthly net income
Monthly housing payment
Purpose for the loan
You'll also need to tell Regions Bank and Avant whether you rent or own and how long you've lived at your current address.
Once you get your account set up, Regions and Avant check your credit.
This is a hard pull, which means it will show up on your credit report.
At this point, you'll be able to see the initial rates you may qualify for. You'll also be able to view different repayment terms and monthly payments.
You may have to upload additional documents, like a copy of your driver's license, to prove your identity. But once you're approved, the final step is choosing the loan you want.
From there, you can add in your bank account information to receive the loan funds.
How to Get Approved for a Regions Bank Personal Loan
Not having a minimum credit score or income requirement to go by makes it a little harder to figure out if you're a good candidate for a Regions Bank loan.
The best move is to make your application as strong as possible.
Your credit report
Check for any errors or mistakes that could be hurting your credit score.
Dispute them with the credit bureau if you find any.
Practice good credit habits
Pay your bills on time each month. Work to bring your credit card balances down to improve your credit utilization.
Keep old credit accounts open, even if they don't have a balance. Make a small purchase, then pay it off to keep the account active.
Don't apply for any other new loans or credit cards in the meantime. Each new inquiry for credit can shave a few points off your credit score.
How much you want to borrow
Don't ask for more money than you actually need and be specific about its purpose on your application.
Regions Bank Loans vs. Other Personal Loans
You shouldn't apply for any personal loan without first checking out other lenders.
As you're comparing loans, take time to look at what's most important. That includes:
How much you can borrow
Loan repayment terms
The APR range
Whether the APR is fixed or variable
How easy it is to apply
How quickly the loan can be funded
Minimum credit and income requirements to qualify for a loan
Any fees the lender charges for a loan including prepayment penalties and origination fees
Whether you can enjoy any additional rewards or perks, such as rewards or an autopay rate discount
When you're looking for a personal loan from a bank, also check to see if you need to have an account to apply for a loan.
Regions Bank doesn't require you to have a checking or savings account to apply. But, that could make the application and loan funding process a little faster.
Conclusion: Is a Regions Bank Unsecured Loan Right for You?
If you already bank with Regions, these unsecured personal loans are worth a look.
Being able to earn relationship rewards points just for having the loan is a nice bonus.
Take time to browse your rates first to see what APR range you might land in, however.
Then, look at what other brick-and-mortar banks, credit unions or online lenders offer. If you have excellent credit, you may be able to find a better rate with an online lender.
Some online lenders also let you borrow more, with unsecured loans of up to $100,000. That's appealing if you're tackling something big, like a major kitchen overhaul.
Bottom line:
A Regions Bank personal loan could be a good choice if you have good credit and don't need to borrow a substantial amount. But, you are likely to find lower APRs with other online lenders.