The Best Checking Accounts in Alaska for 2023
Find out which local banks in Alaska offer the best checking accounts based on fees and features -- compared to options such as online checking accounts.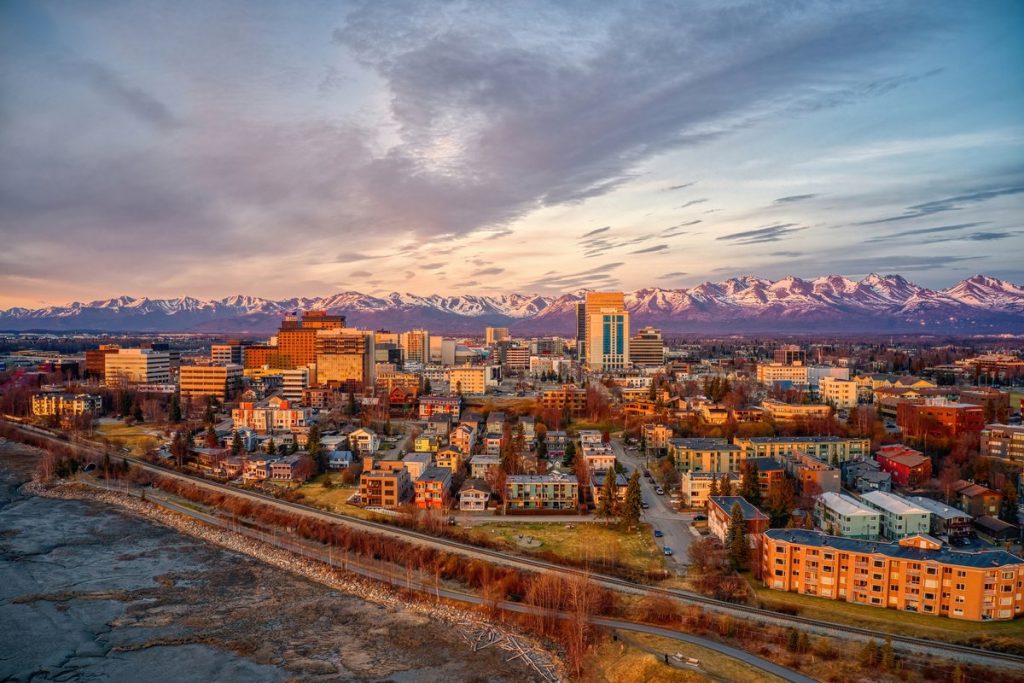 Having access to a solid checking account can make managing your financial life easier.
Unfortunately, several banks offer less than stellar checking accounts. They may charge monthly maintenance fees or other costs that make holding a checking account a financial loss for the consumer.
Thankfully, some good banks still offer useful checking accounts with low or no fees.
We took a look at the checking accounts offered in Alaska to determine which might help make your financial life easier to manage.
Compare Checking Account Options
Make sure that you look at other checking accounts that could be better for you:
The Best Checking Accounts in Alaska
KeyBank - Key Smart Checking
KeyBank's Key Smart Checking can help people who need a simple checking account that doesn't charge costly monthly maintenance fees. The bank has 10 locations throughout Alaska.
You only need $10 to open an account. After that, the account has no minimum balance requirements or transaction minimums and no monthly maintenance fees.
You don't have to pay ATM fees at KeyBank or Allpoint network ATMs when using your KeyBank Debit Mastercard.
KeyBank does charge you $3 for using non-KeyBank ATMs within the United States. This is in addition to any fees ATM owners may charge.
Northrim Bank - Flex Checking - Simple Tier
Northrim Bank offers a suite of checking products and 18 branches throughout Alaska. The Simple Tier of their Flex Checking account is our top pick from this bank.
The account has no monthly maintenance fee and even reimburses ATM surcharges and Northrim out-of-network fees, up to $10 upon request for domestic transactions.
You do have to have a $100 minimum deposit to open an account and the account does not pay interest.
Mt. McKinley Bank - Edge Checking
Mt. McKinley Bank has four branches, with their main office located within Alaska. They offer a handful of checking accounts, but their Edge Checking account is our favorite.
This account has no strings attached, according to the bank. There is no monthly maintenance fee or service charge and no minimum balance requirement exists. You do have to pay $10 per check for a check cashing fee if your average balance in the account is under $100, though.
Denali State Bank - Free Kasasa Cash Checking
Denali State Bank has its main office as well as four branches in the state of Alaska. The bank offers three checking accounts, but their Free Kasasa Cash Checking is our top pick.
You can earn up to 2.00% APY on balances of up to $15,000 with qualifying transactions and enrollment in e-Statements and online banking. Without meeting these requirements, you receive 0.05% APY.
The account requires a $100 minimum deposit to open but offers several features. You don't have to have a minimum balance to earn rewards. The account doesn't charge a monthly maintenance fee and you can get up to $25 reimbursed for ATM withdrawal fees within the country.
How we picked
MyBankTracker took a measured approach to pick our top accounts for Alaska. These accounts were chosen based on our analysis of the top 50 banks by deposit market share in Alaska (according to FDIC June 2021 data), which includes coverage of major cities such as Anchorage, Juneau, Fairbanks, Wasilla, and Sitka.
In particular, our selection trended toward checking accounts with the lowest monthly service charges, the least strict requirements to waive these fees, ATM network access, and other convenience features consumers may find helpful.
Big Bank vs. Online Banks
When you're looking for a checking account, you have several options. Many consumers flock to one of two main categories of banks, depending on their needs. These are big banks and online banks.
These two types of banks operate in very different ways. Here's what you need to know about the pros and cons of each.
Benefits of Big Banks
Extensive network of branches
Big banks are known for having a vast network of branches throughout their service area. While many banks are seen as national banks, they don't necessarily offer locations in all parts of the country.
Access to several products services
These banks typically offer several products to choose from. This includes several types of accounts within each account type, including checking accounts. This gives options to customers, although they may not be optimal options.
Can meet with banking experts in person
Thanks to the branch infrastructure, you can often meet with a banker in-person to help resolve issues. That said, some problems may still need to be dealt with over the phone.
Usually offer decent technology
Big banks have big budgets, so they should provide at least decent technology solutions. This should include, at a minimum, online banking and a mobile app.
Drawbacks of Big Banks
Higher fees
Big banks have a lot of overhead costs to cover, thanks to their branch footprint. Expect to pay higher fees than you may pay with other banks.
Poor interest rates on checking and savings products
Similarly, big banks know you don't choose them because they offer high interest rates. Instead, they offer low interest rates on checking and savings accounts, if any at all.
Annoying account requirements
Big banks often have monthly minimum balance requirements you must meet to avoid paying maintenance fees. Depending on the account type, they may also have other activity requirements to waive fees.
Size may slow down processes
Large corporate banks may have bureaucratic processes that slow down processing everyday tasks. If you need a bank to move fast, a large bank may not be your best choice.
Pros of Online Banks
Still FDIC insured
As long as an online bank is an FDIC member, you receive the same FDIC coverage.
Convenient access wherever you are via apps or online banking
Online banking and apps allow you to access your bank accounts wherever you are.
Tend to offer better interest or perks
Online banks don't have branches, so they entice you with higher interest rates and other perks.
Tend to have lower fees
Due to lower overhead costs, online banks don't typically have to charge as many fees to remain profitable.
Technology is usually superior
Online banks know technology is the primary way you communicate with them. For this reason, their online banking and mobile app services are generally exceptional.
Cons of Online Banks
No physical branches
Online banks don't have physical branches you can visit to meet with a human face to face. This can cause issues if you have a problem or prefer human interaction.
Can't access without internet access
If the bank's website goes down or you don't have access to the internet, you can't access your accounts.
Depositing cash can be painful
While you may be able to deposit cash, it isn't as easy as heading to the local branch of a large bank and putting it in your account.
How to Choose a Checking Account
Choosing a checking account depends on your specific situation and how you plan to use the account. Here are a few things to consider to help make your decision easier.
Fees
Banks can make money in several ways. One of those ways is charging its customers fees.
As a consumer, you want to pay as few fees as possible. Several checking accounts exist that don't charge many fees to use your accounts in standard ways.
Sadly, some banks charge predatory monthly maintenance fees if you don't keep a certain balance in the account or make a certain number of transactions. Avoid these banks if at all possible.
You should expect some fees, though. These generally should be for services you use. This could include stopping payment on a check or sending or receiving a wire transfer. You won't come across these fees regularly, but it's good to be aware of them.
Access
Having access to your bank account is vital. If you plan on using your bank in person, you'll want to look for convenient branches to where you live and work.
You'll also want to keep an eye on the bank's ATM network to make sure you don't incur costly out-of-network fees.
Interest rates
Traditionally, checking accounts pay very little to no interest.
Today, some banks are offering checking account products that offer above-market interest rates on checking accounts if you meet specific requirements. These often include making a certain number of debit card purchases and signing up for e-Statements.
The catch is the higher interest rate is limited to a certain balance. If you don't meet the requirements, the interest rate plummets to next to nothing.
Online/mobile banking
Most banks have online banking or mobile apps you can use to manage your account. Look into these services before opening an account.
Apps and online banking may offer different service levels from bank to bank. Look for a bank that offers the features you need. These could include:
Free bill pay
Remote check deposit via app
Scheduling transactions
Other comprehensive services
While low fees and basic features are key, it's helpful to have a bank that can fulfill all of your needs.
Look to make sure your potential future bank offers the service you could see yourself using in the future.
These could include things such as:
Wire transfers
Money orders
Access to a personal banker
Mortgage and other lending options
Financial advisors
Choose Your Best Option
Choosing a bank and checking account will differ from person to person. While your neighbor may love their bank, it may not fit your needs.
Consider your specific needs when choosing the best checking account for you.