The Best Checking Accounts in Connecticut for 2023
Find the best checking accounts in Connecticut that we chose from the biggest local banks based on accounts fees and features.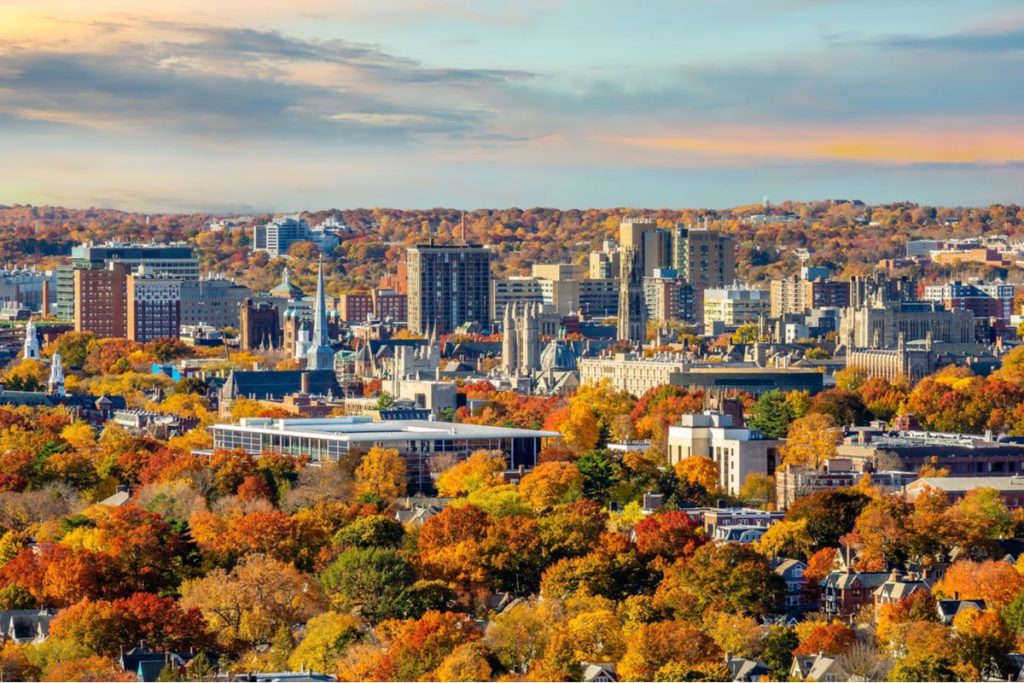 Bank accounts can make your life much easier. This is especially true if your checking account is one of the better ones around.
Checking accounts can help you manage your money and have a single source to pay your bills from. Sadly, not all checking accounts are stellar.
In fact, many are laden with expensive and unnecessary fees. In these cases, a bad checking account could actually hurt your finances.
The good news:
Not all banks have ridiculous fees and hoops to jump through to have a checking account.
Choosing one of the best checking accounts in Connecticut could help avoid the costly mistake of selecting a fee-heavy checking account elsewhere.
Compare Checking Account Options
Make sure that you look at other checking accounts that could be better for you:
The Best Checking Accounts in Connecticut
Bankwell Bank - Smart Checking
With ten branches in Connecticut, Bankwell Bank offers a product called Smart Checking you may want to look into. It provides a slew of features that make it a top checking account contender, including:
No monthly maintenance charges
Interest bearing with no balance minimums, although the interest rate is only 0.15% APY
Reimburses ATM fees from other banks in the United States
The one downside is you need a minimum of $100 to open an account. Even so, you get access to online banking with remote check deposit and an Android or iOS app.
Union Savings Bank - Essential Checking
Union Savings Bank's Essential Checking account may be worth considering if you're looking for a new checking account. The bank has 24 branches throughout Connecticut. The bank doesn't charge a service fee for this account.
You need $25 to open an Essential Checking account and must opt for eStatements to avoid a paper statement fee. That said, you get access to online banking with bill pay, a mobile app, early payday, and other features. Customers aged 15 through 24 get the $2 per transaction non-Union Savings Bank ATM fee waived up to six times per statement.
Citizens Bank - One Deposit Checking
Citizens Bank is a larger bank with 33 branches in Connecticut. They also have branches in 11 other states. The bank's One Deposit Checking account is our favorite from their offerings.
The account doesn't earn interest. It does charge a $9.99 monthly maintenance fee. Thankfully, the maintenance fee is easy to waive. You only have to make one deposit each statement period to waive the fee.
There is no minimum balance requirement. You can open your account with any amount of money, too.
This account could be helpful if you often travel within the areas the bank services. They have over 1,000 branches and 3,000 ATMs. They also offer 24/7 mobile banking as well as an iOS and Android app.
Ion Bank - On the Go Checking
Ion Bank's On the Go Checking account could be a solid choice for consumers looking for a new checking account. The bank has 20 branches in Connecticut.
The bank's On the Go Checking account offers a long list of features that should make most customers happy, including:
No monthly maintenance or service fees
No minimum balance requirements
Free checks for your first order
Free eStatements
The bank even offers ATM fee reimbursement for other banks' ATMs if you're age 24 or older, enrolled in eStatements and you make five point-of-sale debit Mastercard transactions per statement cycle. The point of sale debit Mastercard transactions aren't required if you're under age 24.
Berkshire Bank - Free Checking
Berkshire Bank serves customers in Connecticut, Massachusetts, Vermont, New York, and Rhode Island. The bank's Free Checking account is our favorite of their checking accounts.
This account doesn't require a minimum monthly balance and doesn't charge a monthly maintenance fee. You aren't charged per check you write, either.
The bank offers free eStatements, online banking with bill pay, and mobile banking with mobile check deposit via an app. If you choose to have paper statements, there is a $3.50 per month fee.
How we chose
MyBankTracker applied a methodology when choosing our best checking accounts in Connecticut. Our top accounts were picked based on a thorough analysis of the top 50 banks by deposit market share in Connecticut when using the FDIC's June 2022 data--covering major cities such as Bridgeport, Stamford, New Haven, Hartford, and Waterbury.
We focused our selections on checking accounts with low monthly maintenance fees, the least demanding requirements to waive these fees, the bank's ATM network, and other features included to make a person's banking life more convenient.
Big Bank vs. Online Banks
When you're looking for a checking account, you have several options. Many consumers flock to one of two main categories of banks, depending on their needs. These are big banks and online banks.
These two types of banks operate in very different ways. Here's what you need to know about the pros and cons of each.
Pros of Big Banks
Access to several products and services
While online banks may offer many banking products, big banks usually have a wider array of products and services.
Physical branches
If you prefer to see a person face-to-face, big banks have branches you can visit to take care of your banking needs.
Provide technological solutions
Big banks know customers want to bank online and on their phones. They usually offer mobile apps and online banking.
Cons of Big Banks
Corporate bureaucracy
Big banks often have several layers of authority to go through to get issues fixed and are less flexible than leaner online banks may be.
Cumbersome account requirements
Expect to see checking accounts with monthly maintenance fees and minimum balance requirements.
Fees
Big banks charge various fees, more so than most online banks, to cover the costs of their physical branches and infrastructure.
Paltry interest rates
Interest rates on checking and savings accounts at big banks are usually close to non-existent. This is another area big banks cut back in to cover their higher physical costs.
Benefits of Online Banks
Better interest rates
Expect to see higher interest rates as a main competing factor online banks use to get you to sign up.
FDIC insurance
If an online bank is an FDIC member, you still get FDIC insurance coverage on your accounts.
Lower fees
Online banks don't typically charge as many fees because they don't have as much overhead to cover without physical branches.
Online access
You can access your accounts anywhere through online banking or a mobile app.
Superior technology
Online banks only exist online, so they know their technology must be top-notch and user-friendly to keep customers happy.
Drawbacks of Online Banks
Cash deposits are difficult
If your online bank supports depositing cash, doing so can be trickier than visiting a big bank's local branch.
Must have internet access
Without internet access, you can't access your bank's mobile app or online banking. Unless you have checks or can find an ATM, you have no way to access your money.
No physical locations
Don't expect your online bank to have a physical branch you can visit to have issues fixed. That said, they should offer an ATM network you can use to get cash.
How to Pick the Right Checking Account
Consider the following factors when looking for the right checking account for you.
Access
Before you choose a checking account, understand how you'll use it. Then, make sure you can access the services you need reliably.
If you plan to make many in-person transactions, look for a bank with convenient branch locations. If you prefer to do your banking online, find a bank that offers mobile banking and has an app.
Fees
Fees aren't ideal, but they're one of the ways banks make money. Several banks may decide to avoid charging annoying fees and instead make money elsewhere.
Savvy consumers can find a checking account with minimal to no fees.
In particular, look to avoid monthly service charges, maintenance fees, and minimum account balance charges.
Fees may exist for services you use occasionally. Make sure they're reasonable for the types of transactions you'll use regularly.
Interest rates
Checking accounts rarely offer interest rates worth mentioning. That said, rewards checking accounts have popped up more and reward people with high APYs on a balance up to a certain amount with qualifying transactions.
Ideally, any money you want to be earning interest should be in a savings account.
That said:
Having a rewards checking account that pays interest shouldn't hurt as long as other fees are kept to a minimum.
Mobile or online banking
In today's technology-driven world, it's almost essential to have access to your bank online or through an app. Some banks have better technology services than others, though.
Look for a bank that offers the digital services you plan to use to manage your account.
In particular, you may want to look for free bill pay, the ability to deposit checks remotely via an app, and the ability to schedule transactions that recur on a schedule.
Other services
You may want to use the bank you have your checking account with for other services.
If this is important to you, make sure you understand their entire suite of product offerings. This could include access to loan officers for mortgages and other loans, financial advisors, or even a personal banker.
It's also essential to make sure their checking account offers the services you need at a reasonable price. If you need access to money orders and wire transfers often, check to see how much these services cost.
Pick a Bank That Works For You
Finding the perfect checking account for you depends on your particular needs and wants.
Make sure to compare banks in Connecticut to find the one that makes the most sense for you.