The Best Checking Accounts in Hawaii for 2023
See the best checking account offered by local banks in Hawaii -- chosen based on their account fees and features (compare them to options from online banks).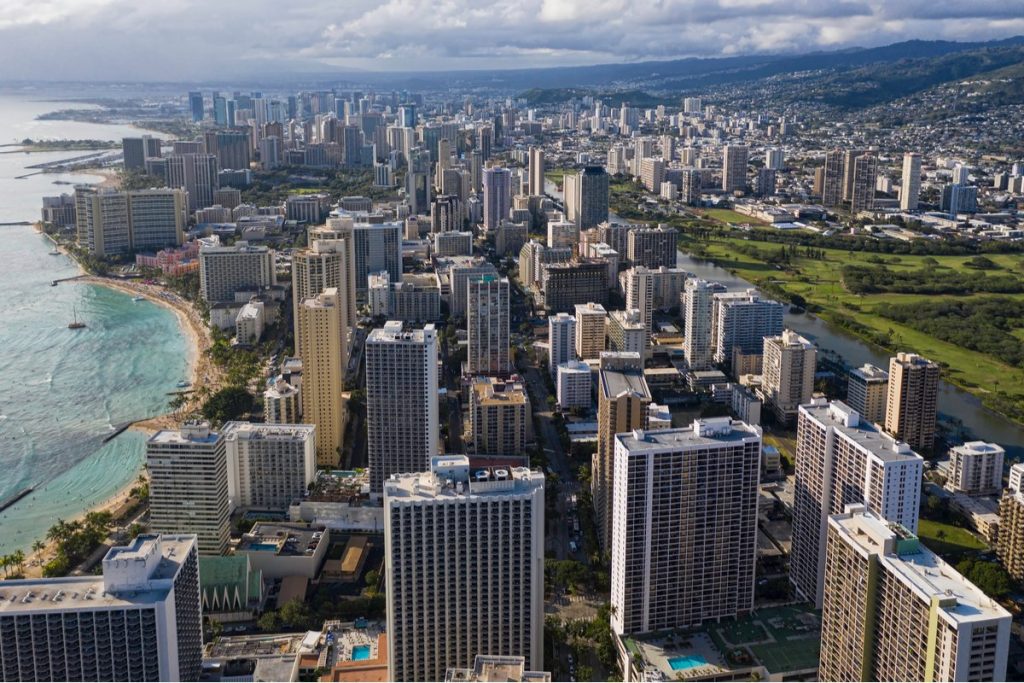 Finding the perfect checking account can feel overwhelming. You likely have several banks to choose from. Each bank may have several checking account products.
To make your life easier, we've taken a look at checking accounts in the state of Hawaii and picked our favorites. Here's what you should know.
The Best Checking Accounts in Hawaii
Bank of Hawaii - EASE by Bank of Hawaii
The EASE by Bank of Hawaii checking account may be a good fit for your family. You won't pay overdraft fees or get hit with a minimum balance requirement fee. You get access to online banking through their mobile app, too.
To open an account, you need at least $25. You must also have a physical address in Hawaii, Guam, Saipan, Palau, or American Samoa.
The account does have a $3.25 monthly service fee, but it can be waived if you enroll for online statements. Surprisingly, you can't write checks from this account. They claim this is to avoid bounced checks.
First Hawaiian Bank - Pure Checking
First Hawaiian Bank's Pure Checking account has a $2 per month service charge, but it can be waived by signing up for e-Statements. You only need $20 to open an account.
As an account holder, you get access to First Hawaiian Bank's online and mobile banking solutions. These include the ability to deposit checks using mobile deposit.
Unfortunately, accessing Bill Pay with this account will cost you $5.99 per month. You can get this fee waived by having direct deposits of $500 or more per calendar month.
American Savings Bank - Kalo Essentials Checking
The Kalo Essentials Checking account from American Savings Bank may be another alternative. The account doesn't have a monthly service fee or a minimum balance requirement.
You get free Kalo Design starter checks and a free Gold Visa debit card when you open the account. You also get access to bill pay for no fee and free mobile check deposit.
If you want paper statements, you have to pay a $5 per month fee. If you open a Statement Savings Account with this account, you'll have to pay a fee for that account.
You do have to have $20 to open an account. Additionally, your account may be closed if it has no balance for 30 days or more. This account does not pay interest.
Territorial Savings Bank - Basic Checking
Territorial Savings Bank offers a no-frills Basic Checking account that may fit your needs.
The account has no minimum balance requirements. You also get unlimited check writing privileges.
You don't get free checks with the account. That said, people age 55 and older get a free check option and a 3" x 5" safe deposit box with a $40 key deposit.
The minimum opening balance is $25. You also get access to online banking and their mobile banking app.
Hawaii National Bank - Household Checking
Hawaii National Bank's Household Checking account is another straightforward account to consider. The account has no minimum balance requirements and offers online and mobile banking.
You can avoid the bank's monthly fee by choosing to receive e-Statements. Opening an account requires $50. If you write more than five checks per month, you have to pay a $0.30 fee per check above the first five.
How we picked
MyBankTracker methodology's for choosing our top checking accounts in the state of Hawaii included an in-depth analysis of the top 50 banks by deposit market shares in Hawaii when using the FDIC's June 2021 data, with coverage of major cities including Honolulu, East Honolulu, Pearl City, Hilo, and Kailua.
For each bank and checking account, we focused on accounts that offered low or no monthly maintenance fees, straightforward methods to waive any maintenance fees that do exist, the bank's ATM network, and other convenience features.
Online Banks vs. Big Banks
Online banks have grown in popularity over the last couple of decades.
However, traditional big banks still hold a considerable market share of banking activity.
These bank types may be an alternative to the more local-focused banks listed above. Here's what you need to know about them.
Benefits of Online Banks
Bank flexibly
Online banking and mobile apps are the primary way you bank with an online bank. This gives you the flexibility to bank virtually anywhere.
FDIC insurance
Online banks that are FDIC members offer FDIC insurance coverage. This is the same as big banks.
Fewer fees and more affordable fees for those that do exist
Online banks don't have massive overhead costs for branches. This allows them to charge fewer fees. Those that they do charge may be more affordable than big banks.
Better interest rates, if offered
If your online bank offers interest on checking accounts, chances are the rates will be higher than those offered by big banks.
Top-notch technology
Online banks know their mobile and online banking experience must be best in class to keep customers since branch banking isn't an option.
Downsides of Online Banks
Cash deposits
You can't walk into a bank to deposit cash or send it through the mail. Other options may exist but aren't as convenient as heading to a branch.
No internet means no banking
People who don't have a reliable internet connection can't access their accounts. Similarly, areas hit by natural disasters may be without power or internet for extended periods leaving them no access to their accounts.
No branch locations
Online banks don't have branches to visit. A phone call is likely your only option if you need to fix a problem.
Positives of Using Big Banks
A more comprehensive array of products
Large banks have built their businesses out to a considerable size. This likely includes a large number of banking, loan and investment products.
Physical locations
Large banks offer local branches as a way to bank for those that find it more convenient.
Online access likely available
Big banks should have online banking and app-based banking available. Their software may not be as easy to use as online banks, but it should be serviceable.
Drawbacks of Using Big Banks
Fees
Big banks thrive on fees to cover their costs and pad their bottom lines. Look very carefully at the account you choose to figure out how to minimize fees.
Bureaucratic processes
Large banks are massive entities. Expect bureaucratic processes to slow down problem resolution and other activities that should otherwise happen quickly.
Conditions to keep track of
You may find your big bank charges fees if you don't meet certain conditions. These could be having e-statements and direct depositing a certain amount to your account each month.
Don't expect interest
Big banks don't usually pay interest on checking accounts. Even if they do, the rates aren't stellar in most cases. Sadly, savings account interest rates may be poor at big national banks, too.
Consider the Following When Picking a Checking Account
Each person has unique needs for their checking accounts. Even so, these points should be considered by almost everyone looking for a new account.
Costs you pay
While some checking accounts are mostly free, you can usually find fees hidden somewhere in most accounts. You may only have to pay fees for things like wire transfers or purchasing a money order in the better free checking accounts.
Unfortunately, not all checking accounts are good. Some charge monthly maintenance fees, inactivity fees, check writing fees and several other fees. Carefully look at the fee schedule for an account you're considering before signing up.
Will you earn interest?
While most checking accounts don't pay interest, some do.
The checking accounts that do pay interest usually don't pay much.
That said:
Some rewards checking accounts exist that allow you to earn a higher interest rate than you might earn in a savings account.
These high interest rate checking accounts may require you to meet requirements to earn the higher rate.
You may have to sign up for e-statements and make a particular number of transactions on your debit card each month. These accounts typically limit the balance the higher APR applies to.
Accessibility
The ability to access your accounts in the way that makes the most sense for you is essential. If you can't use an account how you'd like, you may not use the account as intended.
For people that like bank branches, look for a bank that has a branch near your home or workplace.
Online or mobile banking usefulness
If you prefer online access versus in-person access, look into how a bank's online banking and mobile app work. Make sure it supports the features you need to use, such as remote deposit capture.
Other banking needs
When you choose a checking account, that account lives at a particular bank. If you need other banking services, it's helpful if the same bank also offers those services.
Here are some services you may want to inquire about before opening an account.
Whether the bank has a financial advisor you can meet with
If a bank has mortgage or other loan officers at your local branch
If they support payment services, such as wire transfers and money orders, and their associated costs
Pick the Right Checking Account for You
Checking accounts vary from bank to bank. Use this to your advantage.
First, consider what you need out of a checking account.
Then, check that list against our top account options and other contenders to find the perfect fit for you.