The Best Checking Accounts in Idaho for 2023
Find out which local banks in Idaho offer the best checking accounts to consumers based on account fees and features -- compared to options from online banks.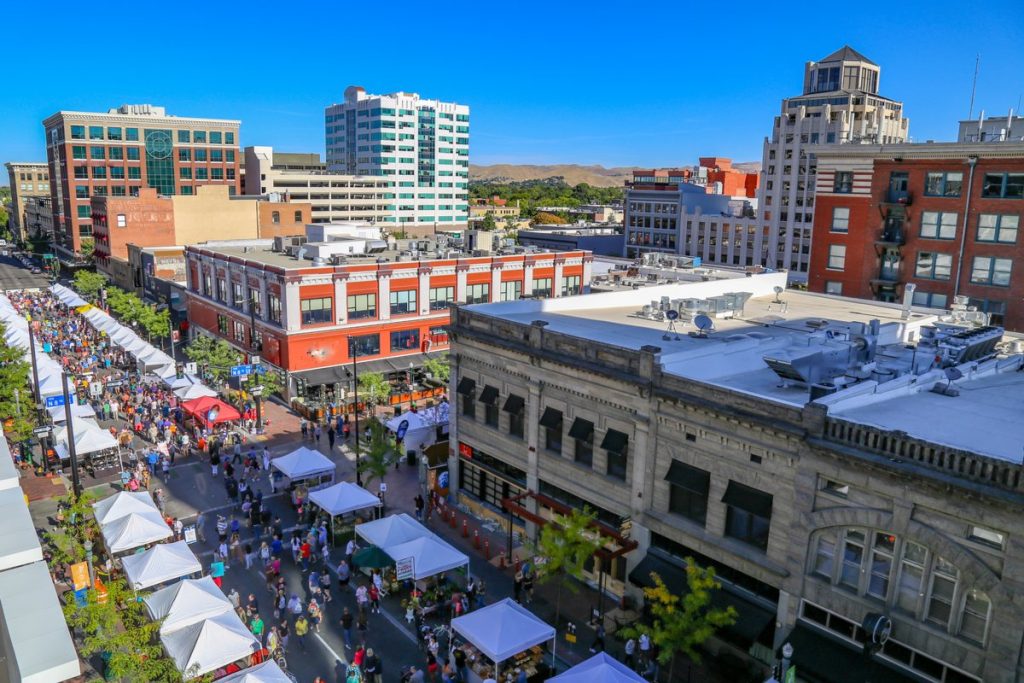 The right checking account can help you manage your money without hurting your wallet. It can be challenging to find the best checking account, though.
Unfortunately, many banks see checking accounts as a way to earn money through fees. Thankfully, other banks may use an amazing checking account with low or no fees to get new customers.
If you're looking for a new checking account, you want to make sure you pick a good one. People who live in Idaho can use our list of the best Idaho checking accounts below to start their research.
Compare Checking Account Options
Make sure that you look at other checking accounts that could be better for you:
The Best Checking Accounts in Idaho
D.L. Evans Bank - Free Community Checking
If you're looking for a checking account with no monthly service charges, the Free Community Checking account from D.L. Evans Bank may be an option. The account doesn't have minimum balance requirements.
You need $100 to open an account but get access to several features. These include:
Free online banking
Free bill pay
Free mobile banking
Free mobile deposit
Free eStatements (paper statements may charge a fee, no fee disclosure could be found)
Unlimited check writing
Zions Bank - Anytime Checking
Zions Bank's Anytime Checking is a maintenance fee-free checking account. You have to pay $3 per month if you want paper statements but can opt for free e-statements instead.
The account requires you to have $50 to open an account. There is no monthly minimum balance requirement.
The account offers mobile and online tools, online bill pay, mobile deposit, Zelle transfers, and U.S.-based customer support. The account is non-interest bearing.
Washington Trust Bank - Simplicity Checking
Washing Trust Bank's Simplicity Checking account is our top pick for this bank. In an increasingly rare move, this bank doesn't charge for paper statements, eStatements, or check images if you have a monthly recurring direct deposit. If you don't and you don't opt for eStatements, you have to pay a $3 monthly base fee for this account.
You need $50 to open an account but get access to online banking, a mobile app, and bill payment. Account holders also get free cashier's checks and money orders if you need them.
Customers age 62 or older get a free first order of basic checks. The bank account doesn't pay interest and charges a $2.50 non-Washington Trust Bank ATM fee if you use ATMs outside their network.
Washington Federal Bank - Free Checking
Washington Federal Bank allows you to open their Free Checking account in a branch or online. The bank has 200 branches spread across eight states. This gives you more banking options if you travel often.
The account has no monthly maintenance fees and no minimum balance requirements. You get online banking access, a mobile app, check deposit via your smartphone, Zelle person-to-person transfers, no-fee bill pay, and more. You need $25 to open a Free Checking account with the bank.
First Federal Savings Bank of Twin Falls - FREE Checking
We chose the FREE Checking account at First Federal Savings Bank of Twin Falls as one of our top five options in Idaho. You'll need $100 to open an account, but you don't have to maintain a minimum balance or pay a monthly service charge.
While the account doesn't pay interest, you get unlimited check writing privileges, free online banking, bill pay, mobile banking, and more. You have to pay a $5 per month inactivity fee if you have no activity for 396 days on the account.
How we chose these best checking accounts
MyBankTracker looked at the top 50 banks by deposit market share in Idaho using the FDIC's data from June 2022. Then, we applied a methodology to choose our top checking accounts in the state and availability in major cities including Boise, Meridian, Nampa, Idaho Falls, and Caldwell.
While looking at banks and their checking accounts, an in-depth analysis was performed based on the following criteria:
Offering no or low monthly maintenance fees
Simple ways to waive maintenance fees, if they exist
The ATM network the bank offers
Other convenience features for customers
Online Banks vs. Big Banks
Local banks play a significant role in banking, but you have other options you may want to consider.
Bigger national and regional banks, as well as online banks, may provide the banking service you need from a checking account. Here's what you should know.
Pros of Online Banks
Access anywhere
If you have an internet connection, online banks allow you to use mobile apps or online banking to meet your banking needs.
Easy-to-use technology
Since online banks focus on offering online or mobile app access, their technology is typically intuitive and easy to use.
FDIC insurance
Online banks offer the same FDIC insurance brick and mortar banks have if they're an FDIC member.
Fees are often more reasonable
Online banks generally charge fewer fees and lower fees for the fees that do exist. This can happen because online banks don't have high overhead costs from a physical bank branch network.
Interest, if offered - If your online bank offers interest, it likely will be higher than that provided by most traditional banks.
Cons of Online Banks
Branches don't exist
You won't find an extensive branch network with an online bank. While one branch may exist, chances are it isn't near you.
Depositing cash
No bank branches means no walking into a branch to deposit cash. Other options may exist but aren't as straightforward.
Reliance on the internet
If you don't have stable access to the internet, banking may be difficult or impossible. This can cause problems during natural disasters or power outages if you need access to funds.
Benefits of Using Big Banks
Branch network
Big banks have built out massive branch networks across the areas they serve.
Can still access online
Even though they're not online banks, big banks know people want to access their money online. Mobile apps and online banking even help cut down on branch visits, which cost banks money.
More banking products
The largest banks often offer the widest variety of banking, loan, and other related products.
Downsides of Using Big Banks
Costly fees
Some banking products offered by big banks may offer low or no fees, but that isn't usually the case. You often face a long list of fees, some of which may be expensive.
Large organizational structure
Big banks have several management and customer service levels. Front line employees may not have the authority to help you fix your problems. Instead, you may face a bureaucratic process.
More involvement needed
Bigger banks often require you to meet certain conditions to avoid fees. This could include signing up for eStatements, making a certain number of transactions each month, or having a direct deposit. You must keep up with this or face the fee.
Rarely pay interest worth mentioning
Across both checking and savings accounts, big banks normally pay little to no interest. Most checking accounts won't offer the feature and those that do likely pay less than 0.1%.
Consider the Following When Picking a Checking Account
Choosing a checking account should focus on your specific needs and how you plan to use the account. Here are some factors to consider.
Fees and other costs
One of the first things to consider when looking at a checking account, or any bank account for that matter, is the list of fees you may have to pay.
Some banks have excellent products with no fees you have to pay to open and use an account in basic ways. Others have a long list of maintenance fees, per check processing fees, minimum balance fees, and more.
Virtually no bank is genuinely fee-free.
Look:
If you want to use some less commonly used services, you'll probably have to pay a fee. This could include stopping payment on a check or sending a wire transfer.
The key is finding an account that costs you little to no money for how you plan to use it regularly.
Does the account pay interest?
Checking accounts aren't opened to help you earn interest on your money. Most people use savings accounts, certificates of deposit, or other investments for this need. That said, some checking accounts are interest-bearing and offer a small amount of interest. View this as a bonus.
A small subset of rewards checking accounts may pay higher interest rates. These accounts usually require you to meet certain monthly transaction minimums to earn a higher interest rate. The higher interest rate is typically limited to a particular dollar amount in the account.
Accessibility
Having access to your checking account in the way that makes the most sense for you is critical. Evaluate how you can access your accounts and money when you need it.
For many people, that may be a focus on online banking, mobile banking, and a solid ATM network (or waivers and reimbursements for ATM fees). For others, a preference for visiting a convenient local branch may be the best option.
Mobile banking experience
Before you sign up for a bank account, look into the bank's mobile or online banking reviews. If their platforms are hard to use, you may want to look for a better option.
Banking solutions for other needs
Banks provide many services other than checking accounts. While a free checking account should be a priority, it may be worth paying a little bit for a checking account if the bank provides other services you need.
For example, you may want to meet with a financial advisor, mortgage officer, or another loan officer. If a bank has top-notch service in these areas and you value this, it may be worth accepting a slightly sub-optimal checking account.
Make sure to look into payment services, too. Investigate whether wire transfers, money orders, or person-to-person payments, such as Zelle, are options and how much they cost.
You Choose the Perfect Fit
Banking is not one size fits all. Make a list of what's important to you before looking for a checking account.
After that, you can look at our options above and other potential solutions to find the perfect fit for your needs.