The Best Checking Accounts in Iowa for 2023
Find out which local banks in Iowa provide the best checking account options to consumers based on account fees, convenience, and other features.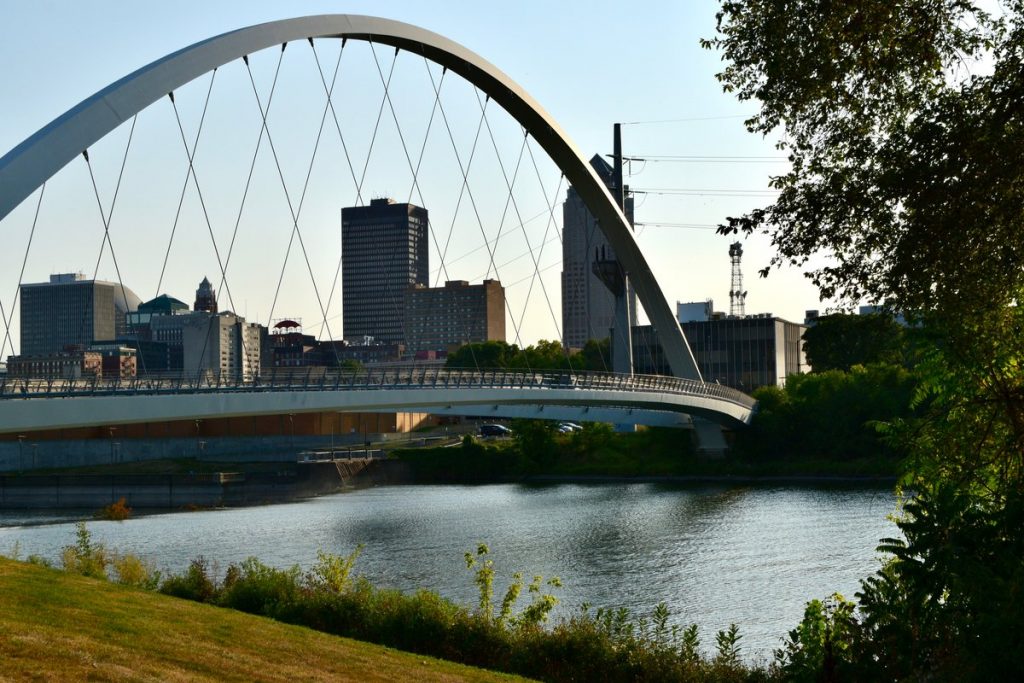 If you're looking for a checking account, you know how overwhelming the process can be.
You have several banks to choose from. Each bank often has several checking accounts to then pick from.
We narrowed down the list to help you avoid the annoying process of parsing through all of your checking account options. If you live or bank in Iowa, here's what you need to know.
Compare Checking Account Options
Make sure that you look at other checking accounts that could be better for you:
Best Iowa Checking Accounts
Hills Bank - Free Checking
Hills Bank's Free Checking account is relatively basic but doesn't charge you monthly maintenance fees. You also get free online banking, a mobile app, free paper statements or e-statements, and a free personalized debit card. The account doesn't have a minimum to open an account.
The bank says you get unlimited ATM transactions without a fee, but this is only fee-free from Hills Bank's perspective. Other ATM owners outside the Hills Bank ATM network may charge you a fee.
MidWestOne Bank - Free Checking
MidWestOne Bank offers at least one branch in five states, including Iowa. Their Free Checking account is our favorite. You need $100 to open an account but there is no minimum balance requirement.
You don't have to pay a monthly service fee and get free electronic statements. Choosing to receive paper statements results in a $3 fee per statement.
You won't earn interest on the account. You do get free online bill pay, free ATM withdrawals from MidWestOne owned ATMs, online and mobile banking, and no-fee mobile deposit.
Bank Iowa - FreeBird Checking
Bank Iowa's FreeBird Checking account lets you open an account with $10 and does not charge monthly service fees. You have no minimum balance requirement and have no transaction limitations.
If you choose to receive paper statements, you will be charged fees. All account holders get access to free online, mobile, and text banking, mobile deposit, free bill pay, and free identity theft services.
Fidelity Bank & Trust - Hometown Checking
Fidelity Bank & Trust offers four checking accounts but their Hometown Checking account is our favorite.
The account doesn't charge a monthly service fee, offers unlimited check writing and debits, and has free online and mobile banking with Billpay. You need $50 to open an account.
As an account holder at Fidelity Bank & Trust, you also get direct deposit and notary service access. You get a ShazamChek Debit or ATM card free for the first year. Unfortunately, you're charged $12 per year for it after the first year.
Northwest Bank - Compass Cash Account
Northwest Bank's Compass Cash Account offers a unique feature that other bank accounts on this list do not.
You get 1.5% cash back on debit card purchases, up to $8 per statement cycle.
In addition to this relatively unique feature, you don't have to pay monthly maintenance fees. To open an account, you'll need $10. The catch comes with statements. e-Statements are free, but paper statements cost $10 per statement cycle.
Other benefits include:
Online and mobile banking
Bill pay
Credit Sense credit score
How we chose
To pick the top accounts for the state of Iowa, MyBankTracker took a measured approach. Using data from the FDIC dated June 2022, we looked at the top 50 banks by deposit market share in Iowa with locations in major cities including Des Moines, Cedar Rapids, Davenport, Sioux City, and Iowa City.
When analyzing checking accounts, we focused on checking accounts with the no or minimal monthly service charges, the possibility to waive these fees in easy ways, the bank's ATM network, and convenience features the banks offers that customers may like.
Big Bank vs. Online Banks
Local bank options can provide that hometown feel, but they aren't your only choices. Big banks often provide a different level of service and product selection, while online banks offer other benefits.
Here's what you need to know.
Positives of Big Banks
Broad product line
Smaller banks may have limited banking and loan options due to their size. Bigger banks often provide an in-depth banking and loan line-up, even if you can't necessarily complete a transaction locally.
Decent technology
Banks know people want access to online and mobile banking. While it may not be as fine-tuned as online banks, larger budgets of big banks may make it a better experience than smaller banks.
Fix problems in person
If you have an issue, you can go to a local branch to try to get it fixed in person. This may reduce frustration versus calling and talking to an overseas call center.
Large branch network
Big banks normally have a well-developed branch network in the areas they serve. This makes it easy to complete your banking transactions in person.
Downsides of Big Banks
Cumbersome rules to avoid fees
You may have the option to avoid a fee, but it often comes with cumbersome rules like a minimum daily balance or a transactions per month requirement.
Fees
Large banks have enormous costs based on their branch network and other investments. One way they make money and stay profitable is a long list of often expensive fees accounts come with.
Low interest rates
Don't expect any interest on your checking account or reasonable interest on a savings account with a big bank. Cutting back on interest is another way these banks stay profitable.
Slow-moving processes
Big banks have several layers of management and processes most issues and transactions have to go through. This can greatly slow down the speed of a big bank getting things done.
Benefits of Online Banks
Accessibility
Online and mobile banking allow you to bank wherever you have an internet connection.
Better technology
Online and mobile banking is the only way to deal with an online bank. These banks know this and make sure their online and mobile banking experiences are easy to use.
FDIC insurance
If your online bank is an FDIC member, your money is insured just like a big bank that's an FDIC member.
Generally have better interest rates
Online banks have lower costs because they don't have a branch network. They offset this downside by offering interest at higher rates than a traditional large bank.
Lower fees
Another benefit of lower overhead costs is fewer fees overall at many online banks. The fees that do exist may not cost as much, either.
Cons of Online Banks
No branch network
Branches are a considerable cost for banks. It's one that online banks almost completely avoid. That means you can't walk into a local branch to have your banking needs taken care of.
Must have internet access
Online banking relies on the fact you must have internet access. If a natural disaster knocks out the internet or power, you can be without banking services.
Cash deposits
If you frequently deposit cash, an online bank may not be a good fit for you. You can't walk into a local branch to deposit your cash, although other options may exist.
How to Choose a Checking Account
If you're looking for a checking account, there are a few things to think about. Make sure you consider these factors using a lens of how you'll use your checking account.
Accessibility
Different styles of banks have different accessibility options. Local banks have branches, but mainly in the local area. Large banks have branches over a much larger area. Online banks can serve you anywhere you have an internet connection.
Depending on how often you travel and how you use your bank account, you likely fit better with one of the three options above. Consider that when choosing a checking account.
Banking technology
While online banks and big banks used to have a corner on the online and mobile banking market, local banks usually offer these options now. The differences in technology and usability can be very different, though.
Understand which technology options the bank you're considering provides with their checking account. Then, look at reviews to see if the technology seems easy to use or is cumbersome and not worthwhile.
Fees
Banks are, for the most part, for-profit companies. Fees are one large way banks earn enough money to turn a profit.
Unfortunately, this goes against what makes a bank account good for consumers. After all, minimizing fees should be your goal.
The good news is banks may offer checking accounts with few to no fees for services you'd use regularly. They may use these accounts as a way to get you to use the bank's other services.
Other banks use checking accounts to generate monthly maintenance fees, statement fees, and overdraft fees.
In general, avoiding a bank account with a monthly maintenance fee or a minimum balance fee is a good idea.
Accounts are rarely wholly fee-free, though. You likely have to pay fees to use certain services that aren't frequently used, such as a stop payment or wire transfer fee. Be aware of these fees in case you need to use them.
Interest
Don't expect to earn interest on a checking account. That said, it can happen. This is especially true with online banks. The interest still isn't stellar, but it's better than nothing.
A few rewards checking accounts do pay interest at astounding rates. The catch is you must meet specific requirements to unlock the high interest rate. The rate is also typically limited to a set amount in your account.
If you always keep all of your money in a checking account, interest may matter more to you. However, most people save money they want to earn interest in other account types.
Other banking needs
Banks don't only provide checking accounts. You may need access to a long list of other accounts and services, such as a car loan, savings account, or more.
Some of these accounts may have particular services you need to use regularly. These could include things such as money orders and wire transfers. Outside of the accounts, you may want to talk to a personal banker, loan officer, or financial advisor.
Make sure the bank you choose covers these needs if you plan to use it for more than just a checking account.
Choose Your Best Option
Choosing a checking account should depend on your specific plans for that account. Look for one that meets your top needs in the best ways possible.
We've made your job a little bit easier by narrowing down options in Iowa, but make sure they work for you before signing up.