The Best Checking Accounts in Kansas for 2023
See the best checking accounts available from local Kansas banks based on their account fees and features while comparing them to options from online banks.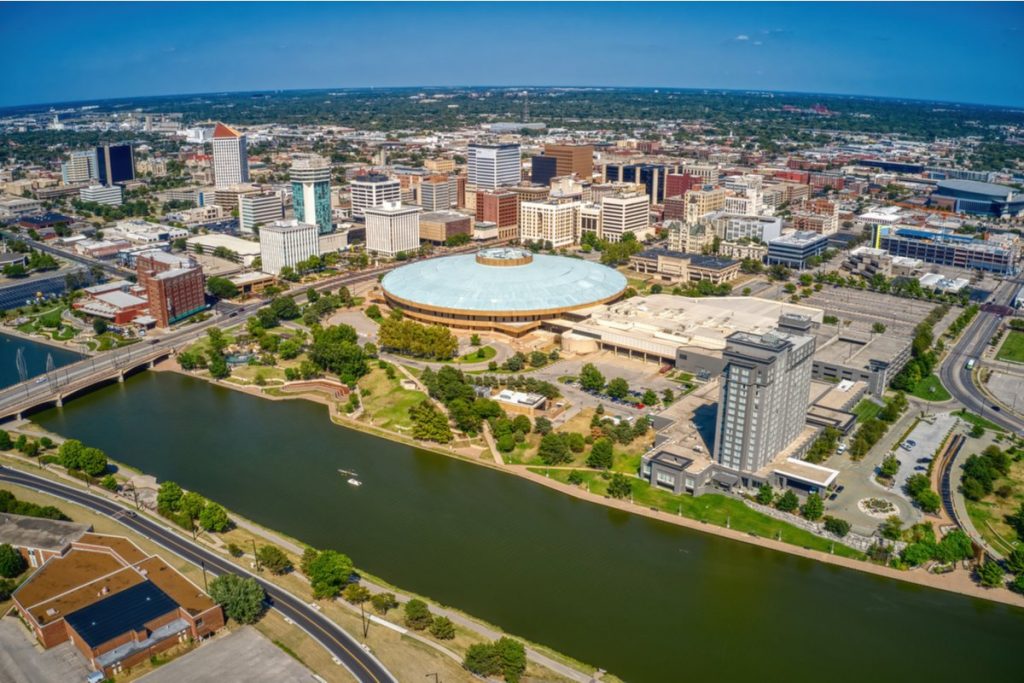 A checking account is an essential tool for managing your money. It allows you to get your paycheck direct deposited and make online bill payments for the bills you owe.
Not all checking accounts are created equal, though.
Some charge several fees that make these accounts costly to hold. Others are primarily free and some even pay you interest.
Finding the best checking account can be difficult. While each person has different needs, checking accounts can generally be evaluated based on the most common needs. We've done just that to help you find a checking account for you in Kansas.
The Best Checking Accounts in Kansas
Capitol Federal Bank - Simple Blue Checking
Capitol Federal Bank has several locations throughout Kansas. You can open a Simple Blue Checking account with a minimum deposit of $100.
Once your account is open, you don't have to pay any monthly service charges. You don't have to meet any special requirements, either.
You get access to True Blue online banking, which includes eStatements and online bill pay. You also get access to mobile banking with mobile check deposit. As long as you use CapFed ATMs, you don't have to pay transaction fees on ATM transactions.
InTrust Bank - Free Checking
InTrust Bank offers a free checking account you may want to check out if you mainly bank in Kansas and Oklahoma. The account has no minimum opening deposit and no monthly service charges. Features of this account include:
Free debit card
Free online and mobile banking, including mobile check deposit
eStatements
Discounted rates on new personal loans
Unfortunately, this account does not pay interest.
Commerce Bank - Free Checking
Commerce Bank's Free Checking account may work well if you mainly bank in Kansas, Colorado, and Missouri. To open an account, you need at least $25.
Once your account is open, you don't have to pay any monthly service fees. You do have to pay $1 to $4 per month for paper statements unless you activate online banking and opt for paperless statements.
The account comes with a free debit card. You also get free mobile and online banking access. Online bill pay is also included with the account.
Fidelity Bank - Free Checking
Fidelity Bank focuses on offering locations in the Witchita, Kansas area. The bank's Free Checking account made our top 5 checking accounts in Kansas list.
It doesn't have a monthly maintenance fee and has a debit card cash back program. You earn $0.05 on each signature debit card or mobile wallet transaction after the first 10 in a month. While this isn't amazing, it's a nice perk.
Other features include online and mobile banking, mobile check deposit, Zelle payments, e-statements, and unlimited check writing. You also get online bill pay with monthly usage and a VISA debit card.
Emprise Bank - Cash Back Checking
Emprise Bank offers locations throughout the state of Kansas. The bank's Cash Back Checking account allows you to earn 2% cash back on debit card purchases if you meet the following qualifications each month:
Enroll in eStatements
Have at least one direct deposit, automatic deposit, or withdrawal
Make at least 12 debit card transactions
The rewards are limited to $6 per month. That said, you don't have to have a minimum balance to earn rewards.
The account doesn't charge a monthly service fee. You can even get up to $25 in nationwide ATM fees refunded to you each month as long as each fee is $4.99 or less. You do need at least $100 to open an account, though.
How we picked these accounts
MyBankTracker used a set methodology when picking the top five checking accounts in Kansas. We started by using data from the FDIC dated June 2022 and considered the top 50 banks by deposit market share in Kansas, with locations in major cities including Wichita, Overland Park, Kansas City, Olathe, and Topeka.
Next, the checking accounts were analyzed. In particular, we considered checking accounts with low or no monthly maintenance fees, easy ways to waive these fees if they do exist, each bank's ATM network, and other convenience features each bank offered.
Big Bank vs. Online Banks
Local and small regional banks can help most people meet their banking needs. However, other options also exist that may serve you better. These include big banks and online-only banks. Here's what you should know about these alternatives.
Pros of Online Banks
Accessible anywhere with the internet
Online banks allow you to bank virtually. You can access your funds anywhere you have an internet connection.
Superior technology
Since you can't visit a branch, online banks know their technology and apps must be top-notch to keep customers.
FDIC insurance
Online banks offer the same FDIC insurance as brick-and-mortar banks if they're an FDIC member institution.
Fewer and lower fees
Online banks usually charge fewer fees and the fees they charge are often lower. This is because they don't have as many overhead costs thanks to not having physical branch locations.
Interest rates
While checking accounts don't typically focus on interest, online banks usually pay higher interest rates than brick-and-mortar banks when interest is offered.
Cons of Online Banks
No physical locations
Online banks don't offer physical branches to keep costs low. This means you can't go fix problems face-to-face if they arise.
Must have internet access
Without access to the internet, it's difficult to access your accounts. Whether your internet access is unreliable or you lose access during a natural disaster, this can cause problems.
Cash deposits
Depositing cash can't be taken care of at a physical branch because they don't exist. Other options may exist but are less convenient for you as the customer.
Benefits of Big Banks
Branch network
Big banks often develop an extensive branch network to serve their customers over large areas. This can be convenient if you travel and need access to banking services.
In-person customer service
Some people prefer to bank face-to-face. This allows you to potentially fix any issues with your bank in person rather than over the phone. Still, not all problems may be able to get settled in a branch.
Offer many products
Bigger banks tend to offer more banking and loan products to their customers so they can be viewed as a one-stop shop. They may also provide other services, such as investment advisory.
Still offer technology
Big banks still offer technology as online banks do, but it may not be as easy to use or polished. Still, providing online access helps cut down on in-person transactions, which cost big banks money.
Drawbacks of Big Banks
Annoying requirements to waive fees
You may be able to waive a fee at a big bank but expect to jump through hoops to get it done.
Fees
Fees are a significant profit center for big banks. Expect a long list of fees and fees with higher costs than you may find with local or online banks.
ATM fees are one to note because they can get quite expensive.
Interest
Most big banks don't offer interest on checking accounts.
Those that do often provide a rate so low it might as well not exist.
Slow-moving processes
The larger an organization, the more bureaucracy that likely exists to get things done. This could include resolving certain issues at a big bank.
Choosing the Best Checking Account for You
When you're considering checking accounts, it makes sense to look at the features that matter most to you. These could include the following items.
Accessing your money
Each type of bank has different primary ways to access your money. Local banks often focus on in-branch services but also provide technology even though it may not be the easiest to use.
Big banks provide a massive branch network and usually offer decent technology. Online banks have no branch network but often have top-notch technology.
Applicable fees
Each bank has a different list of fees they charge their customers.
Online banks generally have fewer and lower-cost fees, but fees still exist. Each bank makes money in different ways with different fees, so you'll need to explore each option to find the best fit for you to keep your costs low.
In particular, you should look at the services you'd use regularly. Then, find a bank that offers those services for free or as low cost as possible. This is especially the case if you notice that you use ATMs regularly.
Interest
Checking accounts sometimes offer interest, but it isn't usually a big selling point.
Online banks may offer slightly higher interest rates on standard accounts. Even so, interest rates are so low overall at this time that interest rates won't usually be a big factor in your decision.
However, some local banks have started offering rewards checking accounts. If you meet the requirements, these banks could pay substantial interest rates on a limited balance in many cases. These may be worth considering if you can regularly meet the requirements.
Other banking services
While you're likely searching for a checking account, opening a checking account allows you to use a bank's other services. Make sure the banks provide the services you plan to use. These could include the following:
Money orders
Wire transfers
Lending services for mortgages, car loans, and more
Personal banker services
Financial advisory services
Technology
Technology is rapidly evolving.
While online and big banks used to almost always offer better online banking products than small banks, that's not always the case anymore.
Most smaller banks can now offer mobile apps and online banking. The key is finding a technology solution that's easy to use and meets your needs.
Pick the Best Solution for You
Once you've considered your needs, compare your needs list against potential checking accounts. You can use our list of the best checking accounts in Kansas to get started.
Alternatively, you could explore big banks and online banks if they better fit your needs.