The Best Checking Accounts in Maine for 2023
See which local banks in Maine offer the best checking accounts to consumers based on fees, features, and convenience--compared to online checking accounts.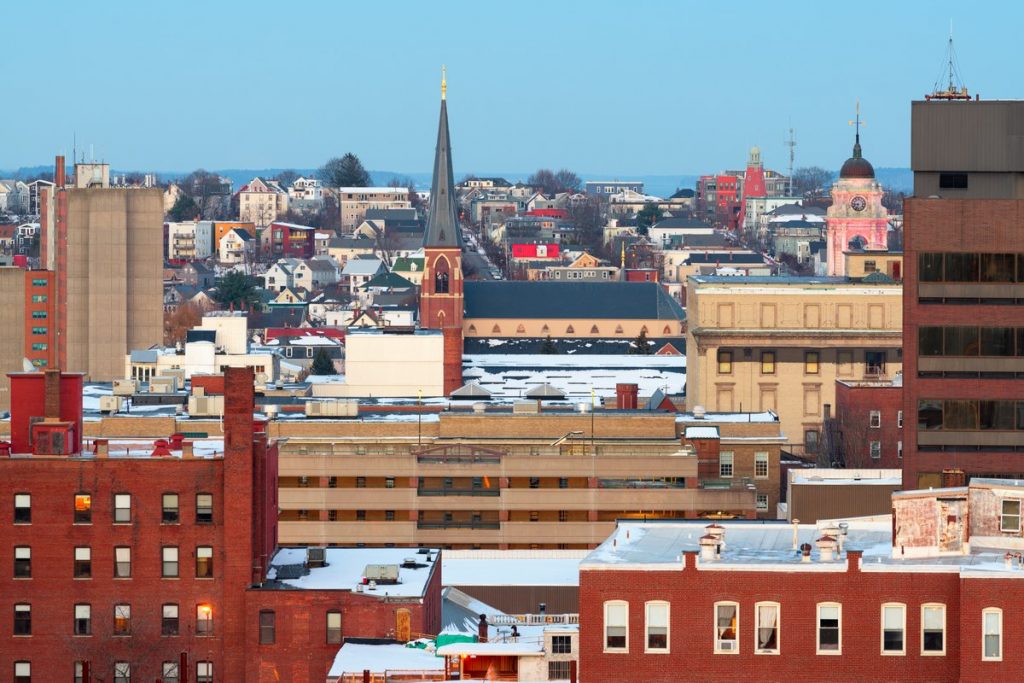 Banks come in many varieties. Most banks offer more than one checking account, too.
You can probably imagine how overwhelming it can be to find the best checking account for your situation after looking at how many banks are in your hometown.
To help make picking a great account easier, we looked at checking accounts in Maine. We narrowed down the accounts to our favorites. Here's what you should know.
Compare Checking Account Options
Make sure that you look at other checking accounts that could be better for you:
The Best Checking Accounts in Maine
Bangor Savings Bank - Benefit Checking
Bangor Savings Bank's Benefit Checking account doesn't pay interest but does not have a monthly service charge, either. You don't even have a minimum balance requirement.
This account comes with the following features and benefits:
Free debit card
Free online banking
Free BillPay
Free eStatements
Free mobile and text banking
The ability to sell your old bank's checks for $10
The Camden National Bank - Access Checking
If you don't mind using paperless statements, Access Checking from The Camden National Bank may be a good choice. The account has no monthly service fee, no minimum balance requirement, and 24/7 customer support.
You get online banking with bill pay and a mobile app with mobile deposit. You have to have at least $25 to open an account. However, you can only write two checks per statement cycle at no charge. Each additional check incurs a $1.00 fee per check.
KeyBank - Key Smart Checking
KeyBank's Key Smart Checking account is a relatively easy account to open with just a $10 minimum initial deposit. The account has no maintenance fees, minimum balance requirements, or transaction minimums.
As an account holder, you get a free debit card, secure online and mobile banking with mobile check deposit, and access to over 1,000 branches and 40,000 KeyBank ATMs. You do have to pay KeyBank a $3 fee if you use a non-KeyBank ATM in the United States. If you close the account within 180 days of opening it, you must pay a $25 early closure fee.
Northeast Bank - Freedom Checking
Northeast Bank's Freedom Checking account offers no minimum balances, no monthly maintenance fees, and unlimited ATM rebates refunded within three business days of the fee being charged.
Bank accounts at Northeast Bank offer several services and benefits. These include online banking with BillPay, mobile banking with mobile check deposit, and Zelle person-to-person payments. You also get eStatements, check image statements, debit card controls through mobile banking, and digital wallet access.
Machias Savings Bank - My MSB Checking
Machias Savings Bank's My MSB Checking account pays you 5 cents for every debit card transaction you make. This unique feature may add up faster than a low interest rate if you use your debit card often.
You also get a free first order of standard checks, out-of-network ATM access rebates up to $25 per month, and an account pays interest, albeit at a very low rate. You need $100 to open an account, but you won't have to pay a monthly fee or minimum balance fee.
If you choose to get paper statements rather than sign up for eStatements, you'll have to pay an $8 fee per paper statement. This fee is waived if you're 62 or older or keep $10,000 or more with the bank.
How we picked these accounts
MyBankTracker used data from the FDIC dated June 2022 to look at the top 50 banks by deposit market shares in Maine, with coverage in major cities including Portland, Lewiston, Bangor, South Portland, and Auburn.
We evaluated these banks' checking accounts on the following factors to pick our top five.
Factors included:
Ideally no or at worst low monthly service fees
If monthly service fees exist, an easy way to waive the fee
ATM networks offered
Other features to make banking more convenient
Big Bank vs. Online Bank
In addition to the more local and regional banks listed above, you have other banking options for checking accounts. Big banks and online banks are other alternatives that may fit your needs better, depending on the situation.
Benefits of Big Banks
Branch network - Big banks tend to offer extensive branch networks in the areas they serve. This makes in-person banking and transacting very easy for their customers.
Fix problems in person
When an issue arises, dealing with a call center can be frustrating. If you prefer to deal with problems face-to-face, you can try to get an issue fixed in a bank branch.
Many account types and loan products
Large banks can offer several banking and loan products because they have a large corporate office to help administer programs. These can include more unique solutions smaller banks may not be able to support.
Technology solutions
Online and mobile banking are conveniences everyone wants with a bank account. Big banks know this and offer these solutions, but they may not be as up-to-date as the most recent features provided by online banks.
Downsides of Big Banks
Fee list and cost
Big banks are notorious for a long list of fees. Many of the fees may have high costs, as well.
Interest
Interest is not a feature most checking accounts at big banks provide. If it does exist, expect a rate very close to 0%.
Large organization problems
Big banks have several levels of management. This can make solving issues more difficult than at a local bank where a front-line supervisor may have more authority.
Waiving fees is often hard
Big banks may be willing to waive fees. The requirements to do so may be cumbersome and complicated.
Positives of Online Banks
Easy access
Online banks allow you to bank wherever you have an internet connection.
FDIC insurance
Online banks get the same FDIC insurance as long as they're an FDIC member bank.
Fewer fees
Generally, online banks have a much shorter list of fees. Many of the fees they charge may have lower costs than most big banks, too.
Interest
Some online banks pay interest on checking accounts. While it isn't insanely high in most cases, it's often multiple times higher than brick-and-mortar banks.
Technology
Online banking and mobile banking are the main ways to bank with an online bank. These banks make sure their technology is easy to use to keep their customers happy.
Drawbacks of Online Banks
Cash deposits
Depositing cash is usually taken care of at a bank branch. Since online banks don't have branches, this isn't an option. Other options may exist but are less convenient.
No internet access is a big problem
Online banks are challenging to manage without internet access. Managing your money could be difficult if you don't have reliable internet access or lose it during a natural disaster or power outage.
No physical locations
Online banks don't have branches. That means no in-person banking solutions when other options fail.
Choosing the Right Checking Account
Picking the right account for your situation may seem challenging. It's essential to choose an account that fits your needs, not a random list of priorities someone else values.
Fee list and cost
The biggest factor many people consider when looking at a checking account is the fees they'll have to pay. There's a good reason, too. These fees can make the difference between having an essentially free banking relationship and one that costs you quite a bit of money each month.
Look at a bank's list of fees and see which ones you might incur regularly. Then, consider how often you'll have to pay them to come to the total cost of holding an account.
In most cases, people using a checking account in ordinary ways should be able to find a fee-free checking account for everyday use. You may have to pay occasional wire fees or stop payment fees, but day-to-day activities should be free.
Accessible how you need it
When considering a checking account and a bank, look at how you'll access it. An online bank won't be an option if you need access to several ATMs and local branches.
Others may be comfortable managing their money on the phone with an occasional ATM withdrawal. In this case, an online bank may make more sense.
Technology solutions
Most banks offer online and mobile banking today, but the features each bank provides may be different.
Carefully look at the technology services offered and make sure they include what you need access to. This could include mobile check deposit or the ability to switch your debit card on and off from an app.
You can also look at mobile banking app reviews. This can show you if customers think an app is well-designed or difficult to use.
Other conveniences
You're shopping for a checking account, but banks offer other products and services you may wish to use. You should consider these, as well. After all, it may make more sense to use one bank for everything than one bank for each service you need.
Services you may want to look at could cost money, so look at their pricing, too. These services could include money orders, wire transfers, having a mortgage or other loan officer at a local branch, financial advisory services, personal banking services, and more.
Interest earning ability
Checking accounts aren't well-known for paying high interest rates. In fact, most checking accounts don't offer interest at all.
Most people will focus on other aspects first when choosing a checking account. However, interest may be the tie-breaker if all other elements are relatively equal. Rates are often low, but online banks tend to pay more interest.
One category of checking accounts has stood out from this standpoint, though. Rewards checking accounts may pay a high interest rate, as far as checking accounts go.
You often have to meet several requirements each month to earn this rate. These could include making a certain number of debit card transactions and signing up for eStatements.
If you qualify, the higher interest rate usually only applies to a particular amount of money in your account. All excess money often earns a lower rate.
Picking Your Perfect Checking Account
Shopping for a checking account doesn't have to be frustrating. Make sure you consider your needs first. Then, compare your needs against the available options.
You can start by looking at our top picks for the state of Maine. Don't forget to compare them to big banks and online banks to see if they may be a better fit. Finally, open an account with the bank that's the best fit for you.