The Best Checking Accounts in Minnesota for 2023
Find out which banks in Minnesota provide the best checking account options to residents based on fees, features, and convenience.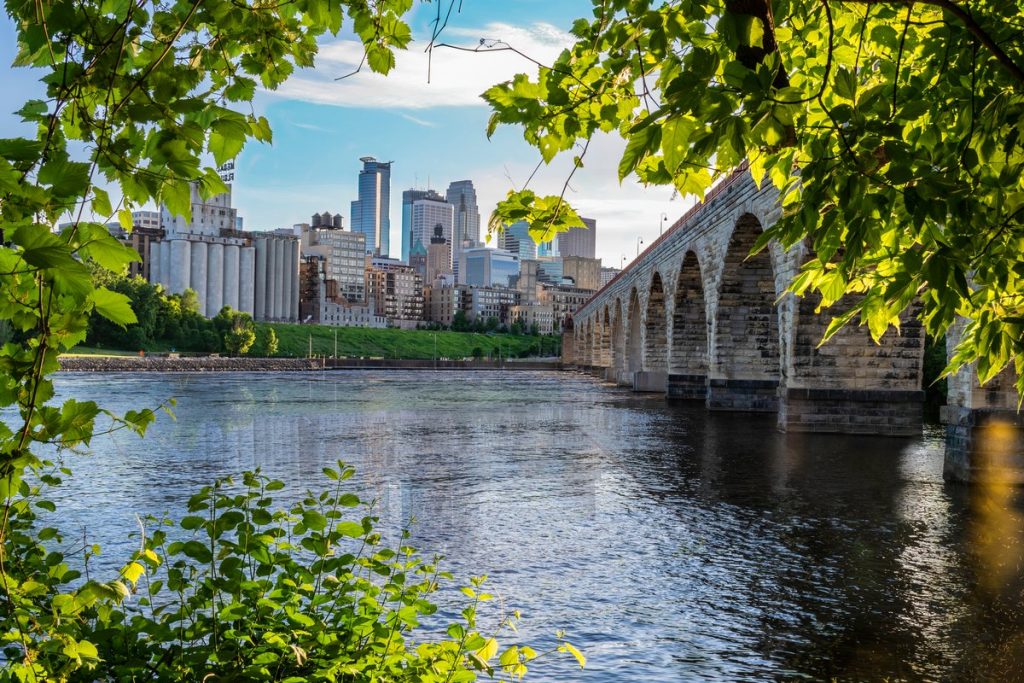 A checking account can help you manage your money more effectively, but only if it doesn't charge you a ton of fees to do so. Sadly, many checking accounts have long lists of fees that you have to search the fine print for.
The good news is not all checking accounts fall into this classification. Several banks offer no or low-fee checking accounts to help you achieve your money management goals.
We've dug through the checking accounts available in Minnesota to help. Here's what you need to know.
Compare Checking Account Options
Make sure that you look at other checking accounts that could be better for you:
The Best Checking Accounts in Minnesota
BMO Harris Bank - Smart Advantage Account
BMO Harris Bank's Smart Advantage Account is our favorite checking account from their offerings. It has no monthly maintenance fee and you get unlimited fee-free ATM transactions at ATMs in their 40,000+ ATM network.
You can get free paperless statements, but paper statements cost $2 per month. If you want check images on your paper statements, that's an additional $3. You do need $25 to open this account type and it does not pay interest.
The account supports free digital and mobile banking. This includes Zelle person-to-person money transfers, mobile check deposit, and the ability to get cash from an ATM using your phone rather than a debit card.
Huntington Bank - Asterisk-Free Checking
Huntington Bank's Asterisk-Free Checking account is a checking account that has no minimum balance requirements. It has no monthly maintenance fees and no minimum to open the account. If you get a paycheck direct deposited, you may get paid up to two days early.
You also get access to a $50 safety zone, allowing you to accidentally overdraw your account by $50 or less without incurring an overdraft fee. If your account stays negative for 60 days, it may be closed, though. If the overdraw is more than $50, you have 24-hours to fix it to avoid a fee.
This account does not pay interest.
Bell Bank - America's Best Checking
Bell Bank calls our favorite version of their checking accounts "America's Best Checking." The account has no monthly service fee or minimum balance requirements, but you need $50 to open one.
All checking accounts at Bell Bank come with a debit card as well as mobile and online banking. This includes the ability to pay bills and deposit checks. You can also turn your debit card on and off within the app.
The account features access to 30,000 MoneyPass ATMs nationwide. The first four domestic ATM fees on your bank statement get refunded, too.
Associated Bank - Access Checking
Associated Bank's Associated Access Checking account is our top choice of their three checking accounts. The account doesn't charge a monthly maintenance fee. It offers:
Free e-statements (paper statements cost $4 per month)
Free online and mobile banking
Free Zelle person-to-person money transfers
Free mobile deposit
A surcharge-free ATM network
The account does not pay interest and you must have at least $25 to open an account.
Merchants Bank - Free Checking
Merchants Bank's Free Checking account is basic but gets the job done with no monthly fees. You need $50 to open an account but get access to a free debit card, online banking, and mobile banking. This includes Zelle person-to-person payments, bill pay, and mobile deposit.
If you get check images with your statement, there is a $2 per month fee. However, you can get check images online for free.
How we picked these accounts
MyBankTracker examined the FDIC's June 2022 data for the top 50 banks by deposit market shares in Minnesota to find our favorite five checking accounts in the state--available in major cities including Minneapolis, Saint Paul, Rochester, Duluth, and Bloomington.
Once we found the top 50 banks, we narrowed down the list using the following features:
Monthly maintenance or service fees
Ways to waive these fees, if they exist
ATM networks
Other convenience features
Big Banks vs. Online Banks
The above banks aren't your only options. Two other categories of banks may better fit your specific needs. These categories include big banks and online banks. Here's how they're alike and different.
Benefits of Big Banks
Account and loan selection
Larger organizations may have more account types and loan products than smaller banks can manage. Large banks have corporate support that can help support more niche offerings.
Apps and mobile banking
Big banks know customers want to access their bank accounts online and on their mobile phones. They offer the appropriate technology to do so.
Branch network
Big banks stand out from the crowd by offering a huge branch network in their service areas.
In-person support and troubleshooting
Branch locations mean you can get in-person support and troubleshooting for issues rather than calling a call center.
Drawbacks of Big Banks
Fees
Big banks typically charge a long list of fees, many of which could be pretty costly.
Lack of meaningful interest
These banks rarely pay interest on checking accounts. If they do, it's usually very close to 0%.
Large organization problems
A big organization can provide more support. It also comes with more layers of management and processes. This could slow down tasks that may be performed faster at smaller banks.
Waivers of fees may be difficult
You may be able to get some fees waived, but the requirements are often lofty or cumbersome.
Positives of Online Banks
Bank from anywhere
Online banks have no branches, so they offer apps and internet banking that allow you to bank from virtually anywhere.
Better interest
Online bank accounts that pay interest usually pay interest rates much higher than those offered by traditional big banks.
FDIC insurance
As long as an online bank is an FDIC member, they offer the same FDIC insurance as brick-and-mortar banks do.
Fewer and more reasonable fees
Fee lists are usually shorter and fee amounts are typically lower than comparable fees at a large bank. This is because online banks don't have as many overhead costs to cover.
Top-notch technology
The technology offered by online banks is almost always some of the best available. Technology is the primary way customers bank with online banking. Online banks know they need the technology to work well and be easy to use.
Negatives of Online Banks
Cash deposits aren't ideal
Local branches don't exist so depositing cash isn't as easy as going to the nearest branch. Other options may exist but may be less ideal.
Must have internet access
Internet access is a must-have to handle most banking activities. If you lose power or internet access, banking with an online bank is much more difficult or potentially impossible.
No physical locations
Online banks don't offer branches, so you can't stop by a local branch to have a problem resolved or to ask a question.
How to Choose the Best Account for You
Here are a few concepts to consider when looking for a checking account. That said, each individual uses a checking account in a unique way. When looking for a checking account, you should focus on the features most important to you.
Accessibility
Having access to your checking account using the methods you prefer is key. For some, this may include physical branch access. For others, that may focus on a solid ATM network and online or mobile banking. Make sure the bank you choose offers what you need.
Fee list and fee amounts
Fee types and fee amounts should be some of the top priorities if you want to avoid being nickeled and dimed on a checking account. Start by checking to make sure the account won't charge you a monthly maintenance fee or other fees for everyday tasks.
Next, consider any specialty services, such as money orders or wire transfers, that may incur fees. Look up how much those fees would cost and choose the bank account that makes the most sense for your finances.
Interest rates
Interest rates won't be a huge deciding factor for most checking accounts. Many don't offer interest. Those that do often pay rates next to zero.
That said, interest may play a factor if you're deciding between two similar accounts with different interest rates. Online banks may provide enough interest to sway your decision.
A specific type of checking account, called a rewards checking account, may pay higher interest. These high rates usually only apply when you meet several requirements, such as making ten debit card transactions a month and signing up for e-statements.
The higher rate typically applies to a limited balance. Amounts above that in the account may pay a much lower interest rate. If you don't meet the qualifying criteria, the interest rate may be even lower.
Mobile or online banking
Accessing your bank accounts online or through a mobile app is vital for most customers today. Look into the technology offerings to verify they provide the services you need. This could include mobile check deposit or Zelle person-to-person payments.
You may want to check reviews of the bank's app, too. This could provide an early warning if the app isn't well designed or is difficult to use.
Other features
While you're likely looking for a checking account, banks can offer several other features. If you plan to use other features of the bank, consider them alongside the checking account.
It may make sense to pay a small fee on a checking account if other services are outstanding. For example, you may want access to get money orders or the ability to talk to an on-site loan officer or financial advisor.
Other potential services could include the availability of a safety deposit box or the ability to make international wire transfers.
Picking Your Ideal Checking Account
Now that you know the top five checking accounts in Minnesota, you can compare them to online banks and big banks. Once you've analyzed your situation and the accounts available to you, you can pick the ideal account for your situation.