The Best Checking Accounts in Mississippi for 2023
See the best checking accounts from Mississippi banks based on the account fees, features, and convenience -- compared to online checking accounts.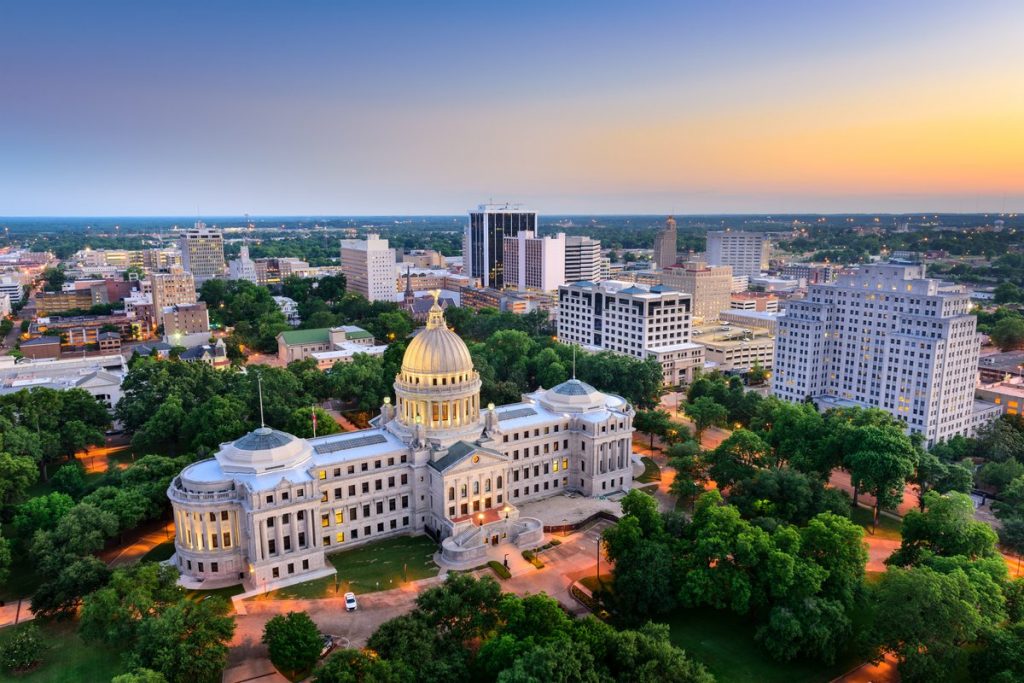 If you're looking for a checking account, you may be overwhelmed with the options. You likely have several banks to pick from. Then, each bank could have many checking account options.
Some checking accounts are better than others. While some have a long list of fees for everyday transactions or simply to keep an account open, others are relatively fee-free.
We took a look at checking accounts available in Mississippi to find the best checking accounts for Mississippians.
Compare Checking Account Options
Make sure that you look at other checking accounts that could be better for you:
The Best Checking Accounts in Mississippi
BankPlus - Carefree Checking
BankPlus's Carefree Checking is our favorite out of their seven checking account offerings. This account has no monthly service fee if you opt for online statements or a $5 service fee if you opt for paper statements.
While there is no minimum balance requirement, you need $100 to open an account. Features of the account include:
Free online banking with bill pay
Free mobile banking with mobile check deposit
Free debit card
Unlimited transactions
Planters Bank - Essential Checking
Our top pick for a checking account at Planters Bank is their Essential checking account. You must have $50 to open an account, but there is no monthly maintenance fee. You do have to pay $3 per month if you want a paper statement mailed to you.
The account comes with the following features:
Free online banking
Free bill pay when used monthly (otherwise, it's $5 per month)
Free debit card
Free telephone banking
Unlimited checking writing
PriorityOne Bank - PriorityPurchase Account
PriorityOne Bank's PriorityPurchase Account offers a unique feature for a checking account. You can earn $10 in reimbursements for Apple, Amazon, and Google purchases if you have at least 15 debit card purchases post and settle each monthly qualification cycle. You can also get up to $15 of domestic ATM fees (up to $4.99 each) reimbursed each monthly qualification cycle.
The account doesn't have a monthly service charge or minimum balance to earn rewards. You get unlimited check writing access, free online banking, bill pay, mobile banking with mobile check deposit, e-statements, and a debit card.
You do need to choose e-statements or you'll have to pay a $5 per month paper statement fee. You also need $50 to open an account.
Bankfirst - Kasasa Cash Checking
Bankfirst's Kasasa Cash Checking account has no monthly service charge but has a minimum initial deposit of at least $100. The account refunds up to $15 of nationwide ATM withdrawal fees per month. It also offers the following benefits:
Interest (see below)
Free online banking
Free bill pay
Free mobile banking with mobile deposit
Free eStatements
Free debit card
Unlimited check writing
This is a rewards checking account that offers 1.25% APY on balances up to $10,000.99 if you have one direct deposit or ACH payment post and settle each month and have 18 debit card purchases post and settle each month. Balances above this amount earn 0.15% APY or you earn 0.01% APY if you don't meet the qualifications.
First State Bank - Kasasa Cash Checking
First State Bank also offers a Kasasa Cash Checking account, but it works differently than Bankfirst's version. This account has a $100 minimum initial deposit, no minimum balance requirements, and no monthly service fees.
You can earn a 1.00% APY on balances of up to $20,000 if you make 12 check card purchases per qualification cycle and receive a minimum of one direct deposit or make an automatic payment by ACH per qualification cycle. Balances above $20,000 earn 0.10% and months that don't meet qualifications result in a 0.05% APY.
You can get up to $25 of nationwide ATM fees refunded per month. The account also offers the following benefits:
Free online banking with bill pay
Free mobile banking
Free eStatements ($6 per month fee for paper statements)
Free debit card
How we picked these accounts
After analyzing the top 50 banks by deposit market share in Mississippi according to FDIC's June 2022 data, we started to narrow down the list--with coverage and availability for major cities including Jackson, Gulfport, Southaven, Biloxi, and Hattiesburg.
We focused on checking accounts with no or low monthly service charges, the most lenient ways to waive these fees, ATM network access, and other banking convenience features.
Big Banks vs. Online Banks
While local banks are an option, other choices exist. Online banks and big banks are two alternatives worth considering. If they align with your needs, they may even be the best choice.
Pros of Big Banks
Many physical branches
The largest banks often have hundreds or thousands of branches throughout the areas they serve.
Several account types and loans
The bigger an organization is, the more products it can support. For banks, this may include several types of checking, savings, and other banking accounts. It likely also includes a wide variety of loans and other banking products.
Online banking
Large banks know people want digital access to their bank and offer online and mobile banking that often meets those needs.
Physical customer support
Bank branches may be able to help you solve issues in person rather than calling a call center.
Cons of Big Banks
Fees
Big banks often have so many fees you'll need to read a fee list to understand them all. Some of those fees may come at a high cost, as well.
Difficult to meet fee-waiver requirements
You may be able to waive some fees, such as monthly maintenance fees. That said, it may require keeping thousands of dollars in an account to do so.
Lack of significant interest rates
Most checking accounts at big banks pay no interest. If they pay interest, it's usually very close to 0%.
Massive organization
As a gigantic organization, big banks have several levels of management and processes. This can slow down processes that you would expect to move quickly.
Benefits of Online Banks
Fewer and lower cost fees
Online banks don't have to pay for branches. They often take those cost savings and charge fewer fees with lower costs.
Better interest rates
The lower costs from not having branches can also benefit you with better interest rates. Most online banks pay much higher rates on checking accounts when compared to major banks, assuming the online banks offer interest.
Bank virtually anywhere
Thanks to mobile and online banking, you can bank virtually anywhere with an internet connection.
FDIC insurance
Online banks that are FDIC members provide the same FDIC insurance to their account holders.
Better technology
Digital banking is the primary way customers interact with online banks. The banks know this and often make sure their technology is best-in-class to avoid frustrated customers.
Downsides of Online Banks
No physical locations
Online banks don't have branches. This benefits you in some ways but can be a hassle if you need local access.
Heavily relies on the internet
If you lose access to electricity or the internet, online banking can be difficult or potentially impossible.
Cash deposits aren't convenient
There are no branches to deposit cash at. You may have other options, but they won't be as convenient in many cases.
Finding Your Ideal Checking Account
Finding the best checking account for you may seem overwhelming, but it doesn't have to be. You can start by making a list of your priorities. Then, compare your preferences to your potential options.
Here are a few things you may want to prioritize in your search.
Bank accessibility
Consider whether you want access to physical branches, an extensive ATM network, best-in-class technology, or other accessibility features.
Someone that values in-person service would want a bank with branches in their local area. However, a person happy with local ATMs without a bank branch may consider an online bank.
Costs of the account
After making sure you can access your money how you want to, fees may be a big factor. Every fee you pay is less money available to use toward your financial goals.
Look for a list of fees for any accounts you're looking into. Compare that fee list to how you'd use your account on an ongoing basis.
You likely want to avoid monthly maintenance fees. Make sure to search for any costs you may incur on a semi-regular basis, such as wire transfer fees, and include them in your analysis.
Interest rates
Many checking accounts don't pay any interest at all. Others may pay a token amount, such as 0.01%. Online banks typically pay more interest, but it may not significantly impact your finances.
Even so, picking between two very similar banks may be decided based on which one pays interest. After all, earning some money is better than none at all.
One notable exception may make interest rates worth considering. If you're looking at a rewards checking account, these can pay considerable interest.
Rates may break above 1% but require you to meet several requirements to qualify for the rate. This could include making several debit card transactions and signing up for e-statements.
These accounts often have exceptions. The interest rate is usually meager if you don't meet the requirements. Additionally, the higher interest rate usually only applies to a limited balance once you qualify each month.
Online and mobile banking
No one uses check registers anymore. Instead, they log into their app or online banking to manage their checking account. For this reason, it's essential to look at online and mobile banking features before choosing an account.
First, make sure the bank provides support for the services you need. These could include bill pay, Zelle person-to-person transfers, mobile check deposit, and more. Then, look at mobile banking reviews to see if the app has a good user experience.
Other features
While you're looking for a checking account, banks provide much more to their customers. This could include wire transfers, safety deposit boxes, and money orders. It can also mean access to other best-in-class products and services such as:
Loans and access to a loan officer
Investments and access to a financial advisor
Savings accounts
Certificates of deposit
Look into any features you may use at a bank and consider their costs. You may decide using a bank's full suite of superior products may outweigh paying a small monthly maintenance fee on your checking account.
Picking the Right Checking Account
Banks offer several types of checking accounts because people have different needs. With all of the options out there, there's likely a perfect fit for you.
You can start the process by comparing the features you value with the top checking accounts in Mississippi listed above. Don't forget to consider big banks and online banks if they may fit your needs.