The Best Checking Accounts in Missouri for 2023
Find out which Missouri banks offer the best checking accounts based on account fees, features and convenience factors.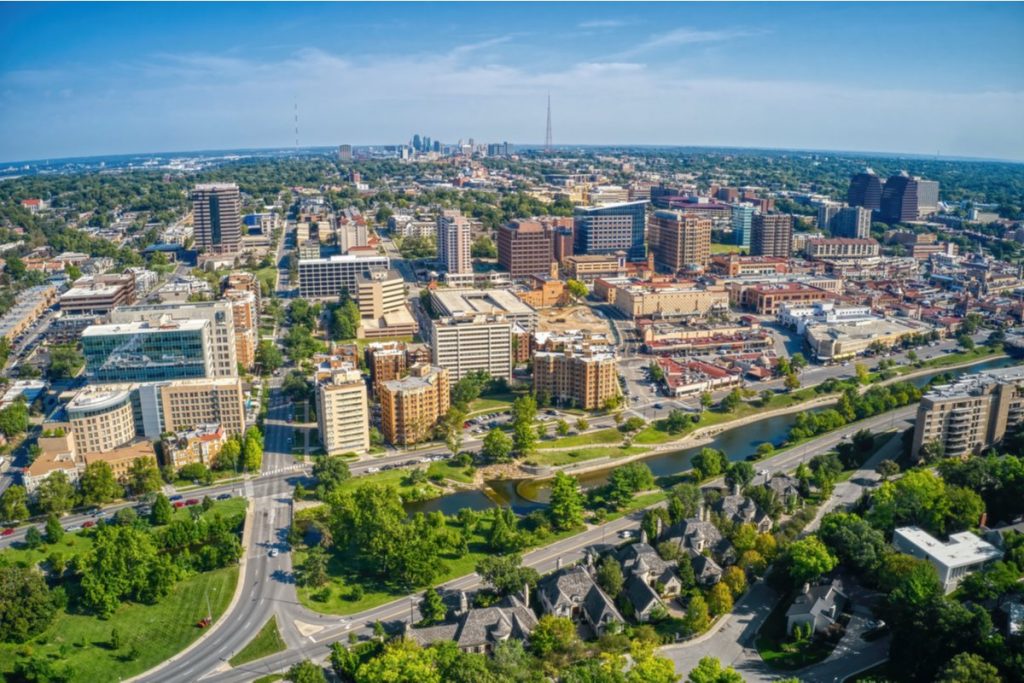 The best checking accounts can be difficult to track down. Many banks have fee-laden accounts that cost you big bucks over time.
Thankfully, a handful of banks offer relatively fee-free accounts that help you manage your money effectively. We scoured Missouri to find the best checking accounts in the state. Here's what we found.
Compare Checking Account Options
Make sure that you look at other checking accounts that could be better for you:
The Best Checking Accounts in Missouri
UMB Bank - UMB Free Checking
UMB Bank's UMB Free Checking account doesn't charge a monthly service fee. You have to have at least $10 to open an account. Surprisingly, this bank offers paper statements for free, as well. You don't earn interest, though.
All UMB checking accounts come with the following features:
24-hour service and support
Online bill pay
Direct deposit
Unlimited deposits and withdrawals
Mobile app with mobile check deposit
Commerce Bank - Commerce Free Checking
Our favorite checking account at Commerce Bank is their Commerce Free Checking account. The account has no monthly service fee and requires $25 to open an account.
As an account holder, you get the following features:
Free paperless statements, paperless statements with images, or paper statements (paper statements with images are $5 per month)
Free mobile banking and online banking
Free bill pay
Popmoney person-to-person transfers
The account does not pay interest.
Simmons Bank - Coin Checking
Simmons Bank's Coin Checking account doesn't have a minimum balance requirement and doesn't charge a monthly service charge. This digital-focused account has a top-rated app and customer support from real people when needed.
You get free paperless statements but have to pay a $3 per month fee if you want paper statements. The bank has an ATM network with 32,000 ATMs and offers mobile check deposit as a feature.
Great Southern Bank - GS Checking
Great Southern Bank has six checking accounts to choose from, but we prefer the GS Checking account. This account has a $25 minimum initial deposit but doesn't have a minimum balance fee or a monthly service charge. You get unlimited check writing as a feature, but the account doesn't pay interest.
The Bank of Missouri - Kasasa Cash Checking
The Bank of Missouri's Kasasa Cash Checking account offers a unique opportunity to earn 3.05% APY on up to $15,000.99 in your checking account with qualifying actions. To qualify, you must make at least 15 debit card transactions, log in to online banking, and receive electronic statements each month.
Additionally, balances over $15,000.99 only earn 3.05% to 0.62% APY depending on your average daily balance. If you don't qualify, you earn 0.05% APY on your entire balance.
In other good news, the account doesn't have a monthly service charge and offers up to $25 per month in nationwide ATM fee refunds. You need $100 to open an account. You also receive the following features:
Free online banking with electronic BillPay
Free mobile app with mobile check deposit
Free debit card
How we picked these accounts
To start the process, we analyzed the top 50 banks by deposit market share in Missouri using the FDIC's June 2022 data--with availability in major cities including Kansas City, St. Louis, Springfield, Columbia, and Independence.
Then, we focused our analysis on checking accounts with few or no monthly maintenance fees, easy ways to waive these fees if they existed, the bank's ATM network, and other convenience features the banks offered.
Big Banks vs. Online Banks
While several types of banks exist, two other types may be worth your consideration. Bigger national or regional banks and online banks offer two unique sets of benefits and drawbacks. Their features could make one of these other banking options the perfect fit for you.
Positives of Online Banks
Bank anywhere
Online banks have online banking and mobile apps that allow you to bank from anywhere you have an internet connection and a device.
Better fee structure
Online banks often have a shorter list of fees. Those fees usually charge lower costs, too.
FDIC insured
If the bank is an FDIC member institution, you get the same FDIC insurance on qualifying deposits that physical banks offer.
Interest rates
Online checking accounts are more likely to pay interest. If they do, the interest rates are usually several times higher than the average brick-and-mortar banks' rates.
Superior technology
Online banks don't have branches, so technology is the primary way you transact with them. These banks know this experience must be top-notch to keep customers and attract new ones.
Negatives of Online Banks
Depositing cash
You can't deposit cash at a branch because they don't exist. Other options may be available but are likely less convenient.
Internet connectivity issues
Online banking requires internet access. Without it, it's difficult, if not impossible, to bank. This can cause problems during natural disasters or internet outages.
No branches
These banks don't offer physical locations for customers to bank at. This can be frustrating if you prefer an in-person experience.
Benefits of Big Banks
Branch infrastructure
Large banks often have several physical locations in the areas they serve and more throughout the region.
In-person customer support
Face-to-face customer support may be available for many problems at a branch.
Online banking
Online banking isn't limited to online banks. Big banks know customers want this feature and provide it. However, it may not always be as polished as an online bank's solutions.
Product variety
Big banks may have more banking account types and loan options. These banks have corporate support, which may allow them to offer more niche products to their customers.
Drawbacks of Big Banks
Bureaucracy issues
Big banks are enormous organizations with many processes and levels of management. This may result in something seemingly simple taking a long time to get accomplished.
Difficult fee-waivers
You may have the option to get some fees waived at these banks. Sadly, it often requires difficult-to-meet requirements such as holding several thousand dollars in an account.
Fees, fees, and more fees
Expect a lengthy list of fees to come with your account. Many of those fees likely have high costs, too.
Poor or non-existent interest
Many large banks don't pay interest on checking accounts. Those that do may have rates close to 0%.
Finding the Right Checking Account for You
Banks offer several checking accounts because each person has their unique needs. When looking for the best option for you, you should consider which factors are important to you.
Here are a few ideas for potential priorities you may want to consider.
Accessibility
You can access funds at physical branch locations, ATMs, through online banking, or by using mobile apps.
If you don't want access to physical branches, an online bank may provide benefits worth considering. People that want the in-person experience need to consider a local or big bank.
Fees
The fee aspect is most likely at the top of many people's lists. Fees can eat up a considerable portion of your funds each month if you use a checking account with a long list of fees with high price tags.
Most people should be able to find a checking account that's relatively fee-free for day-to-day tasks, including monthly maintenance fees. That said, you should expect to pay for some services, such as wire transfers, that you should also consider when choosing an account.
Interest
Don't expect your checking account to pay interest. Instead, it's a nice benefit if your account offers it. Physical banks usually offer no interest at all. If they do offer interest, the rates are generally close to zero.
Online banks tend to offer slightly higher interest rates, but most people won't find this to be a deciding factor. That's because savings accounts often pay higher rates for a place to stash unused cash.
Even so, a particular checking account type may be worth considering. If a bank in your area offers a rewards checking account, these accounts could pay interest rates of 1% or more in some cases.
Unfortunately, getting the higher rate may involve completing several tasks, such as making several debit card transactions each month. Additionally, the higher interest rate likely only applies to a limited balance. For instance, it's often limited to the first $10,000 in the account.
Online banking availability and technology
Online banking technology is likely a requirement for most people to sign up for a checking account today. Make sure the online banking and mobile app technology provide the features you need, such as bill pay and mobile check deposit.
You may want to look at the mobile app's reviews, too. You can look to see if the app is difficult to use or if users find it relatively well-designed before signing up for an account.
Other conveniences
You're shopping for a checking account, but you may find you want to use a bank's other features, too. In fact, it may make sense to pay a small monthly fee for a sub-optimal checking account if a bank's other services are stellar.
These could include features or products such as:
Savings accounts with high interest rates
Several loan options with access to a loan officer at your location
Investment services with access to a financial advisor at your location
Certificates of deposit
You should closely examine these other features, as well. Look for interest rates, fees, and other costs or benefits. Don't forget to look at things like the cost to get a money order or a safety deposit box.
Opening the Best Checking Account
Now that you understand several of the factors that may influence the decision of which checking account to get, you can get started. Make a list of priorities and compare that against the options you're considering.
We've made the process a bit easier as you can use our list of the best checking accounts in Missouri to get started. Then, you can compare those accounts to big banks or online banks you may be considering before opening an account.