The Best Checking Accounts in Nebraska for 2023
See the best checking accounts that you can find currently at local Nebraska banks based on their account fees, features, and convenience factors.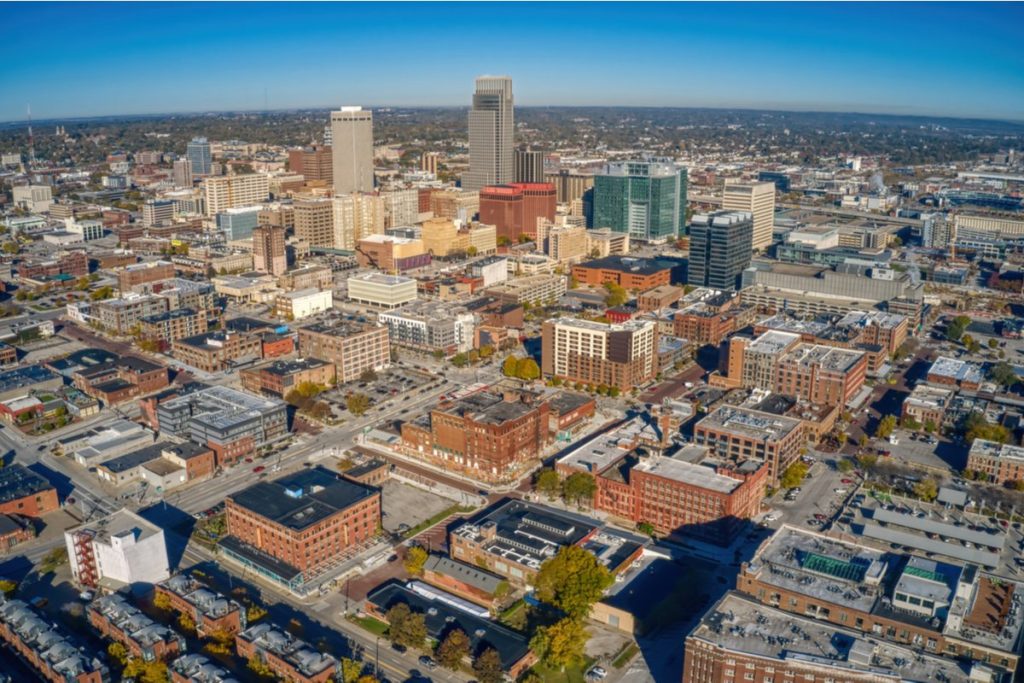 Deciding on a new checking account, likely at a new bank, can feel overwhelming. Each state has a very long list of banks that offer these accounts. Then, each bank usually has several checking account options.
It's essential to find a good bank because a bank that's a bad fit could cost you a lot of money in fees or frustration.
To help you find the best checking account in Nebraska for you, we looked at Nebraska checking accounts and found our favorites. Here's what you should know.
The Best Checking Accounts in Nebraska
First National Bank of Omaha - Free Checking
First National Bank of Omaha, which goes by FNBO, has several checking accounts, but their Free Checking account is our favorite. This account has no monthly service fee, no minimum balance requirements, and no minimum opening deposit.
You don't have to pay ATM fees through FNBO, although ATM operators may charge fees. You also get the following for free:
Bank logo checks
Online or paper statements
Cashier's checks
Incoming wires
Stop payments
One overdraft or return item fee forgiveness every 12 months
Pinnacle Bank - Free Checking
Pinnacle Bank's Free Checking account made our top five list for several reasons. The account has no monthly maintenance fees and no minimum balance requirements. You need $100 to open an account, though.
This account doesn't pay interest, but you get a free debit card, online banking, bill pay, and mobile banking with mobile deposits. The debit card comes with UChoose Rewards, as well.
Students and senior citizens get one extra benefit without paying a penny. They can choose between $10 back per statement cycle on foreign ATM fees or refunds on up to 5 money order fees and cashier's check fees per statement cycle.
Union Bank & Trust - Simply Free Checking
Union Bank & Trust has four checking accounts you can choose from. In our opinion, the Simply Free checking account is the best choice. The account doesn't pay interest, but you have no monthly maintenance or activity fees and no minimum balance requirements.
You need $50 to open an account. That said, you get a free debit card and card design, as well as free online banking, mobile banking, and e-statements.
American National Bank - Basic Checking
According to our research, American National Bank's top checking account is its Basic Checking account. You only need $50 to open an account. After that, there are no minimum balance requirements and no monthly service fees.
You need to opt for eStatements if you don't want to pay a $5 per month paper statement fee. All American National Bank accounts come with the following features:
Online bill pay
Online banking
Mobile banking with mobile check deposit
Debit Mastercard
Cornerstone Bank - Budget Checking
Cornerstone Bank has four checking accounts, but their Budget Checking account is the only version with no monthly maintenance fees for all adults. The account has no minimum balance requirement, too.
To open an account, you'll need a $100 initial deposit. You won't earn interest, get free checks, or check images as other accounts from Cornerstone Bank may offer. These aren't typically very important for most users, though. You do get unlimited check writing capabilities.
How we picked these accounts
We used FDIC data from June 2022 to find Nebraska's top 50 banks by deposit market share--serving consumers in major cities including Omaha, Lincoln, Bellevue, Grand Island, and Kearney.
Once we had this list, we decided on our selections by looking for checking accounts with low or no monthly service charges, easy ways to waive any monthly charges, the bank's ATM network, and other convenience features the checking accounts offered.
Big Banks vs. Online Banks
Local Nebraska banks may fit your needs, but big banks and online banks may offer different benefits. These institutions have pros and cons to consider, depending on how you plan to use a checking account. Here's what you should know.
Pros of Big Banks
In-person customer service
You can visit a branch and talk with a representative face-to-face to take care of banking needs, including potential issues.
Many product options
Bigger banks have corporate support to maintain various account types and loan programs. This can include more niche options not available at smaller banks.
Online banking
If you want to bank online or on your mobile device, chances are big banks have the technology to do that. It may not have the newest experimental features, but you should be able to get your banking taken care of.
Several branch locations
Big banks' signature feature is their extensive network of branches you can visit. They usually offer several convenient locations in the areas they service.
Cons of Big Banks
Bureaucracy
The larger an organization is, the more levels of management and processes it likely has. This could result in some things taking longer at a big bank than at a more agile local bank.
Cost and list of fees
The largest banks are well known for their long list of fees. Many of these fees have high costs, too.
No or low interest
Brick-and-mortar banks, especially the large ones, rarely pay interest on checking accounts. If they do, it's usually next to nothing.
Waiving fees may not be easy
You may have a chance to get some fees waived with big banks. Unfortunately, the requirements to do so are often burdensome, such as having thousands of dollars in your account as a minimum daily balance.
Pros of Online Banks
Accessible virtually anywhere
As long as you have a device and internet access, online banks allow you to bank virtually anywhere.
FDIC insurance
All FDIC member banks provide the same FDIC insurance. This includes FDIC member online banks and brick-and-mortar banks.
Fewer fees
Typically, online banks have a shorter list of fees. Those fees often cost less at online banks, too.
Interest rates
If an online bank's checking account pays interest, chances are the interest rate is several times higher than that of average brick-and-mortar banks.
Superior technology
Online banks rely on technology to allow customers to bank. For this reason, their technology is often top-notch with more cutting-edge features to help attract new customers.
Cons of Online Banks
Cash deposits
There are no branches to deposit cash at, so you'll have to find another method to deposit cash. This can be much more inconvenient.
Internet required
Most people bank online, so the internet is required. You may have trouble banking if you lose access due to a power outage or a longer-term natural disaster.
No branch network
Online banks don't have physical locations. This isn't a problem for most people but can be an issue if you need to clear up a problem in person.
Finding the Best Checking Account
The best checking account for you may be different from your neighbor's best checking account. Each person has different needs, so banks offer many checking account options.
When trying to find the best account for you, you should focus on your priorities regarding what makes a good checking account. Here are a few ideas you may want to consider when looking.
Accessibility
How you access your bank and money is key. If you prefer visiting a branch, a local or big bank is likely your best bet. People comfortable using only online banking with ATM access may prefer an online bank.
Fee structure
Fees can financially impact the balance in your account, so they're often a top consideration. There's almost no point in paying pointless monthly maintenance fees if you can find an account that allows you to take care of your day-to-day banking with no monthly service charges.
Before choosing an account, look at the fee schedule for that account. Consider which fees you may incur and what they would cost you in a regular month or year. Then, find the account that fits your other needs while charging the lowest amount in fees.
Interest rates
Interest rates are relatively low in the course of history at this time. That means big banks often get away with paying no or next to no interest on their checking accounts. Online banks may offer better rates, but they aren't usually big enough to make a difference.
Choosing an account with a better interest rate may make sense if the banks are otherwise reasonably equal. This is a more significant factor if you keep a lot of money in your checking account.
There is one type of checking account that may pay decent interest today. That's a rewards checking account. To qualify for a higher rate, usually 1% or higher, you must meet several requirements.
These requirements could include making 15 debit card transactions per month, having e-statements, and logging into online banking once per month. If you meet these requirements each month, you earn a higher interest rate on a limited balance, such as up to $10,000, for that month. Otherwise, you earn an extremely low interest rate or no interest at all.
Other convenience features
You're likely focused on checking account features, but other bank features may also be important. After all, if you plan to use other bank features, you should consider them, too.
It may make sense to accept a slightly less beneficial checking account if the bank's other features and products are outstanding. Other features may include things like:
A linked savings account with a great interest rate
Certificates of deposit with flexible terms or high interest rates
Several loan options, an on-site loan officer, and attractive rates
Investment services, an on-site financial advisor, and low investment fees
Other more minor features may also be important to you. These could include the fee to get a money order, cashier's check, or safe deposit box.
Technology solutions
You'll want to check to make sure online and mobile banking solutions have the features you need, such as mobile check deposit. Some banks charge for certain services, so look out for fees for these options.
You can look at a bank's app ratings in the app store to see if the app is easy-to-use or if other users think it is potentially missing any key features you may need.
Choosing the Best Checking Account for You
Choosing the best checking account is a process, but it can be financially rewarding. If you move from a high fee account to a low fee account, your finances may improve.
You can start by identifying your needs and comparing them to the best checking accounts in Nebraska listed above. Once you find your top choice, you can compare it to online banks and big banks before deciding on the best checking account for you.