The Best Checking Accounts in Nevada for 2023
Find out which banks in Nevada offer the best checking accounts based on the most consumer-friendly account fees and features.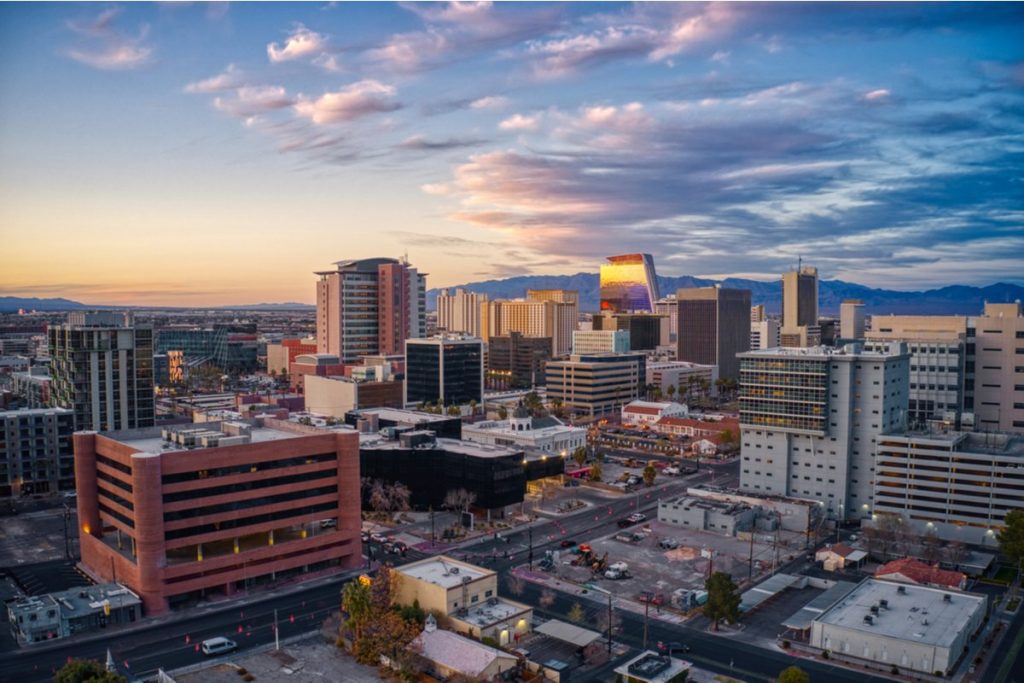 Finding the right checking account can save you a lot of money in fees that provide you no value. After all, monthly maintenance fees and minimum balance fees are just ways banks pad their profits.
To help you identify the best checking account for your situation, we looked at banks in Nevada and narrowed them down to our top picks. Here's what you should know.
Compare Checking Account Options
Make sure that you look at other checking accounts that could be better for you:
The Best Checking Accounts in Nevada
Heritage Bank of Nevada, Division of Glacier Bank - Totally Free Checking
Heritage Bank of Nevada is a division of the larger bank, Glacier bank. This bank's Totally Free Checking account offers no minimum balance requirements and no weekly, monthly or annual fees. You don't even need an opening deposit.
The account lets you write an unlimited number of checks, but you won't earn interest. You get the following other benefits with every personal checking account at the bank.
Debit card
Online banking with Bill Pay
Mobile banking with mobile check deposit
eStatements
A $25 buyback of a debit card or checks from another financial institution
Umpqua Bank - Embark Checking
Umpqua Bank's Embark Checking doesn't have monthly service charges if you enroll in paperless statements. If you opt to get paper statements, there is a $3 per month fee unless you're 62 or older. You don't earn interest with this account and need a minimum of $25 to open an account.
If you keep an average balance of more than $2,500, you get up to $10 in non-Umpqua ATM rebates per month. You also get access to online and mobile banking.
Washington Federal Bank - Free Checking
Washington Federal Bank's Free Checking account was our favorite of their checking accounts. The account has no minimum balance or monthly maintenance fees. The account comes with a long list of perks, including:
37,000 fee-free ATM network
Online banking
No-fee bill pay
No-fee person-to-person payments with Zelle
Mobile banking with mobile check deposit
El Dorado Savings Bank - Value Checking
El Dorado Savings Bank offers five checking accounts, but their Value Checking account made our list. You have to sign up for paperless statements unless you want to pay a $3 monthly fee. The account offers unlimited check writing capabilities with no extra costs.
You need $50 to open an account. You also must maintain a minimum balance of $300 or more or you risk being charged a $4 per month inactivity fee for each month where your account has no activity.
All El Dorado Savings Bank checking accounts come with:
ATM card
Internet banking
Mobile banking
Internet bill pay
Bank of the West - Any Deposit Checking
Bank of the West's Any Deposit Checking account doesn't have a minimum balance requirement. The bank also waives the $10 monthly service charge each month you have any deposit or if you're under 25 years old.
In a unique twist, the bank focuses on making sure the money in your account doesn't fund Arctic drilling or big tobacco. Other features of this checking account include:
Mobile app with mobile check deposit
Zelle person-to-person transfers
Debit card
Internet banking
How we picked these accounts
We found Nevada's top 50 banks by deposit market share using the FDIC's data from June 2022--with physical locations serving major cities including Las Vegas, Henderson, Reno, North Las Vegas, and Paradise. Next, we looked at those 50 banks' checking account offerings for the best accounts.
In our opinion, the best accounts criteria focused on checking accounts with low or no monthly maintenance fees, the ability and difficulty to get monthly charges waived, the bank's ATM network, and the convenience features offered with each checking account.
Big Banks vs. Online Banks
When looking for a checking account, you shouldn't ignore online banks and big banks. These banks offer a different experience than those listed above. Here are the pros and cons you should know about.
Benefits of Big Banks
Branches
Big banks are well known for their enormous network of physical branch locations in their service areas.
Product selection
Big banks have more support at the corporate level, potentially allowing them to offer more bank account and loan products. This could include more specialized services not available at some smaller banks.
Face-to-face customer service
If you need an issue fixed and prefer face-to-face resolution, you can visit a branch instead of calling a call center.
Online banking
Big banks have the technology to allow you to bank online. It may not have the newest features more technology-focused banks offer.
Drawbacks of Big Banks
Fees
Big banks often have several fees. Many of these fees may have high costs, too. One reason for a lengthy fee list is the cost of operating a sizeable physical branch network.
Fee waivers
Big banks may offer fee waivers, but they often come with lofty requirements. For example, you may need to keep thousands of dollars in your checking account to meet a minimum daily balance requirement to waive a service fee.
Bureaucracy
Big organizations may have several layers of management and processes. This can slow down tasks that may be performed faster at a more agile local bank.
Interest
Most checking accounts at big banks don't pay interest. If they do, it's usually an insignificant amount.
Positives of Online Banks
Fewer fees
Online banks don't often charge as many fees as their big bank competitors. The cost of each fee may be lower, too. As always, verify fees before opening an account.
Better technology
Online banks differentiate themselves by making online banking easy as it's the primary way you transact with the bank. Online banks often push the envelope by adding new features, too.
Interest rates
Online banks save money by the way they operate. They return some of these cost savings to customers in the form of higher interest rates than most brick-and-mortar banks offer.
Accessibility
The technology online banks use allows you to bank anywhere you have a device and an internet connection.
FDIC insurance
If your online bank is an FDIC member, you get the same FDIC insurance as a brick-and-mortar FDIC member bank offers.
Negatives of Online Banks
No branches
Online banks don't offer branches. This can be frustrating if you need to talk to a human in person about an issue.
Depositing cash
The fact you can't walk into a branch to deposit cash is another downside of no branches. You may have other options, but they may be less convenient.
Internet required
If you lose internet access, you lose the main way you bank. This can become a major issue during a natural disaster or on vacation in a town where you don't get cell data service.
Your Search for the Best Checking Account
The best checking account is subjective based on the person using the account. What matters to one person may not matter to another.
When looking for the best checking account for you, consider your needs first. Don't rely on what other people feel is important. If you're wondering what may be essential to you, here are a few areas you may want to consider to build your list.
Banking accessibility
Know how you want to access your bank. People that prefer visiting a branch may wish to bank with our top Nevada banks or a big bank. Others may choose a technology-focused online bank with ATM accessibility.
Fees and costs
Fees will likely factor in at the top of most people's list of priorities. Fees can directly reduce your balance in your account. You probably want a bank that doesn't charge monthly maintenance or minimum balance fees.
Next, look at a bank's list of fees to see which you may incur throughout your banking relationship. Make sure they are reasonable and there aren't any surprise inactivity fees or other fees that may drain your bank balance.
Interest
Checking accounts usually aren't the place people turn to when they want to earn interest on their money. Instead, most people put that money in a savings account. Still, it's nice to earn interest on your money no matter where you keep it.
Sadly, most banks pay no or very little interest on checking accounts. Online banks tend to offer better rates than brick-and-mortar banks. Even so, the difference in rates may not be enough to make a big difference.
One exception exists that may be worth prioritizing. If you can make a rewards checking account work for you, you may earn 1% or more interest on a limited balance with qualifying activity. If you don't qualify, you earn no interest or a very low rate, though.
These accounts almost always require you to meet several requirements to earn the higher rate. The conditions could include 15 debit card purchases and logging into online banking each month.
Convenience features
Banks provide services other than a checking account. It makes sense to look at a bank's full suite of features and products, not solely a checking account.
You may choose a checking account with less than ideal fees if the bank's other offerings are top-notch and more financially beneficial to you.
Other features to consider may include things like:
Savings accounts offering high interest rates
CDs (Certificates of deposit) with market-leading rates or flexible terms
Loan and mortgage products with low rates and on-site loan officers
Investment advisory services with low fees and an on-site advisor
Don't forget other smaller features such as money orders, wire transfers, safe deposit boxes, and their related fees.
Online and mobile banking
Almost every bank offers online and mobile banking today, but not all experiences are equal. One bank may provide mobile check deposit and other features, while another bank offers a bare-bones experience.
Verify your potential bank includes the features you need. Then, check the bank app's reviews to make sure the software isn't a nightmare to use before choosing an account if this is important to you.
Picking Your Best Checking Account
The difference between choosing an excellent checking account and an awful checking account could impact your bank balance significantly. Once you determine what's important to you, consider our list of top Nevada checking accounts as a starting place in your search.
Finally, compare the top option to big banks and online banks to find the best fit for you.