The Best Checking Accounts in New Hampshire for 2023
See the best checking accounts available from local New Hampshire banks based on account fees and features that are most friendly to consumers.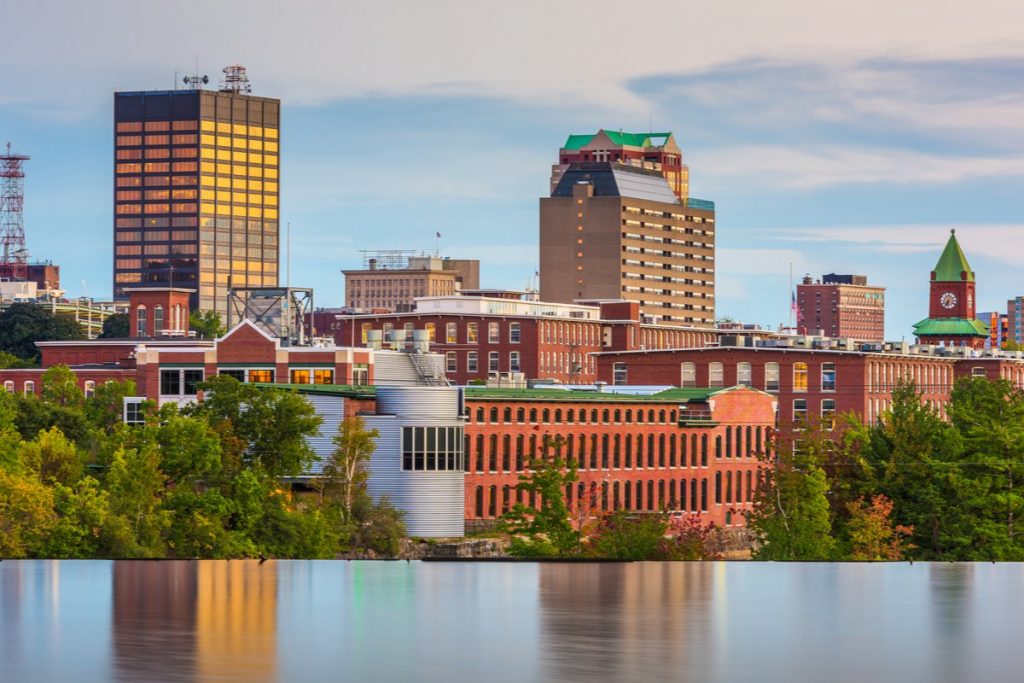 One of many products banks may use to make money is a checking account. Some banks charge several fees to make these accounts profitable. These may include monthly maintenance fees simply to have an account with an institution. This is not great for consumers looking for a checking account.
Fortunately, not all banks take this approach. Several banks offer checking accounts with no monthly fees as a way to earn a new customer's business. While fees may still exist, you may not have to pay them for your day-to-day banking needs.
To help you find one of the better checking accounts, we looked at banks in New Hampshire and came up with the following list.
Compare Checking Account Options
Make sure that you look at other checking accounts that could be better for you:
The Best Checking Accounts in New Hampshire
Bank of New Hampshire - BNH Free Checking
Bank of New Hampshire often goes by the acronym BNH. Their BNH Free Checking account has no hidden fees, monthly service charges, or minimum balance requirements. You need $50 to open an account and the account does not pay interest.
All checking accounts at BNH get:
Debit card
Free online, mobile, and telebanking
Free online BillPay
Free eStatements
Meredith Village Savings Bank - Better Checking
Meredith Village Savings Bank's Better Checking account was our favorite of their four options. The account has no monthly service charges. You earn interest on balances of $100 and greater in the account, although the 0.01% rate is virtually nothing.
As a customer at the bank, you get the following benefits:
Debit card
Online and mobile banking with mobile deposit
eStatements
Northway Bank - Peak Checking
Northway Bank has three checking accounts, but we prefer their Peak Checking account. The account has no monthly service charges, minimum balance requirements, or minimum initial deposit amount.
If you make 15 or more signature-based debit card transactions that are posted during a statement cycle, you can choose one of the following benefits:
Earn 10 cents cash back for each signature-based debit transaction
One fee-free non-Northway ATM withdrawal per statement cycle
One fee-free overdraft per year
One free iTunes download up to $1.29 per statement cycle
You get access to the following features as an account holder:
Unlimited check writing
Debit card
Free online and mobile banking
Free Bill Pay
Free eStatements (paper statements cost $3 per month)
Bar Harbor Bank & Trust - Simple Checking
Bar Harbor Bank & Trust's Simple Checking account has no monthly service or minimum balance fees. You need $25 to open an account, which is relatively low. The account does not pay interest. You get free eStatements but must pay $3 per month for paper statements.
All Bar Harbor Bank & Trust accounts come with the following features:
Online and mobile banking
Mobile check deposit
Zelle person-to-person transfer service
Merrimack County Savings Bank - Everyday Checking
You have four checking account options at Merrimack County Savings Bank. Our top choice is their Everyday Checking account. There are no monthly service charges and you only need $10 to open an account. If you have $100 in your account, you can earn a paltry 0.01% interest rate.
All personal checking accounts come with the following features:
Online banking
Mobile banking with mobile check deposit
Bill pay
eStatements
Debit card
Unlimited check-writing
One free money order and cashier's check per customer per day
How we picked these accounts
To pick our top five checking accounts in New Hampshire, we started by identifying the top 50 banks by deposit market share according to the FDIC's data from June 2022--covering major cities including Manchester, Nashua, Concord, Dover, and Rochester.
Then, we examined accounts to find the best accounts with the following features:
Low or no monthly service charges
Easy ways to get monthly charges waived
The bank's ATM network
Convenience features provided to account holders
Big Banks vs. Online Banks
In addition to the top five banks in New Hampshire, you may want to check out big banks and online banks. We didn't include these in the list above, but they're options that may make sense for you.
Pros of Big Banks
Account and loan products
You often have several bank account and loan options to choose from. Big banks have a large organization supporting them, which may allow them to provide more niche products that better fit your needs.
Branch footprint
Big banks have developed a large branch network in the areas they serve. This gives customers many convenient locations at home and potentially when traveling.
In-person customer service
Physical branches allow you to speak with a representative in person if you hate calling a call center.
Online banking
Big banks provide online and mobile banking technology. It may not offer as many options as an online bank, but it should get the job done.
Cons of Big Banks
Big organization problems
Large companies have many levels of management and processes. This may delay certain processes that may occur faster at a local bank.
Fees
The largest banks are well known for charging many fees, some with high costs. This fee income helps the banks cover the costs of their large branch footprint and profit at the same time.
Fee waivers may be difficult
You may have options to get some fees waived. That said, these waivers often have steep requirements. For example, you may need to keep thousands of dollars in a checking account to waive a monthly service fee.
Lack of meaningful interest
Don't expect significant interest at a big bank. Most offer no interest or an interest rate so low it isn't worth mentioning.
Advantages of Online Banks
Bank anywhere
Online banks allow you to bank anywhere you have a device and an internet connection through online or mobile banking.
FDIC insurance
Online banks that are FDIC members offer the same insurance as brick-and-mortar FDIC member banks.
Interest
While still not outstanding, online banks that offer interest usually pay rates several times higher than brick-and-mortar banks.
Lower fees
Expect a much shorter fee list with online banks when compared to big banks. Many of the fees may cost less, too.
Technology
Because you bank mostly online, these banks offer some of the best technology solutions. They often offer cutting-edge technology in the banking sector.
Disadvantages of Online Banks
Cash deposits
You can't deposit cash at a bank branch. You'll have to find other options which are often less convenient.
Must have internet connectivity
Internet banking is the primary way you bank. Banking can be difficult or impossible if you don't have internet access. This can be an issue during natural disasters or prolonged power outages.
No physical locations
You won't find bank branches with online banks. Instead, you must complete all transactions online or over the phone.
Finding an Ideal Checking Account
Each person has their own idea of the perfect checking account because they use their account and money in different ways. This is why banks offer so many checking account options.
To help you find the ideal account for you, you should think about how you plan to use your account. Then, come up with a list of priorities you find most important. Here are a few ideas to help you get started.
Access to your funds
Some people prefer banking in person at a branch. In this case, an online bank wouldn't work because they have no branches. People who don't care about branches may find the benefits of online banks to outweigh the inconvenience since they often have vast ATM networks.
Bank-related expenses
One of the top areas of concern with a new bank account is usually the
list of fees. These fees will shrink your balance if you incur them. Most people should be able to find an account that doesn't charge fees for day-to-day activities.
Once you've avoided monthly service fees, look for other costs you may run into when banking. This could include wire fees, money order fees, and other costs. Consider how often you use these services to find the cheapest bank to use on an ongoing basis.
Convenience features
Banks offer more than just checking accounts. They offer several other products and convenience services that could make your life easier. Choosing a less than ideal checking account may make sense if the bank is stellar in every other aspect.
When looking at banks, you may want to look at these other items if you'll use them.
High interest rate savings accounts
Flexible or high interest rate certificates of deposit
Low interest rate loan and mortgage products with an on-site loan officer
Low-fee investment options with an on-site investment advisor
Other features could be important beyond the above list. These could include safety deposit box availability or the option to get money orders and cashier's checks.
Digital banking
Today, most banks offer some form of online or mobile banking. The difference between banks will be the features offered and how easy the technology is to use.
Before opening a checking account, make sure digital banking allows you to have access to what you need, such as mobile check deposit. Then, read the mobile app reviews to see if it is missing features or is challenging to use.
Interest earned
You usually don't look for interest as the main benefit of a checking account. Instead, you put the money you want to earn interest on in a savings account or certificate of deposit. Still, interest can be a nice perk.
Many brick-and-mortar banks pay no interest at all or a rate so close to zero it isn't worth mentioning. Online banks usually offer rates several times that of physical banks, but this interest won't make you rich.
Rewards checking accounts are the one exception to interest not mattering much for checking accounts. These accounts may pay 1% interest or more if you meet the qualifications.
You often have to complete several debit card transactions, sign up for eStatements, and log into online banking each month or have other similar requirements each month to earn the higher rate. If you don't, you earn little to no interest.
Selecting Your Ideal Checking Account
Picking the perfect checking account can help you keep more money for yourself. Ideally, you'll find an account that doesn't charge fees for your day-to-day banking needs.
Start by making a list of your priorities. Next, compare that list to the top five checking accounts in New Hampshire. Finally, consider online and big banks before deciding on your next checking account.