The Best Checking Accounts in New Mexico for 2023
See which local banks in New Mexico provide the best checking accounts based on account fees, access, and other consumer-friendly features.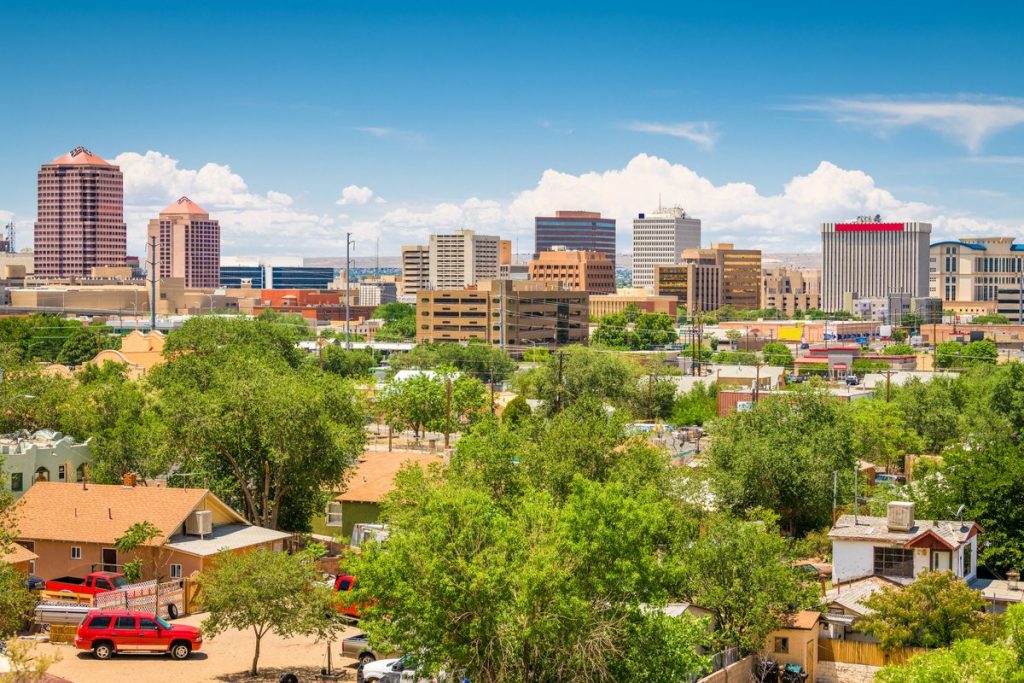 The right checking account can help you keep money in your account instead of losing money to fees every month. Some of the best checking accounts are mostly fee-free on a monthly basis as long as you don't incur any specialty fees, such as those for wire transfers.
Unfortunately, several banks use checking accounts as a way to make money. These accounts may charge minimum balance or monthly service fees and other fees that slowly eat away at your money.
We researched checking accounts in New Mexico to help you find a good checking account in your area. Here's what you should know.
Compare Checking Account Options
Make sure that you look at other checking accounts that could be better for you:
The Best Checking Accounts in New Mexico
New Mexico Bank & Trust - Free Checking with eStatements
New Mexico Bank & Trust's Free Checking with eStatements has no monthly fees as long as you sign up for eStatements. If you select paper statements, you'll incur a $3 per month fee. You need $25 to open an account, but no minimum balance requirements exist after opening an account.
The account offers the following features:
Unlimited check writing
Online and mobile banking
Debit card
Bank of Albuquerque - Free Checking
Bank of Albuquerque's Free Checking account is our top pick out of their five checking account offerings. It has no monthly service fees if you select online statements. If you prefer paper statements, you have to pay a $1.50 fee per month. You need $50 to open an account.
This account offers other benefits, including the following:
Debit card
Online and mobile banking with Bill Pay and mobile check deposit
Zelle person-to-person payments
32,000+ ATM network
One complimentary overdraft fee per calendar year upon request
Enterprise Bank & Trust - Basic Checking
The Basic Checking account is our favorite checking account you can get at Enterprise Bank & Trust. It has no minimum balance or monthly fee and you get monthly electronic statements. The bank uses the Allpoint ATM network, which has 55,000 locations.
With this checking account, you also get access to:
Debit card
Online and mobile banking
Free bill pay and mobile deposit
The ability to round up debit card transactions to a savings account
Washington Federal Bank - Free Checking
Washington Federal Bank goes by WaFd Bank and offers locations in New Mexico. Their Free Checking account has no minimum balance or monthly maintenance fees. You get access to:
Online banking
Bill Pay
External transfers
Mobile banking with mobile check deposit
Zelle person-to-person payments
They have over 200 branches spread across eight states in the western United States if you travel often. Depending on your preferences, you can open an account at a local branch or online.
Century Bank - Century Checking
Century Bank's Century Checking account is their most straightforward account. It allows you to bank with no monthly service fees as long as you opt for eStatements. Paper statements cost $5 per statement cycle.
You can open an account with $25. When you open an account, you get the following benefits:
Debit card
Unlimited transactions
Online banking with bill pay, eAlerts, and person-to-person payments
Mobile banking with remote deposit anywhere for qualifying account holders
Students ages 15-24 get a $10 gift card when they open an account. These students also get the first four non-Century Bank ATM fees per calendar month waived for up to $2 per transaction and $8 per month. If desired, seniors aged 60 or older get a complimentary first order of checks and complimentary paper statements.
How we picked these accounts
We used the FDIC's June 2022 data to identify the top 50 banks by deposit market share in New Mexico--serving major cities including Albuquerque, Las Cruces, Rio Rancho, Santa Fe, and Roswell. Next, we looked into each bank's checking account options to find the best checking accounts.
Our analysis focused on finding accounts that offer low or no monthly service charges, simple ways to waive these charges if they exist, the ATM network of each bank, and convenience features the banks offer account holders.
Big Banks vs. Online Banks
In addition to local banks in your area, you may want to consider larger national banks or online banks. Each offers different pros and cons that may be worth considering when choosing a checking account.
Benefits of Online Banks
Accessible anywhere
You can bank anywhere you have a device and an internet connection. You can use a traditional web browser or a bank's mobile app in most cases.
Fewer fees overall
Online banks are known for having fewer fees than big banks. Those fees that do exist usually cost less, too.
FDIC insurance
FDIC member banks offer the same insurance, whether they're online banks or brick-and-mortar banks.
Interest
Online banks tend to pay interest on checking accounts more often than their physical bank competitors. The interest rates offered often vastly exceed brick-and-mortar banks, too.
Technological edge
Expect the latest banking features with an online bank's technology. They know this is the primary way you interact with a bank and want to offer the best features to make you more likely to bank with them.
Drawbacks of Online Banks
Harder to deposit cash
With no branches, you can't deposit cash with a teller. Instead, you may have to use other options that may be more cumbersome.
Must have internet access
Online banking isn't possible without internet access. Online banking may not be a good fit if you travel in areas with spotty data connections or experience frequent internet outages.
No physical locations
You can't go to a local branch to get any issues fixed. Instead, you'll have to call a call center or use online banking to resolve the issue.
Pros of Big Banks
Large branch network
The extensive branch network big banks offer is one of the hallmark features this type of bank offers.
In-person assistance
You may be able to avoid calling a call center by visiting a branch and talking to a human teller when trying to get a problem fixed.
Online banking options
Big banks offer online and mobile banking, too. They may not provide the latest experimental features, though. They tend to stick to the traditional and well-tested features.
Several account and loan options
Big banks have corporate and regional support that may allow them to offer more account and loan products. You may find a niche product at a large bank works better than a generic account at a local or online bank.
Cons of Big Banks
Potentially slower reaction time
Having corporate and regional support may allow big banks to offer more options. It can also slow down some processes and decisions due to several layers of management and approvals.
Fees are harder to get waived
Big banks may have ways to waive fees, but they often come with steep requirements that may be unattainable for ordinary customers.
More and more expensive fees
Big banks tend to have more fees they charge and those fees may come with higher price tags.
Interest isn't worth mentioning
Most big banks don't offer interest on checking accounts. If they do, the rate is almost always close to 0%.
Identifying the Right Checking Account for You
Finding the right checking account for your situation depends on your needs and desires. These may be different than another person's list of preferences and is the reason banks offer several checking account types.
Here are a few ideas of areas you may want to consider prioritizing in your search if they're important to you.
Access
Deciding which accessibility features are most important to you is vital in finding the right bank. Online banks only provide access through their ATM network, online banking, and mobile banking solutions. Big banks and local banks add physical branches.
Fee schedules
A fee schedule details which fees a bank charges and how much they cost. Examining fee schedules is likely a top priority as each fee could take money out of your account and put more money in the bank's pockets.
Ideally, you should be able to find a bank that doesn't charge monthly maintenance fees or other fees that impact your day-to-day banking needs. You likely will have to pay for some specialty services, such as wire transfers.
Adding up the fees you may incur over a month or a year may help you evaluate this category when looking at different checking accounts.
Interest rates
Checking accounts aren't the primary place people put their money to earn high interest rates. Even so, some checking accounts offer interest, so it may be worth considering the rate you could earn.
Sadly, big banks and many other checking accounts offer no interest or rates close to zero. Online banks may offer rates several times higher, but the rates are often below 1% in today's interest rate environment.
The one exception is a rewards checking account. This account type may pay interest over 1% if you meet several monthly requirements. The catch is you earn no or low interest if you don't meet the criteria.
You may have to make 15 debit card transactions, log in to online banking, and be signed up for eStatements to earn the higher rate. The higher rate is typically limited to a certain balance, such as $10,000.
Online and mobile banking technology
When considering a checking account, look at the online and mobile banking features offered. Most banks provide basics, such as mobile check deposit, but not all do. That's why it's essential to check the feature list before signing up for an account.
You can also check mobile app reviews to see if a bank's solutions are easy to use and include all the features users expect. Missing features will likely show up in reviews.
Other conveniences
When shopping for a checking account, don't forget you'll become a customer at that bank. You can likely use other products and services, too. If other bank features are stellar, it may be worth choosing a less than optimal checking account.
Other features or products you may want to consider could include a savings account with high interest rates. Alternatively, you may be interested in loan options with low interest rates and a local loan officer to help get your loan approved.
You may also want to look into certificates of deposits or investments. Don't forget to consider more minor features that may be important to you, such as the ability to get money orders, cashier's checks, or a safety deposit box.
Opening Your Next Checking Account
Once you know what you're looking for in a checking account, it's time to take action. Compare your list of priorities to the best checking accounts in New Mexico. Then, compare your top choice to big banks and online banks you may be interested in.
Finally, you can take action by opening an account at the bank of your choice. Once opened, you can start avoiding unnecessary fees and enjoy the other benefits of using one of the best checking accounts for your situation.