The Best Checking Accounts in Rhode Island for 2023
See the best checking accounts that are currently available from local Rhode Island banks based on their account fees and other consumer-friendly features.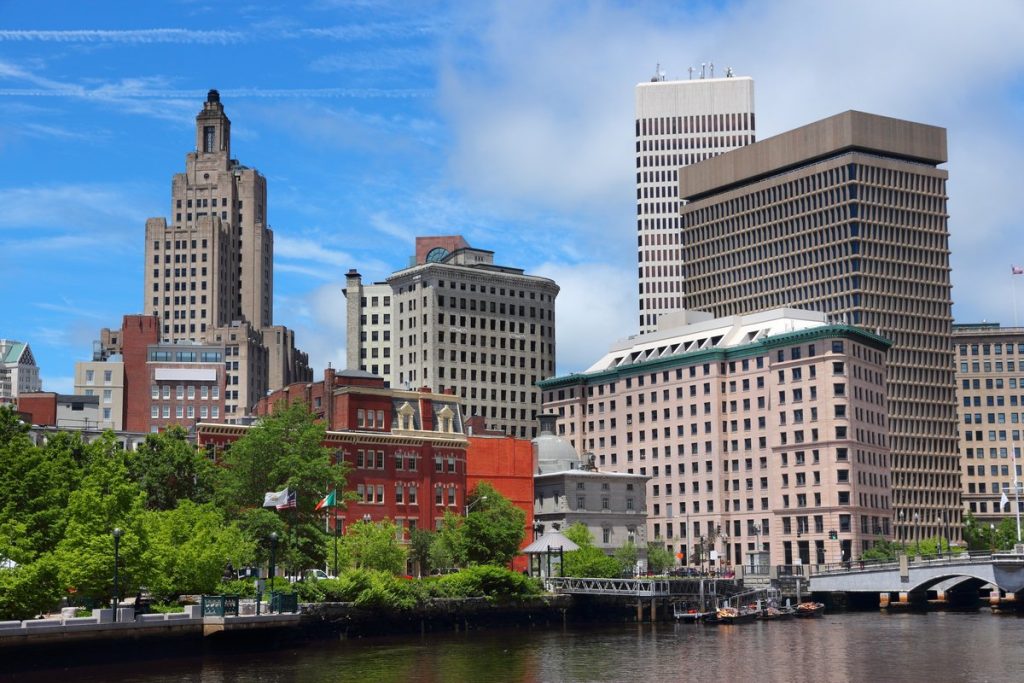 If you're looking for a new checking account in Rhode Island, you will quickly find out you have many options. Rhode Island has plenty of banks to choose from. After you select a bank, they likely have several different checking accounts, too.
Each person banks in different ways, so having several checking accounts to choose from makes sense. Unfortunately, some banks focus on profit by adding monthly maintenance fees and other fees to these accounts. Others put the customer first and have relatively fee-free accounts for day-to-day banking tasks.
To help you find a good account for you, we researched checking accounts in Rhode Island. Here's what we found.
Compare Checking Account Options
Make sure that you look at other checking accounts that could be better for you:
The Best Checking Accounts in Rhode Island
Washington Trust - Freedom Checking
Washington Trust's Freedom Checking account is our top pick at this bank. The account doesn't have a monthly fee and offers free ATM use as long as you use an in-network ATM. Other benefits of using this account include:
Debit card
Online and mobile banking
0.50% off installment loan rates with automatic payments
eStatements available
First year annual fee waived and 0.25% off non-promotional home equity line of credit rates
BankNewport - BN Free Checking
BN Free Checking at BankNewport is our favorite of this bank's three checking account options. The account doesn't charge a monthly maintenance fee and only requires $25 to open an account.
You get three months of free BN Perks ($6.95 per month after that), including free bank checks, money orders, cash back rewards, and special offers on some shopping and dining options. Other benefits of having this checking account include:
Digital and mobile banking
Debit card
Bill Pay
Digital statements
Unlimited check writing
Centreville Bank - Personal Checking
Centreville Bank's Personal Checking account charges no monthly maintenance fees. To open an account, you'll need $25. As an account holder, you get plenty of the day-to-day banking benefits you need, including:
Free online banking and Bill Pay
Free mobile banking with mobile check deposit
Free debit card
Free eStatements
Free credit score and credit monitoring
Unlimited check writing
HarborOne Bank - FreePlus Checking
HarborOne Bank's FreePlus Checking stands out among the four checking accounts this bank provides its potential customers. It has no monthly maintenance service charges and you can open an account with just $10. You don't even have to have direct deposit or eStatements to avoid service charges.
All checking accounts at HarborOne Bank include the following features:
Free online banking and Bill Pay
Free mobile banking
Free debit card
Free eStatements
Berkshire Bank - Free Checking
Berkshire Bank's Free Checking account focuses on the free services it offers its customers. You don't have a monthly service charge or minimum balance requirement with this account. You also get the following complimentary benefits:
No per check charge (unlimited check writing)
Free online banking with Bill Pay
Free mobile banking with mobile check deposit
Free eStatements with check images (Paper statement fee of $3.50 per month)
Free debit card
Free telephone banking
How we picked these accounts
We started our search for Rhode Island checking accounts by using the FDIC's June 2022 data for the top 50 banks in the state by deposit market share -- serving major cities including Providence, Cranston, Warwick, Pawtucket, and East Providence.
Once the top banks were identified, we considered each checking account looking for those with low or no monthly service charges, the ability to waive monthly maintenance fees if they exist, the ATM network of each bank, and the convenience features offered to customers.
Big Banks vs. Online Banks
In addition to the options listed above, you may want to consider two other categories of banks. Big banks and online banks both offer benefits and drawbacks that may make them worth looking into. Here are the pros and cons of each option.
Benefits of Big Banks
Physical branches
The biggest banks have a huge network of branch locations in the areas they serve. This makes it easy to stop at a local bank branch in most cities no matter what part of the city you are in.
Diverse bank account and loan options
Thanks to corporate support and the large size of these banks, specialists within the company may be able to support more niche bank accounts and loan options smaller banks may not offer.
Can get help with problems in person
People who prefer to deal with issues in person rather than at a call center may be able to visit a branch to get issues fixed.
Online and mobile banking available
Big banks offer online and mobile banking as a convenience for their customers. It may not have the most innovative features, but it should get the job done.
Drawbacks of Big Banks
Fee pressure
Big banks charge a long list of fees, many of which have high costs. These fees help pay for profits and the expensive branch network they operate.
Low or no interest
Checking accounts at big banks don't usually offer interest. Those that do often have a rate so close to zero that it isn't worth mentioning.
Hard to get fees waived
Big banks may say fees can be waived, but it often comes with a hefty requirement. This could include keeping thousands of dollars in your checking account.
Large organization slowdowns
The bigger an organization is, the more levels of management and processes exist. This can cause certain things to move more slowly than at a more agile smaller bank.
Pros of Online Banks
Often a better fee structure
Online banks don't have to pay for expensive branches. They often pass on this cost savings by offering fewer fees at lower costs.
Higher interest rates
Another way online banks pass on saved costs is by offering interest on checking accounts in many cases. In fact, their interest rates are usually multiple times the national average.
Better technology
Technology at online banks is typically more cutting-edge as this is the primary way customers interact with the bank.
Accessible anywhere
With online and mobile banking, you only need a device and the internet to bank.
FDIC insurance
Online banks that are FDIC members offer the same FDIC insurance as brick-and-mortar banks.
Cons of Online Banks
No physical branch locations
Online banks don't have any branches. This can cause issues if you prefer to bank in person.
Depositing cash is difficult
With no branches, you can't deposit cash at a branch. Other options may exist but could require more work on your part.
Must have internet access
Internet access can be spotty when traveling or during natural disasters. Without internet access, banking with an online bank can be difficult.
Identifying Your Ideal Checking Account
Checking accounts offer different features because people bank differently based on their needs. To help you develop a list of your specific needs before looking for a bank, we've compiled the following ideas you may want to consider.
Access
Think about how you want to access your bank. If you never plan to visit a branch but think online and mobile banking along with ATM access is sufficient, an online bank may be best. If you need physical locations, consider a local or big bank.
Fee schedule
The fees a bank charges directly impact your account balance. You likely want to find an account with no monthly service charges and minimal costs for other tasks you complete every month.
Consider looking at the fee schedule and adding up the fees you'd pay over a typical month or year. Then, you can compare potential banks to find the cheapest option for you.
Interest rate
While interest isn't usually the main feature you look for in a checking account, it can make a difference. Big banks and local brick-and-mortar banks often offer no interest or very low rates. Online banks may offer rates several times the national average, but it's still usually less than 1%.
One type of account that may make a big difference is a rewards checking account. If you can meet several requirements, you may earn over 1% interest on a limited balance in the account.
To qualify, you often need to make several debit card transactions, log in to online banking, and complete some other task every month to earn the higher rate. Without meeting the qualifications, you earn low or no interest. The same often goes for balances over the dollar limit.
Convenience features
While shopping for a checking account, other bank features should still be considered. A slightly less than perfect checking account may be worth choosing if other bank features you would use are outstanding.
People who plan to open a savings account may be attracted by high savings rates or the rates on certificates of deposit. Others looking to take out a loan may prefer a bank with low loan rates and an on-site loan officer.
An on-site financial advisor that offers investments with low fees may be alluring if you plan to invest. Don't forget to consider other convenience services such as money orders, safety deposit boxes, cashier's checks, and the costs for these services.
Technology
Before signing up for an account, don't forget to check for online and mobile banking features that you must have. While most banks offer standard features, some may not have the ones you need.
Check feature lists and app reviews to make sure the options fit your needs, such as having mobile check deposit.
Choose Your New Checking Account
Now that you've identified your needs, you can compare those needs against the list of top checking accounts in Rhode Island. Then, consider big banks and online banks before deciding which new checking account is best for you.
Speed is essential if you're currently paying fees for your checking account. Every month you wait could result in having less money to move to your new account.