The Best Checking Accounts in Utah for 2023
Find out which local banks in Utah offer the best checking accounts based on fees, interest rates, and account management features.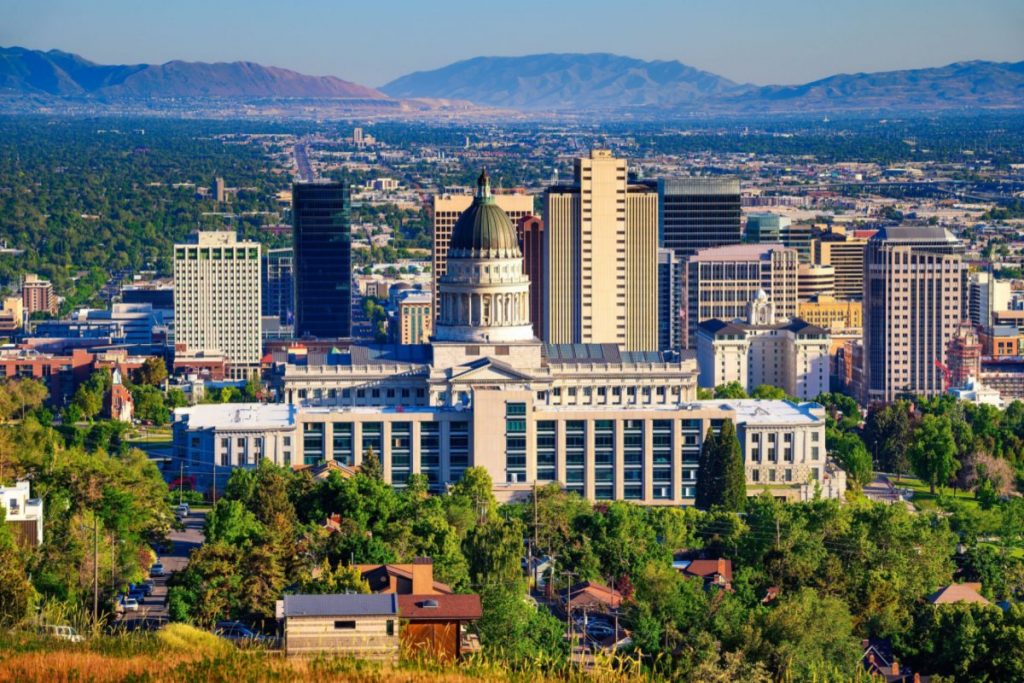 Your checking account is likely the most important bank account you have. You interact with it almost every day. When you get paid, your employer deposits your paycheck to your checking account. When you pay your bills using your debit card, the money comes from your checking account.
Because your checking account is essential to your financial life, it's important that you choose an account that is easy to use and that has features that you can take advantage of.
Banks know that customers who open a checking account tend to stick with a bank for the long term. That makes them willing to compete with other banks for new checking account customers.
If you take the time to shop around and compare accounts, you might be able to find a great deal.
The Best Checking Accounts in Utah
If you're in Utah and want to open a new checking account, these are some of the best choices available:
Zions Bank - Anytime Checking
KeyBank - Key Smart Checking
Altabank- MyRateChecking
Zions Bank
Zions Bank Anytime Checking account is a basic checking account that is easy to open and keep fee-free.
The account has a $50 minimum opening deposit, but once you've opened the account there are no minimum balance requirements to worry about. The account does carry a $3 monthly fee, but it's easy to avoid. All you have to do is sign up for electronic statements and Zions Bank will waive the fee.
KeyBank
The Key Smart Checking account is KeyBank's fee-free checking account. After you make the $10 opening deposit, there is no minimum balance requirement and no monthly fee.
The account offers all of the features you'd expect from a checking account, including online bill payments, paper checks, and more than 40,000 fee-free ATMs.
Altabank
The Altabank MyRateChecking account is a fee-free checking account with a great perk. It pays interest.
Once you make the $100 minimum opening deposit, you don't have to worry about minimum balance requirements or monthly fees.
The account offers an interest rate of 1.00% APY on balances up to $25,000. 1.00% is a better rate than most savings accounts offer, so you can earn a large amount of interest on your checking balance.
How we picked
We reviewed all the checking accounts available from the 50 biggest banks by total deposit market share in Utah (based on FDIC June 2023 data)--with a presence in major cities including Salt Lake City, West Valley City, Provo, West Jordan, and Orem.
The top checking accounts were chosen based on the following factors:
Branch locations
Monthly fees
ATM access and fees
Interest rates/rewards
Digital account management features
Why Go With a Local Utah Bank for Your Checking Account
If you're in the market for a new checking account, one of the best places to start is with a local or regional bank.
Smaller, local banks have a lot of advantages over their larger, national competition. For example, local banks are more in tune with local needs and better able to tailor their services to local needs.
National banks tend to have standard accounts and services that they offer nationwide.
Local banks also tend to be smaller and have fewer customers. That means there is a higher chance that the staff at your bank will get to know you and be able to offer personalized service. With a large bank, you'll just be another face in the crowd.
If you live in Utah and want to open a new checking account, these are three of your best options.
Advantages and Disadvantages of Local Banks
Local banks can be great for lots of people, but they aren't a perfect solution for everyone.
By their nature, local banks mostly focus on a single part of the country. If you travel outside of that area, you might not be able to find a branch or ATM that you can use without paying a fee. This means that you'll have to use other banks' ATMs, and pay the related fees when you travel.
National banks have branches and ATMs over the country, meaning you'll have little trouble finding a fee-free ATM that you can use.
Online Checking Accounts Are Available Nationally
If you've considered both regional and national banks but haven't found one that works for you, you might want to consider an online checking account. They've become popular in recent years and it's easy to see why.
Feature-packed with low fees
One of the best reasons to open a checking account with an online bank is that they tend to offer great features at the same or lower price as traditional banks. Online banks can do this because they cost much less to run than brick-and-mortar banks do.
Traditional banks need to build, staff and maintain large networks of ATMs and bank branches, which means hiring lots of staff and spending a lot of money. An online bank only requires one or two office buildings, meaning they can centralize operations and save money.
Online banks pass those savings on to customers with low account fees and great perks like paying interest on checking account balances or reimbursing ATM fees.
FDIC-insured
One common fear is that online banks aren't as safe as traditional banks. This is understandable given that online crime is a common occurrence and that it's hard to trust a bank you can't see.
The good news:
Online banks are just as safe as brick-and-mortar banks because they receive the same level of FDIC protection as traditional banks.
The Federal Deposit Insurance Corporation offers up to $250,000 in protection per depositor, per account type at covered banks. If you deposit money to a protected bank account and the bank is unable to return your money, the FDIC will reimburse you for the losses, up to the $250,000 limit.
You don't have to do anything to sign up for the protection, it's automatic as soon as you open an account at an FDIC-insured bank.
What Kind of Account is Right for You?
If you're not sure that an online checking account will be a good fit for you, ask yourself these questions.
How do you like to contact customer support?
With a brick-and-mortar bank, it's easy to drop by your local branch and ask someone for help. If you have an online checking account and need help with your account, you'll have to get support over the phone or by online chat or e-mail.
How do you do your banking right now?
If you already do your banking at ATMs and on your phone, you won't have trouble adapting to an online checking account. If you're a regular at your local bank, the transition might be more difficult.
How well do you handle technology?
If you're a technophobe, an online bank is obviously a poor fit.
Factors that Should Matter Most
When comparing different checking accounts, these are the most important features to look at.
Fees
Some bank accounts come with monthly fees that you have to pay if you want to keep the account open. There are usually ways to avoid these fees, but jumping through hoops can get annoying.
These fees can eat away at your account balance and leave you with less money to spend on the things you need, so try to choose an account with no monthly fees. If you must choose an account that charges a fee, make sure the fee is easy to avoid.
ATM/branch access
If you use cash on a regular basis, make sure that any bank you choose has ATMs and branches near the areas you frequent. Alternatively, choose a bank that refunds fees charged by other banks' ATMs.
Interest rates
Most checking accounts don't pay interest but some, especially online checking accounts, pay a small amount. Any interest you earn is like free money, which makes this a nice perk to look out for.
Digital banking
Most banks offer online and mobile banking experiences.
That said, features can vary.
Some banks include nifty account management features such as automated savings programs, spend tracking, or goal-setting to help you manage your finances.
Otherwise, be sure to look for dedicated mobile apps that allow you to view your account on the go, in addition to making typical account transfers, sending personal payments, and depositing checking remotely.