The Best Checking Accounts in Wyoming for 2023
See the best checking accounts that are available from local Wyoming banks based on account fees and helpful money management features for customers.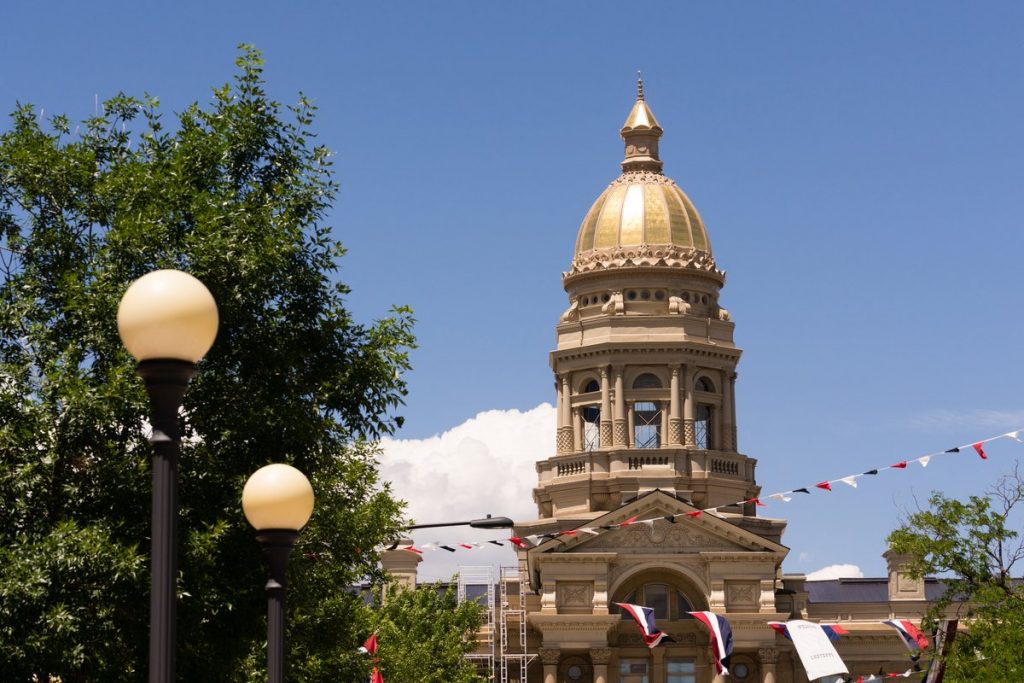 Finding the right checking account isn't an easy process. You have many banks you can open accounts at and each of those banks likely has several checking accounts.
Some banks offer better products than others. While certain banks view checking accounts as a way to make money on fees, others use them to acquire new customers by offering relatively fee-free accounts.
If you're looking for a checking account in Wyoming, we have you covered. Here's what you should know.
Compare Checking Account Options
Make sure that you look at other checking accounts that could be better for you:
The Best Checking Accounts of Wyoming
Glacier Bank - Totally Free Checking
Glacier Bank's Totally Free Checking is our favorite checking account from this bank. The account has no opening deposit requirement, minimum balance requirement, or monthly service charge. It doesn't pay interest but does offer unlimited check writing.
All checking accounts at Glacier Bank come with the following features:
Free online banking with Bill Pay
Free mobile banking with mobile check deposit
Free debit card
Option to sell unused checks or debit cards from another institution
Free eStatements
Bank of Jackson Hole - Everyday Checking
The Bank of Jackson Hole has two checking account options. We prefer the Everyday Checking account. You only need $50 to open an account and there are no minimum balance requirements after that. It doesn't pay interest, but doesn't have monthly maintenance fees, either.
You do have to pay $5 per month if you want paper statements, but eStatements are free. Other features include:
Debit card
Unlimited check writing
Online and mobile banking
Bill Pay
Mobile deposit
Pinnacle Bank - Free Checking
At Pinnacle Bank, you have five checking account choices. We think their Free Checking account comes out on top. There are no monthly fees or minimum balance requirements, but you don't earn interest. Statements are electronic with this account type and you need a $100 initial deposit to open an account.
Other features include:
Debit card
Online banking with Bill Pay
Mobile banking with mobile deposit
Account alerts
Hilltop Bank - E-Z Checking
Hilltop Bank's E-Z Checking account doesn't offer many frills, but it gets the job done. You have no minimum balance requirements or monthly maintenance fees. You can write an unlimited number of checks, get a free debit card, and get access to online banking.
ANB Bank - Free Checking
ANB Bank has four checking accounts adults can sign up for, but their Free Checking best met our criteria. You have no monthly service fee and only need $25 to open an account. You can opt for eStatements or paper statements without paying a fee.
Other benefits of this account include:
Debit card with the ability to turn it on or off
Online and mobile banking
Bill Pay
Mobile deposit
37,000+ location MoneyPass ATM Network
How we picked these accounts
To find the top checking accounts in Wyoming, we first identified the top 50 banks in the state by deposit market share -- with coverage of major cities including Cheyenne, Casper, Laramie, Gillette, and Rock Springs. To do this, we used the FDIC's data from June 2022.
Next, we took a close look at the checking account options at these banks. In particular, we examined accounts to find those with no or low monthly service charges, ways to waive any monthly service charges that exist, the ATM networks of each bank, and other products and features each bank offers its checking account customers.
Big Banks vs. Online Banks
Local banks can provide detailed services other types of banks may not be able to provide. Still, big banks and online banks fit into the larger banking picture in some significant ways.
If you want to consider other options, here are the pros and cons of these two types of banks that may be a better fit for you.
Benefits of Big Banks
Accounts available
Larger banks have more corporate support, which may allow them to provide more account options. Some of these options may be smaller niche products.
Branch locations
A large branch network is a hallmark of this type of bank. These branches should be throughout your local area and the region around you.
Digital banking
You should have access to mobile and online banking. These features likely include most standard banking services, including mobile check deposit.
In-person help
Assistance may be able to be provided at local branches rather than calling into a call center.
Drawbacks of Big Banks
Big company slowdowns
These banks have several layers of management and approvals that may slow down certain processes or transactions.
Fees charged
Big banks often have a long fee schedule with some expensive fees to help pay for their expensive investment in an extensive branch network.
Hard-to-achieve fee waivers
You may have the option to get fees waived, but it may require putting thousands of dollars into an account to do so.
No or low interest
Most of these banks pay no interest on their checking accounts. If they pay interest, the rate is often so close to 0% that it isn't worth mentioning.
Positives of Online Banks
Access to banking virtually
Online banks' mobile apps and online banking let you bank anywhere you have a device and internet.
Better interest rates
Online banks typically pay interest on checking accounts. Often, it's several times higher than the national rate brick-and-mortar banks pay.
FDIC insurance
If an online bank is an FDIC member, it provides the same deposit insurance coverage that brick-and-mortar member FDIC banks do.
Superior fee schedules
Expect a shorter list of fees, many of which may have lower costs, with an online bank.
Up-to-date technology options
Technology and mobile apps often offer more cutting-edge banking services, such as the ability to create sub-accounts and track your finances in unique ways.
Negatives of Online Banks
Cash deposits
Online banks don't have branches you can deposit cash at. You may have other options that are less convenient.
Internet a necessity
If you don't have reliable access to the internet, online banking can be difficult. Natural disasters can result in long outages where not having access to your online bank account could present bigger problems.
No branch locations
These banks don't have physical locations you can visit. If you prefer branch banking, online banks aren't a good fit.
How to Identify Your Best-Fit Checking Account
Each person has unique banking needs. Banks know this and offer many checking account options so each person can find the best fit.
When looking for a checking account, you should look for the features most important to you. If you don't know what those are, here are a few ideas to help you identify them.
Fees charged
Fees will likely play a large role in the checking account you choose because fees directly drain your bank account balance.
It's fairly easy to find a checking account that doesn't charge fees for day-to-day activities.
When considering accounts, look at the bank's fee schedule to determine the average costs you'd pay each month in fees for the services you'd use. This should help you find the lowest fee option if that's what is most vital for your needs.
Access to bank the way you want
Checking accounts are used to move money in and out when you need it. For this reason, your account needs to be accessible in the ways you prefer to bank.
People who want a physical branch will need a local or big bank, while those that want to use apps and ATMs may prefer an online bank.
Interest rates
Interest usually isn't a key feature on checking accounts, but it can help you decide between two otherwise close alternatives. Local and brick and mortar banks pay no interest or very low rates.
Online banks may pay rates several times the low national average, but it doesn't add up to much in most cases.
Thankfully, rewards checking accounts provide an alternative that may be worth considering if interest makes a difference in your case.
These accounts may pay 1% interest or higher on a limited balance if you meet certain requirements each month. They aren't easy to meet, though. Without meeting these requirements you earn no interest or a very low rate. They could include:
Making twelve or more signature debit card transactions
Signing into digital banking each month
Opting in to eStatements
Making a direct deposit or ACH deposit
Technology usability
With technology playing such a large role in our lives, you need to make sure a bank's mobile and online banking work as you expect. Verify features you expect to use are accessible, such as mobile check deposit and Bill Pay.
Other features, products and services
Banks offer many services beyond checking accounts that may be helpful. If you plan to move banks, consider these other services, as well.
You may pick a checking account that is a little less than perfect if a bank's other features are outstanding.
You may want to consider other offerings such as:
Investment options, the associated fees, and the availability of an on-site advisor
Loan types offered and advertised interest rates you'd pay
Availability of convenience items, such as cashier's checks, money orders, safety deposit boxes, and more
Select Your Next Checking Account
You should now feel comfortable knowing what's most important for you when looking for a checking account. You can start by evaluating our top five picks in Wyoming. Then, compare your favorites to online and big banks you may want to do business with.
The key is taking action and opening a new account. Each month you delay is another monthly fee you may have to pay for a substandard checking account at your current bank.