The Best Checking Accounts in Massachusetts of 2023
Learn about the checking accounts offered by banks in Massachusetts and compare their fees and features to the top checking accounts from online banks.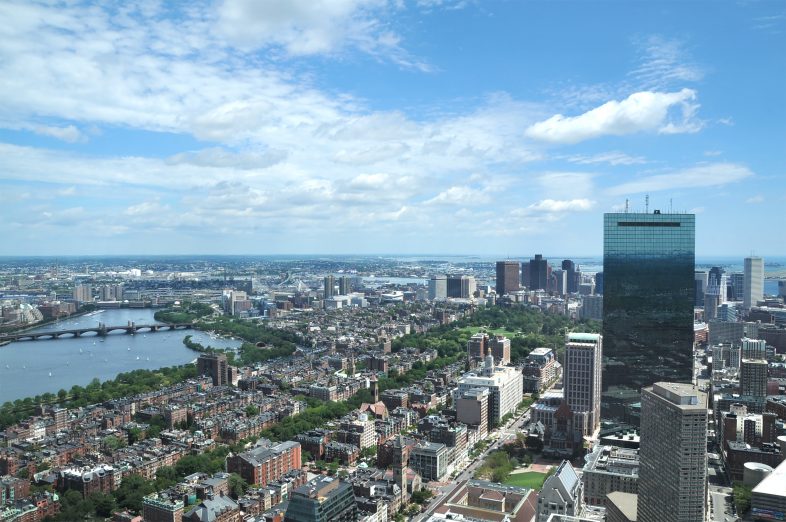 Find out which checking accounts options are available to you and compare them to some other popular checking accounts, especially those from online banks.
Best Checking Accounts in Massachusetts
Citizens Bank
Citizens Bank is a Rhode Island-based bank that has a number of branches in the Boston area. Cust0omers of Citizens Bank can choose from one of three checking accounts.
The One Deposit Checking Account offers basic checking services to customers. The $10 monthly fee can be waived by making one deposit per statement period. There is no minimum balance to open the account.
The Citizens Bank Platinum Checking Account pays interest on your balance but charges a $25 monthly fee. To waive the fee, you'll need to have a combined balance of $25,000 across all deposit and investment accounts.
The Citizens Bank Platinum Plus Checking Account offers the same benefits as the Platinum account but pays more interest.
To waive the $25 monthly fee, you'll need a $25,000 combined balance and to receive $5,000 in deposits or maintain a balance of $10,000 in the account.
Eastern Bank
Easter Bank offers three checking accounts to customers in Massachusetts.
The Free Checking Account is exactly what it sounds like. Once you make the $25 minimum deposit, there are no fees to keep the account open. It offers basic checking services.
The eZ checking account gives you the freedom to use other banks' ATMs, reimbursing up to $10 in fees per statement.
The account charges a $10 monthly fee, but you can waive it by signing up for e-statements and making 15 debit card purchase, or signing up for e-statements and maintaining a $1,500 balance.
The Premier Checking Account pays interest and reimburses all fees you incur at other banks' ATMs. To qualify for the account, you need to make a $500 opening deposit and maintain a total combined balance of $25,000 in your accounts at Eastern Bank.
Rockland Trust
Rockland Trust also has three different checking accounts to choose from.
The Free Checking Account has no minimum balance requirement and charges no monthly fee. It does impose some fees for ATM use, especially if you use a Non-Rockland Trust ATM.
The Advantage Checking Account charges fewer ATM fees but comes with an $8 monthly fee. You can avoid the fee by maintaining a $500 balance.
Both of these accounts offer the first order of checks for free. Subsequent orders incur a fee.
The Rockland Complete Checking Account charges a hefty $25 monthly fee, but you can avoid it by maintaining a combined balance of $25,000 at Rockland Trust. You'll also get unlimited free checks and unlimited reimbursements of ATM fees.
Middlesex Savings Bank
Middlesex Savings Bank offers five checking accounts for its Massachusetts customers to choose from.
The Basic checking account is just that. Middlesex Savings Bank describes it as the best choice if you write fewer than 10 checks per month and don't want to have to worry about maintaining a minimum balance. There is a $3 monthly fee for the account that cannot be waived.
The eBlue Account is an online-only account that charges a $5 fee unless you maintain a $100 balance or enroll in direct deposit.
The Freedom Blue Account is Middlesex Bank's most popular account. You can use any ATM on the Allpoint network fee-free and pay just a $10 monthly fee. The fee is waived if you enroll in direct deposit or maintain a $250 balance.
The Freedom Gold Account charges a $19 fee unless you can maintain a combined balance of $10,000. In exchange, you get unlimited ATM fee reimbursements.
The Freedom Platinum account is available, fee-free, to customers who can maintain a $50,000 combined balance. It brings all the benefits of the Freedom Gold Account and pays interest.
How we picked
MyBankTracker applied a methodology when choosing our best checking accounts in Massachusetts. Our top accounts were picked based on a thorough analysis of the top 50 banks by deposit market share in Massachusetts (based on FDIC June 2023 data)--covering majors cities such as Boston, Worcester, Springfield, Cambridge, and Lowell.
We focused our selections on checking accounts with low monthly maintenance fees, the least demanding requirements to waive these fees, the bank's ATM network, and other features included to make a person's banking life more convenient.
Checking Accounts Available Nationwide
Though being able to visit the local branch of your bank is convenient, nothing beats the convenience of banking from the comfort of your own home. They also let you access your account from anywhere and make deposits from your phone.
Better Rates and Lower Fees
The biggest advantage that an online bank has over a local bank is that they are cheaper to run.
For a bank to operate a branch in Massachusetts, there are a lot of things to pay for. A building needs to be leased or purchased. Security needs to be installed, utilities paid for, and employees to staff the branch hired.
Online banks can centralize their operations, reducing their costs significantly. They can then pass those savings on to customers by offering better interest rates and lower fees. Some even offer benefits like ATM fee reimbursement.
FDIC Insurance Still Applies
With online fraud such a major issue in the modern age, many people worry about doing all their banking online. It's easy to think that your money is safer in a local Massachusetts bank. However, just because your money is at an online bank doesn't mean it's not safe.
The Federal Deposit Insurance Corporation insures up to $250,000 per depositor per account type at all insured banks. It doesn't matter whether the bank is online or not.
If you make a deposit and the bank closes, the FDIC will reimburse you for the full amount, up to $250,000.
So long as the bank you choose is insured by the FDIC, you don't have to worry about losing your money.
How to Make the Most of a Checking Account from a Local Massachusetts Bank
Most national banks offer the same deals, no matter where you open the account. You'll pay the same fees and earn the same interest whether you're from Massachusetts or California.
Local banks often try to offer more attractive features and benefits to entice local customers who might be more familiar with national chains.
Advantages and Disadvantages of Local Banks
Local banks don't have the name recognition that national banks do. They also lack the reach of national banks, so if you travel frequently, you might not be able to find ATMs for the bank.
Still, that lack of recognition can work in your favor as local Massachusetts banks often offer better deals to entice customers. Most are part of national ATM networks, making the lack of branded ATMs a moot point.
Advantages and Disadvantages of Savings Accounts from Local Banks
Benefits
Drawbacks

Lower fees than national banks (but not always)
Personal service for account management

Smaller branch and ATM networks
Interest rates are not the highest available
What Kind of Account is Right for You?
If you're still debating whether you should open a checking account at a local bank or an online bank, these questions can help you make the decision.
First, ask yourself how you good you are at dealing with technology.
If you adapt to new technology easily, it'll be easy to get used to using an online bank account. In fact, it'll probably be more convenient than banking at a physical bank since you can manage your account from anywhere.
Next, ask how often you visit a branch of your current bank. If the answer is that you don't visit very often, you have little to lose by opting for an online account.
Finally, ask what you're willing to sacrifice to do your banking at a physical bank. Online checking accounts are often cheaper than checking accounts at Massachusetts banks. Ask whether you're willing to pay the fees just to have a branch to visit in person.
Most Important Features in a Checking Account
Your checking account is the place that all of your income and expense will pass through. That means it is essential that you choose the right account.
These are the most important things to look at when deciding on the right account for you.
Monthly Fees
Monthly fees reduce your account's balance, leaving less money for you to spend on necessities and fun. Given that money at a bank is supposed to be safe, it's hard to justify paying a fee.
Look for an account that doesn't charge a fee or which has a fee waiver requirement you can easily meet.
ATM/Branch Access
Since you'll be spending the money in your checking account it's important that you're able to get your money when you need it.
Whether you opt for a local bank or an online bank, make sure you have an ATM or branch nearby. That way you're never far away from withdrawing some cash.
Again, many online checking accounts make it easy to avoid ATM fees by refunding the fees that are charged when you use another bank's ATM.
Interest Rates
Interest rates are more important for savings accounts, but it's still good to look for a checking account that offers a good interest rate.
Opting for an account that doesn't pay interest is like turning down free money, so look for accounts that offer some interest. Just don't wind up paying dollars in fees to earn pennies of interest.
Mobile Banking Features
Our lives are getting more digital every day, so it's no surprise that online banking has become so popular. Make sure that your bank offers basic mobile banking services like checking depositing and transferring money between your accounts.
While online banks understandably have the best mobile experiences, even physical banks should have a basic mobile banking app.