PenFed Access America Checking Account 2023 Review
Learn all about the features and benefits of PenFed Credit Union's Access America checking account and compare it to other options before making your decision.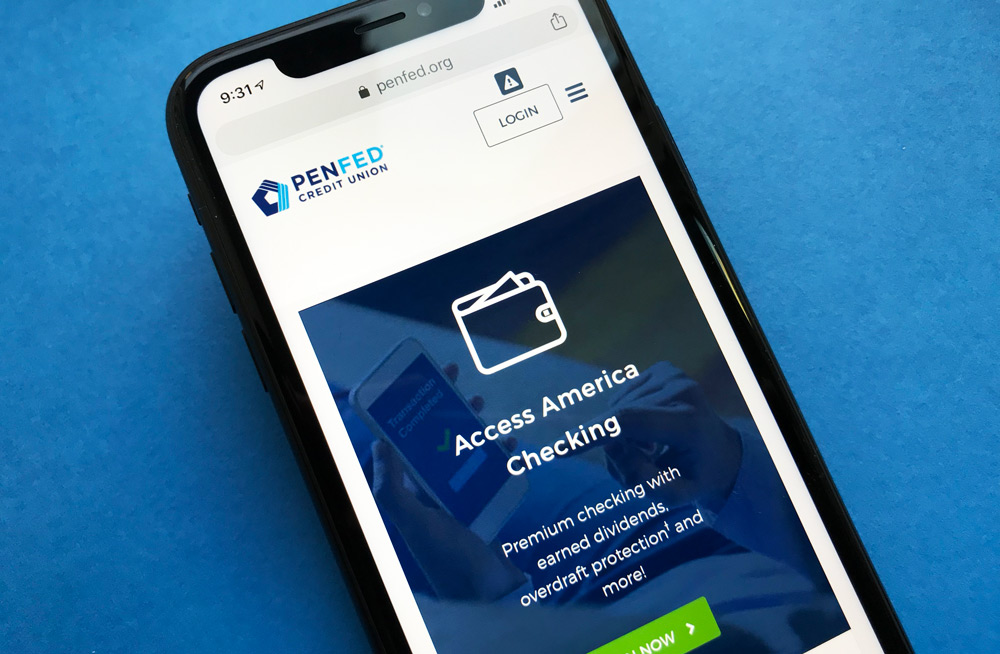 PenFed Checking Account
Pentagon Federal Credit Union (PenFed) is a credit union based in Virginia that operates fifty locations across the country.
PenFed is the largest credit union in the United States with more than $23 billion under management.
One of the many services that the credit union offers is the PenFed Access America Checking Account. This checking account offers customers the chance to earn a great rate of interest.
If you're in the market for a checking account, you should consider the PenFed Access America Checking Account. 
In this review, find out about the account's features and fees to help you make a decision regarding the account.
Use ATMs Nearly Anywhere Thanks to PenFed's Dual ATM Networks
PenFed Access America Checking Account Pros & Cons
Pros
Cons

Large ATM network
Earns interest
Overdraft line of credit
Mobile apps

Monthly fee (can be waived)
Must meet membership eligibility rules
PenFed has branches across the United States, but you might not always be near one.
If you need to manage your account or make a withdrawal, your best bet might be to visit a nearby ATM.
The good news is that PenFed is part of two national ATM networks: Allpoint and CO-OP.
This gives you more than 68,000 ATMs to choose from. That's more ATMs than even the largest banks in the country have in their networks.
No matter where you are, you'll never be far from a fee-free ATM you can use.
Earn Interest on High Balances
Most people turn to savings accounts when they want to earn interest, but the PenFed Access America Checking Account offers a decent interest rate.
In fact, the rate on the account is higher than the savings account rates offered by most brick and mortar banks.
The amount of interest you can earn will depend on the balance of your account. You'll earn the lower interest rate if your account's balance is less than $20,000.
If your account's balance is between $20,000 and $50,000, you'll earn a rate that's significantly higher.
That means that you won't be losing money by keeping your cash in your checking account.
Depending on how much interest your savings account pays, you might want to move some cash to your new checking account.
Ways to Avoid the Monthly Fee
The PenFed Access America Checking Account charges a $10 monthly fee.
Before you open an account, you'll want to make sure that you can meet the requirements to have the monthly fee waived.
There are two ways to avoid paying the monthly fee.
One is to have a $500 daily balance. If your balance falls below $500 for even a day, you'll have to pay the fee.
The second option is to receive a direct deposit of $500 or more. If you do, you won't owe the fee for that month, regardless of your account's balance.
$0 Liability Policy Keeps Your Money Safe
Checking accounts offer account holders the option to get a debit card. You can use that debit card to make withdrawals at ATMs in case you ever need cash while you're on the go.
If someone ever gets ahold of your debit card, they can use it to make purchases using your money.
If that happens, the money will be automatically deducted from your account and you'll have to fight with your bank to get it back.
PenFed wants its customers to feel safe about using their debit cards for purchases. That's why it offers a $0 liability policy for unauthorized purchases.
If someone uses your card to make a purchase without your permission, you will be reimbursed. All you have to do is report the charge as soon as you notice it.
Overdraft Protection Helps You Avoid Fees
Your checking account is the central hub for your finances. All your income flows into the account your expenses flow out of the account.
Because money moves in and out of the account so often, it can be easy to make a mistake and try to spend more money than is available in the account.
When that happens, the bank may still approve the transaction, which will put your account into overdraft. This typically involves huge fees, with more fees for keeping your account balance in the negatives for an extended period of time.
PenFed offers overdraft protection for its checking accounts. You can sign up for a line of credit, and if approved, will be protected from overdrafts for certain types of transactions.
Payments out of your account that would overdraft your account will instead pull money from your overdraft line of credit.
You can then pay back that loan without incurring overdraft fees. ATM and point of sale transactions on your debit card are not eligible for this service and will be automatically declined.
Digital Wallet Service Makes Paying with Your Phone a Breeze
The average American who has a credit has nearly four different cards in their wallet, and that number is only going up.
That doesn't even include other cards that people might carry around, including debit cards and store rewards card.
Fitting all those cards in one wallet can be difficult and choosing the right one when making a purchase can be cumbersome.
To make life easier, PenFed offers a digital wallet option that lets you make payments with your iPhone, Android, or Samsung smartphone.
You can add your cards to the digital wallet so you don't have to carry around the physical cards. When making a purchase, choose the card you'd like to use and scan your phone. The charge will be placed on that card.
Other Fees
Monthly fees are among the most common fees that you'll face with a bank account, but there are other fees to consider.
Here are some of the fees that you may be charged if you open a PenFed Access America Checking Account.
PenFed Access America Checking Account Fees
| Type | Fee |
| --- | --- |
| Monthly Maintenance Fee | $10 |
| Non-PenFed ATM | $1.50 |
| Overdraft Fee | $35 |
| Stop Payment | $15 |
| Deposited Item Returned | $5 |
| Domestic Wire Transfer (incoming) | $12 |
| Domestic Wire Transfer (outgoing) | $20 |
Convenience
The PenFed Access America Checking Account offers a huge number of convenience features.
Possibly the most important convenience feature is the credit union's huge ATM network. With more than 68,000 ATMs to choose from, you should have no problem finding an ATM nearby that you can use.
The digital wallet built into the credit union's phone app is also very convenient to use.
Another benefit of the account is that you get free access to online banking. You can manage your account from any computer or smartphone using PenFed's website or smartphone app. You can use the website to check your balance, view your account history, and make transfers.
You also get free access to bill pay services. This can save you from the trouble of writing and mailing multiple checks every month just to pay your bills.
Simply log in to PenFed's website then tell the credit union who you need to pay and the amount you need to pay. PenFed will automatically send a check on your behalf.
Membership Eligibility
Because PenFed is a credit union, you must become a member before you can open an account with them.
The membership eligibility rules require that you must be:
Be an active/retired servicemember of the U.S. military
Be an employee of the U.S. government
Be an employee or member of a qualifying association or organization
Live or work in a qualifying location
Be related to or live with someone who is eligible
While the eligibility requirement may seem to exclude much of the U.S. population, that isn't the case.
Anyone can join Voices for America's Troops or the National Military Family Association for a one-time cost of $17. This will make you eligible to become a member of PenFed.
How It Compares
The checking account is the most popular type of bank account in the United States.
That popularity means that nearly every bank in the country offers at least one type of checking account.
That leaves you with a lot of options, so you should always shop around to find the best deal.
While fees should be some of the first things you look at when comparing checking accounts, there are other things to consider.
The following things should factor into your decision when you're comparing checking accounts:
Minimum deposit
Fee waiver requirements
Interest rates
ATM Access
Convenience features like online banking
Final Verdict
So long as you can avoid the $10 monthly fee, the PenFed Access America Checking Account is a solid checking account choice.
It offers a good rate of interest and a wide ATM network that you can use.
Many online banks offer checking accounts with good interest rates, no fees, and large ATM networks, or ATM fee reimbursement.
If you don't mind using an online bank, look into those options before committing to the PenFed account.