PNC Bank Virtual Wallet Account 2023 Review
Learn about all the different features and fees of the PNC Bank Virtual Wallet account, which comes with money management tools and a savings subaccount.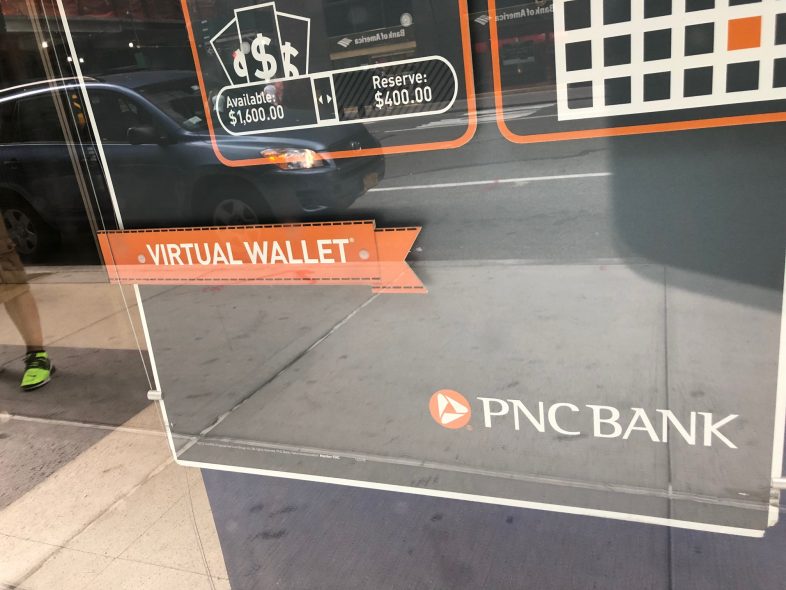 PNC Bank Virtual Wallet
Your search for a new checking account has led you to PNC Bank, one of the many options available.
Its Virtual Wallet account is one that you may be interested in -- but it isn't like the rest.
In this review, we break down the key highlights of this unique account that delivers your traditional checking account needs in addition to a touch of smarter money management.
Find out:
How it can help you manage money better
All the fees involved
The factors that you should consider when picking any checking account
A Budget-Focused  Checking Account
PNC Virtual Wallet Pros & Cons
Let's face it
Dealing with multiple bank accounts can be complicated and tedious.
You have to open a checking account to handle your income and expenses and a separate savings account for the money you want to set aside for the future.
Things would be much easier if you could keep all your money in the same place.
The PNC Virtual Wallet lets you do this by combining a savings account and checking account into one Virtual Wallet.
In fact, when you open a Virtual Wallet account, you're actually opening three different accounts.
Here's how they break down:
"Spend"
This account functions like a standard checking account.
You can deposit your paycheck and other income to the account.
You can then use your debit card, checks, or bill pay services to spend money out of the account.
"Reserve"
This account is designed to hold your short-term savings.
You might want to save for a down payment on a car, a nice vacation, or some other expensive purchase.
Your Reserve account lets you keep the money you've earmarked for that goal separate from your spending cash. That can make it easier to track your progress towards your goal.
It also functions as your overdraft protection account. If you would overdraft your Spend account, money will be moved from your Reserve account, free of charge.
That lets you avoid painful overdraft fees.
"Growth"
This account functions just like a savings account, offering long-term storage for cash.
You'll earn interest on the balance in your Growth account, with an elevated interest rate for the first $2,500 you deposit.
To earn that elevated rate, you must one of the following requirements:
Make five purchases with your Virtual Wallet debit card or PNC credit card
Receive $500 in direct deposits
Manage Your Money with Helpful Tools
On to some help tools:
The Virtual Wallet aims to be a one-stop shop for all your financial needs, including the need to keep track of your money.
When you log in to your Virtual Wallet account, you'll find these nifty features:
Money Bar
This bar gives you a quick view of how your money is allocated.
It is split into three sections:
Indicates the money that has been allocated for bills and other payments
Shows the money you have available to spend
Shows the cash you have in your Reserve account.
This can give you a clearer view of how much money you have available to spend than you'd get from simply looking at your account balance.
Calendar
You can also view a calendar to see when you have bill payments scheduled.
What's very helpful:
If your account will be in danger of being overdrawn due to a low balance, the days where that is a danger will be marked in red.
This Danger Day feature helps you plan ahead for times when your account's balance will be low. You'll have plenty of time to adjust your spending or move cash from your Reserve or Growth accounts.
Of course, for your Virtual Wallet account to know when your bills are due, you'll have to give the account that information.
And, the kicker:
The account comes with a built-in spending and budgets tool that helps you plan and track your spending to make sure you're staying on track.
ATM Access
PNC operates a large ATM network but focuses largely on the eastern United States.
Maryland, Washington D.C., New Jersey, Pennsylvania, Florida, Michigan, Indiana, and Ohio have the largest concentration of ATMs.
There's no fee to use an ATM on PNC's network, but you will have to pay a fee if you use another bank's ATM.
PNC charges $3 per transaction if you use another bank's ATM anywhere in the U.S. or Canada. If you use an ATM overseas, the charge is $5.
Note: This charge is in addition to any fees charged by the ATM's owner.
If you live in an area that is well-served by PNC's ATM network, you won't face much trouble.
If you ever travel outside of the areas served by PNC, you may have to deal with hefty fees to access your cash.
Elevated Interest Rates if You Meet Requirements
The Virtual Wallet's Spend and Reserve accounts don't offer any interest, but the Growth account lives true to its name.
You can earn interest on the money in your Growth account, and additional interest on the first $2,500 you deposit.
Again:
To earn the elevated rate, you must use your debit or PNC credit card five times or receive $500 in direct deposits in one month.
The bad news is that the rate you'll earn, even if you meet those requirements, is much lower than the rate you'll get from other savings accounts, especially online savings account.
Monthly Fee
There is a $7 monthly fee to keep the PNC Virtual Wallet account open. You can waive the fee by meeting any of the following requirements:
$500 combined average balance in your Spend and Reserve accounts
$500 in direct deposits to your Spend account
Account holder is age 62 or older
Account holder provides proof of enrollment in an education institution
Other Fees
The most common fee you'll face from a checking account is the monthly maintenance fee.
Many checking accounts charge this fee, but let you avoid it by jumping through a few hoops.
Even if you can avoid the monthly fee, you might want to be aware of the other fees that you may be charged:
PNC Bank Virtual Wallet Account Fees
| Type | Fee |
| --- | --- |
| Monthly Maintenance Fee | $7 |
| Non-PNC ATM | $3 |
| Overdraft Fee | $36 |
| Returned Item | $36 |
| Stop Payment | $33 |
| Deposited Item Returned | $12 |
| Domestic Wire Transfer (incoming) | $15 |
| International Wire Transfer (incoming) | $15 |
| Cashiers Check | $10 |
How Does It Compare?
Checking accounts are the most common type of bank account in the United States.
Savings accounts are the second most common.
Having both in one Virtual Wallet account makes it somewhat difficult to compare the Virtual Wallet to other accounts.
Still, you should consider all of your options.
The convenience of having both in one account may not be worth passing up on features offered by other banks.
When you're looking for a new bank, don't just consider large national or regional chains.
Look into smaller local banks and credit unions.
Online banks tend to excel at offering low fees and high interest rates.
The fact is...
These types of institutions tend to be able to offer better deals that meet the needs of customers.
Overall, you should consider the following factors when comparing bank accounts.
Minimum deposit requirements
Fee waiver requirements
Interest rates
ATM access
The Final Verdict
The PNC Virtual Wallet is a highly unique bank account that combines a checking account and savings account into one.
That means the account is a one-stop shop for your daily financial needs. It can make it much easier to track your money and save for goals.
However, the account does have flaws, such as hefty ATM fees and poor interest rates on the Growth account.
If you want to bank with PNC, the Virtual Wallet is a good choice of account.
If you don't mind having separate checking and savings accounts, an online bank may be a better choice.
You'll have a better chance of avoiding ATM fees and earn more interest on your savings.