Popular Bank Checking Account 2023 Review: Should You Open?
Compare the Popular Bank checking accounts and learn about their different fees and features before opening one of these checking accounts.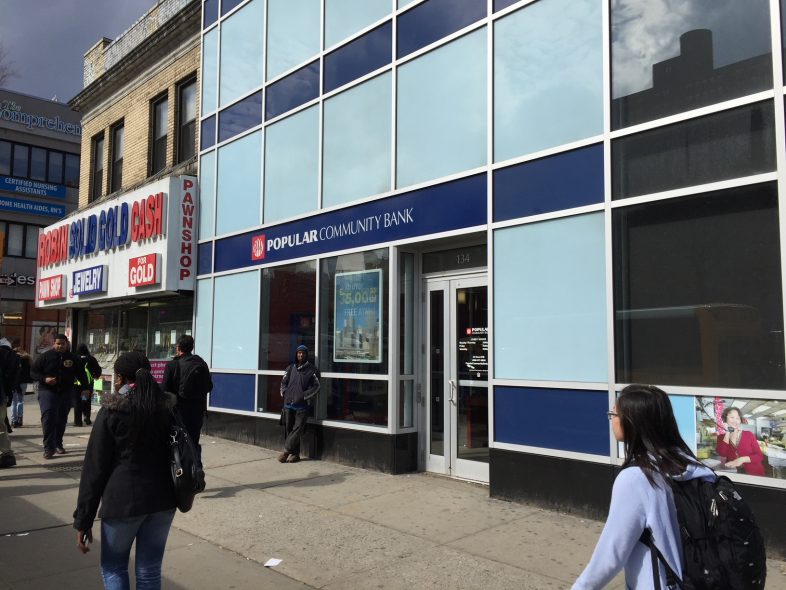 Your search for a new checking account may have brought you to Popular Bank, a financial institution with a strong presence in Florida, New Jersey, and New York.
The bank's basic offering is the Popular Everyday Checking Account -- the one that you're most likely to open.
Now:
Its features (and fees) are comparable to what you'll get from basic checking options at bigger banks.
So, learn all about the Popular Bank Everyday Checking Account to see if it offers everything that you need at a cost that is acceptable to you.
In this Popular Bank Checking Account Account review, we'll compare rates, fees and services to other national and online banks.
Popular Everyday Checking Account Pros & Cons
Make ATM Withdrawals Without a Debit Card
One of the most essential features of a checking account is the ability to get cash when you need it.
Though electronic payments, debit cards, and credit cards have become more common, cash is still king and is necessary for many transactions.
Usually, when you visit an ATM you need to bring your debit card. Swipe your card, enter your PIN, and you can then start making withdrawals or other transactions.
With the Popular Bank Everyday Checking Account, you can make ATM withdrawals without using your debit card.
When you find a Popular Bank ATM, instead of getting your card out, log in to the Popular Bank App on your phone.
Open the Mobile Cash menu and scan the QR code on the ATM's screen.
The ATM will automatically authenticate you and you can begin making withdrawals.
This is convenient because you don't have to fumble around for a debit card or worry about remembering your PIN. Just use your fingerprint or password to log in to your account using the app.
There's also a security benefit to using Mobile Cash instead of your debit card. ATMs are frequent targets for card skimmers which fraudsters use to steal your debit card details.
If you don't swipe your card, the details cannot be skimmed, keeping your checking account safe.
Stay on Top of Your Account with Mobile Alerts
Your checking account serves as the hub of your financial life. Your paychecks are deposited to the account and all of your bill payments and other transactions are paid out of the account.
What this means is that there is likely to be dozens of transactions occurring in your checking account every single month.
It's very easy to lose track of how much money you have in the account.
It's also easy to forget how much you have available to spend because you don't remember when large bill payments will be automatically drawn from the account.
The danger of not keeping tabs on your checking account is that you might try to spend money you don't have.
When this happens, it is called overdrawing your account.
Many banks will cover the transaction anyway, but charge a hefty overdraft fee, sending your account balance into the negatives. That makes it essential to avoid overdrawing whenever possible.
Popular Bank tries to make it easier to avoid overdrawing your account by offering free mobile alerts.
You can have alerts sent to your phone for all sorts of reasons.
Whether you want to know when your balance crosses a certain threshold or when large transactions clear the account, Popular Bank can notify you.
That makes it much easier to make sure you have enough money in the account to cover the essentials.
Send Money to Your Friends with People Pay
When you're trying to settle small debts with friends or colleagues, it's a hassle to have to carry around enough cash to pay people and hope that you're able to pay the exact amount.
Otherwise, you'll be relying on the people you're paying to be able to make change. You'll also have to be a frequent ATM user, which takes time and could incur fees.
Fortunately:
Popular Bank offers a free service called People Pay which lets you send money to friends and colleagues electronically.
You don't need to know anything about where or how they bank. All you need is a phone number or e-mail address.
When you log in to the Popular Bank app on your phone you'll see the option to open People Pay.
Once you've opened the People Pay menu, you'll be prompted to enter a recipient's e-mail address or cell phone number.
Once you have, all you have to do is enter the amount you'd like to send and confirm the transaction.
The recipient will receive an e-mail or text message with instruction on how to claim your payment.
In many cases, the money can be transferred directly to the recipient's account. Otherwise, the recipient can elect to receive the money via a service like PayPal or a physical check mailed to them.
This feature makes it easy to pay people for nearly anything, all without having to carry around large quantities of cash.
ATM Access
Popular Bank is part of the Allpoint ATM network, which is comprised of more than 55,000 ATMs worldwide.
You can use any of these ATMs without paying a fee, whether they are Popular Bank ATMs or not. If you see the Allpoint logo, you can make a withdrawal without worry.
If you find yourself unable to locate an Allpoint ATM, you are still able to use other ATMs. Keep in mind that using other ATMs will incur fees.
Popular Bank will charge you $2 for any withdrawal or balance inquiry made using an ATM that is not on the Allpoint ATM network.
The ATM's owner can also charge a fee for each transaction. That means you could easily wind up paying $5 to make a single withdrawal.
If you expect that you'll need to visit an ATM, try to do some research ahead of time to find a fee-free ATM that you can use.
Two Ways to Avoid the Monthly Fee
The Popular Bank Everyday Checking Account charges two different kinds of monthly fee: the maintenance fee and the paper statement fee.
The paper statement fee is $2 per statement and is easy to waive. Simply sign up for electronic statements and you won't be charged the fee.
The monthly maintenance fee is $10 and is slightly harder to avoid.
The fee will be waived if you meet either of the following requirements:
Maintain an average monthly balance of $1,000
Receive recurring direct deposits totaling at least $750 each month
You never want to pay a maintenance fee if you can avoid it, so make sure you can meet one of the requirements before opening the account.
Other Fees
Monthly maintenance fees are the most common type of checking account fee, but they aren't the only one to be aware of.
These are some of the other fees that may be charged on your Popular Bank Everyday Checking Account.
Popular Everyday Checking Account Fees
| Type | Fee |
| --- | --- |
| Monthly Maintenance Fee | $10 |
| Non-Popular ATM | $2 |
| Overdraft Fee | $34 |
| Returned Item | $34 |
| Stop Payment | $30 |
| Deposited Item Returned | $10 |
| Domestic Wire Transfer (incoming) | $15 |
| International Wire Transfer (incoming) | $15 |
| Cashiers Check | $10 |
Note: The fees may vary slightly depending on the state that you live in, but they will generally be within $2.50 to $5 of each other.
For example, a stop payment is $30 in New York, but only $25 in New Jersey.
The fees in the above table are for accounts opened in New York.
Convenience
The Popular Bank Everyday Checking Account offers the convenience features that you'd expect from a checking account.
The bank's app lets you easily view and manage your account from your phone. Once you've logged in you can see your balance and transaction history. You can also transfer funds or set up future transfers through the app.
The bank also offers online bill payment services.
Simply enter the company you need to pay and how much you owe, and Popular Bank will handle making the payment. That lets you avoid the annoyance of writing checks each month.
Other Options from Popular Bank
Popular Bank offers multiple other types of checking account that might be a better fit for you.
Popular Bank Prestige Checking Account
The Popular Bank Prestige Checking Account is designed for account holders who can maintain a large balance.
You'll need to have $2,000 in the account or receive $5,000 in direct deposits each month to avoid the $12 monthly fee.
The benefit of the account is that it offers the Popular Rewards Program, which gives you benefits such as ATM fee reimbursement, interest rate increases, and access to fee-free services.
Popular Bank Basic Checking Account
The Popular Bank Basic Checking Account lives up to its name, offering the most basic services with a low monthly fee.
You'll pay $3 each month, with no waive the fee, but the account has no minimum balance beyond the $25 minimum opening deposit.
The account also limits you to 8 check payments, debit card purchases, bill payments, and transfers each month.
How It Compares
The checking account is the most common type of bank account in the US and nearly every bank offers at least one type of checking account.
Take the time to shop around to find a good deal.
When you're comparing checking accounts, fees are the first thing to look at. You want to make sure that you won't pay any maintenance fees.
If the account does charge a monthly fee, make sure that you can meet the fee-waiver requirements each month.
Other things to consider when comparing accounts are:
Minimum deposit requirements
Fee waiver requirements
Interest rates
ATM access
Convenience features
Conclusion
The Popular Bank Everyday Checking Account charges high fees and doesn't have the features to make those fees worth it.
Instead, look into online checking accounts.
They rarely charge fees and offer great benefits like ATM fee reimbursement.