Can the Walmart MoneyCard Act as a Checking Account?
See if you can use a Walmart MoneyCard in place of a traditional checking account, including making purchases, paying bills, and making deposits.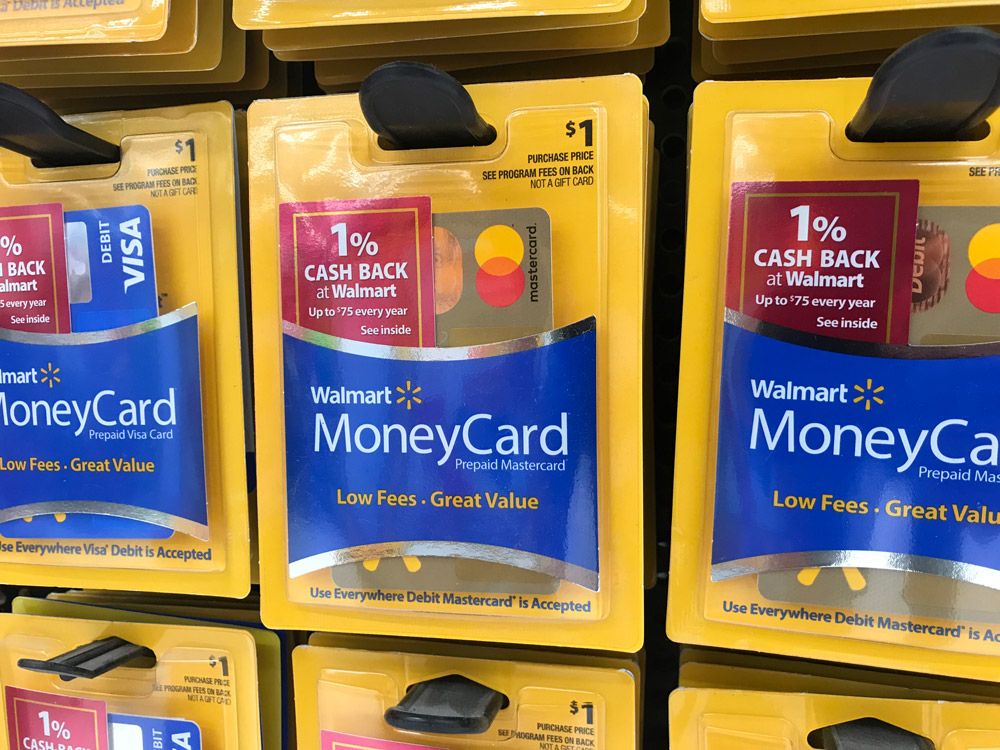 Whereas a savings account is an ideal place to earn interest and hold cash for long-term and short-term goals, a checking account comes in handy for bills and everyday expenses.
However, this isn't the only option for paying bills.
The Walmart MoneyCard is also useful for managing money, yet you might wonder whether this card can be used the same as a checking account.
Can it?
The short answer is yes. But before you run out and get a Walmart MoneyCard, here's what you need to know.
What is the Walmart MoneyCard?
To put it plainly:
A Walmart MoneyCard is a reloadable prepaid card.
This is different from a bank debit card because it's not linked to a bank account.
Even so, the Walmart MoneyCard is backed by a major bank — Green Dot Bank — so it offers many features of a checking account.
No overdrafts allowed
A huge benefit of a Walmart MoneyCard is that you don't have to worry about overdraft fees.
This is because you're only allowed to spend what you load onto the card. In addition, there's no credit check because it isn't a credit card.
With that being said, anyone can get a Walmart MoneyCard despite their credit history.
The card does feature a Visa or MasterCard logo, however, so you can pull it out wherever these cards are accepted and enjoy the benefits of a credit card.
What You Get With the Walmart MoneyCard
The above features of the Walmart MoneyCard only scratch the surface.
For the most part, this card is designed to help you easily manage your finances.
Therefore, you'll enjoy the following additional benefits:
1. Get an account number and a routing number
Even though the Walmart MoneyCard isn't a traditional checking account, it does come with a routing number and an account number. This is similar to a checking account with a bank.
This feature is convenient when using your Walmart MoneyCard for an online purchase or when paying bills online.
Some bill payment systems will ask for an account number and routing number when setting up a one-time or recurrent payment. Provide this information and you're good to go.
Use the card to pay your rent, mortgage, car payment, credit card bills, and utilities.
2. Easy access to cash
You may have concerns about the accessibility of funds loaded on the card.
Another attractive feature of the Walmart MoneyCard is that you can access your money anytime by using an ATM. This is regardless of your location.
Just know that there's a $2.50 ATM withdrawal fee per transaction.
Likewise, there's a $2.50 teller cash withdrawal fee per transaction. You can, however, avoid ATM fees by withdrawing cash at a Walmart MoneyCenter.
There's also the ability to get balance information at ATMs for $0.50.
3. Earn up to 3% in cash back rewards
A unique feature of the Walmart MoneyCard is that you can earn cash back on everyday purchases. This is similar to rewards programs offered by many credit cards.
The more you shop, the more cash you can earn.
Get:
3% cash back at Walmart.com
2% cash back at Murphy USA and Walmart fuel stations
1% cash back at Walmart stores
The downside is that you can only earn up to $75 in cash back rewards each year.
Rewards are redeemable at Walmart.com and through the mobile app.
4. Track your account through the mobile app
Similar to a traditional checking account with a bank, there's the option to download the Walmart MoneyCard mobile app.
From here, manage your reloadable prepaid Visa or MasterCard.
You can check your MoneyCard balance, review your account history, set up bill pay, review your cash back reward balance, order paper checks, and even deposit your paychecks with the app.
The latter is a must-have if your employer doesn't offer direct deposit.
5. Multiple ways to fund your account
Keep in mind that when you get a Walmart MoneyCard, there are different ways to load money onto your card.
The most convenient way is to sign up for direct deposit, if an option.
Instead of receiving a paper check from your employer, funds are automatically deposited onto your prepaid card.
Look:
Direct deposit is a faster way of getting your paycheck. Some people receive their money up to two days earlier.
Other convenient options include visiting a Walmart MoneyCenter and putting cash on the card this way.
Additionally, you can reload your card at a Walmart register, through online bank transfer, or via another retailer.
During tax time, you can even have your tax refund direct deposited onto your MoneyCard.
What Fees Can You Expect With a Walmart MoneyCard?
Walmart MoneyCard reload fees vary depending on the chosen method.
There's no fee if your employer offers direct deposit and you use this method to put cash on the card.
There's also no fee if you reload the card in conjunction with using Walmart's check cashing service. Similarly, you can initiate an online bank transfer for no fee.
Keep in mind:
You'll pay up to $4.95 to reload the card at a retailer besides Walmart. Also, there's a $3 fee to use Walmart Rapid Reload. With this method, you swipe your card at a register and then add cash to the card.
Monthly fee can be waived
Make sure you're aware of other fees associated with this card to avoid surprises.
For example, there's a monthly service charge of $5. You'll avoid this fee if you load $1,000 or more in the previous month.
The replacement card fee is $3. This applies if the card is lost, stolen, or damaged.
Another benefit of the Walmart MoneyCard is the ability to use it abroad, due to the Visa or MasterCard logo. Even so, be prepared to pay a foreign transaction fee of 3%.
Take Advantage of Walmart's MoneyCenter
Not only does Walmart offer a reloadable prepaid card that can function as a checking account and used to pay bills, it also offers a variety of other services through its MoneyCenter.
Moving money around
Use the center for money transfers, which offers a fast and affordable way to send money domestically and internationally.
There's also the option to order personalized checks from the MoneyCenter. The ability to write a check comes in handy when you're unable to use cash or your MoneyCard in a situation.
You can also use the MoneyCenter to pay a variety of bills for only $1 each. This includes your auto loan, mortgage/rent, child support, utilities, and more.
In addition, purchase money orders, cash checks, use Coinstar, and even utilize tax preparation services in stores.
To make it clear, these services aren't included with the Walmart MoneyCard. Rather, these services are available through the retailer's MoneyCenter for your convenience.
Using the Walmart MoneyCard as a Checking Account
The Walmart MoneyCard without a doubt has features that are similar to a checking account.
You can pay your bills online using a routing number and account number. And with the ability to use your card at ATMs, your money is always accessible.
Plus, the app allows you to track your balance.
But at the end of the day, this isn't a checking account. So there are some things that the MoneyCard can't do.
For example, there's no overdraft with a Walmart MoneyCard.
So while your bank may allow a transaction to go through if you don't have sufficient funds in your checking account, this isn't an option with the MoneyCard. The card will decline if you don't have sufficient funds in your account for a purchase.
Also, using the MoneyCard can be more expensive.
While it's true that many checking accounts charge a monthly fee, the cost to use the MoneyCard could exceed what some banks charge. This depends on your reload method.
Let's say you reload the card four times a month.
Yet, you don't load enough onto the card to avoid the monthly fee. At $3 per reload with Walmart Rapid Reload, and a $5 monthly service charge, you'll pay $17 a month just to have the card.
If you go to an ATM twice a month, that's an additional $5 in fees.
Therefore, you can easily spend $23 a month in fees with the MoneyCard.
On the other hand:
There are many checking accounts that don't charge monthly fees, or have monthly fees under $10.
Final Verdict: Should You Get a Walmart MoneyCard?
The bottom line is that the Walmart MoneyCard can be an excellent alternative if you don't have a checking account.
More so if you're looking for a simple, convenient way to manage cash.
It offers features of a traditional checking account and a credit card, but without the credit check or overdraft fees. Just make sure you count the cost before getting the card.
Based on your projected frequency of reloads and ATM visits, estimate how much you'll likely spend in monthly fees with this card, and then decide whether it makes sense from a financial standpoint.