Should You Use the Same Bank For the Second Credit Card?
It may be smart to use a different bank for a new credit card. Find out why here!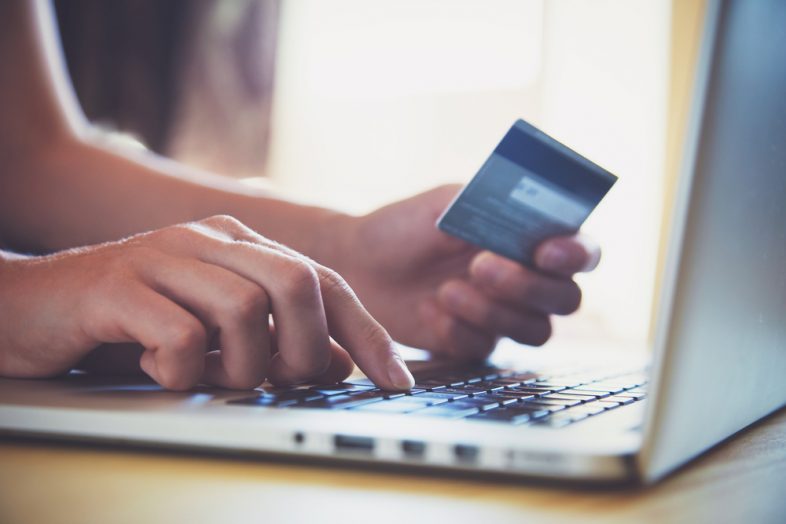 It can be frustrating when you don't have many choices. For example, you usually have to choose between just a few mobile phone carriers or a handful of airlines for a certain trip.
But when you pick a credit card, you have your choice of dozens of banks and credit card issuers.
And when you are looking for a new credit card, you might consider getting it from the same bank that issued your other credit cards.
There are several benefits and drawbacks that most people don't consider when choosing to stick with the same issuer.
The Benefits of Having a Second Credit Card with the Same Issuer
When you choose a second credit card from the same issuer, you have the opportunity to earn additional points in the same rewards program.
In the past, when you wanted to earn travel rewards, you had to pick an airline or hotel chain and sign-up for their co-branded credit card.
But now, credit card issuers are aggressively promoting their own rewards programs that are not tied to a single airline or hotel program.
The best of these reward programs offer points that can be redeemed directly for travel or transferred to points and miles with airline or hotel programs.
With these bank-sponsored rewards programs, you can have your choice of multiple credit cards with different features.
For example, the same bank will often issue a business and a personal credit card that earns points in the same program.
Or, you can have two different personal cards that offer bonus points for various kinds of purchases.
Furthermore, you can earn points with one card but then redeem the points later from a different card that gives you much more value for your points.
For example, when you use your rewards for travel reservations, a higher-end card will give you more value per point redeemed.
Also, these premium cards can allow you to transfer your rewards to airline miles or hotel points.
And when you use your miles for expensive, last minute reservations or premium class seats, you can often get superior value per point.
Example #1: Chase Ultimate Rewards
The Chase Ultimate Rewards program is a great example of a rewards program that allows you to earn rewards from multiple credit cards.
For instance, the Chase Freedom Flex card is an immensely popular card that has no annual fee.
It offers five points per dollar spent on your first $1,500 each quarter on qualifying purchases. You also get one point per dollar spent elsewhere.
However, you can also combine these points with the Ultimate Rewards points you earn from the Chase Sapphire Preferred.
This card features 3 points per dollar on dining purchases, 5 points per dollar on travel purchases made through Chase Ultimate Rewards, 2 points per dollar on all other travel purchases, and one point per dollar spent elsewhere.
This card has a $95 annual fee. But if you had both of these cards, you could earn 5x on some purchases, 2x on others, and one point per dollar everywhere else.
And by combining your points from your Chase Freedom to your Chase Sapphire Preferred, the points become even more valuable.
For instance, Chase Sapphire Preferred cardholders can transfer points to miles with nine airlines or four hotel programs.
Also, this card allows you to redeem your points for 1.25 cents toward travel reservations.
The Chase Freedom card by itself only lets you receive one cent in value per point when redeemed for travel.
The same method of combining points also works with Chase business cards.
Like the Chase Sapphire Preferred, the Chase Ink Preferred lets you redeem your points for 1.25 cents each toward travel reservations. It also allows you to transfer points to airline and hotel programs. The Ink Preferred has a $95 annual fee.
Example #2: Citi ThankYou Rewards
The Citi ThankYou program is similar to Chase Ultimate Rewards. You can earn points from several different credit cards, and some cards let you transfer the points to airlines or hotels.
Or, you can use the points to book travel directly with Citi. Citi offers the Citi ThankYou Preferred card that features 2x points on all restaurant and entertainment purchases, and one point per dollar spent elsewhere. It has no annual fee.
However, if you only have the Citi ThankYou Preferred Rewards Credit Card, points are worth just one cent each toward travel reservations, as well as gift cards and merchandise awards.
But, if you also have Citi's ThankYou Premier card, the points you've already earned become much more valuable.
This card allows you to redeem your points for 1.25 cents each to purchase airfare through Citi's ThankYou Travel Center.
You can also transfer your points to miles with 13 different airline programs plus the Hilton Honors program.
So long as you have this credit card, you can receive more value from all the ThankYou points you've earned.
More Advantages
First, opening a second credit card account with the same bank gives you the chance to earn a valuable sign-up bonus.
When it comes to earning as many points as possible, don't underestimate the value of the bonuses that are offered to new cardholders.
Another nice feature is the ability to manage multiple credit card accounts with the same login.
One of the arduous tasks of 21st-century life is regularly logging into all your various accounts.
When you have all of your accounts in the same place, it's very quick and easy to view your balances and make payments.
Finally, there is another little trick that you can use when you are applying for a new account from the same bank.
If you are having trouble getting your application approved, you can call the bank and ask them to move a portion of your credit limit from your existing account to your new one.
There's no way to do this when applying for a credit card from a bank that is new to you.
The Downsides
Despite the potential advantages, there are a few reasons you should consider applying for a second credit card from a different bank. First, you may have a cap on your total credit limits.
This is an advantage if you are just looking for the benefits of a second card, and need to move your credit around. But if your goal is to have a higher credit limit, this doesn't help you.
However, a different bank may offer you more credit in order to earn your business.
Also, applying for a card from a different bank can give you an overlap in the rewards and perks you earn.
For example, some Chase cards have excellent car rental insurance, like the Chase Sapphire Preferred. It offers primary rental car insurance, while most credit cards only offer secondary coverage.
On the other hand, all Citi cards have a great price protection program called Price Rewind.
If you only have cards from the same issuer, then you will be missing out on some of the additional benefits offered by other banks.
Finally, if you are applying for a second card to receive a promotional balance transfer offer
, you will have to use a different bank.
These offers only apply to balances transferred from another institution. No credit card issuers will let you transfer a balance between two accounts that you hold with it.
How to Combine Rewards from Two Cards into One
Most of the time, you don't need to do anything to transfer rewards from one credit card to another.
If you are using multiple credit cards to earn airline miles or hotel points, then all your rewards will be credited to the same account, regardless of which credit card you use.
The same thing happens when you earn points in the Citi ThankYou points program.
However, the Chase Ultimate Rewards program works a bit differently. Each credit card has its own separate balance of points.
You can combine your points between your accounts at any time, at no cost. In fact, you can even combine your points between accounts held by your spouse or domestic partner.
Conclusions
One of the most frequent questions I get as a credit card expert is, "How many credit cards do you have?" I have about 15, but most of them are with just two different credit card issuers.
And most of the points I earn are with two different rewards programs. I want to earn the most valuable points, but I don't want to have rewards points with every program.
If you are enjoying the rewards you are earning from your credit card, then it makes sense to get an additional card with the same program.
If you find yourself with cards that offer overlapping features, then you might want to consider a card from a different bank that has other features and benefits.
With so many reward credit cards provided by the major banks, there's no reason you can't get the exact products for all your needs.