AARP Credit Card from Chase 2023 Review
Find out what great cashback rewards you could be earning with the AARP® credit card from Chase along with the cost and whether you are eligible to apply!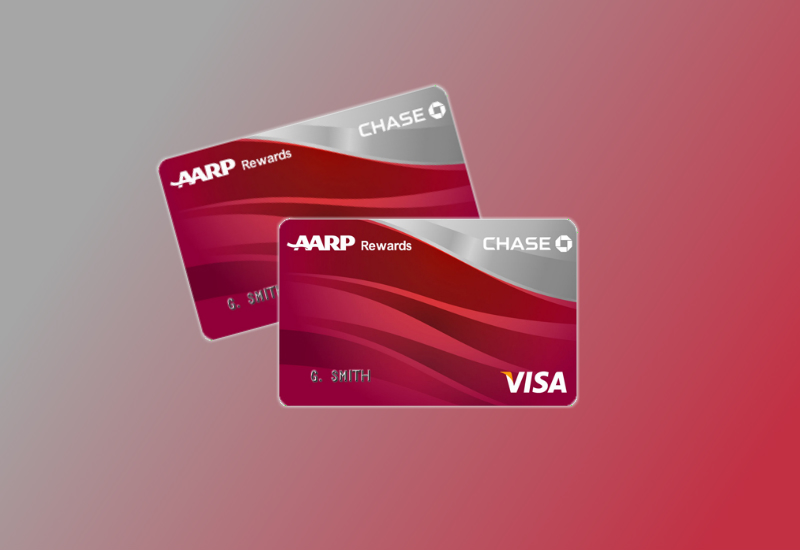 As you get older, it's natural that your spending habits may change a little. The important thing is to make sure your credit card evolves right along with you.
The AARP Credit Card from Chase is designed for AARP members who spend big on dining out and gas.
This card offers 3% cash back at restaurants and gas stations, along with 1% cash back on all other purchases.
There's even an introductory cash back bonus for new members who meet the minimum spending requirement.
This card has no annual fee and a 0% introductory APR period on purchases and balance transfers, which could be useful if you're planning a large purchase or you need time to pay down some existing debt at a lower rate.
If you are an AARP member or thinking of joining, keep reading to learn about all the bells and whistles the card has to offer.
Cash Rewards for Dining and Gas
Cash back rewards credit cards allow you to earn back a percentage of what you spend every month.
This is a major plus if you like saving money and want to get the most out of your credit cards.
The rewards program is what puts the AARP Credit Card from Chase in the spotlight:
3% cash back rewards at restaurants
3% cash back at gas stations
1% cash back on all other purchases
There's no cap on the amount of cash back you can earn. Cash back doesn't expire as long as your account is open and in good standing.
If you're an active senior who spends a lot of time on the road or dining out with friends, this card can prove to be very valuable.
Example: If you charge $500 per month at restaurants, $500 at gas stations and another $1,500 on miscellaneous purchases, you'd earn $540 in cash back each year. This is pretty generous compared to the rewards rate that some cash back credit cards offer, especially for everyday purchases like dining out and gas.
Redeeming Cash Rewards
Redeeming your cash back rewards is fairly easy. First, you can redeem your rewards for statement credit, which is like giving yourself a discount on what you spend.
You could also have cash back deposited into a checking or savings account.
Finally, Chase also gives you the option of redeeming your cash rewards for gift cards to selected merchants, which includes travel purchases such as airfare, hotel stays, cruises, and rental cars.
If you want to plan a second honeymoon with your spouse or visit adult children who live on the other side of the country, your cash rewards can make the trip less taxing on your wallet.
Tip: There are two different versions of the AARP Credit Card from Chase. If you'd rather earn cash back rewards on hotel stays, flights, or other travel purchases, you may want to take a peek at the travel rewards card instead.
Who's Eligible for the AARP Credit Card from Chase?
The AARP membership is required to apply for the card. It costs $12 a year, and anyone aged 50 or older can join. If you're married, the fee covers your spouse as well.
Membership has its perks since you'll get access to discounts on things like:
Healthcare products
Car insurance
Homeowners' insurance
Travel
Dining
Entertainment
Phone service
Further, the organization offers resources for learning how to live well and manage your bottom line wisely as you get older.
Besides membership, you'll need to meet the minimum credit requirements to qualify for the card.
The better your credit score, the easier it is to get approved, and the lower your regular variable APR will be for purchases and balance transfers.
Tip: Take a look at how your credit score is calculated to understand which factors influence your score the most.
What's the Cost?
The card has no annual fee which is a feature that seniors who are trying to keep their costs as low as possible will appreciate.
However, there are some other credit card fees you should be aware of before applying for the card.
Balance transfers will cost you $5 or 3% of the transfer amount, whichever is greater. The fee for cash advances climbs to $10 or 5%, whichever is greater.
A 3% foreign transaction fee applies when you use your card to make purchases outside the U.S.
Tip: Balance transfer fees are added onto the balance once the transfer is complete. If you're calculating how much you need to pay each month to zero out the debt before the promotional period ends, don't forget to factor in the fee.
Shop and Travel With Your Card More Securely
Seniors are often a target for identity theft and having your credit card or bank account get hacked is no picnic.
Fortunately, this card offers a line of defense against would-be identity thieves who may want to compromise your credit card security.
Besides chip-and-signature security which is now standard with most credit cards, you also get $0 liability protection.
If someone uses your card to make fraudulent purchases, you won't be on the hook for the bill.
Chase also monitors your account for suspicious activity and you can receive fraud alerts via text or email.
If your card is ever lost or stolen, you can replace it within 24 hours in the U.S. and Canada.
Besides those features, you've also got purchase protection for the things you buy. This covers new purchases for 120 days against damage or theft, up to $500 per claim and $50,000 per account.
The extended warranty program gives you additional warranty coverage on selected items in case it needs to be replaced or repaired.
Further, Chase customer service is available 24 hours a day, seven days a week in case you run into trouble.
Is This the Best Chase Cash Back Credit Card for Seniors?
The AARP Credit Card from Chase is certainly a card to consider if you like earning cash back on dining and gas, but it's not the only cash back contender to keep in mind.
You should also consider two popular cash back credit cards from Chase.
Chase Freedom Flex
The Chase Freedom Flex card features a tiered rewards structure, with a shot at earning even more cash back.
This card allows you to earn 5% back each quarter on selected purchases, up to the quarterly spending limit.
The bonus categories rotate and include things like department stores, drug stores, gas stations, and grocery stores.
You have to activate the bonus each quarter to earn the 5% cash back. Once you hit the quarterly spending limit, you'll keep earning 1% back on those purchases until the next quarter starts.
All other purchases always earn unlimited 1% cash back.
Like the AARP Credit Card from Chase, this card has no annual fee.
Chase Freedom Unlimited
The Chase Freedom Unlimited is another cash back option. With this card, you earn 5% cash back on travel booked through Chase and 3% cash back at drugstores and dining (including takeout and eligible delivery services).
And, you earn unlimited 1.5% cash back on every other purchase.
There's no quarterly bonus to activate and no spending threshold to worry about.
When you're comparing these three cards, it helps to ask yourself which one fits your spending habits.
If you want a card that gives you the same amount of cash back everywhere you go, for instance, you might like the Chase Freedom Unlimited card.
The Chase Freedom card offers the highest rewards rate, but that may not help you as much if the bonus categories don't fit your spending style.
If you forget to activate the bonus, you'll be stuck earning 1% cash back on every purchase. Bottom line, looking at what you charge most often can steer you toward the card that's going to be best for you.
Should You Get This Card?
If you're already an AARP member and you're a devoted foodie or frequent road-tripper, the AARP Credit Card from Chase is designed with you in mind.
You may prefer a different card if you'd like a higher cash back rewards rate for different types of purchases.
In the end, this card is a solid option for seniors who dine out or hit the highway regularly and want to earn cash back without paying an annual fee.