Bank of America Cash Rewards Credit Card 2023 Review
The BankAmericard Cash Rewards Credit Card is reviewed as a top cash back credit card from Bank of America because of rewards on everyday spending categories.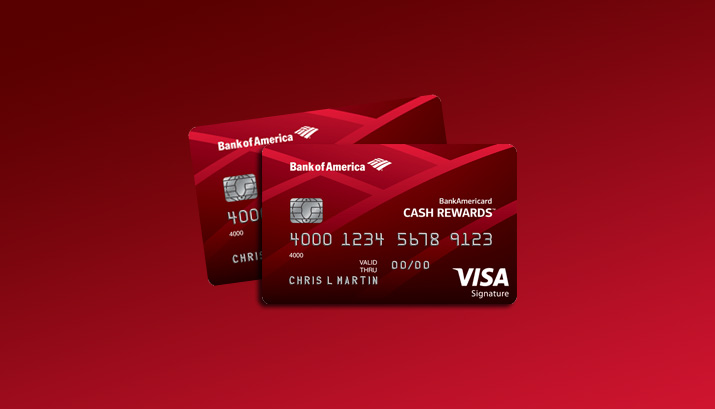 The Bank of America Cash Rewards credit card is one of the most popular cash back credit cards for everyday purchases like gas and groceries for a couple different reasons.
You get 3% cash back in category of your choice: gas, online shopping, dining, travel, drug stores, or home improvement. Also, you earn 2% cash back at grocery stores and wholesale clubs. (These cash back rates apply up to the first $2,500 spending combined in these categories per quarter; 1% cash back thereafter.)
Plus, you get unlimited cash back of 1% on other purchases that you make with the card.
Preferred Rewards clients can increase the bonus to as much as 25% to 75%, resulting in quite a valuable bonus just for redeeming your cash back.
The Bank of America Cash Rewards card is designed for those who prefer earning cash back on regular, everyday purchases instead of on other types of purchases like hotel stays and flights that may not happen as frequently.
For a credit card you can use for all your day-to-day expenses, here's how it stacks up.
Best Feature: Rack Up Cash Back
The best feature of the card is the ability to rack up cash back on day-to-day purchases.
Although there is a cap on the total amount of preferred category and grocery store/wholesale club purchases each quarter of $2,500, this is typically high enough to exceed many households' regular spending in these categories.
Plus, once you reach the cap every three months, those purchases still earn an unlimited 1% cash back, just like the purchases in the "other" category.
Further, Bank of America customers automatically get a 10% bonus if you deposit your cash back into your Bank of America checking or savings account.
For instance, if you spend $2,500 in a quarter on just groceries, you earn cash back of $45.
This increases if you are a Preferred Rewards client with Bank of America, which is dependent on your Bank of America and Merrill Edge or Merrill Lynch investment account balances.
Introductory Offers and Account Fees
Sign-up cash back offer
As a new cardholder, you can get a cash bonus if you meet a minimum spending requirement within the first 90 days of opening the account.
This is a valuable bonus, especially if you already plan on using the card for a big purchase anyway.
APR and Introductory Offer
You get 12 billing cycles to pay down purchases or balance transfers made in the first 60 days at 0%.
If you need to make a large purchase right away or transfer a balance from a card with a higher APR, this offer can save you quite a bit of money in interest payments.
You can, however, continue to avoid paying interest on your purchases if you are diligent in paying your entire balance in full each month, rather than carrying a balance from month to month.
Get out of debt and pay down balances on other cards by transferring them and paying them down at 0% interest.
It also includes $0 fraud liability which protects you against fraudulent purchases made with your card, as well as overdraft protection when you have a Bank of America account, and digital wallet technology for using your card with your mobile device.
Other Bank of America Fees to Consider
There is no annual fee for the Bank of America Cash Rewards card, but besides the APR after the introductory period, there are other fees to keep in mind.
These include the following:
Bankof America Credit Card Fees
| Type of credit card fee | Fee amount |
| --- | --- |
| Balance transfer fee | $10 or 3%, whichever is greater |
| Cash advance fee | $10 or 5%, whichever is greater |
| Late payment fee | up to $39 |
| Returned payment fee | up to $28 |
| Foreign transaction fee | 3% of foreign transactions |
Final Verdict: Is the Bank of America Cash Rewards Card the Best Cash Back Card?
This card is especially ideal for anyone looking for a rewards card to earn cash back on everyday purchases like gas and groceries.
It provides a simple rewards program with a reasonable cap that allows you to rack up the cash back and thus, save on your purchases.
If you are a Bank of America customer or become one, these rewards can add up even faster when you redeem into your checking or savings account.
Plus:
The card usually offers a nice sign-up bonus and 0% introductory APR that result in even more savings for new cardmembers.
It isn't the best card, however, if your gas and grocery store spending is much more than $2,500 per quarter.
If this is the case, you may earn more from a card with a lower rate and no limit on the amount you can earn at that rate.
This card is also not a good card if you travel outside of the U.S. or plan to use it for foreign transactions.
There is a foreign transaction fee of 3% on those purchases will cancel out any cash back you earn.
For everyone else, however, this card is a solid option for earning extra cash back when you shop at the grocery store or fill up at the gas station.
And, if you are a Bank of America customer, there's really no other cash back that will award your everyday purchases as much as this card.