Barclaycard Arrival Plus World Elite MasterCard 2023 Review
The Barclaycard Arrival Plus World Elite MasterCard is a travel rewards credit card with no foreign transaction fees. THIS CARD IS NO LONGER ON THE MARKET.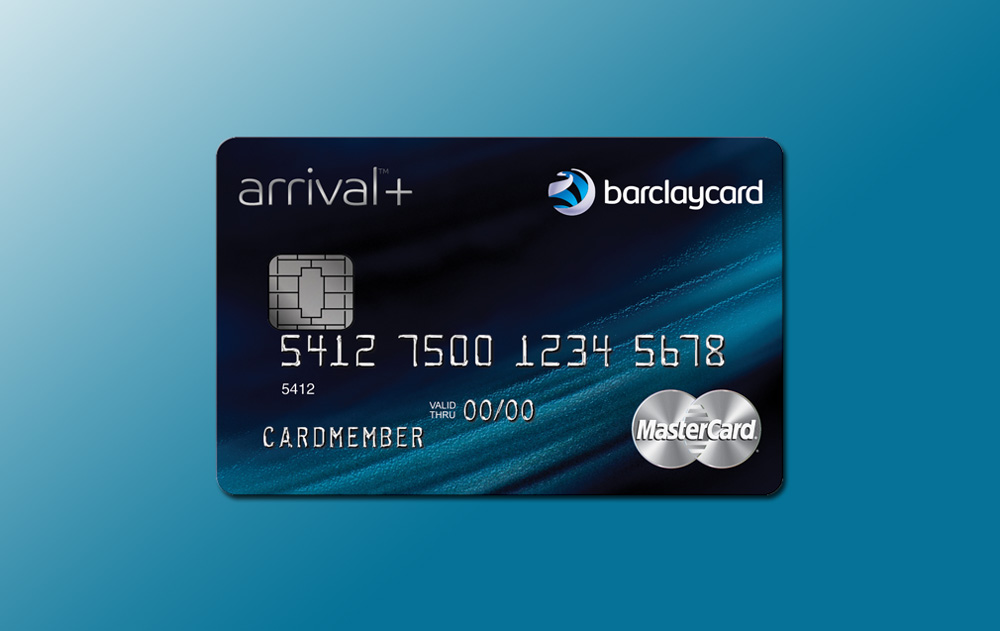 EXPIRED OFFER: This card is no longer available to new applicants.
If you frequently travel, whether it's for business or personal reasons, you have likely encountered a number of different types of travel rewards credit cards.
Travel rewards can vary from points and miles to cash back that you can use toward hotel stays or award flights.
Oftentimes, these types of cards and rewards programs can also be complicated and difficult to understand. Further, many limit you to one hotel brand or airline.
It can become a pain in the neck if your travel accommodations vary or you just prefer to shop the best deal among different brands.
The Barclaycard Arrival Plus World Elite MasterCard, however, is a travel rewards card known for providing an easy-to-understand program with the flexibility to earn rewards toward different kinds of travel.
Instead of being limited to just airfare with one airline, you get 2x miles for every dollar you spend on all purchases.
The miles can be redeemed for a statement credit toward nearly every type of travel purchase available.
Here's what you need to know if you're considering choosing the Barclaycard Arrival Plus World Elite MasterCard.
Barclaycard Arrival Plus World Elite Card Pros & Cons
Main Credit Card Benefits
Credit Card's Best Feature: Flexible Travel Rewards
The best feature of the Barclaycard Arrival Plus World Elite MasterCard is its flexibility in earning and redeeming rewards for travel.
With this card, you earn double miles on every purchase, not just the ones that are made with specific brands.
Plus, you can redeem toward a broad range of travel expenses, which isn't an option with most other travel rewards credit cards.
Typically, airline travel rewards cards allow you to redeem for flights with a particular airline and hotel rewards cards will let you earn free nights at one hotel brand.
It's rare for a travel rewards card to allow you to earn and redeem for other types of travel like taxi fare or cruise lines.
If your travel arrangements vary, you can earn more valuable rewards with this card than you would with other travel rewards cards that are available.
Further, this card gives you a 5% miles bonus just for redeeming your miles.
For instance, if you make $5,000 in purchases, whether at the gas station or on airfare, you get 10,000 miles, which can be redeemed for $100 in travel statement credits.
When you redeem your miles, you automatically get 500 bonus miles that you can use for your next redemption. This bonus increases the value of each mile you earn, just for redeeming them.
Other Reasons to Choose the Barclaycard Arrival Plus World Elite MasterCard
New Cardholder Bonus Miles
This  Credit Card usually comes with a large sign-up bonus. It is typically worth hundreds of dollars in free travel.
However, you'll have to spend a certain amount with the card to qualify for the bonus (e.g., spend $3,000 in 90 days).
There are options to redeem toward a general non-travel statement credit or gift cards, but the value of your miles decreases with these options, to approximately half a cent per miles.
Still, you have other choices if you don't want to redeem for travel purchases.
APR and Introductory Offer
You get 12 months pay down balance transfers made in the first 45 days at an introductory APR of 0%.
This offer can help you get out of debt and pay down a balance from a high-APR credit card and can save you quite a bit of money in interest.
The APR for purchases and balance transfers after the intro period can vary depending on your creditworthiness.
You can save on interest by paying your balances in full each month instead of carrying a balance from month to month, which is recommended in order to get the most value out of the card.
Free FICO Score
This card includes free access to your FICO score, which can help you manage and monitor your credit.
No Foreign Transaction Fee
Foreign transaction fees can be as much as 3% just for using the card for foreign transactions.
For travelers, this can be an expensive fee that cancels out the rewards you earn with the card. This card has no foreign transaction fee, which is beneficial for those who plan on using the card for spending abroad.
Since this card is no longer on the market, consider these cards: 
Calculating the Annual Fee and Interest
The annual fee for the Barclaycard Arrival Plus World Elite MasterCard Credit Card is $89 per year, which is waived your first year.
Balance transfer fee -- $5 or 3%, whichever is greater
Cash advance fee -- $10 or 5%, whichever is greater
Late payment fee – up to $37
Returned payment fee – up to $37
Foreign transaction fee – $0
There is a 0% introductory APR for balance transfers that post to your account within the first 45 days of opening your account, for 12 billing cycles. After that, your balance transfer APR will be the same as your purchase APR.
Cash advances have a variable APR. There is no foreign transaction fee with this card.
Final Verdict: Is this Credit Card Worth the Annual Fee?
The Barclaycard Arrival Plus World Elite MasterCard is one of the best general travel rewards credit cards simply because of its straightforward rewards program.
You aren't limited to a specific brand or a certain type of travel purchase and have the flexibility to earn and redeem for nearly every type of purchase that you might encounter.
Plus, you can't beat the bonus miles you can earn if you're a new cardholder and meet the spending requirement.
This card, however, isn't ideal for travelers whose purchases naturally fall into one category or one brand.
For instance, if your hotel purchases are always with a certain chain and your travel arrangements don't vary, you could earn more rewards with a card that focuses on that hotel chain rather than settling for two miles for each dollar spent with this card
Also, if you won't have travel purchases you can redeem your miles for, you'll have to redeem for other options, which decreases the value of your miles by half.
For those who frequently travel in a variety of ways and prefer to shop the best deals with a number of different brands, the Barclaycard Arrival Plus World Elite MasterCard is one of the best travel cards available.
You won't lose out on valuable miles simply because you fly, ride, or stay with a particular brand, and you have the opportunity to take advantage of the card's many other bonuses.