Barclaycard Ring Mastercard Credit Card Review
The Barclaycard Ring MasterCard credit card is reviewed for its low APR and free unlimited balance transfers. It can help reduce interest payments and debt. Unfortunately, this credit card is not currently available for new applicants.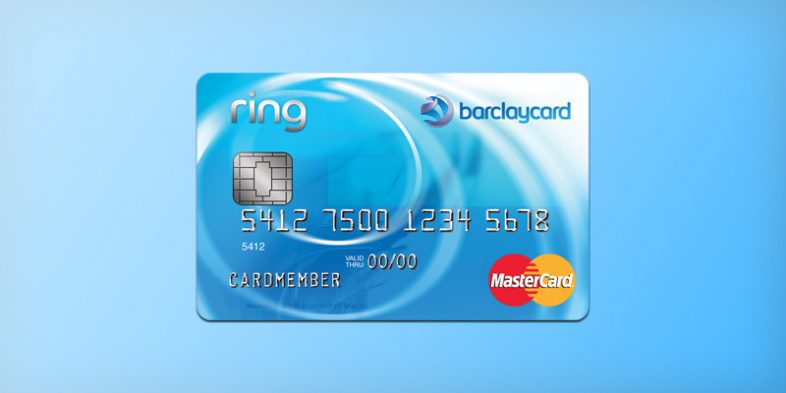 -- Update: This offer is no longer available --
Carrying a balance on your credit card can be expensive if you're stuck with a high-interest rate. Transferring your balances to a card can save you money in a big way.
The Barclaycard Ring Mastercard offers unlimited, fee-free balance transfers.
This card is ideal for someone who's more concerned with avoiding interest payments than earning rewards. 
Keep reading MyBankTracker's review to learn what makes it a top card for balance transfers.
What are the card's main benefits?
Barclaycard Ring Mastercard Pros & Cons
The Barclaycard Ring Mastercard has some unique benefits that you won't find with other cards. As a cardmember, you'll enjoy the following:
Minimal fees
Fees can add big bucks to the cost of using your card. Fortunately, the Barclaycard Ring Mastercard doesn't pile on lots of extra fees.
Giveback program
The Giveback program rewards Barclaycard Ring Mastercard members for their feedback. At the same time, it's a way to do something good for a cause.
Each year, members get to vote on card policies. They're rewarded with a share of the card's profits.
They can redeem their profit share as a statement credit or donate it to charity. If you donate your share, Barclaycard will match it dollar for dollar.
Free credit score
Your credit score is a vital part of your financial life. The higher it is, the easier it is to get approved for credit and score the best interest rates.
Barclaycard offers members free online access to their FICO credit score each month.
If you're looking for simplicity and savings all in one, this card is hard to be beat.
Barclaycard Ring Mastercard's best feature: Unlimited balance transfers
The number one reason to choose this card over the competition is its balance transfer policy. The Barclaycard Ring Mastercard is a great choice if you need to transfer a balance.
First, you don't pay any fees for balance transfers. For example, the Chase Sapphire Preferred Card charges $5 or 5% of the transfer amount, whichever is greater.
If you're transferring a $5,000 balance, the fee alone would come to $250. You might be getting a lower interest rate but you're adding to your debt at the same time.
Second, if you transfer balances during the introductory period, you can consolidate debt at virtually no cost to you.
The Barclaycard Ring Mastercard never charges a fee for balance transfers.
If you transfer balances on a regular basis, that's more money you can save in the long run (if the interest rates on your transferred debt are higher than the APR on the Ring card.
Other card highlights
To finish up our review, we've included a few more details you need to know before applying for the Barclaycard Ring Mastercard.
Rewards
While the Giveback program offers you a chance to share in the card's profits, there's no formal rewards program.
That means you won't earn any points, miles or cash back on what you spend. That may be a downside for someone who likes getting rewarded for purchases.
Security protections
Credit card fraud can cause long-lasting damage to your credit score and your finances in general.
To minimize the risk of having your information stolen, the Barclaycard Ring MasterCard comes with built-in security chip protections.
The chip assigns a unique code to each transaction when you use your card at stores that have chip-reader terminals. That makes it virtually impossible for a hacker to get access to your account information.
Interest and fees
If you want a credit card that charges the fewest fees possible, this is it. Barclaycard Ring Mastercard members pay no annual fee, no balance transfer fee and no foreign transaction fees on international purchases.
There is a $3 fee for cash advances but that's a bargain compared to what other cards charge.
For instance, the Arrival Plus World Elite MasterCard that was mentioned earlier charges $10 or 5% of the advance amount, whichever is greater.
The late payment fee and returned payment fee are the same, at $26. That's also lower than what you'd pay with other credit cards on the market.
Final verdict: Who is the Barclaycard Ring Mastercard right for?
The Barclaycard Ring Mastercard is well-suited to anyone who's interested in carrying a balance at a low rate or transferring a balance without expensive fees.
This card also gets the thumbs-up for anyone who routinely travels overseas and doesn't want to pay foreign transaction fees.
The card's biggest disadvantage is the fact there's no rewards program.
If earning miles, points or cash back is your focus, check out MyBankTracker's credit card reviews and comparison tool to find the one that's right for you.