Brex Corporate Card for Startups 2023 Review: No Personal Guarantee Required
Our review of the Brex Corporate Card for Startups looks at the rewards program, features, and fee for frequent business travelers.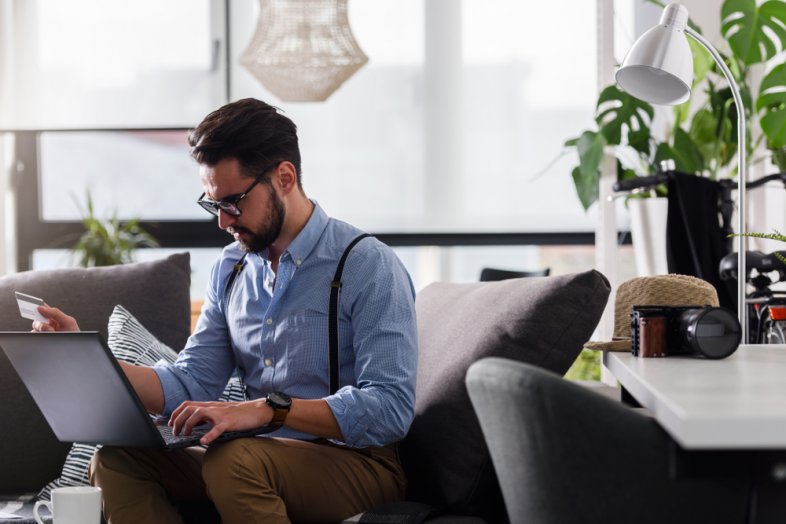 Getting funding for a new business can be challenging, to say the least. A business credit card, on the other hand, can make it easier to buy the things you need for your new venture. 
The Brex Corporate Card is designed to help startups get up and running.
This card allows you to earn rewards on purchases, with worldwide acceptance. Plus, there's no personal guarantee required. 
That's different from other business credit cards that may hold you personally liable for purchases you make on behalf of your startup.
If you're ready to launch or your startup is in its early days, our review looks at what the Brex Corporate Card has to offer.
Brex Corporate Card for Startups Pros & Cons
Earn Generous Rewards for Your Startup
The Brex Corporate Card offers rewards on purchases, with different tiers. 
Here's a quick look at how rewards points add up:
Earn 7x points per dollar on ridesharing purchases
Earn 4x points per dollar on travel booked through Brex
Earn 3x points per dollar at restaurants
Earn 2x points per dollar on recurring software subscriptions
Earn 1x points per dollar on all other purchases
There's no cap on the amount of rewards you can earn with the Brex Corporate Card. But there is one thing to know.
You need to be a Brex Exclusive member to earn rewards at those rates. Being an Exclusive member means you agree to make the Brex card the only corporate card you use for your business. Otherwise, you'll earn 1 point per dollar on all purchases. 
Rewards redemption
When it's time to redeem rewards you can do so as a statement credit or for travel benefits. 
One surprising thing about this card is the amount of flexibility you have in redeeming rewards for travel. 
For example, you can transfer points on a 1:1 ratio to Brex travel partners. Travel partners include:
AeroMexico
Air France KLM
Asia Miles
Avianca LifeMiles
JetBlue TrueBlue
Qantas Frequent Flyer
Singapore Airlines Krisflyer
You can use points earned with the card to book flights, hotels and other travel arrangements. Cardmembers get access to enterprise rates, which can save you anywhere from 30% to 60% on travel. 
Points can be redeemed for business or personal travel. A 24/7 travel concierge is always standing by to help. And if you don't have any travel plans on the horizon, you can gift points to your team. 
Simplified Approval for Startups
One of the biggest challenges of starting a new business can be securing funding. 
Banks and online lenders, for example, may not want to give you a loan unless you have a year or two of operating history under your belt and consistent revenue.
The Brex Corporate Card removes some of the most common barriers to entry for funding a startup. 
You can get approved for this card almost instantly if you qualify, with no personal credit check. Instead, Brex uses your employer identification number (EIN) and company's credit history.
That also means no personal guarantee is required to open an account. Personal guarantees are a way for creditors to hold you personally responsible for the debts of your business. 
One thing to note is that not every startup will qualify for a Brex Corporate Card. 
You can't get this card if:
You're applying as a consumer
You run your business as a sole proprietorship
You're an unincorporated partnership
Your business is registered outside the U.S. 
Other Card Features and Benefits
The Brex Corporate Card offers more than just rewards for startups. 
For example, you can get discounts on services from partner merchants, including:
Google Ads
Zendesk
SendGrid
WeWork
This card also includes advanced fraud protection and since it's a Mastercard, you can use it almost anywhere around the world. 
Once you sign up, you'll have instant access to a virtual card you can use to make purchases right away. Physical cards can take three to five business days to arrive. 
If you want to add cards for your team, you can easily do that online. You can also use your account dashboard to set individual spending limits for each card. 
The Brex app also makes it easy to track spending and capture receipts for accounting. 
Fees
The Brex Corporate Card has no hidden fees. There's no annual fee, for example. Your first five cards are free; each additional card is $5/month. 
There's no foreign transaction fee either. And you won't pay interest charges with this card.
That's because Brex drafts one monthly payment from your linked bank account for all outstanding charges. In essence, that makes it a charge card since you don't carry a balance. 
Compared to Other Business Credit Cards
The Brex Corporate Card could be a great fit for your startup.
But if you'd like to shop around, here are a few other cards to consider.
Chase Ink Business Preferred
The  also offers rewards points on purchases. With this card, you can earn three points per dollar on the first $150,000 in combined purchases for travel, shipping, advertising, internet, cable and phone services each year. 
This card often has a competitive introductory bonus. And when you use points to book travel through Chase Ultimate Rewards they're worth 25% more. 
The only catch:
This card does have a $95 annual fee, but employee cards are free.
Read the Chase Ink Business Preferred Card editor's review.
The Business Platinum Card® from American Express
The  is designed for business travelers who want premium benefits. This card has a $695 annual fee (see Rates & Fees; terms apply) but it comes with a generous rewards program, as well as valuable travel extras.
For example, members enjoy fee credit toward Global Entry or TSA PreCheck, premium lounge access, airline fees credits and Marriott Bonvoy Gold Elite status. Like the Brex Corporate Card, you'll need to pay the balance in full each month. 
*See Rates & Fees. Terms apply.
Read the American Express Business Platinum Card editor's review.
Capital One Spark Miles for Business
The  could be a good fit if you want to earn a flat rewards rate on purchases. 
This card offers unlimited two miles per dollar, increasing to five miles per dollar when you book hotels and rental cars through Capital One Travel. Miles can be redeemed for flights, hotel stays and other travel expenses, with no blackout dates or restrictions. You can also transfer miles to loyalty programs from popular travel partners. 
This card has a $0 introductory annual fee the first year. After that, it increases to $95 which is comparable to the Chase Ink Business Preferred Card.
Read the Capital One Spark Miles for Business Card editor's review.
Business vs. Personal Cards
Business credit cards and personal cards serve different purposes.  
Business cards cater rewards to purchases that businesses most often make. So you might earn points, miles or cash back on business travel and purchases at office supply stores. 
With a personal card, you may get the most rewards for buying groceries or shopping at your favorite department stores. Introductory bonuses can be different for business and personal cards, depending on whether you're earning travel rewards or cash back. 
Business cards and personal cards can vary in terms of the fees and interest rates they offer. With a corporate card, for instance, you may avoid interest altogether since you're paying in full. 
What separates the Brex card from other business cards is the lack of a personal guarantee. That's more common with personal cards and traditional business credit cards. 
How to apply
You can apply for a new business credit online and it's similar to how you'd apply for a personal credit card. To apply for the Brex Corporate Card, you just need to complete a simple form. 
Brex looks at a number of factors for approval, including:
Who's investing in your business and how much funding you've raised
What you have in cash reserves
Your business spending patterns
The great thing about applying for a business credit card is that you don't need to be making money yet to get approved. The Brex Corporate Card goes beyond just your credit scores to gauge how financially healthy your startup is. 
Final Verdict
The Brex Corporate Card is suited for startups that want to build business credit while having a convenient way to make business purchases.
If the Brex card is your only corporate card, you can take advantage of the higher rewards offered for Exclusive members. Being able to sidestep a personal guarantee is another helpful feature. 
You may want to check out other business credit cards, however, if you'd rather have the option to carry a balance month to month. Just keep in mind that you may end up paying interest charges. 
Overall, the Brex Corporate Card offers a new take on the traditional business corporate card.
If you need to fund your startup quickly, it could put purchasing power in your hands almost instantly.
See the rates & fees for the mentioned American Express cards: The Business Platinum Card from American Express (Rates & Fees; terms apply).