CitiBusiness/AAdvantage Platinum Select World Mastercard 2023 Review
Our review of the CitiBusiness/AAdvantage Platinum Select World Mastercard looks at the travel rewards program and perks, including an annual companion ticket.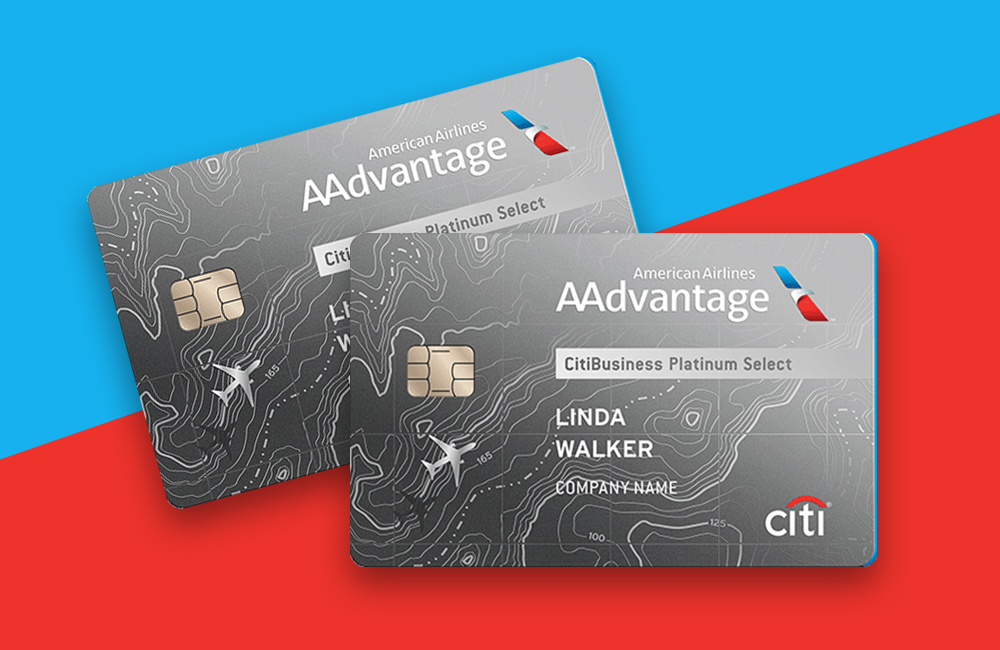 If you fly regularly for business travel, it only makes sense to earn back some of what you spend. 
The lets you earn miles on every purchase, including American Airlines flights.
Plus:
It comes with extra perks such as free checked bags and preferred boarding. 
You can earn a generous amount of miles fairly quickly if you qualify for the introductory welcome bonus.
And if you spend heavily on travel or other business expenses, you could qualify for an American Airlines companion certificate. 
Our review of the CitiBusiness/AAdvantage Platinum Select World Mastercard breaks down the rewards program and travel perks for frequent American Airlines fliers.
Here's the full rundown of what this card has to offer:
CitiBusiness/AAdvantage Platinum Select World Mastercard Pros & Cons
Earn Miles Toward Free Flights
The CitiBusiness/AAdvantage Platinum Select World Mastercard features three rewards tiers. 
With this card, you earn:
2 AAdvantage miles per dollar on eligible American Airlines purchases.
2 AAdvantage miles per dollar on telecommunications, cable and satellite services, car rentals and gas stations.
1 AAdvantage mile on all other purchases. 
There's no cap on the number of miles you can earn so the more often you spend, the more often you get rewarded. 
Miles redemption
When you're ready to redeem miles, you have plenty of options for using them.
The most obvious choice is booking flights with American Airlines. You can also redeem miles for flights with oneworld and other airline travel partners. 
The number of miles you need to redeem for free flights depends on which airline you're booking and the fare class. There are four award tiers you can book:
MileSAAver Off Peak
MileSAAver 
AAnytime Level 1
AAnytime Level 2
As a general rule, MileSAAver Off Peak fares require the least amount of miles to book, starting at 7,500 miles. AAnytime Level 2 fares require the most miles to book award travel. 
AAnytime redemptions start as low as 20,000 miles, with no blackout dates. MileSAAver award flights aren't available for every fare. 
Aside from flights, you can also redeem your miles for travel upgrades, vacation packages or Admirals Club membership.
The value of your miles depends on how you redeem them and can range from 1 to 3.5 cents each.
Earn an American Airlines Companion Certificate
One nice card extra is the chance to earn an American Airlines Companion certificate. 
This certificate is good for domestic main cabin travel and it applies when you spend $30,000 or more in each card membership year. 
That said:
The companion certificate only covers the cost of the fare itself.
You do still have to pay ticketing fees, plus government and taxes. 
But if you're booking business travel for yourself and a colleague, earning the certificate could save you a decent amount of money on airfare.
Other Card Features and Benefits
The CitiBusiness/AAdvantage Platinum Select World Mastercard comes with some additional benefits and features you might appreciate, including: 
25% savings on American Airlines in-flight WiFi purchased with your card
Preferred boarding
First checked bag free on domestic flights
Personal business assistant to help with booking travel, hotel and dining arrangements
You can add employee cards to your account with no additional fee. That's something you might consider if you want to increase the number of miles earned per year. 
This card also includes an introductory miles bonus for eligible new cardmembers. Just keep in mind that you'll need to hit the minimum spending requirement target to qualify. 
Card Fees
This card has no foreign transaction fee, which is good if business travel takes you outside the U.S. from time to time.
The annual fee isn't overwhelmingly high at $99 compared to other business travel cards and it's waived for the first 12 months of card membership. 
There are no fees or APRs listed for balance transfers for this card, in case that's something you're interested in.
If you have a business balance you'd like to transfer, you may need to shop around for other options.
Compared to Other Business Credit Cards
The CitiBusiness/AAdvantage Platinum Select World Mastercard isn't the only way to earn rewards toward free flights.
Here are three other cards you may consider adding to your wallet.
Chase Ink Business Preferred
The lets you earn points instead of miles. This card offers three points per dollar on the first $150,000 in combined purchases for travel, shipping, advertising, internet, cable and phone services each year. 
What's great about this card, aside from the generous introductory bonus, is the points bonus you get when you redeem. When you use your points to book travel, including flights, through Chase Ultimate Rewards they're worth 25% more. 
This card has a $95 annual fee and employee cards are free.
Read the Chase Ink Business Preferred Card editor's review.
Marriott Bonvoy Business® American Express® Card
The  is most rewarding when you use it to book Marriott Bonvoy hotel stays. But an interesting feature of this card is that you can transfer your points to the American Airlines AAdvantage program on a 3:1 basis. 
This card offers six points per dollar on Marriott Bonvoy purchases, as well as four points per dollar at:
restaurants worldwide
U.S. gas stations
wireless telephone services directly from U.S. service providers
U.S. purchases on shipping
All other eligible purchases earn two points per dollar. 
This card includes numerous travel perks, such as free award nights and elite night credit. The annual fee is $125. 
Read the Marriott Bonvoy Business Card from American Express editor's review.
Capital One Spark Miles for Business
The  offers unlimited two miles per dollar on every purchase. You can also earn five miles per dollar on hotels and rental cars booked through Capital One Travel. 
Miles can be redeemed for flights, hotel stays and other travel expenses, with no blackout dates or restrictions. You can also transfer miles to loyalty programs from popular travel partners. 
This card has a $0 introductory annual fee for the first year. After that, the annual fee is $95. 
Read the Capital One Spark Miles for Business Card editor's review.
Business vs. Personal Cards
A business credit card and a personal card can both be used to make purchases and earn rewards. Where they differ, however, lies in what they're meant to be used for and the rewards you can earn. 
Business cards tend to reward you for things a business would spend money on. So things like business travel, office supplies and advertising. Personal cards cater rewards to things you'd spend money on personally, like leisure travel or grocery shopping. 
The APR and fees for business and personal cards can also be different. You may pay a higher fee for a business card, for example. But a personal card might be more likely to feature an introductory balance transfer offer. 
Business and personal cards offer different protections as well. The 2009 CARD Act extends to personal cards but not business cards. Some business credit card issuers will extend those protections to business cards. 
Applying for a business credit card
You can apply for a new business credit online and it's similar to how you'd apply for a personal credit card.
To fill out the application you may need to provide all of the following:
Your name
Your business name
Personal and business address
Email and phone number
Social security number or employer identification number (EIN)
Business name and structure 
Industry and number of employees
Revenue and number of years in business
If you want to apply for a business credit card you don't necessarily need to be making money or even have started your business. For example, you could open a business credit card for your startup before you officially launch. 
The credit card company will use your personal credit score and income to decide whether to approve you. You may also have to agree to a personal guarantee for a business card. 
What's the Verdict? 
The could be a good card to consider if you fly American Airlines more than other airlines.
The card makes it easy to earn miles toward free flights and the companion certificate is likely the biggest attraction
if you want to save money on business travel. 
You may want to check out other business rewards cards, on the other hand, if you don't exclusively fly American Airlines. Or you might prefer a card that has a wider range of transfer options for miles or travel points. 
Overall, the CitiBusiness/AAdvantage Platinum Select World Mastercard is worth a look if you want to earn AAdvantage miles toward free flights.