Discover it Miles Credit Card 2023 Review
Learn about the Discover it Miles travel rewards program, in-flight Wifi credit, fees, APRs, and free credit scores in this comprehensive review.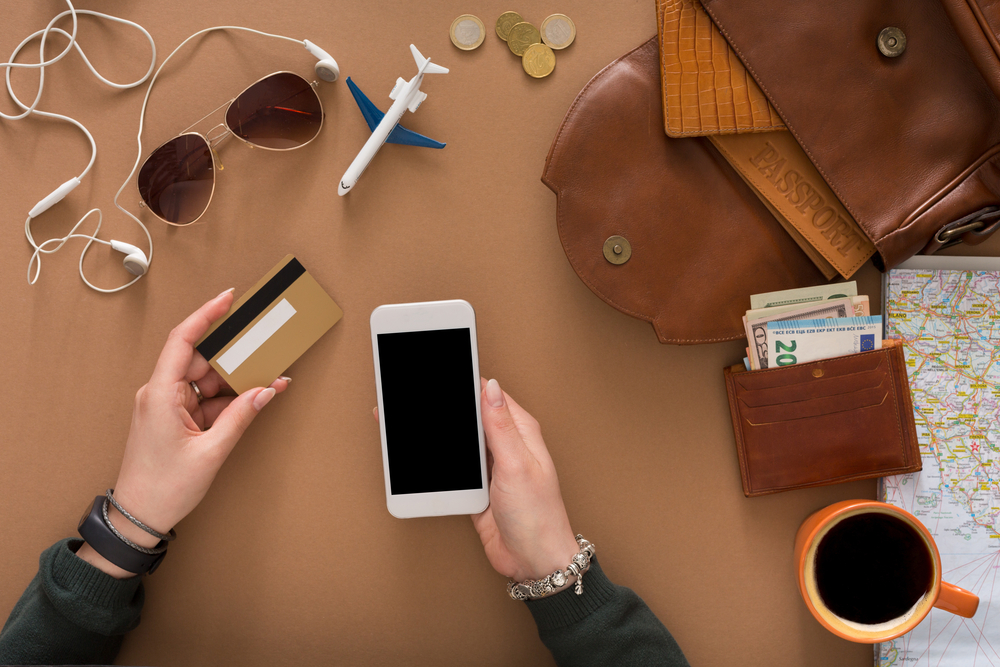 The Discover it Miles card is one of the many Discover credit cards that focuses on travel.
With a straightforward rewards program, no foreign transaction fees, and plenty of card benefits, Discover it Miles is ideal for people who want simple travel rewards and savings.
We've analyzed the card's various features to see if the Discover it Miles credit card is the right choice for you.
A Closer Look at the Discover it Miles Travel Rewards Program
Simple travel rewards structure
The most noteworthy feature of the Discover it Card is the ability to earn 1.5 miles per dollar spent on all purchases.
Most other travel credit cards, especially those branded by airlines, will offer a base 1 mile per dollar spent on everything with a bonus on certain purchases.
Discover it Miles Travel Card Pros & Cons
Pros
Cons

Good for people who want to earn simple travel rewards for everyday purchases
No annual fee
No foreign transaction fee
Earn 1.5 miles per dollar spent on all purchases
After your first year, Discover will match the Discover card miles rewards you've earned mile-for-mile
$30 credit for in-flight wi-fi every year
Can elect for cash-back instead of miles, with no value loss
User-friendly online banking system

No shopping rewards
Not the best card for frequent travelers
The simpler travel rewards program from the Discover it Miles card is better for people who don't spend too much on certain categories.
The Miles you do earn never expire, and if you decide to close your Discover it Miles card, you still have up to 18 months to redeem your travel Miles and rewards.
As a new cardholder, the benefit is even bigger when you celebrate your one-year anniversary with the company.
As a new cardholder, at the end of the first year with your Discover Miles Credit Card, Discover will match the Discover card miles rewards you've earned mile-for-mile.
Discover Deals Shopping Portal Offers Bonus Rewards
Discover Deals is the online shopping portal that allows many Discover customers to earn bonus cash back.
When you click through to a partnered online retailer, you'll earn between 5% to 20% in extra cash back on your purchase -- adds to the cash back that you would earn through your card's rewards program.
You'll likely find major brands and popular online stores that participate in the program.
Discover it Miles customers will receive the same value in bonus miles if they use Discover Deals on eligible purchases.
It's a great way to earn more rewards, but people often forget to check before their submit an online order.
Redeeming your miles
As a Discover it Miles cardholder, you won't have to worry about blackout dates as you would with most many of the competitors.
You can redeem your mile rewards to fly with any airline, in any seat, and during any time of the year.
You can do this because the miles are redeemed for statement credits. Essentially, you use your miles to pay down your card's balance.
You can elect to use your Discover miles at any time, and there is no limit or restriction on the amount of miles you can use.
You can redeem your earned Miles as credit toward travel purchases for airline tickets, car rentals, transportation, lodging and hotels, and other travel-related expenses that were made in the last 180 days.
Cash Back is a Great Option
If you decide against redeeming your rewards for Miles, you can opt for cash back.
If you elect for the cash back option, you can authorize your cash rewards to be electronically deposited into your bank account.
Because the value of the miles does not change when you redeem the miles as cash back, you can treat the Discover it Miles card as a 1.5% cash back credit card.
Perks include U.S.-based customer service and free FICO scores
Miles aren't the only rewards you can expect to earn with the Discover it Credit Card. As a cardholder you will benefit from a host of perks:
As a Discover cardholder, you have 24-hour access to customer service agents who are based in the United States.
No annual fee to worry about
Another reason why the Discover it Miles Credit Card is so popular is because there is no annual fee.
Few travel rewards credit cards will waive foreign transaction fees and not charge an annual fee.
This set of features makes Discover it Miles a great card to keep around because there's no annual cost to doing so.
Discover it Miles offers ways to prevent fraud
Discover does not want you to be liable for fraudulent purchases, so it has put in place many securities to protect your identity and your purchasing power.
As a standard practice, if your card is lost or stolen, Discover will ship out a new card to you anywhere in the US within 24 hours.
If you are on a vacation, away for work, or just staying home, Discover will ship out a replacement card to you within 24 hours to any US address you choose.
Safety feature lets you lock your credit card
In addition to the standard $0 fraud liability policy found with most credit cards, Discover it Miles also comes with a "Freeze It" capability.
Freeze It is a Discover feature that allows you to lock and freeze your credit card. Let's say you leave your card at a restaurant, you think you may have lost it in a parking lot, or you misplaced it after a trip.
All you have to do is freeze your account. When you freeze your account, Discover will not honor any new charges, advances, or balance transfers.
Freeze it does not close the credit card completely, which is good if you have automatic drafts and recurring payments. Discover will also allow returns, payments, credits, and many authorized rewards redemptions.
You can use the Freeze It feature on your smartphone or through the card member services site. This is a feature that is not offered by most other major credit card companies.
Other Discover Credit Cards to Consider
Discover offers a couple other credit cards that you compare to the Discover it Miles card.
Discover it offers 5% cash back on certain categories that change every three months. These categories often include gas stations, restaurants, home improvement, and more.
They also tend to be quite season-appropriate so that there are opportunities to earn plenty of cash back. All other purchases earn 1% cash back.
Depending on your spending habits, the Discover it card may provide more cash back than Discover it Miles.
You can always redeem the cash back to pay off your travel purchases (however, not as travel statement credit).
Discover it Chrome offers 2% cash back at gas stations and restaurants, which makes it better for people who drive and dine out frequently. All other purchases earn 1% cash back.
Generally, more than half of your spending on Discover it Chrome should earn 2% cash back.
Otherwise, the Discover it Miles is the better card, even if you're not too concerned about travel statement credit rewards.
Who should sign up for Discover it Miles?
If you are a traveler who has the ability to pay off your balance each month, the Discover it Miles Credit Card is the ideal card for you.
The card is not the best choice if you constantly carry high balances, you have large balances to transfer to a new credit card, or you require frequent cash advances.
If you desire to use your card for shopping more often than flying, the Discover it Miles card may not be ideal either.
Choose a credit card that allows you to earn rewards on specific shopping experiences, offers warranties and protection plans, and allows you to get discounts at your favorite shopping establishments.
But, if you like to travel and you enjoy saving money on travel fees, lodging, and more, the Discover it Miles Credit Card is the best credit card to carry with you when you plan your next adventure or business trip.
It's simple rewards program also makes it very easy to manage.