Fidelity Rewards Visa Signature Credit Card 2023 Review
The Fidelity Rewards Visa Signature credit card review covers the 2% cash back program and how it can help build savings in a brokerage or retirement account.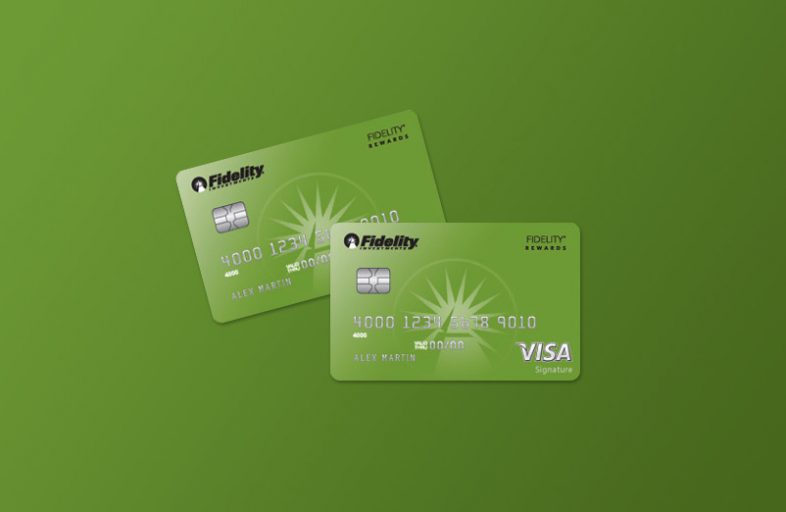 The Fidelity Rewards Visa Signature Card offers high amounts of cash back throughout the year.
The most distinguishable feature is its 2% cash back on all purchases. There are no limits and no annual fee with this card.
Fidelity's card is chip-enabled and works with Apple, Android, and Samsung Pay. The card also includes Visa Signature benefits, like 24-hour Concierge service and more like this.
But there's a catch: the card has to be linked to a Fidelity account. This could be a brokerage, a cash management, a retirement, or a Fidelity-managed 529 account.
Fidelity's cash management account is a free checking account to collect your earnings.
Fidelity Rewards Visa Signature Card is best for existing Fidelity customers. The cash back may help fund retirement and other accounts.
The card is also suitable for someone who wants to establish such an account. Fidelity's cash back card also is advantageous for someone who wishes to use a single card to earn cash back on purchases.
Main Fidelity Rewards Visa Signature Card Highlights
Fidelity Rewards Visa Signature Card Pros & Cons
Main card benefits of Fidelity Rewards Visa Signature Card:
Earn unlimited 2% cash back with no expiration on rewards
EMV chip technology
Visa Signature benefits
$0 annual fee
Virtual Wallet
All purchases are eligible for 2% cash back. That is as long as funds are made to one or split across multiple accounts.
You can also direct rewards to someone else's account, like a grandchild's college fund to help save for college.
Rewards
You can set up the account to automatically deposit the rewards monthly. This is the best way. Once 5,000 points are met (a $50 value) you can transfer to the specified account(s). This is the minimum to cash in.
There are other options. You can choose to receive statement credit, travel, merchandise or gift cards. This would take the place of an account deposit. You need 2,500 points to cash in for these options.
The earned value will be less than the 2%, so it would not be the wisest financial move for you.
Card Perks
Visa Signature is a major advantage for this card. You can swipe the card wherever Visa is accepted. There's also a concierge service feature. This can assist with business, restaurant, and travel reservations and plans.
Visa Signature holders have access to features like complimentary hotel and transportation discounts and $25 food and beverage credit.
You must book through the Visa Signature Luxury Hotel Collection to find deals. All details can be found online.
If you are someone who likes the ease of making payments through your phone, then you'll like the Digital Wallet feature. This card feature works with Apple, Samsung, or Android Pay.
APR
Fidelity Rewards Visa Signature offers a variable APR on purchases, balance transfers, and cash advances. The cash advance fee is 3% of each amount. There is a $5 minimum to use a cash advance.
Fidelity Rewards Visa Signature variable APR on purchases and balances is relatively good. The national average is higher than 15%. Those with excellent credit scores will get the most competitive rates.
The foreign transaction fee is 1% of each foreign purchase transaction or ATM advance in U.S. dollars and foreign currency.
The foreign transaction fee is low. The average is 3%. This card would be a good option when traveling outside the U.S. for this reason. Savings could really stack up, depending on how much you spend.
Card Protections
The Fidelity Rewards Visa Signature Card includes protective features also. This includes against fraud, unauthorized purchases, and more.
The card's EMV chip technology will protect your in-store purchases from fraud when used at chip-activated terminals. There's also zero liability for transactions not made by you.
Some of the other protective benefits that come with the card include:
Purchase security
Cardholders may be reimbursed for items purchased within the first 90 days from purchase date. Reasons may be for theft or vandalism. There's a $500 limit per claim.
Warranty manager service
Take advantage of this feature. Doing so may extend the warranty. Simply use your Fidelity Rewards Visa Signature Card for the purchase.
You don't have to register with the warranty manager service feature. It can make repairs or replacements easier for you, should they come up.
Auto rental collision damage waiver
Pay for a car rental with your Visa Signature card and you'll have free insurance coverage.  You can receive reimbursement for theft or damage up to the actual value of the rental vehicle.
Travel and emergency assistance services
If an emergency arises, the Benefits Administrator can connect you with local emergency assistance 24 hours a day.
Lost luggage reimbursement
Pay with your card and your checked bags are eligible for reimbursements if lost or stolen.
Boost Your Investments with the Help of Rewards
How much cash do you think you spend each year on things like groceries, gas, entertainment, and travel?
Wouldn't it be great if you could use all of that spending to actually grow your money?
Look at it this way: if you were to put $1600 worth of your monthly spending on your Fidelity Rewards Visa Signature Card, you would earn $400 per year in rewards. Multiply that by 30 years and a 7% rate of return, and your rewards alone will have earned you an extra $40,000.
That's $40,000 just for the spending you already do every month.
How's that for an easy boost to your investments?
How Much You Can Earn
The Fidelity Rewards Visa Signature Card features a simple cash-back rewards structure.
Every $1 spent in net purchases earns 2 reward points - points that are converted to cash when you deposit them into your Fidelity brokerage account. There's no limit to how much you can earn and, as long as your accounts stay open, your points never expire.
Let's take a more detailed look at the example above to see how much you could earn with the Fidelity Rewards Visa Signature Card:
If you were to apply the following spending to your Fidelity Rewards Visa Signature Card annually:
$6,000 on groceries
$5,000 on travel
$4,000 on gas
$3,000 on entertainment
$2,000 on dining out
...then that would amount to $20,000 in purchases on your card. Since your card gives you 2 rewards points for every dollar spent, you'd end up with 40,000 points. Worth one penny each, these points would convert to $400.
Following our example, let's now take a look at how $400 per year can grow in your Fidelity investment account:
Fidelity Brokerage growth table
| Investment Term | Cash Rewards Contributions | Total Investment Value |
| --- | --- | --- |
| 1 Year | $400 | $428 |
| 5 Years | $400 | $2,461 |
| 10 Years | $400 | $5,913 |
| 20 Years | $400 | $17,544 |
| 30 Years | $400 | $40,425 |
**These examples assume a 7% annualized rate of return, monthly credit card spending of $1667, and an annual rewards rate of 40,000 points.
In short, that simple $400 in annual rewards could grow to a substantial $40,000 by the time you retire - and that's on top of your regular investments. And the more of your spending you put on your Fidelity Rewards Visa Signature Card, the faster those investments can grow.
A potential $400 in rewards and $40,000 in investment growth - all just for switching your spending to the Fidelity Rewards Visa Signature Card. It doesn't get much simpler than that.
Final Verdict
Fidelity's Rewards Visa Signature card's 2% cash back is hard to beat. You'll earn the 2% that is currently offered on all purchases as long as reward deposits are made into a Fidelity account.
If you're someone who likes the rotating category for cash back and perhaps makes a game of it, then this is not for you.
You'll do better with other cash-back cards. There is also no welcome sign up bonus if that's of importance to have with your card.
Know your intentions with the card before applying. This card is a suitable option if you already have an established Fidelity account.
This card is good for someone who would like to use the card as a way to save for retirement or a child's education.
Or, if you want consistent 2% cash back on all purchases, you can simply signup for the cash management account. You can then withdraw the funds and use the money however you please.