U.S. Bank Altitude Reserve Card 2023 Review: Should You Apply?
Use this analysis of the U.S. Bank Altitude Reserve Visa Infinite Card to see if its annual fee is worth the travel rewards, premium travel benefits, and more.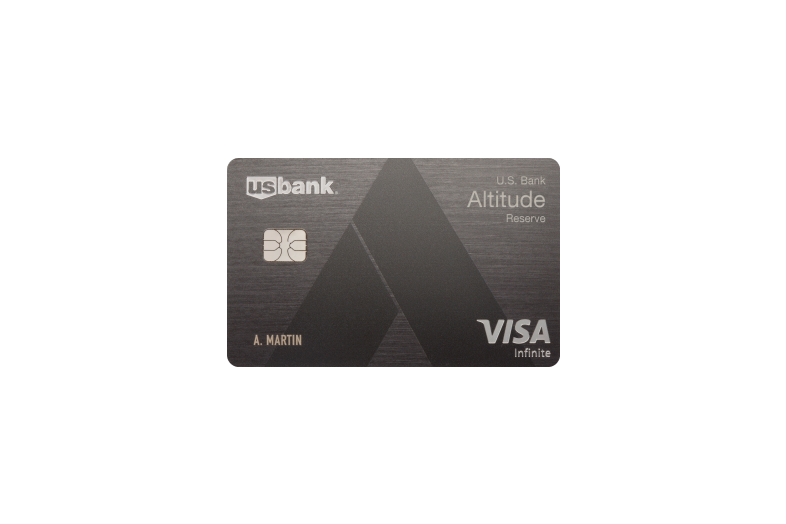 The U.S. Bank Altitude Reserve credit card is worth considering if you're a frequent traveler and you're looking for a premium credit card.
This card comes with a wide variety of features that cater to different types of travelers.
This includes travelers who spend a great time of time abroad, as well as those who trek across the states.
Similar to other credit cards, it offers a rewards program. But what's most impressive about this card is the ability to earn 3X points for every dollar spent on eligible travel purchases.
This is considerably more than what you'll find with other credit cards.
This alone makes the U.S. Bank Altitude Reserve the ideal choice if you're thinking about upgrading your travel credit card.
U.S. Bank Altitude Reserve Credit Card Pros & Cons
Earn More Points for Travel Purchases
Rewards credit cards are a popular option because you're able to earn points toward freebies.
As you shop around for a credit card, you'll see that many reward programs only offer cardholders 2X points on certain purchases. This isn't a bad payout. But why earn 2X times points when you can get more?
Use your U.S. Bank Altitude Reward card and earn an extra point when you book travel directly through a merchant. Or when you use your mobile wallet to pay for travel.
Points are redeemable for travel, statement credit, gift cards, and more.
Shop More and Earn Bonus Points
Some people prefer using a credit card for the majority of their everyday purchases.
This way, they benefit more from a rewards program. Does this sound like you? If so, you need a credit card that offers a way to earn more bonus points.
If you spend a certain amount in the first 90 days of opening your U.S. Bank credit card, you may be eligible for an enrollment bonus — which can be applied toward travel.
To qualify for bonus enrollment points, use your credit card whenever possible. For example:
groceries
gas
movies
restaurants
shopping
bills (mortgage, utility, insurance payments, cell phone, etc.)
Just make sure you keep track of spending and pay off your balance in full every month.
Premium Travel Benefits
As the cardholder of a premium travel card, it only makes sense to enjoy premium travel benefits.
When you apply for this card, you'll enjoy a 12-month complimentary Priority Pass to more than 1,200 VIP lounges around the world.
If you apply for the TSA's Global Entry program, you'll also receive up to a $100 statement credit as reimbursement for the application fee once every four years. Other travel benefits include:
special rental privileges and discounts
discounted chauffeured black car service
concierge services
special privileges at more than 500 luxury châteaus
the ability to redeem awards from a mobile device
other protections (24/7 fraud monitoring with identity theft protection, emergency evacuation, and transportation coverage)
Annual Travel Statement Credit
The good news is that the travel benefits don't stop here. Use your credit card to book travel purchases and you may also qualify to receive an annual statement credit per year.
This credit is up to $325 for eligible travel purchases. These purchases include travel booked directly with an airline, car rental company, hotel, limousine company, taxi service, train, and cruise line.
Travel Abroad With No Foreign Transaction Fee
When traveling abroad with a credit card, paying a foreign transaction fee each time you make a purchase can increase your total out-of-pocket expense for a vacation or business trip.
A foreign transaction fee is a surcharge that many credit card companies tack onto purchases made outside of the US. Some credit cards charge a fee as much as 3 percent.
You can, however, save money by selecting this card, which doesn't charge the fee. Bring this card on your next trip and you won't get hit with a surprise cost. This makes it easier to budget spending.
Complimentary Wi-Fi
Being able to access the Internet makes the time fly on a long flight. But you might decline this in-flight service once you see the price.
With the U.S. Bank Altitude Reserve credit card, you can surf the web at 30,000 feet in the air without breaking the bank. You'll receive 12 complimentary Go-Go in-flight Wi-Fi passes every year.
Bring your laptop or tablet on aboard. And once you're connected, check in on social media, watch a movie, stream music, or shoot the breeze in other ways.
Peace of Mind With Card Protections
This credit card is also a winner because it comes with several protections. These are designed to protect you at home and when you're away.
As briefly mentioned, you'll benefit from fraud protection and identity theft monitoring 24 hours a day, seven days a week. This will alert you to any suspicious activity on your account.
Of course, you should also take other steps to protect your information:
keep your credit card in your possession at all times
notify your bank immediately if you can't locate your credit card
don't let others borrow your credit card
monitor your account online for suspicious activity
Other card benefits include an extended warranty on eligible purchases. This feature extends a manufacturer's warranty on certain goods up to an additional year.
Charge an entire car rental to your U.S. Bank Altitude Reserve credit card and you may be eligible to receive car rental collision damage insurance at no cost.
Another card benefit is purchase assurance. The bank will replace or reimburse the cost of an eligible item if it's stolen or damaged within 90 days of the date of purchase.
What's the APR?
Understanding a credit card's APR is essential before applying for an account.
Keep in mind that the APR with this credit card is on the higher end. But don't let this discourage you from applying for the card. The trick is knowing how to keep your interest charges to a minimum:
only charge when you can afford to pay off each month
pay off your entire credit card balance before your due date to avoid interest charges
avoid cash advances, which typically carry a higher interest rate than the purchase rate
How Does This Credit Card Compare to Others?
If you're seriously shopping for a new travel credit card, you may wonder how this card compares to others. For the most part, it's an excellent card to have in your wallet considering it's higher point value per dollar spent on travel purchases.
The more you shop with the card, the easier it'll be to earn points redeemable for rewards. And it'll also be easier to qualify for the annual statement credit.
In addition, it comes with a wealth of travel benefits that you might not find with other credit cards.
Unfortunately, this credit card doesn't offer an introductory rate. So you'll pay the regular purchase rate the moment you open the account.
Plus, the annual fee with this credit card is considerably more than annual fees charged by other credit cards. There's a $400 annual fee, and you'll pay $75 annually for each additional card on your account.
The upside is that this credit card offers plenty of benefits to offset the fee. If you pay this higher annual fee, you'll probably receive much more in return. In fact, if you're able to qualify for the annual statement credit, this reimbursement alone may cover the majority of the fee.
You might even consider this card if you're looking to transfer a balance from another credit card. But remember, there's no intro APR. Therefore, only transfer a balance if the U.S Bank Altitude Reserve card has a lower rate.
Be mindful of the balance transfer fee. You'll pay 3 percent of the amount of a transfer.
But while the annual statement credit might compensate for the annual fee, and you could end up with a lower interest rate by transferring a balance, seriously consider whether you'll benefit from other card features before applying.
If you don't travel often, a rewards credit card with a lower rate and a cheaper annual fee might be more up your alley.
Final Verdict: Is This the Right Card for You?
Between its impressive 3X points on travel purchases, sign-up bonus, and premium travel benefits, the U.S. Bank Altitude Reserve card is a great choice for anybody who travels for business or pleasure.
The perks more than justify the annual fee. But at the same time, don't ignore the fact that this card has a higher APR. So it might not be the right fit if you carry a balance from month-to-month. You could end up paying hundreds in interest charges.
You'll save money with a credit card featuring a lower interest rate, perhaps a card offering 0% interest on purchases and/or balance transfers for the first 12 to 18 months.