What Cards/Payment Types Are Accepted Through Square?
Learn about how Square works when it comes to businesses that accept credit cards, debit cards, and other forms of payments.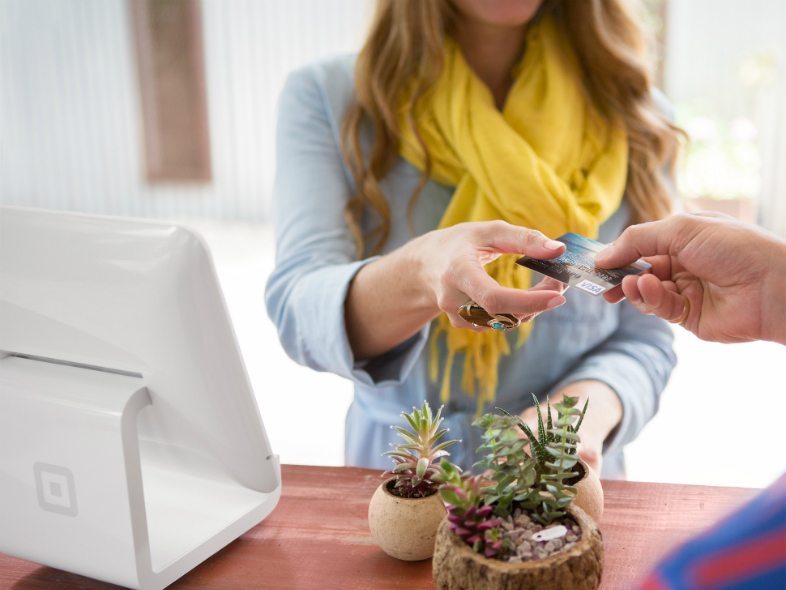 As a consumer, you may already have run into a Square payment terminal. It's the sleek, white apparatus that usually houses an Apple iPad along with a card reader.
It is used by many businesses ranging from coffee shops to clothing retailers. Square is an easy way for businesses to start accepting card payments, which is why you're likely to see it more and more.
Because it is being widely used, it makes sense for you to familiarize yourself with how Square works and the different ways that you can pay at a Square terminal.
What is Square?
Square aims to make it easy to accept credit card payments by providing hardware that reads credit cards and handling the backend of transactions for businesses.
The basic Square device is the Square Reader. It's a small, square credit card reader that plugs into your smartphone's headphone jack.
After installing the Square app, a merchant can accept payments from any credit card that has a magnetic stripe.
The best part of the deal is that the magstripe reader is available for free.
However, many credit cards have begun relying on contactless or chip transactions.
This is because of security issues surrounding magstripe transactions. Square offers an improved Square Reader for $49.
This reader can accept chip and contactless payments so you'll be able to accept chip-enabled cards.
Larger businesses tend to have the Square Stand or Square Register.
The stand lets you turn your iPad into a fully-featured point-of-sale terminal. It can accept credit card payments and allow customers to send themselves receipts by e-mail.
The Square Register is a standalone device that handles all of your payment needs.
Costs of Using Square
To accept payments, Square charges the same fee for any swipe, chip, or contactless payment, regardless of what type of card is used. Businesses pay 2.75% of the total transaction in fees.
For consumers, it doesn't cost anything to pay through Square.
Where Can I Pay with Square?
If you're a consumer, there are many places that you may encounter a Square POS terminal.
Because Square targets small business owners, you're most likely to use one at a small business. Common places include:
Food trucks
Flea markets
Pop-up shops
Small restaurants
Square is ideal for these types of locations because they don't require large hardware, just a phone or tablet and a way to keep it charged.
In reality, paying for something through Square is no different than using your card anywhere else. Swipe your card or insert it into the chip reader.
You'll then have the option to add a tip and, depending on the transaction size, be asked to sign for the purchase. Finally, you can ask for a receipt to be e-mailed or texted to you.
What Cards/Payment Types Are Accepted Through Square?
Square accepts a huge variety of cards including:
Visa
MasterCard
American Express
Discover
JCB
UnionPay
As a bonus, Square charges the same fee for purchases, regardless of what type of card is used. Since swipe fees can vary by the card provider, this can make it easier to predict your transaction costs.
Some merchants don't accept certain credit cards, such as American Express, because the processing fees are too high.
Square can even accept international credit cards, though you'll need to enter their details manually. These transactions incur slightly higher fees.
If you're paying a health care provider, the Square reader can also accept payment from FSA and HSA cards.
Do Debit Cards Work with Square?
Square can accept payments from debit cards out of the box. You don't have to do anything to make your Square Reader compatible with debit cards.
One thing to note is that debit card transactions will process like a credit transaction. Not all debit cards support this functionality.
For debit cards that do, there's one major difference. Instead of the money being immediately deducted from the customer's checking account, it will be deducted a couple days later.
What About Prepaid Cards?
Square can process payments from prepaid cards
just like payments from any other card. There's no hassle, just swipe the card and you're good to go.
If you run into trouble with a prepaid (or any) card, you may have to enter the card's details manually.
Prepaid cards must be registered to be compatible with manual entry transactions. That means the customer must have provided a billing address and zip code to the card issuer.
Most cards have information on how to register them on the back of the card.
Can You Charge Your Own Credit Card with Square?
Readers who are familiar with the value in credit card sign-up bonuses are likely eager to know.
You could use Square to charge your own card and have the money deposited back to your account. Even after the fees, it would be easy to meet minimum spending requirements and rack up massive rewards.
It is possible to give yourself a cash advance without incurring the hefty fees that credit card companies charge for the service.
Square is aware of this possibility and has blocked it. Square blocks business owners from swiping their own cards using their Square Readers.
Family members of the business owner are also blocked from making credit payments using the Reader.
If you do try to swipe your own card with your Square Reader, your account might be terminated.
Can I Pay With a Check Through Square?
No, Square doesn't process check payments. However, the business can accept your check payment outside of the Square processing network -- Square can be used just to keep record of a check payment.
To track a non-card payment with Square, the business will simply log the type of tender used, whether it is cash, check, or another type of payment. You can then enter your phone number to get a receipt via text message.
Does Square Work with Other Mobile Payment Options?
With smartphones a ubiquitous part of today's life, it's no surprise that phone manufacturers have gotten into the payment game.
Square's upgraded reader that accepts chip and contactless payments supports these payment methods out of the box. Just tap your phone and the transaction will complete.
Square accepts the following mobile wallets for payment:
Apple Pay
Android Pay
Samsung Pay
Conclusion
Square offers a service that is valuable to both businesses and consumers.
Business owners get an easy to understand, low-cost way to accept payments by card. Being able to accept card payments means that more customers can shop at the store, increasing revenue.
On top of that, they get access to powerful point-of-sale software that helps them track their business' income.
Consumers get the benefit of being able to pay by card at more locations.
Nothing is more frustrating than running into a cash-only store or restaurant when you don't have any cash on you. As more business adopt Square, it becomes easier for people to shop at more businesses.