Does Homeowners Insurance Cover Repairs for Foundation Damage?
Find out whether your homeowners insurance policy will cover foundation damage and the associated repairs based on the perils and cause of the damage.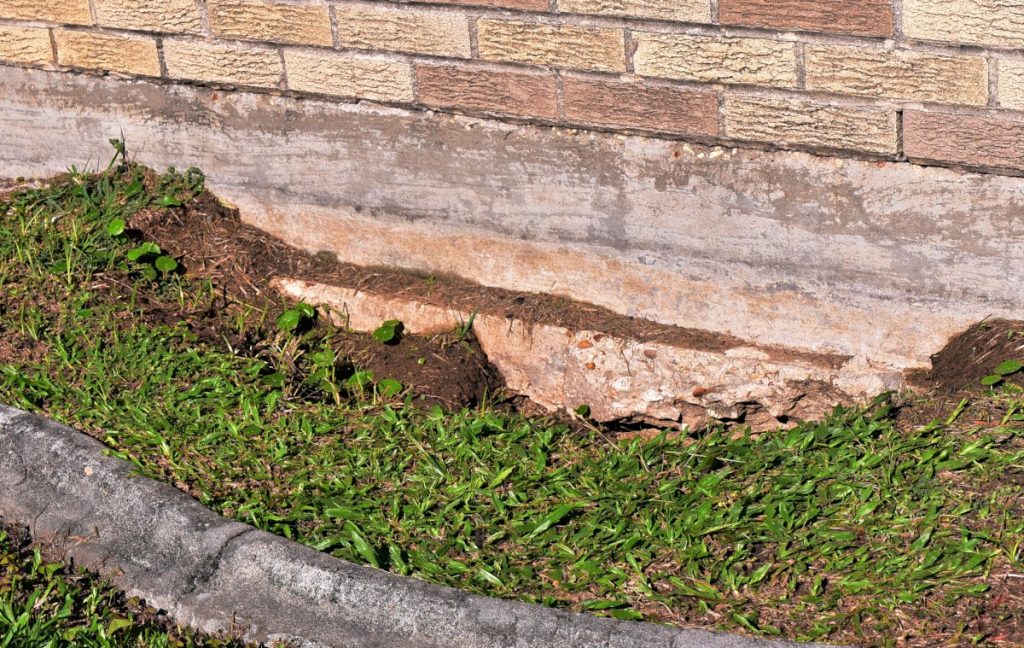 Homeowners insurance protects your home against worst-case scenarios. It's a policy you don't want to use. Yet, it can help you save thousands after certain events.
This type of insurance isn't required by law. If you have a home loan, though, your mortgage lender will require a policy. Home insurance protects their financial interest, too.
But while this insurance provides a lot of protections, does it protect your foundation?
The answer isn't a simple yes or no.
It depends on the circumstances.
Here's what you need to know about homeowners insurance, including whether it covers foundation issues.
Does Homeowners Insurance Cover the Foundation?
Even though homeowners insurance offers a lot of protections, does it cover issues or damage to your foundation?
The short answer is yes.
Under normal circumstances your policy will cover your foundation. This falls under dwelling coverage.
Keep in mind, though, you're only covered when a covered peril causes foundation damage.
So your insurance company will not cover other causes of damage.
Typically, home insurance policies cover 16 named perils. These include:
Windstorm
Lightning or fire
Vandalism
Theft
Weight of snow or ice
Falling objects
Damaged by aircraft or vehicle
Water damage from plumbing, heating, or AC
If your foundation sustains damage—due to one of these16 perils—your provider will pay the repair.
When Doesn't Homeowners Insurance Cover the Foundation?
On the other hand, if an event specifically excluded from your policy causes foundation damage, your home insurance provider will not cover the damage.
Most standard homeowners insurance policies exclude a number of perils. For example:
1. Earthquakes
Standard homeowners insurance policies do not cover earthquakes or other earth movements. These include sinkholes and landslides.
If you live in an area prone to these events, you'll need to buy extra coverage. This includes earthquake insurance or coverage specific to earth movements.
Depending on your insurance provider, you might be able to add an earth movement rider to your existing policy.
2. Floods
Additionally, standard homeowners insurance policies do not cover flood damage. The only exception is when water damage originates from inside the home. This can happen after a burst pipe or broken appliance.
If you live in a flood zone, your mortgage lender will likely require flood insurance. You can buy a policy through the National Flood Insurance Program, or add a flood rider to your existing policy.
3. Windstorms
Windstorm coverage varies from provider to provider. Although most standard homeowners insurance policies cover windstorms like hurricanes, tornadoes, and other named storms, some policies exclude this coverage.
Exclusions typically occur in areas prone to these types of weather events. If your policy covers windstorms, your provider will cover repairs that result from a storm.
If your policy doesn't cover windstorms, you'll need to buy separate windstorm protection.
4. Faulty construction
Keep in mind, too, that your insurance company will not cover foundation issues that result from faulty construction. This is why it's important to have a home inspection before buying a house.
If you have a newly built home and experience foundation problems, most builders provider a 10 year warranty on certain items, such as the foundation.
5. Wear and tear
Unfortunately, your homeowners insurance company does not cover damage caused by wear and tear.
Over time, a home's foundation can shift and settle, resulting in problems that require immediate repair. Addressing these issues early can help you save money.
Signs of potential foundation issues include:
Difficulties opening windows and doors
Cracks in your foundation
Gaps between your window and walls
Broken water pipes
What to Know About Home Insurance Deductibles?
Even if your home insurance provider covers foundation issues, they won't cover repairs 100 percent.
Home insurance policies have deductibles. This is your out-of-pocket responsibility before your insurance pays a claim. Most deductibles are a flat fee ranging from $500 to $2,500 per claim.
The only exception is with windstorm protection. These deductibles are usually higher, and equal to a percent of the home's insured value.
If you have a 2 percent windstorm deductible—and an insured value of $300,000—you'll have to pay $6,000 out-of-pocket before your provider pays a claim.
According to Insure.com the average annual cost of homeowners insurance nationally for a policy with $300,000 coverage and $1,000 deductible is $2,540.
How to Protect Your Home's Foundation?
Foundation issues can be costly and often require extensive repairs, so you'll want to avoid foundation problems altogether.
Here are a few tips to keep your foundation in good shape.
1. Inspect your foundation
Several times throughout the year, walk around your home and check your foundation. This includes the exterior of your house, as well as around the basement.
Look for any signs of cracking or breaking. Seal cracks to prevent moisture from seeping into the foundation.
You should also inspect your foundation after a rainstorm. Make sure water doesn't pool near the foundation. Add dirt to areas where water collects to prevent pooling.
2. Inspect your gutters
Make a habit of cleaning your gutters at least twice a year. This allows water to freely travel away from your home. This protects your roof and lowers the risk of a cracked foundation.
You should also divert run off water away from your foundation. Extend your downspouts, install a sump pump or French drain, or improve the grading of your property.
3. Water your foundation
Also, water your foundation during droughts, especially during the summer. If your foundation becomes too dry, it could shrink and cause issues.
4. Plant trees and shrubs away from the home
Deep-rooted trees and shrubs planted too close to the home will compete with your foundation for water. During a drought, your foundation could become dangerously dry, resulting in cracking and uneven sinking.
Conclusion
Foundation problems weaken the stability of your home, and unfortunately, these are costly to repair.
The good news:
Your home insurance policy protects against certain foundation issues, namely those caused by a covered peril.
But since policies don't cover every cause, such as wear and tear, you should inspect your foundation on a regular basis, and contact a professional at the first sign of trouble.