How to Manage Homeowners Insurance for Home Renovations and Repairs
Learn how to handle your homeowners insurance policy before, during, and after major home renovations or repairs to ensure proper coverage.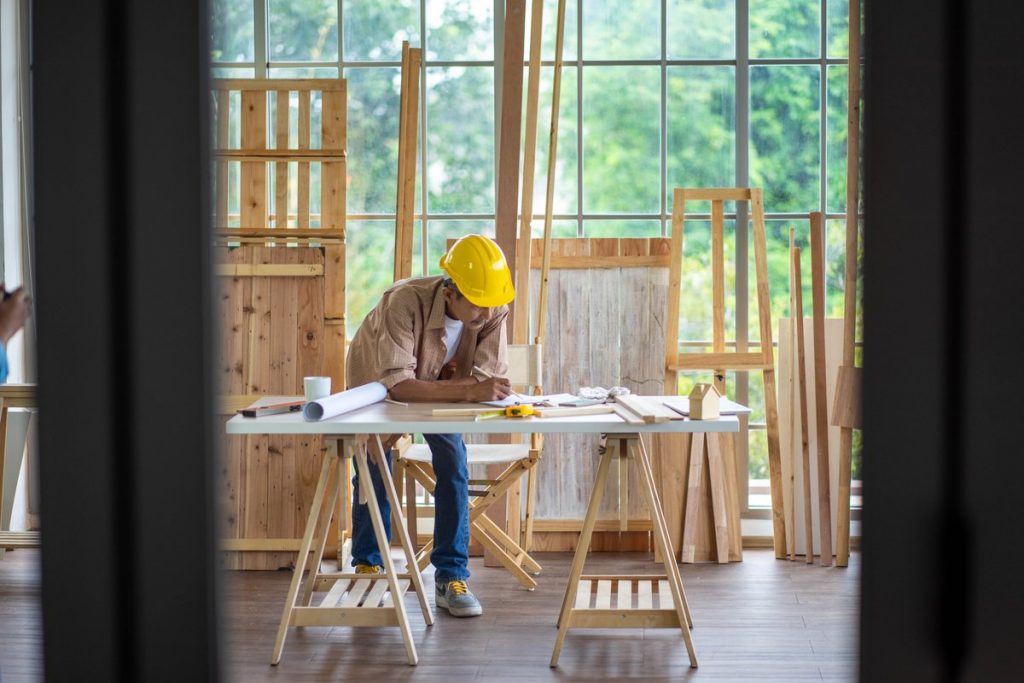 Home renovations can add value to your property and modernize your space.
Your to-do list might consist of buying materials and hiring a contractor. You also have to finish your budget.
But, speaking with your homeowner's insurance agent might never cross your mind. 
Should you tell your agent about a home renovation?
And if so, at what point during the project is this necessary?
Home renovations can be hectic and move fast. So, it's important to manage these projects correctly. 
Here's what you need to know about home insurance and home renovations to avoid problems.
Homeowner's Insurance Basics
Homeowner's insurance is a type of policy that protects your property. But it doesn't only protect the actual structure or house. It also protects the belongings in your house. 
These policies come in handy after a fire, theft, or natural disaster like a hurricane or a tornado. These policies don't only protect against damage, though. They also include liability coverage. 
So if someone is injured on your property, you're protected. Liability also covers damage you cause to another person's property. 
Using your insurance involves filing a claim. You'll contact your homeowner's insurance company. From here, you'll provide information about the situation.
Most policyholders have a deductible. This is what you pay out-of-pocket before your insurance kicks in.  
Deductibles start as low as $500 to $1,000, but can go higher depending on the policy.
Keep in mind that homeowner's insurance doesn't cover everything. A standard policy doesn't cover flooding or earthquakes. You'll need to buy a separate policy for these events.
Should You Notify Your Agent Before Starting a Renovation?
When planning a home renovation, you might never think to call your insurance agent—but you should.
Sure:
Renovation projects vary.
Some are minor, yet others are extensive.
So your home's value could increase after completing a project. And unfortunately, you could find yourself underinsured after a project. This happens if you don't increase your dwelling coverage amount.  
If so, the amount your insurer pays to repair or rebuild your property after an incident might not cover the updates you've made. In which case you'll have to pay the difference out-of-pocket. 
Speak with your agent first
Before starting any renovation project, give your agent a call.
Let them know the type of renovation you're planning.
Most importantly, listen to their recommendations.
You don't have to wait until after a project to increase your coverage.
In fact:
Your agent might recommend increasing your coverage incrementally while renovating the house.
This way, you're covered for updates as they are completed.
Increasing coverage incrementally
To illustrate, let's say you're planning a whole-house renovation project.
This includes an updated kitchen, bathrooms, and an expanded master bedroom. You might set a timeline to complete these renovations over six months. 
In this case, your home's value starts to increase upon completion of the first project.
So if you complete the kitchen remodel first, your insurance agent might increase your coverage amount to cover this project. 
Once you complete the bathroom remodel, they'll increase your coverage again. And then once again once you've completed the master bedroom expansion—which is the final project.
Increasing your coverage incrementally is for your protection.
A fire or natural disaster might destroy your house mid-project. Increasing your coverage ensures that your insurance payout covers recent updates.
What Policy Changes Should You Make?
Knowing which policy changes to make can be tricky.
This is the importance of speaking with your agent to get their recommendations. 
The extent of your renovations will determine the necessary policy changes. You might have to update one or more of the following:
1. Dwelling coverage
This part of your homeowner's insurance policy covers your actual structure and not the land.
It covers the cost to rebuild or repair your home after a covered peril.
2. Liability coverage
Liability coverage offers protection when someone is injured on your property.
Your agent might recommend increasing liability if you're completing the project yourself. 
Accidents and injuries on your property during a DIY renovation are possible. If this happens, this part of the policy protects you against lawsuits for injury.
Keep in mind:
You can also increase your liability coverage permanently. This depends on the nature of the renovation. You might consider this if you're installing a swimming pool on the property.
3. Dwelling under renovation
This is a lesser-known policy change.
Some projects will need building materials. And some materials might have to remain outdoors. 
By adding this coverage, materials needed for your project are protected if damaged en route to your home.
You're also protected when materials are stolen from the job site.
4. Vacant home insurance
You might plan an extensive renovation. In which case, you have to vacate your home and live elsewhere until completion of the project.
If you'll live away from the property for more than two months, your agent might recommend adding this coverage. 
If any damage occurs while you're away and you delay filing a claim, you're still protected.
Do You Provide Insurance for Your Contractors?
Will you have contractors on your property? You might ask: Should I change my policy to cover workers on the property?
This is an excellent question, and the short answer is no. 
But if you hire an outside contractor or firm for the project, make sure they have their own insurance.
Confirm this before they begin work. This way, the contractor or their employees can't sue you if they're injured on the job.
Ask a licensed contractor to provide proof of insurance.
This should be a certificate that comes from their agent. This certificate should state proof of Worker's Compensation and contractor's liability insurance. 
Workers compensation covers the contractor and their employees. Contractor liability insurance covers any damage the contractor does to your property.
Which Home Renovations Increase Premiums?
But although you want to notify your agent before starting a home renovation, and increase coverage before and during the project, only certain home renovations will permanently increase your insurance rate.
Expansions
You can expect your homeowner's insurance premium to increase when you complete projects that increase the value of your home.
One example is a room addition since it adds square footage to the property.
Higher-quality materials
Also, your premium will increase for renovations that use higher-quality materials.
So if you renovate your kitchen using the same materials as your original kitchen, your premium might stay the same or only slightly increase.
But what if you update your kitchen with high-end materials and appliances?
In this case, your premium will increase because the cost to rebuild your home increases.
Swimming pool
Also, installing a swimming pool will increase your premium. This is due to the higher liability risk.
The amount of an increase varies based on the renovation.
As an example, adding a swimming pool might increase your annual premium by $50 to $75. This depends on how much you increase your liability coverage. 
Decreasing Premiums
Be mindful, too, that some home renovations can actually decrease your premium.
Let's say you replace your roof with sturdier materials that can withstand strong storms. This better protects your home.
So your homeowner's insurance policy will likely decrease.
The same also applies if you install windows that can withstand storms. There's a lower risk of damage, so you'll receive an insurance break.
Tips
If you're thinking about remodeling your home, here are a few insurance tips:
Increase your deductible to lower your premium. Make sure you have enough in reserves to cover the deductible in the event of filing a claim. 
Keep your home insurance agent up-to-date during each stage of the remodeling project. This ensures adequate coverage.
Get proof of Worker's Compensation and contractor liability insurance before hiring a contractor.
Contact the Better Business Bureau and visit other review sites. Make sure you're hiring a reputable contractor.
Ask your agent about a personal liability umbrella policy. This is important if a family member or friend helps with a DIY renovation project.
Take before and after photos of home renovations for insurance purposes.
If you're hiring a contractor that you don't know, remove or lock up valuable personal items.
Final Word
A home renovation can add value to your home and completely re-design your space.
Importantly:
Increasing the value of your home also means increasing your insurance needs.
This happens before, during, and after renovations. 
This ensures enough coverage to rebuild or repair your home at every stage of the project.
Talk to your insurance agent for recommendations. Enough coverage protects your most valuable asset, and provides peace of mind.