Hurricane Insurance: What is Covered & What is Not Covered
Find out what is covered (and not covered) under hurricane insurance, which is coverage that is typically a part of your standard homeowners insurance policy.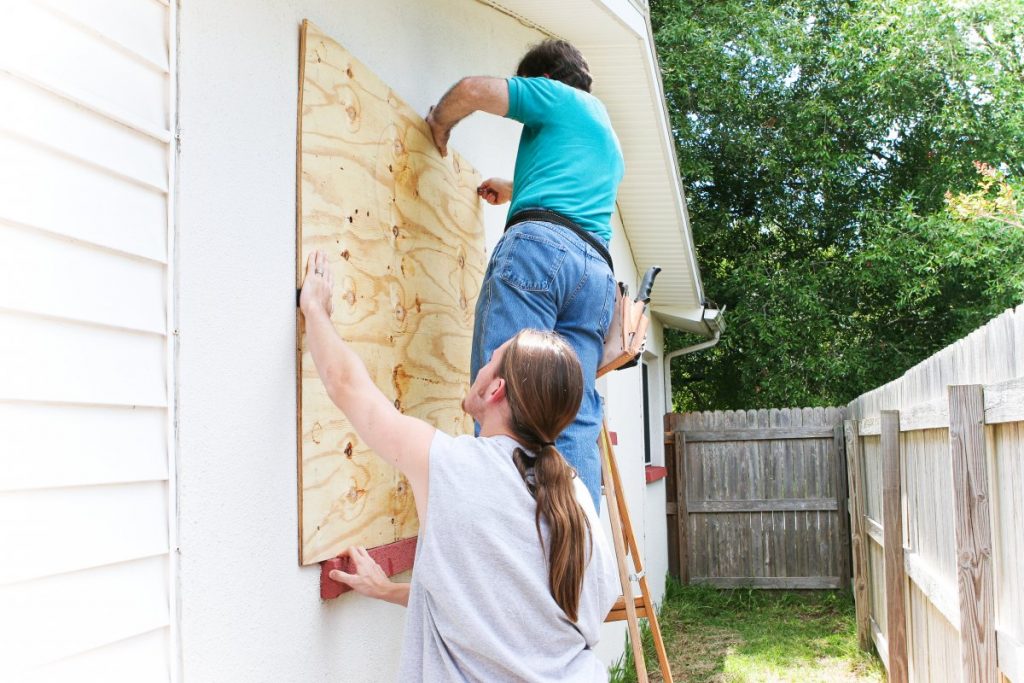 If you live on an island or in a coastal area, you might be wondering how to protect your home and belongings from hurricane damage.
Understanding the type of homeowner's coverage that is available to you will be essential to protecting your property in the case of damage arising from a hurricane.
When researching options for hurricane insurance, look for information online and then speak with your insurance representative or broker.
Here is a guide that can get you started while preparing you to ask basic questions regarding hurricane insurance provisions.
What is Hurricane Insurance?
Hurricane insurance protects your property from damages caused by a hurricane.
However:
There are many exclusions, caveats, and restrictions you should be aware of on these policies as you seek to insure a property in a hurricane-prone region.
In many cases, a traditional homeowners insurance policy includes "covered perils" that result from hurricanes.
However, in recent years, some insurers have decided to eliminate hurricane coverage from their policies altogether.
You may have to get a separate policy, endorsement, or rider to cover damages caused by a hurricane.
In other words, your homeowners policy, as written, may certainly include coverage for wind damage, but it may not cover wind damage from a hurricane!
As a result, you may need to purchase hurricane-specific endorsements for full protection on your property.
What's Covered in a Typical Homeowners Policy?
Assuming you have a traditional homeowners insurance policy, there are a number of covered perils that typically already exist — especially if you are in a high-risk area.
For the sake of this discussion, we'll go over the three major perils that occur with hurricanes:
Wind
Hurricane winds can go up to 130 to 150 miles per hour or more.
These high wind gusts can inflict a lot of damage on houses in their path.
Wind damage can affect roofing, siding, structural walls, and even calls the collapse of fairly sound structures.
Additionally, high winds can topple trees or break off branches which damage, homes, vehicles, and nearby property.
Wind damage can also affect power lines and knock out power grids in an affected region for days, weeks, or even months.
Hail
Though not very common, some hurricanes can include hailstones during the storm.
Hail damage can be extensive affecting homes, vehicles, livestock, crops, and more.
Common damage caused by hail often affects roofing and siding which may not even be apparent until there are visible leaks or cracks.
Flood
Insurer companies have a specific definition for flooding. It's known as the "natural rising of water."
It includes storm, tidal, and groundwater surges.
For instance, levees or dams can fail -- causing nearby structures to flood. If there is a substantial amount of rainfall, bodies of water like rivers or lakes can overflow causing residential areas to flood as well.
What isn't covered
With a typical homeowners insurance policy, wind and hail may already be covered, but this is something you will have to verify with your insurance company.
If this is not spelled out and the policy, you will have to ask for an endorsement that will cover this type of damage.
You'd also want to be sure that it covers damages as pertains to a hurricane event.
Note:
Unfortunately, flooding is almost never covered in the United States under a homeowners insurance policy — even with hurricane coverage. We'll talk about how to obtain flood insurance below.
Options for Your Hurricane Coverage
If you live in a high-risk state, your insurance declarations page should clearly state what your hurricane coverage is.
Typically, it is the same as all other covered perils. The difference will come in with your deductible.
Deductibles
Many insurance policies will have a specific hurricane deductible, starting around 2% and going all the way up to 10% of the dwelling coverage.
If your dwelling coverage is for $100,000 (the cost to replace the structure,) then your deductible could be anywhere from $2,000 to $10,000.
As you've probably already noticed, you will end up paying a higher deductible with a hurricane claim than other types of claims.
One reason for this is that a region affected by a hurricane will have potentially hundreds of thousands of claims at once.
Passing the cost on to the insureds helps with the costs of meeting the increased demand for insurance payouts.
Hurricane coverage may be excluded
Conversely, you may notice that your declarations page specifically excludes hurricane damage.
The language might say, for example, that wind or hail damage from hurricanes is not covered.
Make sure you review this page thoroughly and obtain additional coverage for hurricane damage as needed.
States with Hurricane Deductibles
In high-risk states, the hurricane coverage applies only when the National Weather Service has issued a hurricane watch or warning in the state.
There are 19 states with mandatory hurricane deductibles:
Alabama
Connecticut
Delaware
Florida
Georgia
Hawaii
Louisiana
Maine
Maryland
Massachusetts
Mississippi
New Jersey
New York
North Carolina
Pennsylvania
Rhode Island
South Carolina
Texas
Virginia
Hurricane Insurance vs. Flood Insurance
As mentioned above, flooding is almost never covered on a typical homeowner's insurance policy.
If you want flood insurance, you must purchase a separate policy.
You can obtain a policy from the National Flood Insurance Program.
This program is managed by the Federal Emergency Management Agency (FEMA) and offers policies through about 60 insurance providers.
According to the FEMA website, "Flood insurance is available to anyone living in one of the 23,000 participating NFIP communities."
The website also explains that if your home or business is located in a high-risk flood area with a government-backed mortgage, flood insurance is actually required.
Hurricane Insurance vs. Windstorm Coverage
The coverage for these natural disasters is usually very similar. The type of storm will dictate which deductible gets activated.
A "named storm" with high winds (windstorm) will have a different deductible versus a hurricane.
Often, there are tropical storms, with high winds, that are not designated as hurricanes.
These can also cause damage, but may not be explicitly covered with your hurricane coverage. You should understand what windstorm coverage, if any, your policy provides.
It can get a little confusing on which deductible is activated in a storm event, but you should look to your insurer to clarify exactly what is covered when it comes to windstorms.
At the end of the day, their rules will prevail when it's time to pay out claims for damages caused by windstorms or hurricanes.
How Much Does Hurricane Insurance Cost?
As a rule of thumb:
You can expect to pay anywhere from two to three times a typical homeowners policy for hurricane and flood insurance.
Prices, premiums and deductibles will depend largely on your home's location and what kind of structure it is.
It will be more costly to insure an older structure, as it is assumed that they may not withstand hurricane damage as well as newer structures.
If you are located in a floodplain, that will present additional costs.
Ensure Your Hurricane Claim Will Not Be Denied
Sometimes, insurers will attempt to pay as little as possible for hurricane (and other) claims to a damaged property.
They may try to low-ball a payout, deny the claim all together or determine the costs of the damage to below the deductible.
However, your goal is to get the insurer to pay you so that your home is restored to pre-loss condition.
This means:
You'll have to be rather proactive at documenting the condition of your home before a hurricane occurs.
There are several ways to do this:
Take pictures of areas and items that could be affected by hurricane damage. Include fencing, windows, ceilings, exterior walls and appendages, roofing, gutters, downspouts, attic, wood. Take special care to point out the lack of water damage or water spots.
Keep documentation regarding four-point inspections or wind mitigation reports you might have obtained on the property
Keep copies of appraisal reports
Maintain information regarding home renovations and upgrades
Getting the maximum claim payout
Once a hurricane occurs, there are additional measures you just take to ensure the maximum payout.
You'll want to make sure that you take pictures of the post-loss damage as well. If you are unable to handle this work yourself, sometimes an independent claims adjuster can help.
You should also be aware of your obligations as outlined in your insurance policy documentation.
This includes notifying your insurer right away of hurricane damage as well as preventing further damage.
For example, if there is a leaky roof, they'll expect you to stop the leakage and further problems perhaps by placing a tarp over the damaged area. If you've got extensive damage to several areas of your property, this interim mitigation could actually become quite expensive.
However, if you are unable to afford to do this right away, you can do what's called an "assignment of benefits."
This allows you to hire a 3rd party like a contractor to do the mitigation work, with no money out of your pocket, until you get the totality of your claim approved.
Prepare and Protect Your Home for a Hurricane
If possible, you'll want to protect your home from hurricane damage before it happens.
Board up and reinforce
One thing you can do is board up glass windows to prevent breakage from high winds.
Another option is having shutters over the windows. It's also a good idea to reinforce your garage door, since they are often damaged in storms.
Minimize the likelihood of loose objects
You should survey your property for objects that could become projectiles in the high winds that are present during a hurricane.
Take care to remove anything that is not stationary around your property like patio furniture, bicycles, gardening tools, etc.
If possible remove tree limbs that could break off and damage your home or vehicles.
Bottom Line
Insurance coverage for hurricanes can be a little tricky, especially when you're shopping around and even when you go to file a claim.
If you ask the right questions and do enough research, you should be able to settle on a policy that affords you the best coverage possible in case you experience hurricane damage.