Moped and Scooter Insurance: Guide to Getting Proper Coverage
Learn about the insurance coverage needed for your moped or scooter, including factors that affect your policy premiums.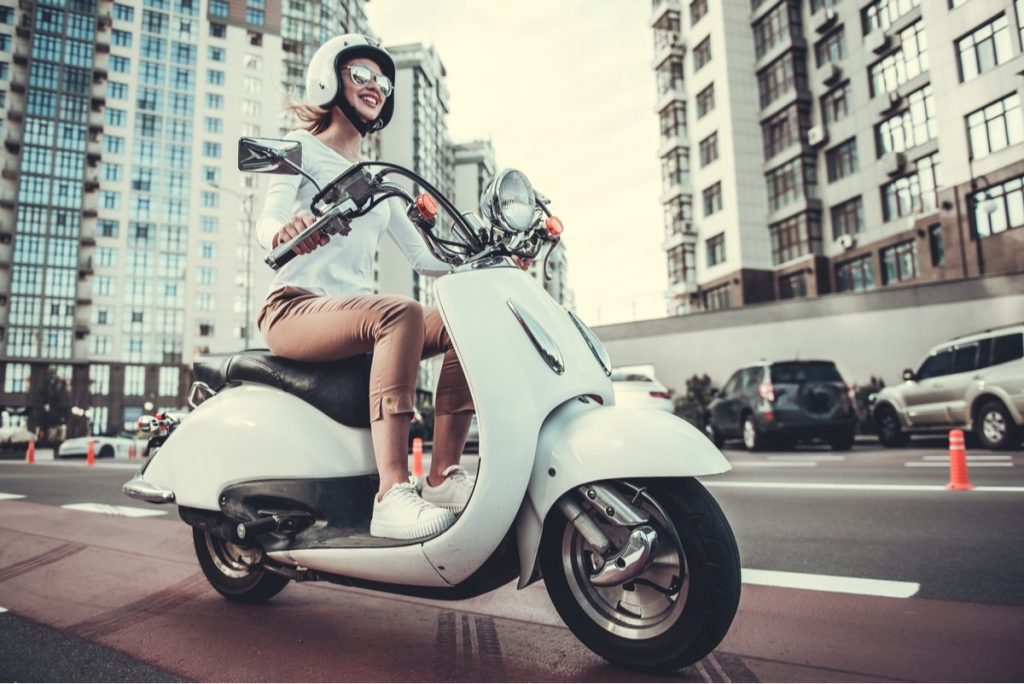 Just as in the case with car insurance, you'll also need coverage for insuring mopeds and scooters.
They are, after all, motorized vehicles, even if they don't have four wheels.
Insurance for mopeds and scooters typically falls under motorcycle insurance. Some insurers offer separate policies for these vehicles, but it's rare.
Most states require some form of insurance since those vehicle types are at a higher risk for the vehicle's rider to endure bodily injury and property damage if an accident occurs.
Coverages for Insuring Mopeds and Scooters
While the required coverage provisions of insurance for mopeds and scooters are fairly standard across the country, individual state laws and regulations can impose variations.
You'll need to check with your state department of motor vehicles to get the most specific information on these requirements, though your insurance company should have that information available as well.
Commonly, mopeds and scooters are covered under motorcycle insurance policies.
Those policies are fairly inexpensive because scooters and mopeds have smaller engines. That means they can't travel as fast, limiting damage done to both people and property.
Much like a motorcycle, mopeds and scooters usually require bodily injury and property damage liability coverage.
It's important to note that these provisions only cover bodily injury to others or property damage a rider might cause while operating their vehicle.
They do not cover the rider of the moped or scooter itself, or the rider's bike.
Below are some coverages that may be required; while others may be optional to add to your policy:
Liability
If you find yourself in an accident determined to be your fault, this provision will pay for any injuries to another driver and/or passenger.
It will cover the other party's medical bills, or loss of income, up to your coverage limits. If a suit is brought against you, it will also provide for your legal defense.
The property damage liability portion will cover repairs to the other party's vehicle if you are the at-fault driver.
Collision
This provision covers the cost of repairs to your vehicle in the event of an accident.
Regardless of who is at fault, you'll be protected if you hit another vehicle or object, someone hits you, or your vehicle rolls over.
Comprehensive
This provision will cover your vehicle for damage sustained while it is parked.
This includes theft, damage from falling objects, and weather-related hazards, like storm damage, or animal strikes.
Personal injury protection (PIP)
This is most frequently required in states with no-fault auto insurance laws.
This coverage offers medical and funeral expenses of covered drivers and passengers after an accident up to $25,000, no matter who's at fault. It may also cover lost wages due to the accident. This provides you and your passengers with coverage of medical expenses if your health insurance limits are exceeded.
Having this coverage may help if your health/medical insurance limits are exceeded.
Uninsured/under-insured motorist
Despite state laws to prevent it, a large number of people on the road have no insurance.
Many more have only minimal coverage. This provision will protect you if you're involved in an accident with either type. Some states may already have this coverage as a requirement with their state minimums. Even if they don't, having it is strongly recommended.
Roadside assistance
This coverage provides 24/7 emergency help if you need fuel delivery, a tire change, jump start or tow.
Full and basic policies
There's a big difference in basic and full coverage for scooters and mopeds.
For example, a basic policy annually costs $312, with 25/50/10.
That's bodily injury limits of $25,000 per person, $50,000 per accident, and a limit of $10,000 for property damage, as well as $25,000 in PIP. Any extra provisions must be added on for further protection. This is a common state-mandated minimum insurance requirement.
At the outset of the spectrum, a full policy costs an average of $1,975 annually, with 100/300/50 coverage. That's bodily injury limits of $100,000 per person, $300,000 per accident for all parties involved, and a limit of $50,000 for property damage, as well as $50,000 for PIP.
Full coverage also includes $250 deductibles of both comprehensive and collision, and $25,000/$50,000 for underinsured/uninsured coverage.
How much coverage you need will largely depend on your net worth. If you have very little in the way of net worth, you may be adequately covered by state minimum coverage requirements. But if you have substantial assets, elite higher liability limits.
Factors that May Affect Premiums for Mopeds and Scooters
Similar to car insurance, insurance for mopeds and scooters are determined by several factors.
Coverage amount
The main factor will be how much coverage you choose to carry.
For example, a basic scooter policy might be 25/50/10. You can choose to raise those limits for more coverage; up to $250,000 per person, $500,000 per accident of bodily injury protection and $100,000 for property damage.
State minimum coverage may be all that you need but it may not be enough.
Depending on where you live and how old your vehicle is, you may want to increase the limits.
In the event of a major accident or lawsuit, having too little coverage can force you to pay any out-of-pocket expenses if your limits are exceeded.
Your driving record
Your driving history – or in this case, your riding history – will be a major factor in determining your premium.
All insurance companies will look to your driving record to determine what your rate will be.
Being safe on the road and keeping your record free of any violations or at-fault accidents for three to five years will give you the best rate.
Classic or vintage bike
Mopeds and scooters may be classified as classic or vintage. This means you may have to find a specialty company to insure your vehicle properly.
Classic or vintage mopeds and scooters may be harder to repair, so you'll want to have higher coverage limits to be safe.
And as you might expect, insurance for classic or vintage bikes will cost more.
The class type of your bike
Depending on what state you live in, the speed your moped or scooter is capable of attaining can have an impact on how much insurance you need to carry, as well as licensing.
There are generally three separate classes of mopeds and scooters, each with its own set of requirements, including licensing and insurance.
Class A (over 30-40mph) requires insurance
Class B (over 20-30 mph) requires insurance
Class C (20 mph or less) may not require insurance coverage at all
These requirements will vary by state, so you'll need to check the rules where you live.
Engine type
You'll need to know specifics on your vehicle in order to insure it.
Some states, like California, use engine size to determine insurance and licensing.
In that state, a moped is any two-wheeled vehicle with an engine that is 50cc or smaller. A scooter has an engine size between 50cc to 250cc. With a scooter being faster compared to a moped, scooters generally have an engine size that is 150cc or larger.
For comparison purposes, motorcycle engines typically range from 150cc to 2,500cc and even higher.
Leased or financed
If you finance or lease a scooter or moped, your lender or lessor may require you to have certain coverages.
You'll have to meet the minimum of your lienholder in order to operate the moped or scooter.
This can include a requirement for collision, comprehensive and GAP coverage, which will pay off your loan if your bike is completely destroyed.
Renting a moped or scooter
Let's say you go on vacation and decide you want to rent a moped or scooter to sightsee.
Check the laws of where you are on vacation to make sure you have proper licensing and insurance. Your insurer will not cover you if you're not properly licensed to be riding a moped or scooter.
You'll also need to be sure renting a moped or scooter is covered under your policy.
Though it may be covered under a motorcycle policy, or under existing moped or scooter coverage, it probably won't be covered under standard auto insurance policy.
Discounts for Mopeds and Scooters Insurance
Below are some optional discounts.
Check with your insurer to see if you qualify and apply any and all that may save you money:
Moped or scooter safety course
Check with your insurance company to see if they'll allow you to take a safety course with your moped or scooter. It could lower your premium.
Multi-vehicle bundling
You can save on your moped or scooter insurance by bundling your car, boat, motorcycle, snowmobile or ATV. The more vehicles you bundle together, the more you'll save.
Multi-policy
Using the same company to insure your scooter or moped, home, car, and life insurance policy can save you money on your premium.
Pay in full
Paying your premium in full upfront will be cheaper than making monthly payment.
Good rider
As stated before with your record on the road, being a good rider with no at-fault accidents or violations will provide you a discount.
Bottom Line
Finding insurance for your moped or scooter is the same as finding insurance for your car or motorcycle.
You'll want to compare policies and quotes from different companies to find the right premium.
If you already have a policy or policies from an insurer for home or auto, it may benefit you to see if you can add your moped or scooter to your policy.