Does Homeowners Insurance Cover Tornado Damage?
Find out how your standard homeowners insurance may cover any damage that is caused by a tornado, which is a major concern for homeowners in the Central U.S.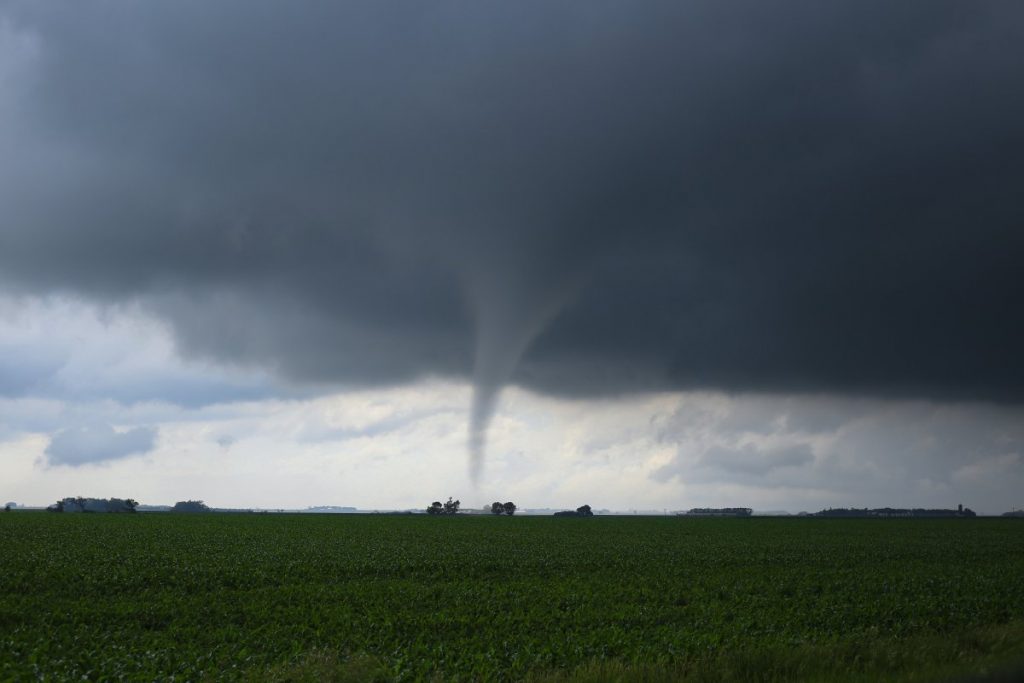 Tornadoes are one of nature's most powerful forces.
So it's no surprise that these storms can cause serious damage to a house. They can damage your roof, windows, and detached structures on your property.
This damage can cost tens of thousands of dollars to repair. Therefore, it's important that you have adequate home insurance.
But if you don't know much about home insurance, you might ask: Does my home insurance policy covers these types of windstorms?
Home insurance covers different types of damage caused by a number of perils. These policies protect your actual home and personal belongings from theft, fire, explosion, vandalism, and even windstorms like tornadoes.
Yet, these policies have limits and out-of-pocket costs.
Whether you live in tornado alley, or another area at high risk for tornadoes, here's what you need to know about coverage.
Does Standard Homeowners Insurance Cover Tornadoes?
Standard homeowner insurance policies are fairly comprehensive, but they don't cover every event.
For this reason, it's important to understand how your policy works. This can prevent costly surprises after a weather event.
The good news:
Standard home insurance policies cover windstorm damage. This includes damage caused by a hurricane and tornado.
So, in most cases, you don't have to buy separate coverage or add a windstorm rider to your policy.
A standard policy also protects against flying debris and falling trees.
What is Proper Coverage for Tornadoes?
Damage from a tornado falls under your policy's dwelling coverage. This is the most important component of a home insurance policy. It protects the actual structure.
It protects your home's attached structures, as well as its unattached structures. This includes a detached garage or outdoor shed.
If a tornado damages your home, or completely destroys it, your policy will pay the repair or replacement cost.
So make sure you have enough dwelling coverage to completely rebuild your home after a worst-case scenario event.
Personal belongings
Also, you're protected if a tornado destroys or damages your personal belongings.
Standard home insurance policies also include personal property coverage. This coverage will either repair or replace your belongings. This includes clothes, furniture, electronics, and jewelry damaged by a tornado.
You can expect your policy to cover personal belongings up to 50 percent to 70 percent of your dwelling coverage.
That said:
There are limits to what a policy covers, though.
Do you have high-value items in your home? If so, you'll likely need an insurance rider to insure these items up to their full value.
Loss of use coverage
Keep in mind, too, that your home can be unlivable after a tornado completely destroys it or causes significant damage. This can be a stressful situation, as you'll need to seek additional accommodations.
The good news is that a standard homeowners insurance policy also includes loss of use coverage.
If you have to live elsewhere after a tornado, this part of your policy pays your extra living expenses. This includes the expense of living in a hotel, renting another home, and purchasing restaurant meals.
What is the Deductible for Tornadoes?
If a tornado damages your home, you'll pay your insurance provider a deductible.
Deductibles are common with different types of insurance policies. It's the cost you'll pay out-of-pocket before your insurance company pays a claim.
For example, let's say it'll cost $20,000 to fix your home and you have a $500 deductible. You'll pay $500, and your insurance company pays the remaining $15,000.
Deductibles vary depending on the policy. Although they can start as low as $500, some deductibles can be as high as $1,000 or $2,000.
As a general rule of thumb, the lower your deductible, the higher your insurance premium.
But while flat rate deductibles are common with home insurance, some insurance companies no longer have flat rate deductibles for windstorms.
Instead, the deductible is a percentage of a home's insured value.
To illustrate, if your home's insured value is $300,000 and you have a 2 percent windstorm deductible, you'll pay $6,000 out-of-pocket after a tornado damages your home.
Keep in mind:
Windstorm deductibles can also vary from insurer to insurer.
For example, some companies use percentages when determining deductibles for every type of windstorm, whether it's a hurricane, a tornado, or a tropical storm.
On the other hand, another insurance company might only use percentages for named storms, like hurricanes and tropical storms. In which case, you would pay a flat rate deductible for tornado damage.
Windstorm requirements vary. So it's important to shop around and compare policies. This way, you know what to expect before disaster happens.
Does Tornado Coverage Have Limits?
But although tornado coverage or windstorm coverage is standard with many home insurance policies, never assume that your policy covers windstorms.
Always confirm this with your agent -- especially if you live in areas with high tornado activity.
Tornado alley, a nickname for an area located in central United States, is prone to severe weather and frequent tornadoes. This includes states like Louisiana, Oklahoma, Texas, South Dakota, Iowa, and Kansas.
And unfortunately, if you live in one of these areas—or another area hit hard by tornadoes in recent years—your insurance company might completely exclude windstorm coverage from your standard policy.
Not only will the policy exclude windstorms, it might exclude hail, too. If so, your standard policy will not cover tornado or hail damage.
But this doesn't mean that you have to go without protection. In these situations, you're required to buy a separate windstorm/hailstorm policy to go with your home insurance.
This provides added protection after a tornado. It ensures you're able to repair your home and replace your personal belongings.
Do I Need Flood Insurance?
Depending on the severity of a storm, your property might also sustain flood damage.
It's important to know that a standard home insurance policy does not cover flood damage. It only covers water damage that originates from inside the home. This type of water damage can occur after a broken appliance or pipe.
To protect your home from exterior flooding, you'll need to purchase a separate flood insurance policy from the National Flood Insurance Program.
Or, ask your insurance agent to add a flood rider to your existing policy.
Flood insurance is a wise investment, even if you don't live in a flood zone.
Policies are relatively inexpensive and average about $600 to $700 a year.
Regardless of whether a tornado or windstorm triggers a flood, you're only protected if you have a separate flood insurance policy.
Does Home Insurance Protect My Car?
A tornado can damage more than your actual property. It can also cause significant damage to vehicles.
Understand, though, that your standard home insurance policy doesn't protect a car parked in your driveway.
To repair or replace your vehicle after a tornado, you'll need auto insurance with comprehensive coverage. This protects against hail damage, as well as falling debris or trees.
Tips for Getting a Policy for Tornado Coverage
Here are a few tips for getting adequate, affordable home insurance to protect against tornadoes.
Shop around
Contact at least three insurance companies to request free rate quotes.
Compare rates, terms, and coverage.
Also, confirm whether the policy includes windstorm protection. If so, ask about your windstorm deductible.
Get a multi-policy discount
Whether you're shopping for standard home insurance or separate windstorm protection, use the same company that issues your auto insurance policy.
You may qualify for a rate discount if you bundle your policies.
Take photos of your home
Take inventory of your belongings to estimate the replacement value of your items.
After a major disaster, you might lose all of your belongings, such as clothes and furniture. In which case, you'll want sufficient personal property coverage to replace these items.
Adequate coverage reduces your out-of-pocket expense.
Update your policy
Understand that your home's insured value can increase from time to time.
You might make home renovations that add significant value to the property. This includes increasing the square footage of your home, or updating your home with high-quality materials.
If necessary, you'll need to increase your home's dwelling coverage to ensure you're adequately protected after a tornado.
Final Word
Tornadoes aren't only powerful, they're also destructive and scary.
They can cause significant damage to homes and personal belongings, so it's important to prepare for these events and have enough coverage.
Familiarize yourselves with your home insurance policy.
Does it offer windstorm protection? If so, what's your deductible?
Also, consider getting a flood insurance policy, just in case.