Lending a friends $10 may not seem like such a big deal in the short term, but doing so a couple of times over the course of a month or year could leave you wondering where all of your hard-earned money went.
If you're like some people, you may feel uncomfortable collecting on petty debts your friends may owe you when they were short on a dinner or drink bill. Perhaps you're just forgetful and are simply looking for an easy way to keep track of your money exchanges. Thankfully, there's an online service available to help you bypass all the awkwardness and confusion: Venmo.com.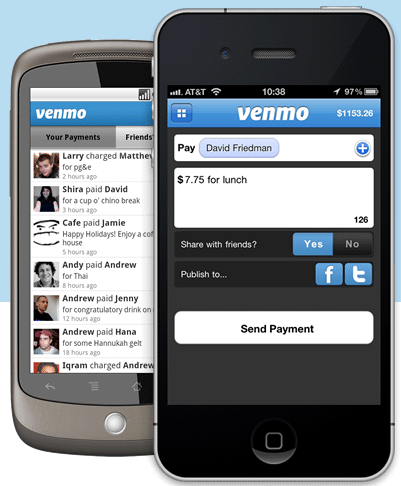 The website, like many other online innovations of today, was conceived of by two college roommates that saw a need to create a service that would make it easier for friends to to exchange money. The site allows users to link a credit card or bank account to an app located on your smartphone. If you don't have a smart phone you can also use Venmo.com's feature using the company's text message commands.

Check out: Peer-to-Peer Loans: Better Alternative?
The way Venmo.com works is simple: Once you've signed up for the service, you'll be given an account that is linked to your checking or credit card account. After that, you'll have the ability to either withdraw or deposits funds in the accounts of friends you owe money or you'd like to pay back—similar to other personal payment platforms like PayPal. You can also "trust" certain friends, which gives them the ability to access your account without the need for you to confirm the transaction. Best of all, the service is free-of-charge, so the only thing you'll ever have to pay for is the $20 you owe your friend from last week's happy hour.
According to a conducted by the company, the most popular social payments for 2010 included food and drink (i.e. bars, restaurants and lunch), going out (i.e. movies and shows), household expenses (rent, groceries, utilities, etc.) and travel (i.e. gas, tolls, or taxi/cabs).
You can check out the bank's website to find out more about how the service works. Keeping track of your spending amongst friends can be difficult by at least the people at Venmo.com may have your back.
What transactions do you think a site like Venmo.com would be the most useful for in your daily life? Let us know in the comments section:
Read: PayPal App Adds Mobile Deposits