Are Banks Open After Inclement Weathers Like Winter Storm Juno?
Are banks open during Winter Storm Juno? Get up-to-date information on your bank's snow storm schedule.
The big blizzard that was supposed to shut down the Northeast didn't quite do its job. So, many banks, that closed early on Monday due to Winter Storm Juno are actually opening branches in anticipation of improving weather conditions. See if your bank will be open and how you can still manage your finances without a branch.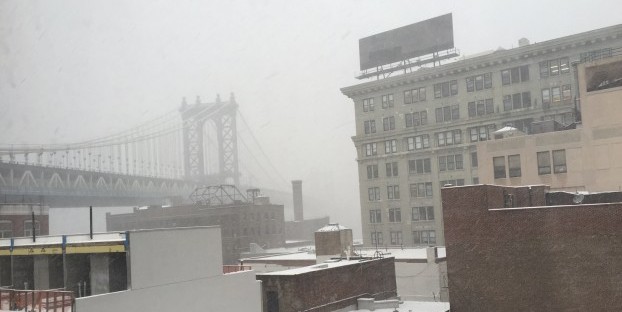 Capital One decided to open branches in New Jersey, upstate New York, the Bronx and Staten Island, while branches in Connecticut and other New York City boroughs remain closed. TD Bank opted to open branches in northeast Maine and central New Jersey, while all other branches in the Northeast are closed.
People's United Bank, based in Bridgeport, Conn., are opening its branches in Vermont, but closing all branches in the Northeast. ConnectOne Bank, based in Englewood Cliffs, N.J., reopened all of its branches at noon. Union First Bank, based in Richmond, Va., said that all Virginia branches are open.
Unfortunately, most of the biggest banks with branches in the Northeast decided to remain closed on Tuesday, including Bank of America, Chase and Wells Fargo.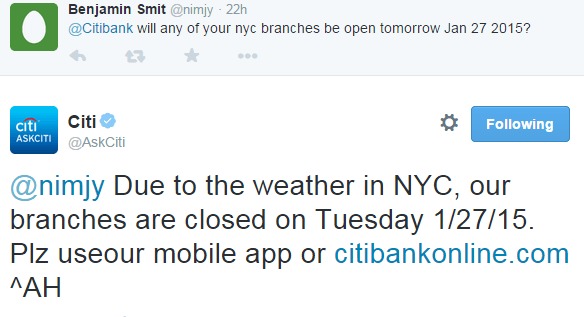 "Will any of your NYC branches be open tomorrow Jan. 27 2015?" one user tweeted to Citibank's social media team. Citibank responded, "Due to the weather in NYC, our branches are closed on Tuesday 1/27/15."
How to bank in a snow storm
Keep a cash stash at home. Obviously, the need for cash has lessened, thanks to debit cards and credit cards. But, don't count out the need for a little cash. If there was a power outage, stores would not be able to accept card payments, and cash becomes very important when you need essential items like food and batteries. When you get the chance, head to the ATM and get about $200 in emergency cash -- you'll never know when it'll be a lifesaver.
Did you know? In 1978, a large snowstorm dropped 17 inches of snow on New York City. Back then, the use of cash was much more prevalent for purchases. Luckily, Citibank installed its first ATMs one year prior. However, early adopters didn't really warm up to the use of ATMs because it was new and sometimes even gave the wrong amount of cash. That changed during the storm, when ATM usage increase 20 percent -- playing a role in its popularity today.
Here are some other great ways to change how you bank so that you aren't not inconvenienced in the event of a major snowstorm:
Resort to mobile check deposit. If you don't have direct deposit, remember that you can deposit checks with the help of your smartphone camera. Mobile check deposit allows you to deposit a check from anywhere that your mobile device can get an Internet connection -- no trip to the ATM needed.
Find an online bank. With the growing adoption of digital banking, more consumers are finding less of a need to visit a branch. You might find yourself walking into a branch much less than you expected. If that is the case, an online checking account would be a great fit for you. Ally Bank, for instance, offers an online checking account that has no monthly fee and provides unlimited free access to any ATM -- think about how handy that would be when you're strapped for cash and don't want to make the trip a bank branch.
When your transactions will be processed
Typically, during non-business days like weekends and federal holidays, some bank transactions are not processed until the next business day. For instance, if you initiated a fund transfer on a holiday, it won't begin to process until the next business day.
Although Juno is causing branches to shut down, rest assured that your electronic transactions will continue process because Monday and Tuesday are still considered business days.
The blizzard may put a halt to branch operations, but it doesn't mean you cannot get your banking tasks taken care of. All other forms of banking -- including online, mobile and use of ATMs -- remain available. If you can take care of your banking transactions through any of these methods, please do so, as it is recommended you stay inside.
If you are thinking about heading to a branch early Wednesday, note that some banks are actually opening branches later that usual. The best way to ensure that you don't arrive to a closed branch, call the location before you make your trip.
We hope that all of you stay warm and stay safe!