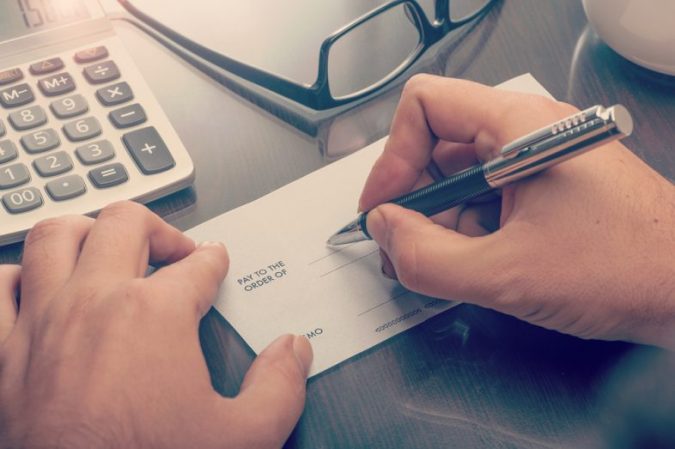 Q: My wife and I filed our tax returns jointly, and we received a tax refund check that was written out to both our names. We do not yet have a joint bank account. Is it possible to deposit the tax refund check into one of our own checking accounts?

– Daniel P.
A: Based on the law, it's important to look at what the check writer put down on the "Pay to the order of" line.
Two party checks are made out to "Party A and Party B" or "Party A or Party B." Note that there is a major difference between the two.
Quick answer: If a check with two names says "and," on the "pay to the order of line" then everyone has to endorse the check. Otherwise, any party named on the check can deposit it into his or her individual bank account. This rule still applies if it is ambiguous whether the check is payable to both parties or either party.
What is the difference between "and" and "or" on Two-Party Checks?
If the check states that the funds are paid to either party by using "or" instead of "and", then either one of the two payees named on the check can deposit the funds into their individual bank accounts.
If the check states that the funds are paid to you and another party, then the check deposit could become much more of a hassle if you do not have a joint bank account with the other party. It's also a hassle if you cannot get a signature endorsement from the other party. Some banks go further as to require that all parties visit a branch with government ID to verfity the signatures.
According to Section-110(d) of the Uniform Commercial Code, if a check payable to two or more people is ambiguous in terms of the payee(s), any of the stated payees can deposit the check into their individual accounts.
In every case, all payees must endorse the check with their signatures.
Two-Party Check-Cashing Bank Regulations
Since refund checks from joint tax returns are paid out to both filers, you'll have to follow your bank's policy on check deposits that contain multiple payees (each bank has its own policy). Banks must account for the risk involved in the possibility that a check was written out to multiple individuals and one of the individuals attempt to deposit all the funds into his or her own account.
Some banks can be very strict. For instance, Bank of America® requires that both people must have their names on the account that receives a tax refund check with two payees (does not apply for regular checks). Popular online bank Ally Bank has the same policy.
Chase and Wells Fargo requires that, if you want to deposit a check that is payable to two individuals, both payees must go to a branch in person and present government identification to verify the signatures on the back of the check.
Other banks are rather lenient. Citibank and online bank Capital One 360 simply required that checks are properly endorsed by all payees. They don't stipulate that all payees must provide identification or maintain joint accounts.