6 Personal Finance Apps That Are Better Than Mint
Check out our selection of some of the best personal finance apps. These six apps worth replacing mint will blow you away.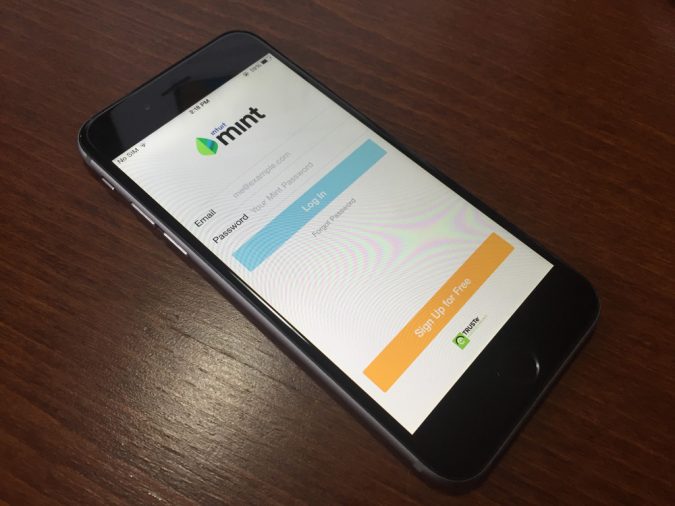 Mint, a free budgeting tool, allows consumers to sign up, and within minutes, have their accounts securely connected and spending patterns broken down in easy-to-understand charts.
However, does that really encapsulate the public's general needs in the realm of money management?
There are plenty of other financial mobile apps that deserve to stand alongside Mint -- and they may benefit you in other ways.
Here are MyBankTracker's picks for money tracking apps that are better than Mint:
Budgeting Finance Apps Compared
| App | Price | Platform |
| --- | --- | --- |
| Mint | Free | iPhone, iPad, Android |
| Saver | $4.99 | iPhone |
| Toshl Finance | Free, Pro version - $2.99 monthly or $19.99 for the year | iPhone, Android |
| Expensify | Free for individuals, $5 per team member. | iPhone, iPad, Android |
| Clarity Money | Free | iPhone, iPad, Android |
| Checkbook | Free | iPhone, iPad |
| Spending Tracker | Free | iPhone |
1. Saver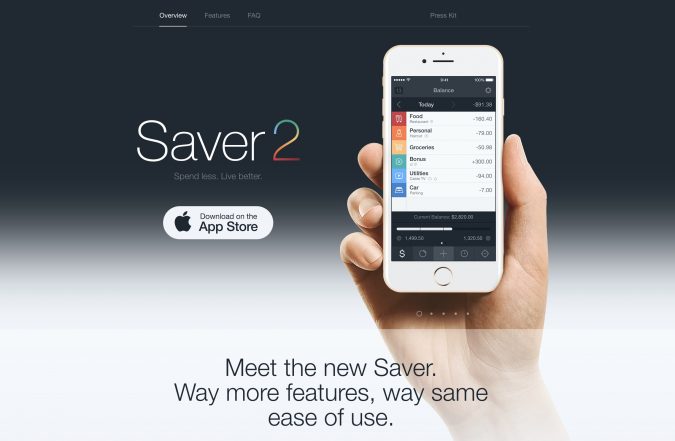 I stumbled upon Saver first in my hunt for an app. It's not free, which I wasn't too thrilled about, but pie charts! Colors, slick designs! I was sold.
Price: $4.99
Best for: Banking consumers looking for a no-frill, user-friendly budgeting app
Coolest feature: Creates interactive pie charts based on your expenses
Worst feature: Need to upgrade to the pro version to get the best features 
Saver is my favorite app out of the handful I played around with, and a recent spending diet I went on, it's the one I'll continue using.
The app is $4.99 in the iTunes store, and it allows me to catalog all my expenses as easily as possible.
Once I started diligently tracking my expenses, I realized that bookkeeping is hard and while not a huge commitment like I mentioned, it does take some time. But anything worth doing takes time, right?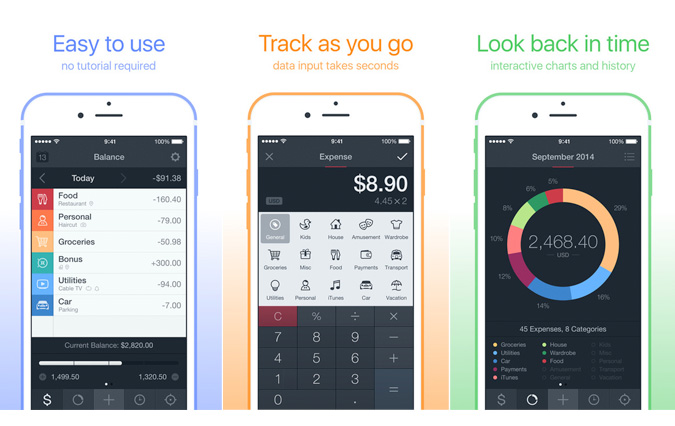 Saver iPhone App
Adding expenses on Saver is easy.
This shouldn't be considered a pro, but you would be surprised at how counter-intuitive it is to find a simple "add expense" button on other apps, often buried under various pages.
On Saver, just enter the amount of purchase, select from 15 choices to categorize your purchase, and if you so please, enter a tag for it and some notes about the purchase. (This makes it easy to track those ambiguous Amazon.com purchases and spending made with PayPal.)
My favorite thing about Saver is how it takes your expenses and compiles it into interactive pie charts by time period, and then by category.
You can look at how much you spent on groceries for the month of January, for last week, or for the year thus far.
I personally prefer pie charts over other kinds of graphs, so this app has been extremely helpful in allowing me to visualize my expenditures.
If there were an additional feature I would like to add to Saver, it would be the ability to log recurring expenses so that I didn't have to do it manually every month.
I have automatic debit set up for my loan repayments and recreational expenses (gym, newspaper subscriptions) that I get charged for monthly, so it would be nice not to have to remember to enter those manually.
2. Toshl Finance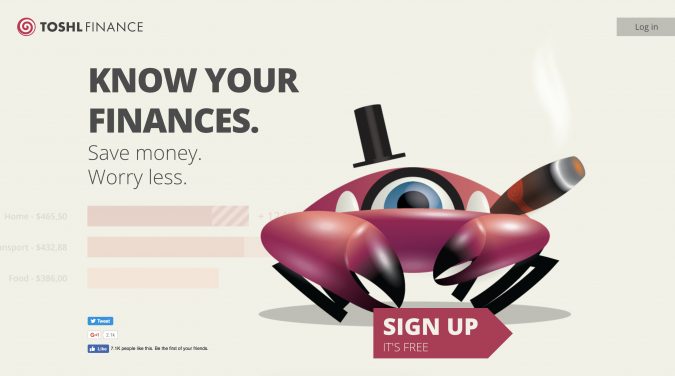 Being able to track a recurring expense is a feature that Toshl Finance does offer.
The tradeoff is that Toshl isn't as slick, and has a heavier slant on budgeting, which was not something I was looking for.
I find expense tracking to be a good financial exercise, but I'm not big on budgeting, which feels restrictive.
As long as I don't overspend and have a clear picture of how much I'm spending, I don't feel the need to budget.
Price: Free
Best for: People looking for an app that emphasizes budgeting
Coolest feature: Extra money in budget from one week, rolls into your budget for next week
Worst feature: Not as user-friendly as other apps, need to pay to get best features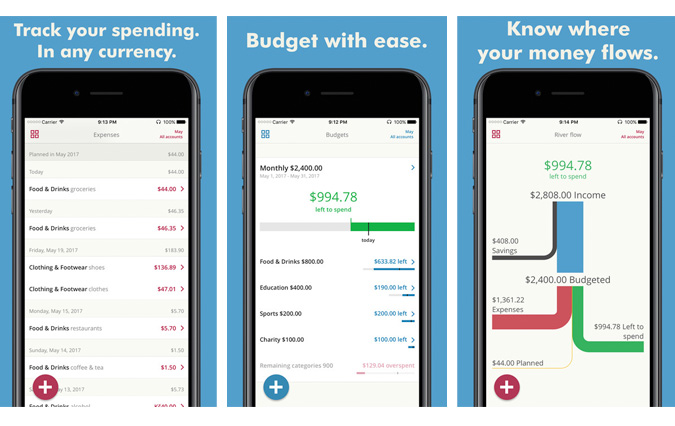 3. Expensify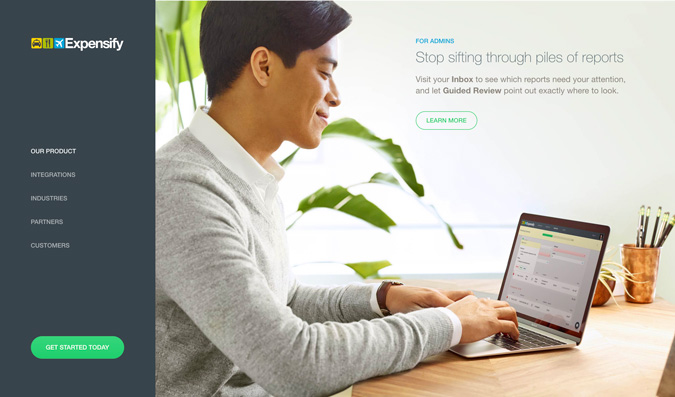 Of all the apps I've tried, Expensify is the one most geared towards business expenses.
You can use it for personal expense tracking, but the options are limited, and Expensify really doesn't cater to non-business related expenses.
Price: Free
Best for: Business people looking for an expense management tool
Coolest feature: Snap a picture of a receipt and file it under an expense 
Worst feature: Only really meant for business expenses
Categories, for example, run along the lines of "lodging," "meals" or "fuel/mileage."
You can enter your expenses and snap a picture of an accompanying receipt and file it under a specific expense report.
Expensify lets you log hours spent on a project, as well as any car mileage and car expenses used for a business trip.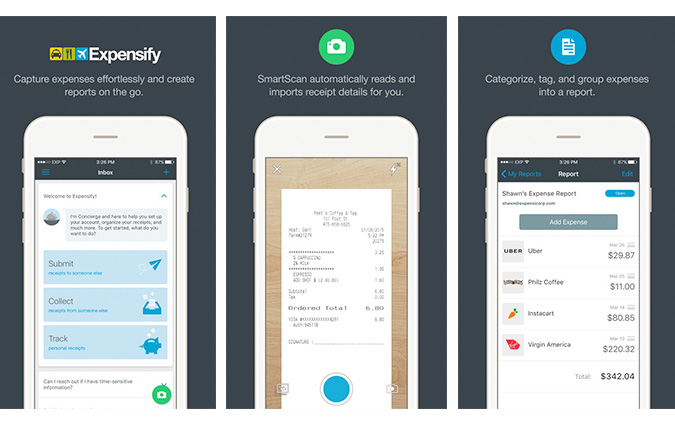 Expensify iPhone app
Analytics are not available on the app but are accessible through the web version of Expensify, where you can view your expenses as illustrated through line graphs, pie charts, or bar graphs.
Expensify has a robust system online that allows smaller businesses and bigger corporations to add employees to an Expensify account.
Features include integration with various external accounts (Evernote, QuickBooks, FreshBooks) and direct deposit reimbursement.
4. Clarity Money (formerly Prosper Daily)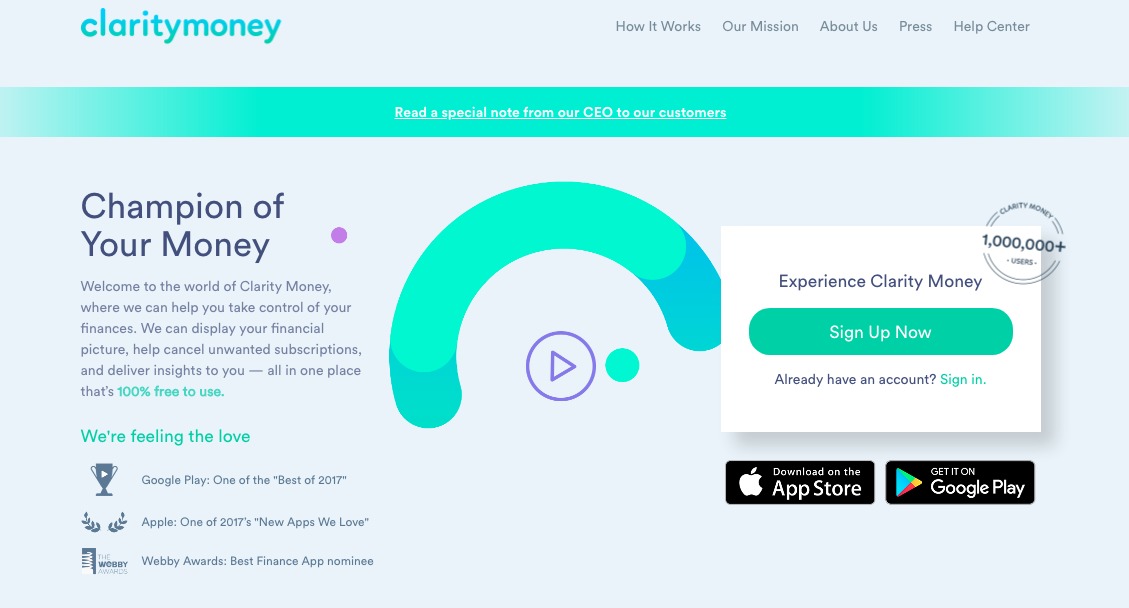 Prosper, which was formerly owned by BillGuard, was one of the top finance apps of time.
However after some rebranding, Prosper has now transitioned in Clarity Money.
Aside from allowing consumers to track their spending, it also protects debit and credit cards from fraudulent charges and errors, which according to the app, cost American cardholders billions in gray charges every year.
Price: Free
Best for: Everyday consumers that want to stay on top of their expenses and budget
Coolest feature: Free credit score and ability to cancel unwanted subscriptions 
Worst feature: Not as intuitive as some other budget apps
Clarity Money allows you to catch charges on your credit cards so you can flag the ones that are unusual and mark them for follow-up, an effective alternative to the time you may spend diligently checking your monthly credit card statements in order to make sure there are no erroneous charges.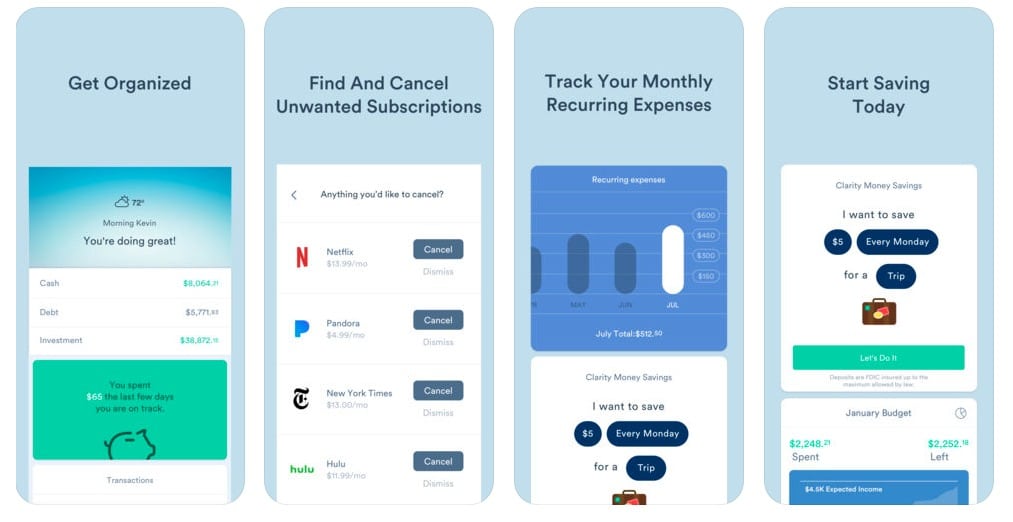 Clarity Money iPhone App
Aside from security, the app also uses your spending patterns to scour the web for coupons that can lower your bills.
The app also offers the spending tracking like Mint does (to help you budget), and allows you to quickly see balances, recurring charges, and charges flagged by others in the app-user community.
What's nifty is that the app helps you cancel unwanted subscriptions by tracking your unused activity, as well as help deliver money-saving insights to you.
Moreover, you can even connect directly to merchants within the app to resolve billing questions and issues, making this app, and the website, incredibly useful.
5. Checkbook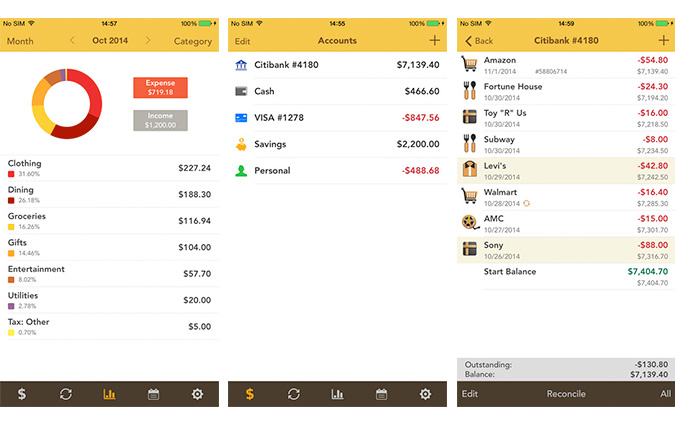 In order to take the place of a traditional checkbook, Checkbook was built to track credit card charges and cash expenditures, which are depicted through beautiful graphs and reports that can be dispensed in both bar and pie charts, all the while offering you a myriad of capabilities that allow you to fully manage all your financial transactions.
Price: Free
Best for: Consumers that want a basic app to track spending, income, and cashflow
Coolest feature: Ability to support multiple currencies and export transactions/transfer funds
Worst feature: Offers only basic features in comparison to some more advanced apps
Transactions, displayed as points on a monthly calendar, can easily be manipulated by tapping a date on the calendar.
There are plenty of things you can do once a transaction is tapped -- repeat transactions can be saved to be used repeatedly according to time ranges from daily, weekly, monthly, and more in order to save you the trouble of typing the same numeric details on a regular basis.
Checkbook also allows you to quickly search for transactions by using dates/name/payee/category, both search and edit transactions within the same screen, and even export your transactions via email to desktop applications like Excel and Quicken (the transactions can be exported in CSV, QIF, and HTML formats).
Checkbook even allows you to transfer funds from one account to another, and allows you to set up however many accounts you wish.
While perusing your transactions, you can reconcile each one in detail by editing "cleared/uncleared status" and adding details to help you keep track of your transactions.
The app also supports multiple currencies, protects your private information, and supports multiple categories with beautiful icons to choose from.
6. Spending Tracker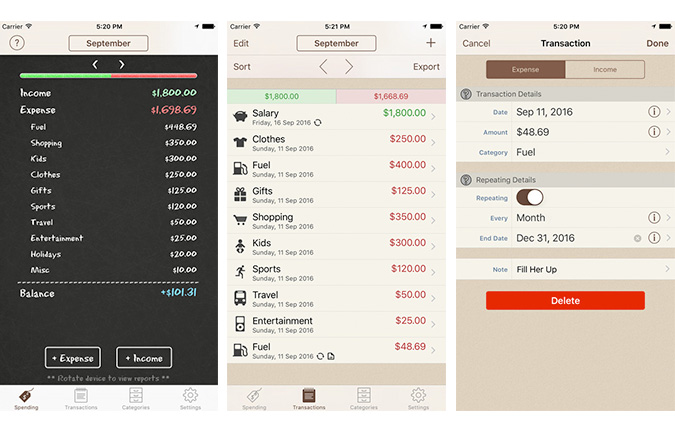 Spending Tracker
Spending Tracker is an app that allows you to budget by tracking your spending and offering you tools to construct and stick to a budget.
Spending Tracker can be confined to flexible time periods, such as weekly, monthly, or yearly.
Price: Free
Best for: Consumers that want a simple-to-use budget app that allows you to track your spending over time
Coolest feature: Calculator functions to help you figure out expenses in the moment
Worst feature: User interface is not that sleek 
If you choose to set a fixed budget amount to help you meet your goals, any remaining budget left over from one period can be carried over to the next period.
Spending Tracker's "summary view" can help you travel backward and forward in time to see your areas of spending, and allows you a general overview of your current spending progress.
Like Checkbook, Spending Tracker offers you personalized spending and income categories, has a built-in log expense and income section, in which you can use easy and quick transaction entries, sort by date, name or amount. It also allows you to export transactions (pro upgrade required).
Finally, just like the other apps, you get beautiful and interactive charts with spending, grouped by category.
These personal finance apps have demonstrated their own value, and with approaches that give new meaning to money management.
Check out these new top banks that people are talking about:
Compare Best Accounts Now