6 Personal Finance Apps That Are Better Than Mint
Check out our selection of some of the best personal finance apps. These six apps worth replacing mint will blow you away.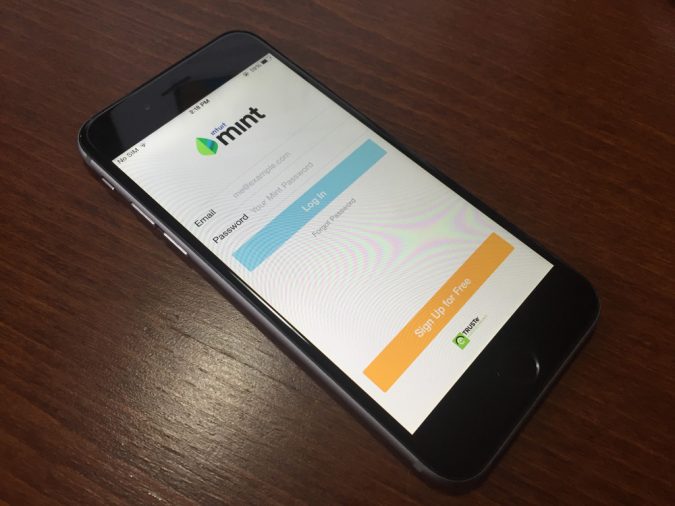 Mint, a free budgeting tool, allows consumers to sign up, and within minutes, have their accounts securely connected and spending patterns broken down in easy-to-understand charts.
However, does that really encapsulate the public's general needs in the realm of money management?
There are plenty of other financial mobile apps that deserve to stand alongside Mint -- and they may benefit you in other ways.
Here are MyBankTracker's picks for money tracking apps that are better than Mint:
Budgeting Finance Apps Compared
| App | Price | Platform |
| --- | --- | --- |
| Mint | Free | iPhone, iPad, Android |
| Saver | $4.99 | iPhone |
| Toshl Finance | Free, Pro version - $2.99 monthly or $19.99 for the year | iPhone, Android |
| Expensify | Free for individuals, $5 per team member. | iPhone, iPad, Android |
| Clarity Money | Free | iPhone, iPad, Android |
| Checkbook | Free | iPhone, iPad |
| Spending Tracker | Free | iPhone |
1. Saver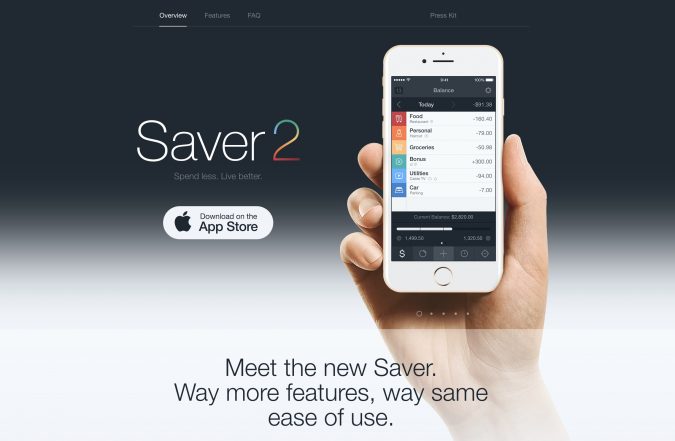 I stumbled upon Saver first in my hunt for an app. It's not free, which I wasn't too thrilled about, but pie charts! Colors, slick designs! I was sold.
Price: $4.99
Best for: Banking consumers looking for a no-frill, user-friendly budgeting app
Coolest feature: Creates interactive pie charts based on your expenses
Worst feature: Need to upgrade to the pro version to get the best features 
Saver is my favorite app out of the handful I played around with, and a recent spending diet I went on, it's the one I'll continue using.
The app is $4.99 in the iTunes store, and it allows me to catalog all my expenses as easily as possible.
Once I started diligently tracking my expenses, I realized that bookkeeping is hard and while not a huge commitment like I mentioned, it does take some time. But anything worth doing takes time, right?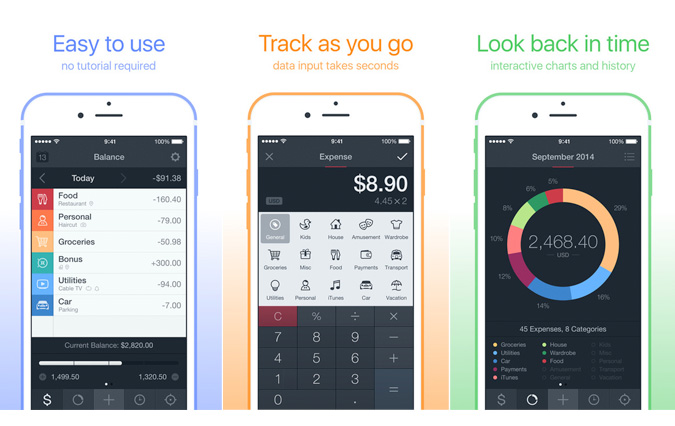 Saver iPhone App
Adding expenses on Saver is easy.
This shouldn't be considered a pro, but you would be surprised at how counter-intuitive it is to find a simple "add expense" button on other apps, often buried under various pages.
On Saver, just enter the amount of purchase, select from 15 choices to categorize your purchase, and if you so please, enter a tag for it and some notes about the purchase. (This makes it easy to track those ambiguous Amazon.com purchases and spending made with PayPal.)
My favorite thing about Saver is how it takes your expenses and compiles it into interactive pie charts by time period, and then by category.
You can look at how much you spent on groceries for the month of January, for last week, or for the year thus far.
I personally prefer pie charts over other kinds of graphs, so this app has been extremely helpful in allowing me to visualize my expenditures.
If there were an additional feature I would like to add to Saver, it would be the ability to log recurring expenses so that I didn't have to do it manually every month.
I have automatic debit set up for my loan repayments and recreational expenses (gym, newspaper subscriptions) that I get charged for monthly, so it would be nice not to have to remember to enter those manually.
Check out these new top banks that people are talking about:
2. Toshl Finance
Being able to track a recurring expense is a feature that Toshl Finance does offer.
The tradeoff is that Toshl isn't as slick, and has a heavier slant on budgeting, which was not something I was looking for.
I find expense tracking to be a good financial exercise, but I'm not big on budgeting, which feels restrictive.
As long as I don't overspend and have a clear picture of how much I'm spending, I don't feel the need to budget.
Price: Free
Best for: People looking for an app that emphasizes budgeting
Coolest feature: Extra money in budget from one week, rolls into your budget for next week
Worst feature: Not as user-friendly as other apps, need to pay to get best features