3 Regrettable Banking Mistakes That You'll Make As a New Graduate
Graduation is a momentous occasion, but what you do afterwards can affect your financial future. Avoid these common banking mistakes new graduates make.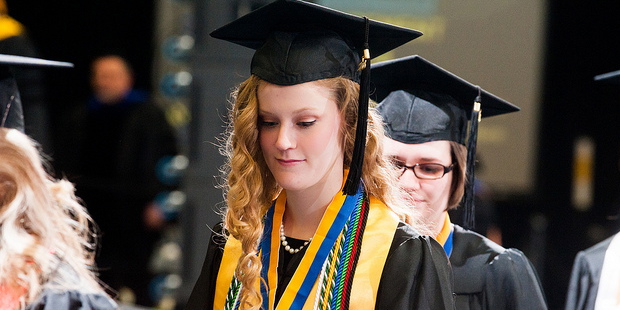 New college graduates entering the "real world" face a lot of questions. Where to look for work? How to cope with looming student loan payments? Whether to move back home or not? Once you've graduated from college, you have to consider these questions and many more. Especially important for young adults -- making the right financial moves to set you up for lifelong success. It may not seem like it, but the financial steps you take after graduation can have a big impact on your finances. Choices you face now, as a recent graduate, will affect you for years to come. So you need to position yourself for success and avoid common banking mistakes. Here are three banking mistakes new graduates make -- either due to carelessness, lack of financial literacy, or just plain ignorance. Tick these on your checklist of NOT to-do's:
1. Understand your Student Checking Account.
If you had a teen or student bank account during college, it's likely that it will be automatically switched over to one of your bank's basic checking accounts. This transition might happen seamlessly, which could lull you into a false sense of peace. It's important that you're cognizant of the changes that are happening to your account because you need to familiarize yourself with your new account's fee structure (it's likely to differ from your old one).
If your bank transitions you immediately from student to regular status without warning, you might be able to enjoy some of the benefits you received as a student. A source MyBankTracker spoke with says that if you complain about your student checking benefits ending, you might be eligible to receive an additional year of banking with the same perks you enjoyed in school.
At many banks, it's standard protocol to allow student customers to keep their student status for a period of time after graduating -- either for a year after graduation or five years from the opening date of the account. In order to remain dialed in, keep an eye out for any new charges on your monthly statements (which could be fees). Also, discuss your options with a banker before you graduate in order to be fully aware of the changes that may apply to your student account. If you have a mobile device, downloading BillGuard can help you catch any additional charges you miss, so you can refute them with your bank.
2. Pick a Rewards Credit Card Based on your Lifestyle.
Many college students choose to open a credit card based on recommendations from loved ones or because the card has no annual fee. Unfortunately, that's not exactly the best way to go about getting a credit card. There are plenty of things you need to consider when opening a card, especially if it's your first. Some of the elements you'll want to be sure your credit card has include high-yield interest, a rewards system you like, minimal fees, great customer service, a generous sign-up bonus, and a bank that is convenient for you, whether it's a local bank or an online bank that reimburses all your ATM fees (such as Ally).
Not only will you need to look for a credit card through the lens of a young adult, you'll also want to customize it to suit your lifestyle. If you are likely to fly a lot -- either for work, family, or to take a gap year off before entering the workforce -- you may want to look into getting a traveling rewards credit card. While credit cards with annual fees can seem costly, a high-end rewards programs is worth it for someone who is confident they will "make" the fees back through rewards from hotels and free flights.
On the other hand, annual fee credit cards sometimes have a higher interest rate on late payments, so if you're planning to open one of these cards, make sure you can reliably pay off the balance with each statement. If you're relatively new to banking and don't have your career plan developed at this stage in your life, you'll want a credit card with a low limit and a low-interest rate. This way, you won't overcharge the card and you don't have to worry about being hit too hard when you let balances roll over to the next month.
Also, keep in mind that many checking accounts require a minimum balance at all times in order to avoid being hit with a monthly fee, so when you land a job make sure you set up direct deposit so your salary goes directly into your account each payday. You should also consider banking with online banks that don't charge any monthly maintenance fees, such as Ally. Since their overhead costs are lower, customers get more perks.
Finally, you may be eligible for checking accounts tailored to your demographic, for instance if you're a recent graduate and also a veteran or senior. That's not likely, but it can't hurt to talk with a banker, since many groups and demographics are eligible for accounts tailored to their profiles.
3. Take Advantage of Compound Interest or Employer Retirement Plans.
After graduating, you might have to move back in with your parents, but don't let that fool you into thinking your future is secure -- you should already be saving for retirement. There are a variety of retirement plans to choose from, but once you establish yourself in the workforce, you'll want to take advantage of a company-sponsored retirement plan that will allow you to contribute pre-tax dollars up to a generous amount. Also, most companies match part of your contribution, so be sure to sign up for that benefit.
Once you make contributions to your retirement plan, those deposits will accrue compounding interest, which means that the quicker you begin to save, the less principal (sum) you'll have to invest to meet your targets. Compounding occurs when deposited money earns interest and the accumulated interest begins earning interest itself. It is the mathematical phenomenon responsible for exponential growth of deposits. Good investments often pay off in exponential interest.
For instance, a $100,000 deposit receiving 5 percent simple interest earns $50,000 solely in interest over the span of a decade, but compound interest of 5 percent on just $10,000 would profit by $62,889.46, according to Investopedia.
Apart from contributing to your employer-sponsored plans, you might consider investing your money in mutual funds or other financial products through a company like Vanguard. An investment management company, Vanguard offers a variety of plans for your investing needs -- including retirement plans like IRAs and 401(k)s, 529 plans for saving for college expenses if you've got a child on the way, and investment funds like mutual funds and ETFs. You might feel reluctant to invest your money as a young adult, but starting early can pay off big if you make the right choices. Speak with an expert or financial adviser if you're not sure how to invest your money.
All your hard work has culminated in you graduating from college. Start your adult years with purpose -- always ask yourself whether the choices you take are leading you closer to the life you want. Keeping yourself in good financial shape is the foundation for becoming healthy and prosperous. Lastly, vow never to make the banking mistakes many new graduates make!